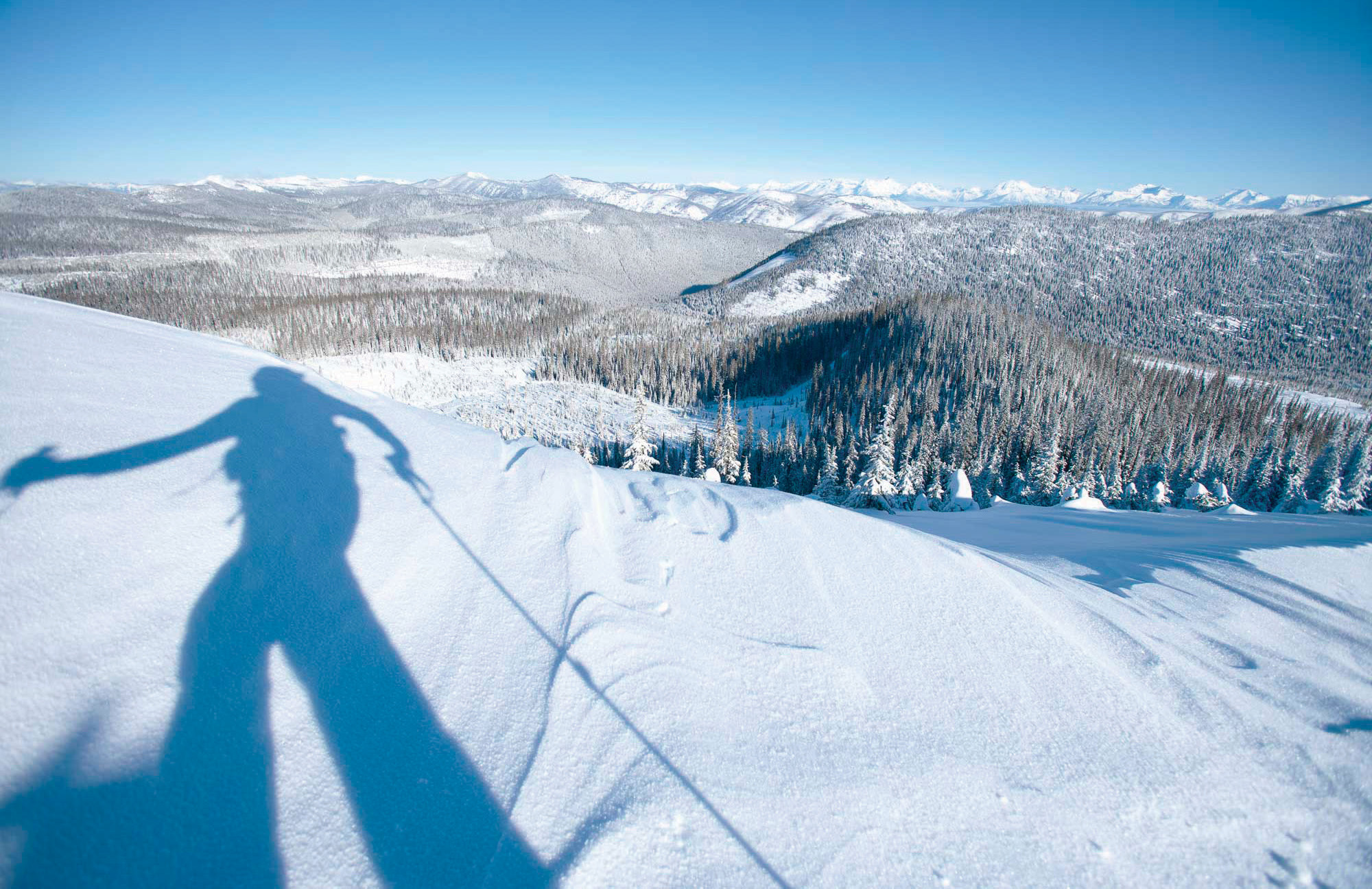 24 Nov

Winter 2014 Round Up

in
---
Taste of the Trails
Skiers and snowshoers are invited to explore the Rendezvous Ski Trails and enjoy a snowy picnic during the Taste of the Trails event in West Yellowstone. Sponsored by the West Yellowstone Ski Education Foundation (WYSEF) and designed to encourage skiers of all ages and abilities to try cross-country skiing, there will be appetizer, soup, main course and desert stations set up along a 5K course. Skiers can casually stride from spot to spot, revel in the winter landscapes, refuel with friends and explore more than 21 miles of groomed trails that wind through lodgepole pine and open meadows in West Yellowstone.
Taste of the Trails takes place February 7 and is scheduled to complement the final SPAM Cup Race of the winter, an open-to-all, cross-country race series. The WYSEF hosts two SPAM Cups a year (December 13 and February 7) attracting skiers from West Yellowstone, Teton Valley and even Cody, to try their hand at winning a coveted trophy of potted meat and priceless bragging rights. Adults can enter for $10 and kids for $5.
Contact info@rendezvousskitrails.com by February 5 for reservations for Taste of the Trails or stop by Freeheel & Wheel in West Yellowstone. Taste of the Trails is $23 per person, including a day pass. Season pass holders can participate for $15. For details visit rendezvousskitrails.com.
---
Turkey for a Ticket
Donate 20 cans of food or a frozen turkey and ski for free at Montana's Big Sky Resort on December 12. It's part of the resort's effort to help stock up local food banks for the holidays. Donations benefit the Gallatin Valley Food Bank, Madison Valley Food Bank and the Big Sky Food Bank.
Last year, donors brought 76,424 pounds of food, a record in one-time food drive for all three food banks; in return Big Sky handed out around 3,000 lift tickets and vouchers. The amount of food donated in 2013 was more than double the 37,895 pounds collected in 2012. Find more information at visitbigskymt.com.
---
50th Anniversary of McCall Winter Carnival
When winter lasts as long as it can in Idaho and when your town has the highest average for snowfall during that long winter, why not celebrate? That's exactly what the residents of McCall, Idaho, have been doing for the last 50 years.
First held in 1924 when a train from Boise brought 248 visitors 100 miles north to McCall, the carnival has grown over the years into an iconic event bringing more than 60,000 people to this tiny winter hamlet annually. McCall and its 3,000 residents welcome visitors for two weeks of activities planned from January 30 to February 8. During the 50th anniversary celebration, anticipate parades, fireworks, food vendors, music, snowbike races, a beer garden and daily events ranging from comedy shows to art auctions. As part of local tradition, spectacular snow sculptures line the streets throughout the community. They come in a variety of shapes, sizes and themes, with some towering over 20 feet.
Along with local sculptures, the Idaho State Snow Sculpting Championships kicks off midweek during the carnival, offering carnival-goers a chance to see professionals wield chainsaws to mold snow into frozen art.
If you plan to go, make reservations early as accommodations book up quickly. For more information, visit mccallchamber.org or call 800.260.5130.
---
MUSH! Dog Sled Races Around the Region
Towering pines entombed in snow and a stillness that only winter brings. The soft crunch of booted paws. A sled creaks. A harness jingles. There's a yip. A bark. The cry of mush!
The romance and tradition of age-old wilderness travel is alive and well in the Northern Rockies. Eager Nordic canines have been pulling sleds across Montana since the 1940s, and perhaps long before that, according to Montana Fish, Wildlife and Parks. Montana became the epicenter of American dog sledding when the U.S. Army established the Camp
Rimini War Dog Training Center, about 10 miles west of Helena, where about 800 sled dogs, 100 pack dogs and 125 soldiers trained for World War II missions in Norway. Today this slice of history is commemorated with Race to the Sky, a dog-sled race with international acclaim.
All around the region, the driving spirit of sled dogs bring mushers to remote corners of the Northern Rockies. Here's where to watch this winter …
---
Idaho
---
2015 American Dog Derby
As the oldest American dog-sled race, this historic event runs from Ashton to Yellowstone Park's Cascade Corner. There are five races, ranging from a 100-mile jaunt to a junior race, and teams from across the U.S. and Canada come to compete. The start and finish lines are full of activities, including a celebrity race, ice sculpture competition, a snowshoe race, a canine weight-pull and a mutt race. The event takes place February 19 through 21.
U.S. Pacific Coast Championships
For some 40 years, mushers have gathered near the shores of Priest Lake for this annual competition held the first weekend of February. This race features mid-distance, skijoring and sprint classes, and is hosted by the Inland Empire Sled Dog Association.
---
Montana
---
Race to the Sky
Recognized as one of the most challenging and beautiful dog-sled races in the world, this race starts at historic Camp Rimini and from there teams navigate 350 miles through Montana's scenic landscape. There's also a 100-mile adult race and 100-mile junior race. The event takes place February 13 through 18.
West Yellowstone Fun Run
Professional mushers from all over the world will converge on West Yellowstone January 16 and 17 to run and prepare for the International Pedigree Stage Stop Sled Dog Race in Wyoming. This 35-mile and 14-mile "Fun Run" is a warm-up for the pros and allows local and regional mushers a chance to test their teams against some of the best sled dogs in the world.
---
Wyoming
---
The International Pedigree Stage Stop Sled Dog Race
Mushers trek 350 miles around Wyoming, starting in Jackson and winding through seven locations, stopping nightly, until they cross the finish line in Uinta County. First place earns a $10,000 purse. Celebrating its 20th year in 2015, the race was designed to showcase the beauty of Wyoming. Contributions for childhood immunizations and a year's worth of dog food for animal shelters are given to communities on the race route.
Canines for Charity 
In addition to being an annual benefit for Wyoming charities, the February 21 and 22 dog-sled races have become a popular family event as well. The 20th annual event brings two days of dog-sled racing in multiple categories on Casper Mountain.
Lead Your Own Pack: There are a number of businesses that offer the opportunity to try dog sledding. Consider Jackson Hole Iditarod Sled Dog Tours (800.554.7388) and Yellowstone Dog Sled Adventures (406.223.5134), among the many.
---
The Meadowlark Award for Women Writers
The Meadowlark Award, formerly given to Montana college students during an annual short-story writing contest, has been reconfigured into a biennial book award for women writers. Under the new guidelines, the award's $1,000 cash prize also includes a book contract from Riverbend Publishing in Helena, Mont. The inaugural winner will be announced in May 2015, and her book will be published in the fall of 2015.
Open to women writers who have never published a book, and the book must be based in or substantially about Montana. It may be fiction or nonfiction, including memoirs, essays, adventure, travel, novels and short stories. Entries will be judged by the executors of the Meadowlark Award and by the staff at Riverbend Publishing, with assistance from various Montana authors, editors and booksellers.
The award is named for the bookWhen the Meadowlark Sings, by Nedra Sterry, written when the author was 82 years old. Meadowlark is a memoir of growing up along Montana's Hi-Line. Before her death in 2013, Sterry created the Meadowlark Award with an endowment from her book royalties with the goal to encourage women writers.
The application deadline is December 31, 2014. Submission guidelines are at riverbendpublishing.com.
---
Hitchin' A Ride
Missoula's Mountain Line bus system, which shuttles passengers across the community on 12 daily routes, plans to operate for free starting January 5, 2015. The plan, revealed in August by the Missoula Urban Transportation District (MUTD), is part of a three-year demonstration project to increase bus ridership in Missoula by 45 percent — about 1,100 more rides per day, for 400,000 annual riders. Funding for the zero-fare project is provided by 13 public and private partners led by the University of Montana and the city of Missoula.
"Mountain Line helps employees get to work, students get to class, and helps seniors and people with disabilities remain active," says Eric Hines, MUTD board chairman. "Zero-fare is an opportunity for Mountain Line to further improve the quality of life in Missoula, which will truly benefit us all."