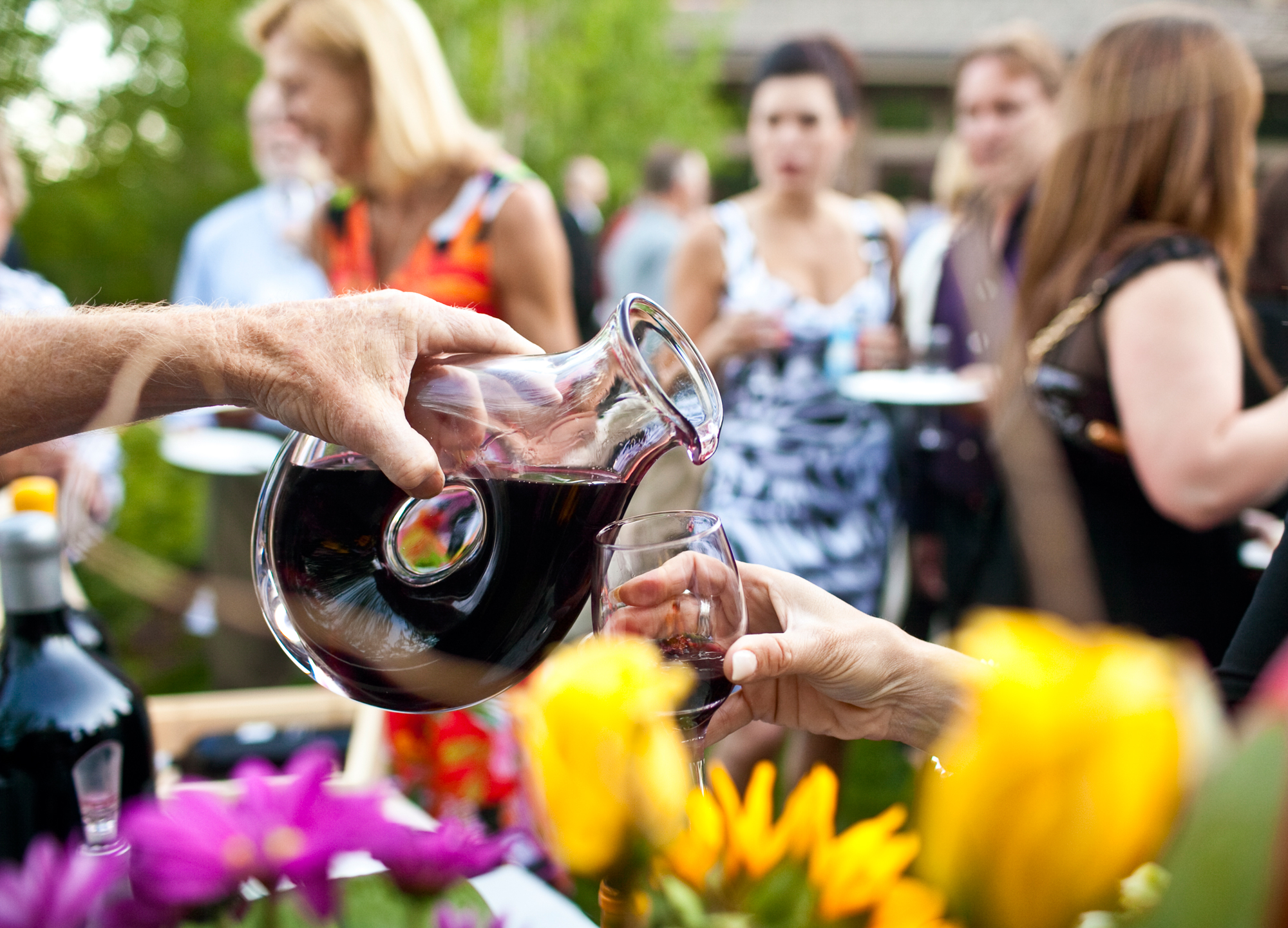 20 Aug

Dining Out: Wine West

in
---
Each June, a valley draws the attention of the country's oenophiles and foodies. And it's not Napa. The annual Jackson Hole Wine Auction (JHWA) pairs some of the world's best wines and chefs in the shadows of some of its most striking mountains. Take a scenic float on the Snake River in the morning and, come evening, enjoy a five-course meal prepared by Michelin-starred chefs and paired with wine from the world's finest wineries. As the meal winds down, bid on an array of fantastic wine and non-wine lots in silent and live auctions. And know that you're doing all of this for the good of the Grand Teton Music Festival (GTMF), a symphony orchestra that has been playing in Teton Village for 52 years. Over its 18 years, the JHWA has raised upwards of $6 million for the GTMF.
This year's JHWA is June 21 to 22 and, for the first time in a long while, is featuring almost all new faces. The event has such a stellar reputation within the industry that it's difficult for new faces to break in. "Once a chef or vintner comes, they want to keep coming back, so it's exciting to have new talent this year," says JHWA chair Katrina Ryan. "In the past we've had lots of the same chefs and vintners. Of course they're fabulous — Daniel Boulud, Nobu, Eric Ripert, Chateau Montelena, Harlan Estate — but it is exciting to bring in new people."
The 2013 featured chefs are New York City's Scott Conant and Chicago's Graham Elliot. Conant opened the Italian restaurant Scarpetto in 2008 to rave reviews — a three-star review by The New York Times and a call-out as one of the top 10 restaurants of the year. Elliot was the first 27-year-old chef to receive a four-star rating in any major U.S. city. In 2008, at age 31, he opened Graham Elliot in Chicago. The restaurant received one Michelin star in 2011 and 2012, and has hosted an intimate birthday celebration for President Obama. "It's fun to shake it up a bit with new faces," Ryan says.
This year's guest vintners include Eileen Crane from Domaine Carneros, Ginger Dollins of Oregon's Domaine Serene, and Susana Balbo of Dominio del Plata. "Domaine Serene has never been here before and they are probably the best pinots coming out of Oregon," says Ryan, who owns and manages Westside Wine & Spirits and whose father, Bill Weiss, was one of the co-chairs of the first Jackson Hole Wine Auction in 1995. "And Susana has never been here; she's an inspiration and a pioneer." An Argentine who has made wine in Australia, California, Chile, France, Italy,Argentina  and Spain, Balbo's nickname is the "Evita of Wine."
But the JHWA isn't just about food and wine. Because it is purposefully kept to a smaller scale than similar food and wine events — Aspen's Food & Wine Classic comes to mind — it is very much about connecting too. The Food & Wine Classic has up to 1,000 attendees. During its smaller years — the JHWA flips between a smaller two-day format and a larger four-day format every other year; odd years (2013) are the smaller events and even years are larger — events are limited to several hundred guests. Even in the "big" years, there are no more than 500 to 600 guests. "One of our goals is for the event to be really personal," Ryan says. "We want you to leave not only having discovered some new wines, but also new friends, maybe even the person who makes the wine."
After several years at the Four Seasons Resort, this year's gala dinner and auction is moving back outside. When it first started, the gala dinner was held in a tent at Spring Creek Equestrian Center. "The Four Seasons has done a lovely job, but people don't come to Jackson to sit inside," Ryan says. Under a tent in a field at Snake River Ranch, with views of the Tetons and the Gros Ventre ranges, Conant and Elliot will work together to produce a five-course meal. Of course wine from Domaine Serene, Domaine Carneros and Dominio del Plata will be freely flowing.
While the JHWA benefits the Grand Teton Music Festival, the orchestra's seven-week summer season doesn't start until July 5. One of the GTMF's most popular sub-ensembles, the Richard Brown Orchestra, will be around though and will play at the auction gala. "Wine and this music go along great," Ryan says.
---
Editor's Note: Tickets for both of this year's events are still available at www.jhwineauction.org or by calling 307.733.3050. A combination ticket to both the Riedel Welcome Party at the Handle Bar in the Four Seasons Resort Jackson Hole is $1,050. Last year the gala auction dinner sold out several weeks in advance.