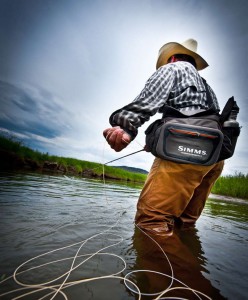 14 Jul

Outside: Wading into the Future

in
---
KC Walsh wasn't fond of the view. In fact, peering over central Los Angeles from his shiny, silver-tinted office window at Deloitte, he didn't see anything that even hinted at Montana's towering mountains and trout-filled streams.
That meant something to Walsh who grew up in northern California fishing the Sierras with his father and grandfather, avid fly fishers who passed along the gift. By the time he first visited Big Sky Country, in his teens, with his grandfather, for a couple memorable weeks casting flies on the Bitterroot River, Walsh already knew his true dream — to live in Montana.
So in 1992, his wife pregnant with their first child, and armed with the knowledge that they could buy a house and a business in Montana for the price they would pay for a single home in a semi-dangerous L.A. neighborhood, Walsh pitched his management consultant gig and took the family to Bozeman. And it's safe to say that the face of Montana fly fishing was never the same.
That's because shortly after settling in the Bozeman area, Walsh was introduced to Simms, a modest wader manufacturing company with 15 employees and an uncertain future. Founded in 1980 by John Simms, the Jackson, Wyo.-based company had made a name for itself by introducing neoprene waders to the market in the mid-1980s.
Walsh took a chance on Simms and relocated the company to Bozeman in 1993, which started a big new chapter in his life, remarkable growth for the company, and in the process helped make Bozeman one of the top, if not the top, fly-fishing destinations in the West.
Simms now employs 115 people and this fall moves into a 62,000 square-foot headquarters just west of Bozeman at Four Corners, consolidating from four buildings to one while offering its employees a sweet three-minute lunchtime or after-work drive to the Gallatin River. The facility will be visitor-friendly and allow anglers to see Simms waders and other products being made. It also allows access to the people who Walsh says, "make Simms" — his employees.
"I think we have the greatest people in the world," Walsh boasted. "And that makes the difference for us. It's why we are so competitive. They are hard-working and like to win. In turn that motivates me to do as well as I can for them."
That's paid off with recent business awards. One, the Montana Jobs Economic Engine distinction was presented to Walsh in late May by Senator Max Baucus and is reserved for businesses that attract investors and business to the Treasure State.
Despite Simms' success, Walsh remembers the early years as a struggle, with plenty of obstacles to overcome before saying the company would prosper.
"I just thought about how cool it would be to spend my days involved in a business that I was passionate about, working with like-minded individuals," Walsh said of his purchase and relocation of Simms. "I also thought Simms would give me a vehicle to become even more active in conservancy issues. I never thought about it as (a lucrative thing). If I was focused on a lucrative career, I guess I'd still be in L.A.
"To be honest, we had our struggles, particularly in those early years," Walsh noted. "Our goal has always been to enrich the angling experience and to inspire people to get out and fish more often. But I did not realize how challenging it would be to turn around a small business, and certainly had my doubts in the early morning hours when I was frequently down at the office instead of home with my family."
The company has grown in many ways, but some of the key changes include international sales, which were nearly nonexistent in 1993, but now account for 30 percent of total sales and require warehouses in Europe, Japan and New Zealand. And there were risky moves, too: Shortly after acquiring Simms, Walsh cancelled contracts with over 50 percent of its dealerships and refocused relationships on only the best fly shops in the world. The company also committed itself to innovation, encouraging guides, who Walsh calls "the professional athletes of our business," to participate in product testing and development. Today, Simms is still known best for its waders, but its product line can thoroughly outfit anglers from head to toe. However, the single most important move that Simms ever made was building a relationship and gaining a licensing permit with W.L. Gore, the makers of Gore-Tex fabrics. That relationship allowed Simms to bring the first lightweight and breathable waders to the market.
"Without question, our first breathable wader in 1993 was the product that relaunched this company," Walsh said. "And W.L. Gore has continued to support us in many ways. With them, we can make innovative and durable products that work as advertised. We compete effectively with much larger companies by maintaining focus on our core market, listening to our customers, and by building better product. I also suspect that we spend more money on product innovation than another company in the fishing category. We are product-driven and we really enjoy solving problems that enhance the fishing experience. Because of that we have won more product awards than any other company in our market segment."
Although Simms has prospered in the fly-fishing arena Walsh isn't resting on laurels, but instead is now positioning the company for the years and challenges ahead.
"We are as excited today as we've ever been about the fly-fishing business," he said, adding, "we continue to see growth in our core business and believe the future is very bright.
"That said," Walsh added, "we do see challenges to our traditional distribution model as a result of e-commerce. We strongly support the Marketplace Fairness Act as we think the preferential tax treatment for online retailers is hurting fly shops, particularly in states with high tax rates.
"And, like many importers, we also have struggled with increasing prices and unreliable supply sources in Asia," Walsh explained. "As a result, we are working hard to bring more of our production back to Bozeman. To do so, we will need the additional space our new facility provides."
To further grow the company Walsh is eyeing the conventional tackle market, i.e. B.A.S.S. In fact, recently Simms introduced a product with all the signs that it was built for anglers standing in a Skeeter hucking spinnerbaits — the ProDry Gore-Tex rain suit.
"We estimate there are 10 times more conventional anglers than fly anglers," Walsh said, "and we know that many conventional anglers have been using Simms products for years. Now we are developing products that more directly address the needs of marine and conventional anglers. An example is our ProDry rain suit, which was worn by Chris Lane, this year's winner of the Bass Master Classic."
So, you might wonder, at this point of his career, does Walsh ever regret the move from L.A. to Bozeman and the risk he took in acquiring Simms in the early 1990s? His answer, as you might expect is a definitive, no.
"We consider Bozeman to be the Western capital of American fly fishing," Walsh stated. "We make better products as a result of our location and have daily interactions with professional guides and field testers who provide us with valuable feedback about our products. I've learned that we're very lucky to be working in Montana and in fly fishing. We're not curing cancer or solving the world's problems, but we are helping anglers to enjoy the outdoors and spend quality time with their friends and family. We've also raised three kids in Bozeman and from a personal perspective, I can't think of a better place to live."
Simms' new facility is slated for opening in October, although it currently has the facade torn off and is far from artist renditions that depict a contemporary, shiny, silver-gray and orange front, accented by the Simms "leaping trout logo" and a massive motif showing two gear-clad guys heading out for a day on the water. Be sure, when Walsh moves in, no matter where his office is located, the view should be very, very good.