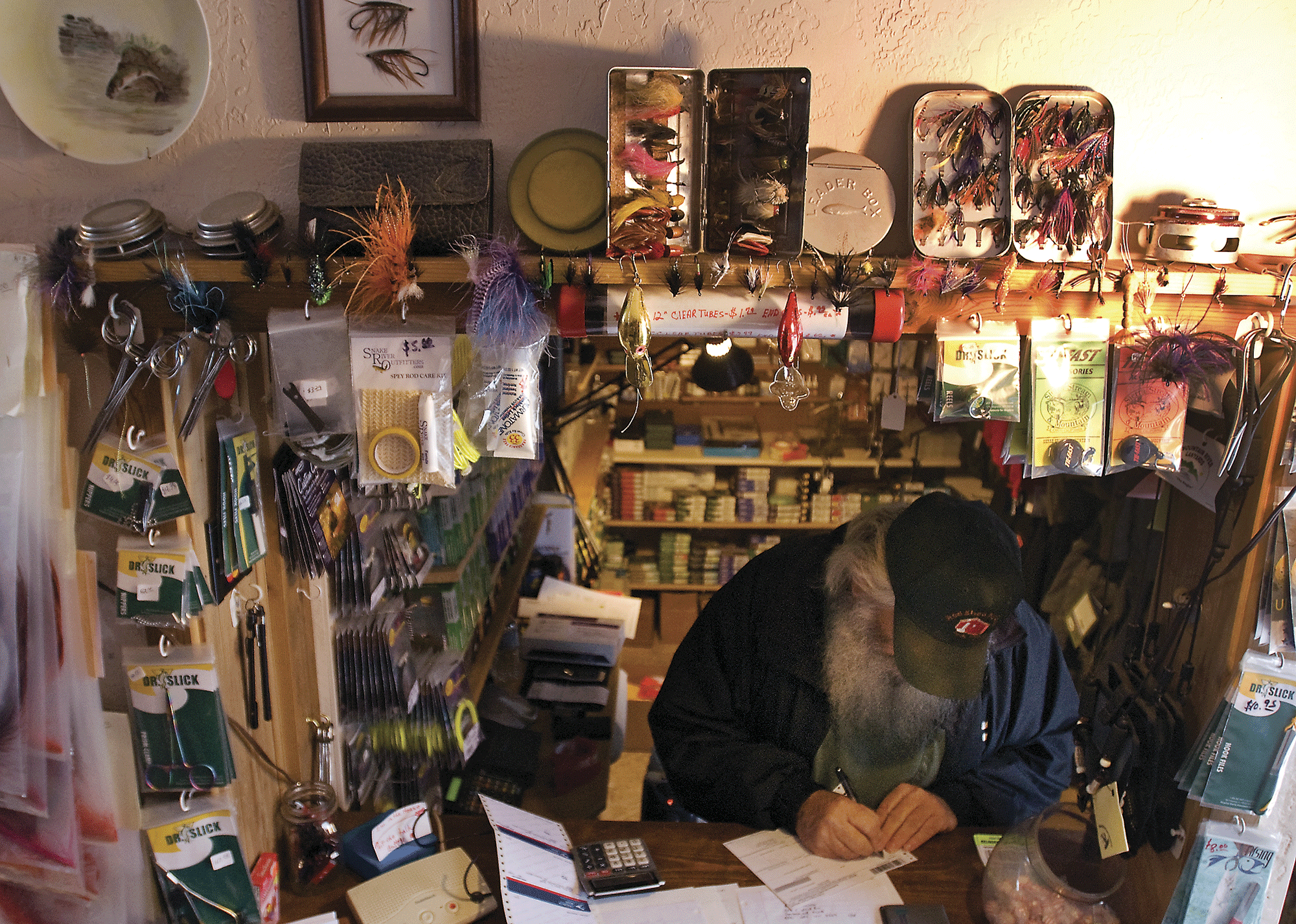 20 Oct

The Red Shed

in

Smack in the middle of the best steelhead fishing in the world, at least according to one man, sits an old 15 by 20-foot hayloft converted into a fly-fishing shop. If you open the door of the red, wood-sided building you'll likely find a man who looks a whole lot like Jerry Garcia leaning on the counter ready to talk steelhead and two-handed casting. He wouldn't mind selling you a rod, either.

The Red Shed seems an unlikely Mecca and Mike "Poppy" Cummins an even more unlikely prophet, but anglers from around the country — make that around the globe — flock to this humble shop (both in person and via cyber space) on the Clearwater River in Idaho to pick up two-handed spey rods and chat Poppy up. Thanks in part to a recent video on You Tube, the Red Shed is garnering even more fame and popularity. In 2007, Poppy sold over 150 two-handed rods and a dozen single-handed trout poles. Not bad for someone working out of a shed in the middle of nowhere.

Before opening the Red Shed in July 2002, Poppy owned a small trucking company. He drove a diesel big rig and his wife Linda ran dispatch. Their shed was put to good use storing truck parts, assorted junk and bad hay from the days when their land hosted a dairy. Then, someone ran into his truck and ripped the front end off. That incident (along with some health issues) convinced Poppy that it was time to retire.

Around this time, his right hand kept falling asleep and Poppy was having a hard time holding a single-handed rod. So when he heard about two-handed rods, he got interested. Without the funds to purchase a spey rod, Poppy decided he would make his own using two single-handed rods. His "junkyard spey" hangs on the ceiling of the shop "as a reminder that not everyone can afford a spey rod," he says.

His interest in spey casting was growing and a few visits to a friend on the coast with a successful spey rod shop convinced Poppy to open his own store. But, getting started wasn't easy. "Basically you're dealing with tackle reps and most weren't open to the idea of selling only spey tackle. They thought it was stupid," Poppy recalls.

The fishing industry — based primarily around trout, according to Poppy — has come around since the early Red Shed days. "I have about 10 trout rods, but I'd rather have my resources dedicated to spey casting." With rod prices ranging from $270 to $980 or more, Poppy carries something for just about everyone with a longing to cast a line toward an unsuspecting steelhead.

August through Thanksgiving is the busy season for walk-in customers at the Red Shed because that's when the B-run steelhead are making the arduous journey from the Pacific Ocean, up the Columbia River, to the Snake and finally into the Clearwater. After two years of eating and growing in the Pacific, steelhead (actually rainbow trout according to Idaho Fish and Game) average 10 to 13 pounds and 31 to 34 inches long. The occasional fish that spends three years in ocean can grow larger than 37 inches and often weighs more than 20 pounds.

(The other group of anadromous rainbow trout trekking to Idaho are the A-run steelhead. These fish spend only one year in the ocean and are lither — 4 to 6 pounds and 23 to 26 inches. These guys return from the ocean earlier in the year — June through August — and are found primarily in the Snake and Salmon rivers.)

Even when the store isn't full of wader-clad, vest wearing,tale-spewing anglers, Poppy does a hearty business over the internet and through the mail (75 percent of sales are made this way). "I've sent rods to Russia, Sweden, the U.K., Canada and to servicemen in Afghanistan and Iraq," he lists. Poppy figures he's sent rods, lines, leaders, reels and other fishing sundries to every continent. Sometimes he sends them just for people to try out. Through his "Test Drive Program," Poppy will send tackle to anyone who wants to give it a try. There's never been any charge, except for return postage.

When you press him to reveal his favorite rod, it's like trying to get a fisherman to reveal his favorite hole. Poppy insists, "I've never met a spey rod I didn't like." Whether it's a Burkheimer, Echo, Loomis, Sage or other brand found within the walls of the Red Shed, Poppy fishes with every rod he sells. And if the Shed burns down tomorrow and there is only one rod left, Poppy wouldn't care which one it was — as long as he can fish with both hands in the river he adores.

While fishing — and all things steelhead — is one of the major loves of his life, it isn't the only one. Poppy is pretty enamored with his grandchildren, diesel trucks and handguns as well. His grandkids all live within eight miles of their granddad. "They're all close to the bank of Poppy," he jokes. His nickname was bestowed upon him by his grandson Josh. (One of his other grandsons called him Poopy, but fortunately that didn't stick!) And if you are surfing around his Web site, you'll find pictures of all the little ones — staffing the store, showing off Red Shed hats; "They make cheap models," laughs Poppy.

Like any good Idahoan, Poppy also loves his guns; handguns in particular. He's started a little side business selling copper-plated bullets and reloading components, and he likes to head out behind the house for a bit of target shooting. By selling bullets, he's able to get them for himself at a wholesale price. "I can kind of feed my addiction," he explains.

Poppy doesn't miss his days on the road, "I'm pretty content to stay right here and fish," he muses. So, if you want to meet Poppy, talk steelhead and cast with a big rod, you better head down Highway 12 about 8 miles west of Orofino. Along the way, don't forget to stop and fish.

"The Clearwater has over 75 miles of primo water between Potlatch Mill and Clear Creek above Kooskia, Idaho Whichever direction you come from, if you visit me you will have passed around 35 miles of river with a lot of good spots to fish. As you travel along the river you will see some spots that will just look fishy. Those are the places I would try first," Poppy advises.