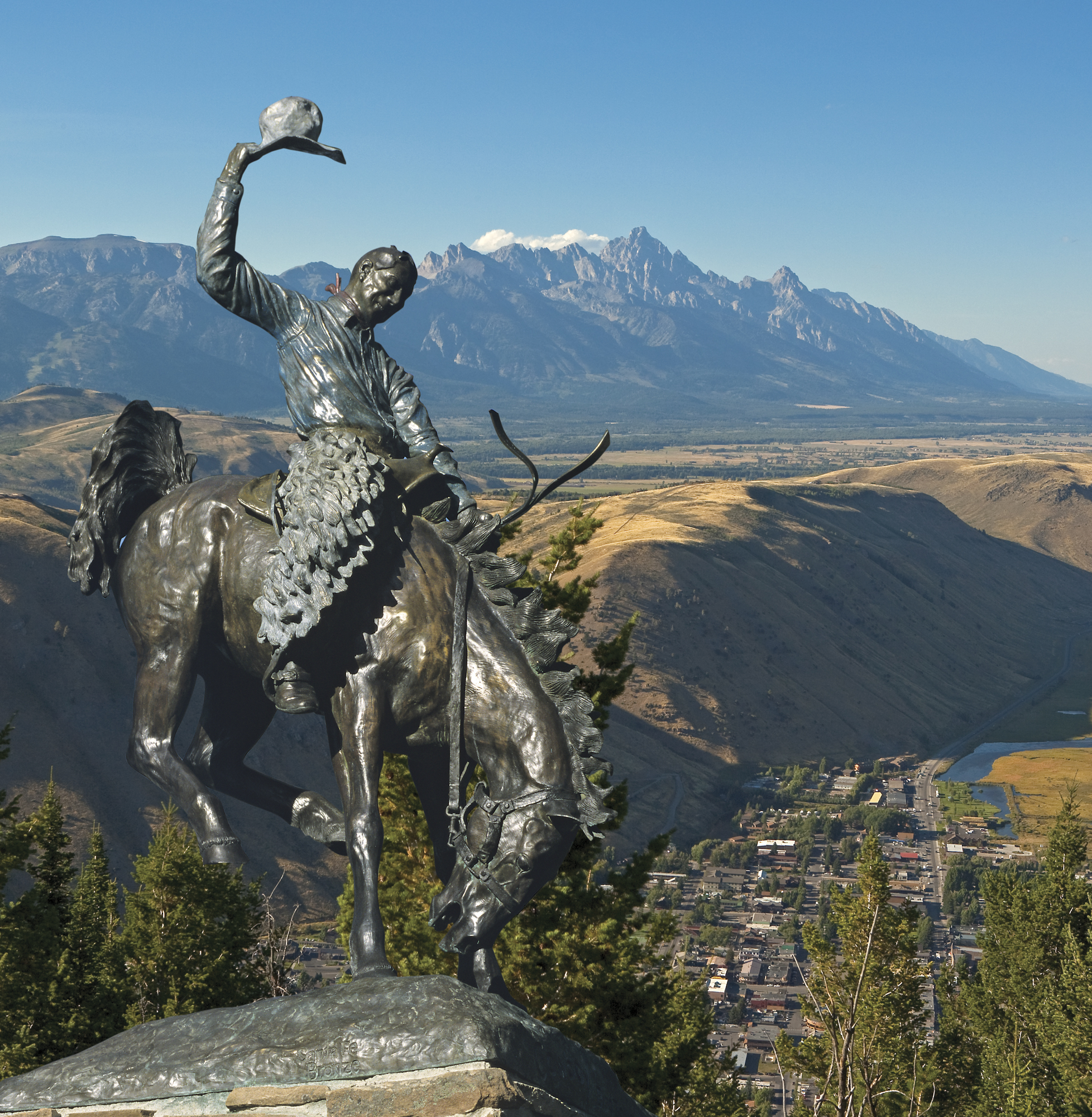 21 Aug

The Evolution of an Art Town

in

WELL INTO THE 1980S, IT WAS A BUSH THAT HERALDED the beginning and end of the season for Jackson Hole's art galleries. You can still see it today: Stand on the southeast corner of Jackson's Town Square and look up to the northwest until your eyes hit the only bush on a hillside of grass and sage. That's it. When this bush's leaves began changing color (into a brilliant red) and falling off, usually around Labor Day, the art dealers in town knew summer crowds would soon drift away too. So they closed their doors until the leaves — and visitors — came back around Memorial Day.

Of course, nowadays — no matter what month it is — stand still too long anywhere on the Town Square and you risk causing a pedestrian traffic jam. Jackson has become known for its art scene. In the early days, Jackson had only a scattering of galleries, but they made up the majority of retail establishments at the time. So, when the Jackson Hole Chamber of Commerce made it a mission to extend the town's tourist season beyond June, July and August, they turned to the art galleries. The effort that launched the first annual Jackson Hole Fall Arts Festival in September 1985 began with just a handful of art galleries.

"Initially we had no idea what we were doing," says Beth Overcast, the founder and former owner of Center Street Gallery and a member of the FAF planning committee in the early years. "The first few years it wasn't much more than gallery shows. It was one-dimensional, a 'festival' that wasn't really a festival. But we were trying." And the chamber and the galleries kept trying, each year cajoling a few more area hotels and restaurants to participate. And now here it is, 25 years later.

Today the Jackson Hole Fall Arts Festival is one of the largest, most diverse festivals of its kind in the country. There's fine art — wildlife, Western, contemporary, oils, watercolors, sculpture, paper — and also wearable and functional art. There are concerts, a fashion show, auctions, street fairs, food events, a design conference, ranch tours, and artists in residence. Jackson's handful of galleries has grown to more than 30. September is now one of the busiest months of the year for tourism.

"What the Fall Arts Festival has become, it's terrific," says Christine Mollring who, with her husband Ted, owned Trailside Galleries from 1971 through 1984. "The more intimate, early-on Fall Arts Festivals were nice, but now there are amazing events to go to every single night." A newer addition to the FAF scene, Mo Murphy, the current event planner at the Jackson Hole Chamber (still the major organizing force behind the festival) says, "It is just awesome to have a 10-day period where there is always something for tourists, and locals, to do or somewhere to visit. Ten full days. That's a lot of art, whether at the Western Design Conference, which joined the festival three years ago, the National Museum of Wildlife Art, a gallery, or the QuickDraw."

[FAF2009Poster_web] It just doesn't seem possible that when Dick Flood was opening the first gallery in Jackson in 1963 — Trailside Galleries — he had to hide what it was he was doing. He was afraid friends would think him crazy and try to stop him. (Flood went so far as to have the painter hired to do the gallery's awning paint the name with missing letters, a la "Wheel of Fortune," to keep his secret as long as possible.) Today, it's impossible to get an exact number of galleries in the valley. Fine art has trickled into the most unlikely establishments in town. Case in point: Photography and painting shows from regional artists hang in the Snake River Brew Pub and a rotation of monthly shows are displayed at the Elevated Grounds coffee house on the West Bank.

"When you think of art destinations, you think of New York, London or Paris. Jackson certainly isn't comparable to those, but there are people flying in here, during the Fall Arts Festival and throughout the year, because we are now a known art destination," says Mariam Diehl, owner of Diehl Gallery. "And we're constantly raising the bar with fine galleries adding more world class artists [Diehl herself brought in Ashley Collins earlier this year], a top notch museum with important exhibits, and an art association that is bringing in internationally recognized artists."

The secret to the success of the arts in Jackson has been the local art community's ability to fine-tune events through the years.

"At the Fall Arts Festival we were always looking for new ideas and were willing to try them," says Terry Ray, the owner of West Lives On Gallery and the chairman of the FAF planning committee for six years. "Some of them worked, others didn't. Some worked for a while and then didn't. We had a home tour that was really popular one year. Then it fizzled. Now the ranch tours are popular." Even what is arguably the festival's most popular (and longest-standing) event, Palates & Palettes, is at a crossroads. There are rumblings from some galleries to turn the gallery walk/food festival (the event is a free gallery walk and each gallery is paired with a different valley restaurant) into a fundraiser. "I can't imagine anyone would object if there was a nominal fee to raise scholarship money for local students to take classes at the Art Association," Diehl says. "It's a small change, but an appropriate one for the times, giving back to the community."

Keeping events fresh without diluting the spirit of the celebration of this vibrant art town has been essential. This fall, the Western Design Conference exhibits and fashion show kick off the 10-day festival on the evening of September 10th and the grand finale Jackson Hole Art Auction rounds off the FAF on September 19th, where work from the masters of the American West and collectors will meet for one of the hottest sales in the region.

That the FAF has endured and flourished for 25 years can be credited to the exponential interest in collecting Western art over the same period of time. In a similar category (though Jackson is a smaller town) as Santa Fe, N.M., Jackson has evolved with the times, making its mark as a substantial art town. Naturally, the overall art scene in Jackson has adapted. For years, Overcast's Center Street Gallery was the only contemporary gallery around. Now there are as many contemporary galleries — Center Street is still around; newer additions include Diehl Gallery, Lyndsay McCandless Contemporary, JH Muse Gallery and Craft Gallery — as there were total galleries the first few years of the FAF. Where all the fine art photography used to be of wildlife and landscapes, now Oswald Gallery sells Beatles shots by Harry Benson and Annie Liebovitz celebrity photos. The Center for the Arts opened with 41,000 square feet of studio, performance and exhibition space in January 2004. Every restaurant and coffee shop in town has shows for local and regional artists. More artists' studios pepper the valley now. The Jackson Hole Art Auction, started in 2007 sells several million dollars worth of fine art each year. In 2008, President Bush designated the National Museum of Wildlife Art as the country's official museum for the genre.

"The Fall Arts Festival is at a crossroads now, and it has been at a crossroads before," Ray says. "It's always looking to change and improve. Whatever it does though, the galleries and collectors are here 12 months of the year, and that's not going to change."

This autumn, when the leaves of the bush on the hillside blaze red, the gallerists may not notice — they'll be too busy with the festivities at one of Jackson's most popular attractions.

—

Editor's Note: This year's Fall Arts Festival will be held from September 10 to September 20, 2009, look for specific schedule information at www.jacksonholechamber.com/fall_arts_festival.