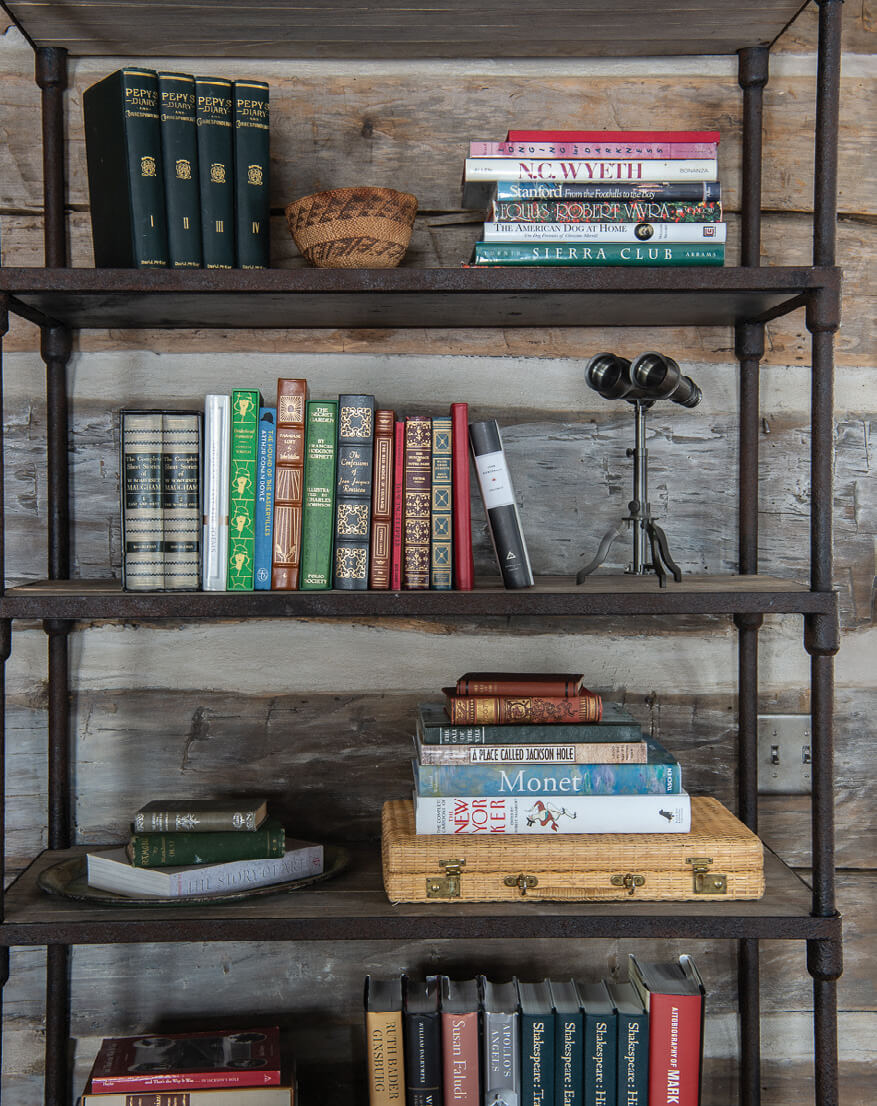 Whether it's on a feature wall or in a thoughtfully chosen bookcase that complements its surroundings, an artfully arranged collection of books adds a layer of personality to any room. | Courtesy of the Curated Collection by Foxtail Books/PHOTO BY LISA FLOOD PHOTOGRAPHY
12 Apr

Style & Substance

in

Books always make a room better," says author Tanya Boteju in her 2019 novel Kings, Queens, and In-Betweens. And, despite the rise of e-book sales, the proliferation of digital media on all sorts of devices, and trends in de-cluttering, many people agree. Interior design has embraced collections that create layers of texture while revealing what is interesting and important to homeowners. Books — whether housed in a nook, lining a wall, or filling a dedicated room — offer a great chance to introduce personality in a home. According to Christy Smirl at Foxtail Books & Library Services, "What's out is a living space without any books at all, or only a few tattered paperbacks, something that feels like a vacation rental." 

For book lovers and collectors, there is always room on the shelf for at least one more book by a favorite author or another volume in a beloved series. Whether new and beautiful editions that celebrate a personal interest or rare antique-store finds that beg to be displayed, books fill living rooms, dens, and home offices, offering hints to their owners' interests.

But what goes into building a book collection? And how are those collections best curated and displayed to add to the design and coziness of your home? According to Smirl, "More and more people are realizing they can outsource this work to experts and wind up with something incredibly unique and personal." 

Specialty booksellers like Jeff Cornell — who formerly owned Two Medicine Gallery, a rare book, antique furniture, and fine art shop in Whitefish, Montana, and now operates his business through online sales and direct-client contact — focus on buying and selling rare books and matching them to their perfect owners. In Cornell's case, he offers collectible books on Montana and the West, with an emphasis on Glacier and Yellowstone national parks. His clients and subscribers to his book list are looking for volumes on the subjects they love or must-have first-edition titles with dust jackets. Cornell says that some of his clients are "sophisticated collectors with specific titles or 'wants' they are seeking, many have a general interest in Montana history and want to know some of the best books to start their collections with, and most of them are somewhere in between." They are largely driven by the subjects they want to acquire, and they enlist Cornell's help in seeking out the best copies available. Collectors looking for those rare gems or books that complete a set often seek out their purchases through referrals to sellers like Cornell or the Internet. 

Though antique and second-hand book shops remain sources for collectible titles, Smirl frequently works with clients who are interested in filling their library with a full collection. The books that Smirl's clients ask her to find become distinctive collections that create "some of the most personal, interesting layers in a room." 

Generally, if Smirl is curating a library, she will consider her client's capacity for books and then determine "what a dream collection might look like within those bounds." She will often start with books that a client already owns, helping them fill in the collections and accessorizing with art and bookends that work with the space. Because books are her specialty, her focus is on treating "home libraries with the professionalism of an institutional library, but with the service and design eye you might expect from an interior design firm." Her clients might come to her with a specific list of subjects or types of books — such as all of the books that have won a particular award — but many lack direction, so she asks them what they studied in college, or if there are particular places they've traveled, or "what's the dream collection, the books it would be fun to explore when you find yourself in this space on an endless rainy afternoon?" For Smirl, "The home library in any shape and form is its books — or simply the space in which you enjoy them, whether you have a room full or a bookcase." 

Jaye Infanger, a senior designer at CLB Architects, enjoys how a home's architecture might be inspired by a cherished artifact or collection. Working mostly on interior design for new construction, Infanger coordinates the work of architects and craftspeople with the wishes and desires of her clients, whose homes often feature a collection of books or other significant mementos. Though dedicated library rooms are rare in new construction, shelving for books and collectibles is integral to almost any interior design. "Overall functionality is very important to how we go about thinking about the book or library space," remarks Infanger. "What are the storage requirements? If you have pieces that are rare or historic, are there specialized materials needed or protective steps that should be taken?" She considers the availability of space — an open wall that calls out for bookshelves and displays, for example — and the desired functionality of the home in choosing where to install such a permanent part of a home design. Though she prefers a sleek, modern aesthetic — and each project is uniquely individualized — Infanger generally allows the collection to guide the design, layering it with beautiful antiques to create coziness and visual interest.

According to Smirl, this holistic approach to designing a home library invites a genuine experience. "I am seeing more and more people being intentional about the details of their space in a variety of ways," she says. "The movement of the last couple of decades toward authenticity in the things we own and the spaces we inhabit just continues to grow. I like that people are more and more able to take a balanced approach to Marie Kondo's wisdom: the marriage of minimalism and curating one's own belongings. It's not just an idea that less is more, but that what you keep should be a choice as much as what you add." 

If you are a reader or book lover, you know that wood pulp and glue are alchemist's tools. Within the covers of books are whole worlds, and as physical objects and artifacts, books create atmosphere. From stacks of books about art and architecture to rows of classic series' spines tucked behind glass doors and shelves arranged by color, shape, and size, books can also lend a unique aesthetic to a room.

A book collection might be inspired by an artwork, with each title describing a facet of the piece or artist. A homeowner might enhance a vinyl collection with books about musicians or genres. A collection might include special bookends, wallpapers, or other accents that personalize the space or define an ethos. Whether it's a dedicated room or a quiet reading nook, home libraries invite readers to relax, take a seat by the fire, and while away the hours in a whole new world.

Erin H. Turner is a writer and editor in Helena, Montana. The author of four books and the former book reviewer at Big Sky Journal, she is also a collector of early 20th-century girl detective novels and has a bookshelf in pretty much every room of the house.