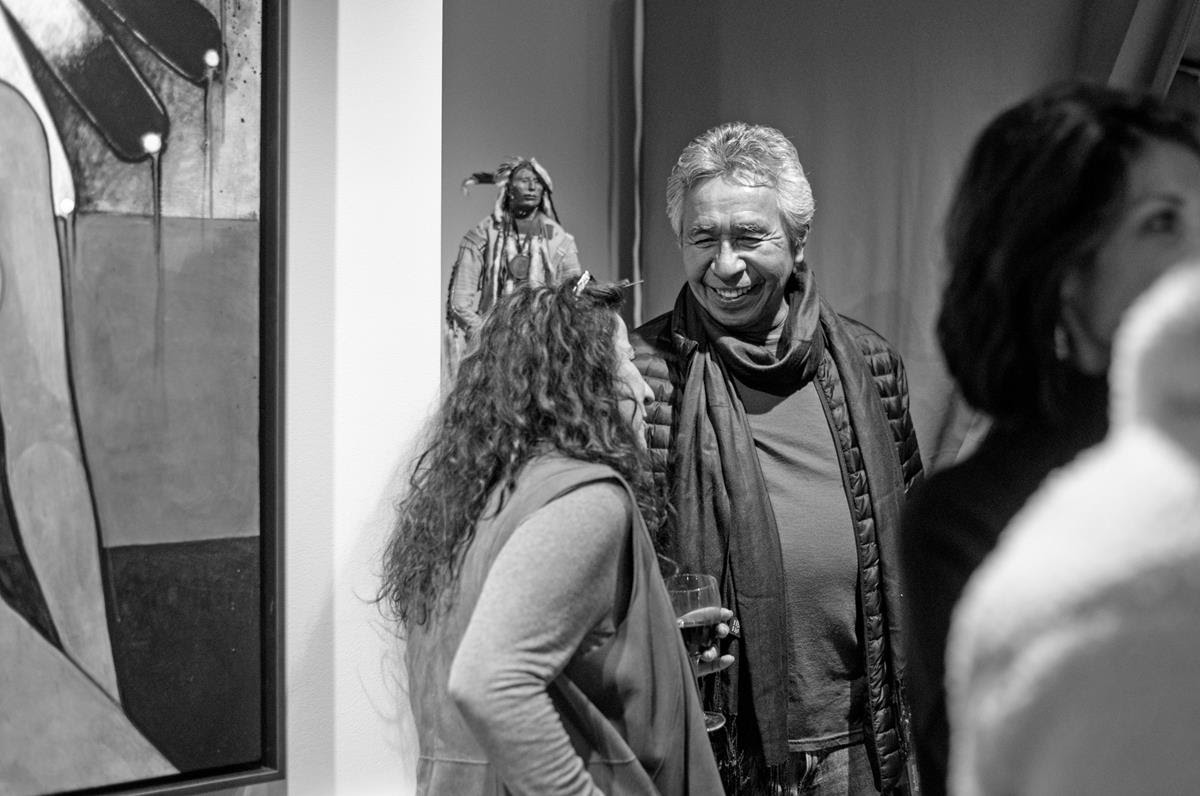 14 Dec

Artist Kevin Red Star of Montana Wins Governor's Arts Award

in
Earning a medal for lifetime achievement, Red Star sets the bar in Western art arena
When Billings, Montana-based Stapleton Gallery co-curators Jeremiah Young and Abigail Hornik nominated artist Kevin Red Star for the 2018 Governor's Arts Award, they had high expectations. "We and the other artists in the gallery have always considered Kevin Red Star to be the gold standard as an artist," says Young, who owns the Stapleton Gallery in downtown Billings, Montana. "To see him recognized as such with the highest award in the state from the Montana Arts Council and Gov. Bullock is an important milestone that honors and invigorates a mature artist."
Chosen from among 109 nominees, Kevin Red Star received the lifetime achievement award for visual art from Lt. Gov. Mike Cooney at the December 2018 ceremony in Helena, Mont.
Red Star grew up on the Crow Reservation in Lodge Grass, Montana. He was chosen to be in the first group of students to attend the Institute of American Indian Arts in Santa Fe in the late 1960s. He is known for his attention to historical detail in his depictions of warriors, ceremonies, costumes and tipis. Each element, no matter how small, has specific meaning and significance within the context of tradition.
Red Star's paintings are a focal point of several important museum collections, including the Smithsonian National Museum of the American Indian, C.M. Russell Museum, the Autry Museum of the American West where he recently received the 2018 James R. Parks Trustees' Purchase Award, and the Whitney Museum of Western Art.
"It was amazing to us that in Kevin Red Star's long, illustrious career, and considering his importance to art in Montana and really to the West, that he hadn't been a recipient of the Governor's Arts Award already," noted Young.
Red Star's humble demeanor belies the impact his art has had on the broader art world. As a renowned visual artist of five decades, Kevin Red Star's work has been exhibited in France, Belgium and Japan, featured at the United States Embassy in Malawi among other art collections displayed far from Montana.
In Hornik's letter of nomination she elaborated on the relevance of his work sharing his Crow culture on a global level as well as within Montana. "His work is so intensely layered and complex, like the man himself," writes Hornik, "There are many paintings within a Red Star painting."
Red Star's work was recently exhibited at Stapleton Gallery's "The Trophy Room – the Hunt for Art" show in November and December. He offers mentorship and inspiration to many artists, while in the spirit of collaboration fostered at the gallery, he continues to be invigorated by younger artists. The Governor's Arts Award further solidifies Red Star as an anchor in the Montana arts community and the larger chapter of American art as well.
About the Stapleton Gallery:
In 2016, Jeremiah Young joined forces with co-curator Abigail Hornik-Minckler to launch Stapleton Gallery with a mission to nurture and celebrate authentic Montana artistry. The gallery's artists work in a wide range of media from fine art photography to glass and bronze sculpture to a variety of painting materials and techniques. Young, also owner and creative director of venerable Western interior design company Kibler & Kirch, is passionate about curating exhibits for art-lovers who appreciate the themes and creativity that go into the events. The gallery is located at 104 N. Broadway, Suite 204. For more information visit www.stapletongallery.com.