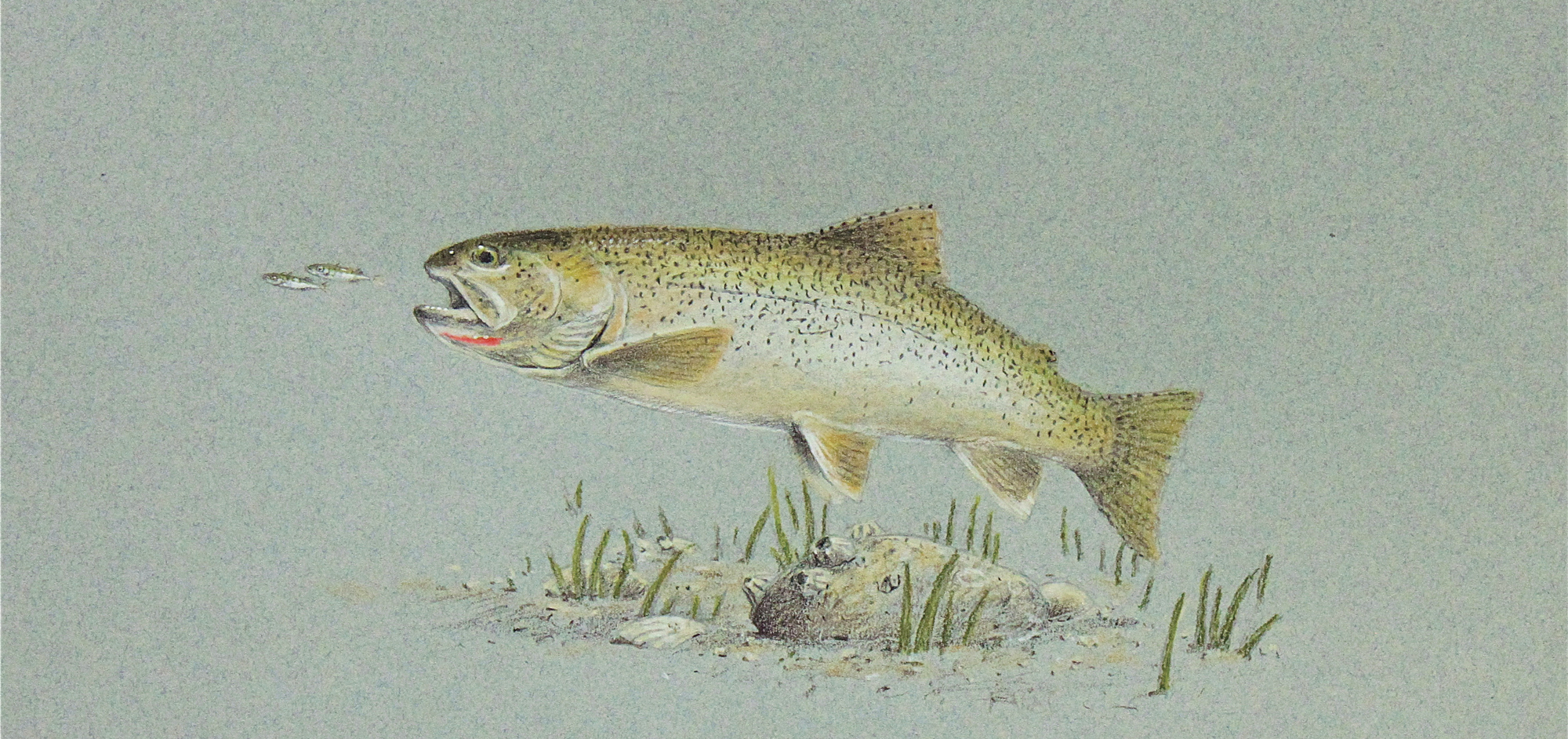 24 Jul

Outside: Sea Run at Nimmo Bay

in
---
It's take time for me to realize that fishing trips, no matter how well I prepare for them, rarely match and seldom exceed my pre-trip expectations. At least in the ways I thought they might.
There was Belize, when I'd set a goal to catch the grand slam, and visualized myself doing just that, but instead flew home without a permit under my belt, the weather and tides, and poor casts, having killed my chances. In Russia, Atlantic salmon mostly refused my fly while a buddy, using the same patterns and tactics, racked up big numbers, including a nine-fish day. There was a trip to Alaska for steelhead when those fish decided (without a word of advance notice!) to take a year off from freshwater and never arrived. It was rather insulting that the Dolly Varden and early-run king salmon followed suit; an editor friend and I may be the only humans to have fished Alaska for five days without a single grab. And there was a month in the Florida Keys, when I expected to catch scads of tarpon, only to have my appendix blow out on day two. It wasn't removed until day 12, so I spent seven days in Fisherman's Hospital and another week recovering at a publisher's house before the doctors allowed me to fly back to Idaho. I'd lost 30 pounds, but it's a diet plan I wouldn't recommend.
So I should have been prepared when I accepted a trip to British Columbia's Central Coast for silver salmon and, potentially, steelhead, only to find challenging conditions. Here was the deal: like many places, British Columbia experienced a record-setting drought in 2012, most noted in August and September. That drought had rivers throughout the province running low and clear last October, especially on small streams, which was exactly the type of water I was expecting to fish. When rivers run low and clear salmon are hesitant to leave saltwater and begin their upstream spawning runs. In addition, those that ascend the river are super-vulnerable to all variety of predators, ranging from bald eagles to grizzly bears to wolves and even seals. Make a bad cast that flashes a fly line over those fishes' heads and you'll see a dozen salmon heading the other direction as if fired from a cannon.
That's what I found while fishing out of Nimmo Bay Resort, a family-built and family-run lodge that specializes in heli-fishing, where anglers are whisked from one river to the next depending on their whims. It's an experience that's just as unique as a heli-skiing operation and offers similar untouched options. Nimmo Bay is located in the Broughton Archipelago, just across the inland passage from Vancouver Island and Port McNeil, at the back end of a calm bay that, to me and my Northwest roots, screams You gotta live here! It's the kind of place, with inky, black reflective water in front, and a dense, olive-green, old-growth forest behind, and towering glaciated mountains above, that seems just about ideal. Visiting anglers wake each day to a massive array of possibility.
During my visit we climbed into a five-seat A-Star helicopter and rose above the lodge each morning, carving through the mist before breaking into sunshine 100 feet above. We flew through 5,000 foot high passes, between towering granite walls, then carved up narrow river corridors, keeping our eyes peeled for pods of salmon below. Each time we found an enticing pod — and a safe place to land the helicopter — we'd get out and fish for a while. We moved from one spot to the next fishing rivers that I'd never heard of, including the Ahnuhati, the Kilbella, Kakweiken, Kingcome, Wakemen, Seymour, Clyak, plus the Smokehouse and the Neechanz, among others. In five days we didn't see a competing angler, nor did I get the sense we would. We fished at our own pace, wherever we chose, cherry-picking pools from thousands of miles of untouched water.
On each river we could count on hooking one or two cohos per pool, often on the first few casts, before those salmon got nervous and raced away. When they reached the front or back of the pool they'd turn around and return to their preferred places where another cast and a fly landing heavily on the water, would scatter them again. When that occurred, fishing felt like harassment so we'd pile into the helicopter, clip into our belts and chest straps, and hover off to the next fresh pool.
It wasn't like this was painful or that we weren't catching fish, but by the second day I knew the coho fishing wasn't going to be what I hoped for, or match the visions I'd formed prior to the trip. This is the point where I've failed on previous trips: letting the pressure of getting a preconceived story and the images to accompany it, drag me down like a corpse.
This time I decided to mix up the fishing, and not worry about the water conditions, those wary cohos, and the story. Basically, I had to reinvent myself by taking advantage of all that the area and the mobility of a helicopter allowed. So, I strung up a three-weight fiberglass rod, tied on a small pink fly, and fished some faster water near the heads of the pools where Peter Barratt, our pilot, said I'd find sea-run cutthroat and Dolly Varden char.
Sea-run cutthroat are one of my favorite fish, part of that appeal being where those fish swim — throughout the Pacific Northwest ranging from southern Oregon to northern southeast Alaska — and the other part being that fish's fighting ability: They are firm-bodied trout that eagerly take flies and if we matched them against an inland rainbow or brown trout they'd have their opponent on the canvas, bloodied, by round three.
Around Nimmo Bay and the area's rivers, those cutthroat were super abundant, perhaps more so than anywhere else I've pursued them, and they ranged to 19 or 20 inches. Some were mint-bright while others held the more typical yellowish-green hue. All carried the namesake orange slashes under their throats. On a three-weight rod they were almost difficult to land.
I've always wanted to catch a 5-pound cutthroat, mostly because I've seen old films of my father hoisting such fish when he was a kid wandering around western Washington. I've fished sea runs for 30 years and never seen one that size, but I was told that the central British Columbia coast was the place to find that fish. And I don't doubt that's true — if I had to guess, few, if any, anglers visit the region for sea-run cutts and instead spend their time trying for cohos and steelhead. Along the central coast, where the spirit bear and coastal grizzlies stalk the forests, and orcas and sea lions prowl the sea, I expect that cutthroats could easily live long enough to reach 5 pounds or more. Out there, somewhere, I'm sure a 25-inch sea run is waiting for my cast. On this trip, however, I never found that fish and in retrospect, maybe we should have spent more time looking for the giant instead of working so hard for those cohos.
In the end, however, we probably did just what we should have — we worked hard for cohos, caught plenty, but shifted gears because of the conditions. And we didn't limit the prospecting to cutthroats. One day we set out in an aluminum skiff and charged through narrow passages and across calm, saltwater bays, searching for kelp beds and whatever might be swimming around them. What we found were scads of black rock bass ranging from 2 to 6 pounds, fish that were relatively eager to suck in our pink or white bunny leaches fished off sinking lines. The water was clear and we could watch those fish inspect our flies 20 feet below. Whenever the fly suddenly disappeared we'd set the hook and the three-weight would bend to near breaking. Shortly after we'd hoist another bass out of the water, then release it back to its lair. Fraser Murray, who manages Nimmo Bay and has guided anglers since he was able to walk, said we may have caught ling cod ranging to 30 pounds if we could have sunk a fly past those bass, all the way to the bottom. He also mentioned a place where halibut can be caught on flies in 30 feet of water, something that set in my mind as worthy of doing. Meaning, of course, that despite a few frustrations with those coho salmon, I was already visualizing a return trip to Nimmo Bay.
If I did just that, I would likely arrive again during fall, hoping for better water conditions and less wary cohos. But in my mind, prior to and during the trip, I'd have my great Aunt Bert's mantra in my head: "You play the cards you're dealt." In fishing, whether that means casting for sea-run cutthroat or plying the kelp beds for sea bass, or even fishing heavy sink lines for halibut and whatever else might bite a fly, being opportunistic can make all the difference between an experience that dissolves from memory and something that lives inside of you for the rest of your life.