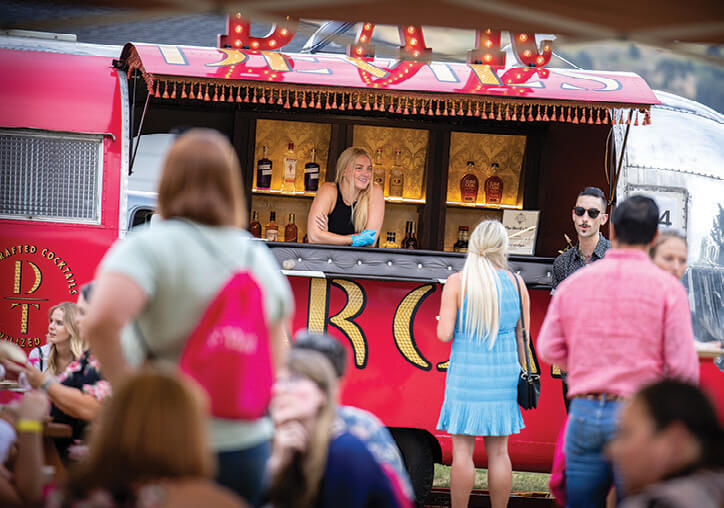 Courtesy of STUDIO MACLEOD
04 Aug

Round Up: Warrior Taste Fest

in

Whether you're on the hunt for new artwork or just want to enjoy an evening sampling delicious bites, craft beer, and signature cocktails, you may find what you're looking for at the Warrior Taste Fest — and all for a good cause. The popular fundraiser for Warriors & Quiet Waters — a Bozeman nonprofit that helps veterans integrate into civilian life through outdoor experiences like fly fishing — offers a unique opportunity for the community to support and give back to post-9/11 veterans.

The fifth annual event takes place on Saturday, September 8 in the Haynes Pavilion at the Gallatin County Fairgrounds in Bozeman, Montana. Attendees will spend the evening sipping, savoring, socializing, and voting for the Best Under the Big Sky Bite, Brew, and Cocktail, all while observing 12 renowned artists put the finishing touches on their works for the live auction. Local band Walcrik will serve up rousing Folk/Americana/Roots renditions to accompany the festivities. 

"This event isn't just a fundraiser — it's a high-spirited celebration featuring an enticing fusion of art, food, drink, and patriotism," says  Brian Gilman, retired U.S. Marine Corps Colonel and WQW Foundation CEO. "We design it to captivate attendees, offering a lively atmosphere and a thrilling auction, with art pieces from the best artists in the region, exciting travel packages, and more."

The silent auction will feature works by John Banovich and Thomas English, as well as carefully curated retail items and destination travel packages. "This is one of my favorite art events all year," says Montana painter Whitney Hall. "I love chatting with patrons and explaining my process." Joining Hall as quick-finish artists are Mark McKenna, Joe Kronenburg, Rob Akey, Shirle Wempner, Todd Connor, Greg Scheibel, Steve Lillegard, David Graham, Amber Martin, Jennifer Johnson, and Amanda Markel.

"The thing I find extraordinary about Warrior Taste Fest is the way it impacts not only vets but also small businesses, artists, and entrepreneurs," says Markel. "Arm in arm, we come together to create an unforgettable night with an expertly curated pairing of enticing flavors and engaging visual experiences. This blend creates a rich atmosphere to experience and enjoy everything our heroes protect. Together, we fight for the lives of those who have fought for our own."

With no shortage of competitive spirit in the Best Beer category, Bridger Brewing's Hayden Wilson is ready for a "three-peat" of his past two years' wins, though Mountains Walking Brewery is among the six aiming to give Wilson a run for his money. Owners Sarah MacDonald and Gustav Dose will bring their award-winning Damsel Fly IPA, with its signature can design by artist Andrew Holder. "Craft beer is art in a glass," says Dose. Beyond the Taste Fest, the couple donates a percentage of can sales, which carry a WQW logo, to the organization. A Zen Buddhist practitioner, Dose says he's impressed with the organization's focus on mental health and considers national and international distribution of his signature brew a small way to help WQW extend its reach. 

Eight regional distilleries will also participate in the event. "We've always brought our huckleberry cocktail, but this year we may change it up and do whiskey," says Bozeman Spirits co-owner Mary Pat Harris. Pours are metered, but multiple tastings are not discouraged. "Last year we couldn't keep up; we ran out," she says. "You are getting every value for your dollar at the Taste Fest."

Harris and her partner, Jim Harris, give regularly to 12 organizations, but "WQW will always be one of our top five," she says, noting that Montana has the most veterans per capita relative to population. "We appreciate the support for post-9/11 vets. Recovery therapy and fly fishing seem to help vets and their families heal in every aspect." 

In addition to enjoying craft brews and cocktails, attendees will sample fine fare. Nordic Brew Works is on tap to participate for a third year, competing in all three categories. Marketing director Jen Brewster is coordinating the preparation of creative seasonal food, along with a specialty cocktail and two beers. Nordic owner Matt Paine is a Marine veteran who served two combat tours in Iraq, so the event is a natural fit. "We rotate artists' work throughout the restaurant," says Brewster. "Food and art just go together." 

Some 16 restaurants will join the fray for Best Bite, including popular local stops like Copper, Brigade, Lone Mountain Ranch, Starseed Food Truck, and Little Belt Burger Bar, among others. Last year's winner, Iron Horse Café, is also set to compete this year. "Warrior Taste Fest is a unique opportunity to interact with the community while supporting a great cause," says Greg Putnam, WQW board member and Little Belt co-founder and president. "As a veteran-owned business, we recognize the importance of Warriors & Quiet Waters and the work they do. We look forward to participating every year."

Doors open at 6 p.m. for Warrior Taste Fest 2023. VIP ticket holders will enjoy early entry at 5:30 p.m. All attendees are invited to peruse and bid on the silent auction, as well as participate in the live auction — the event's grand finale. 

Bon appétit, and Semper Fi.