04 Feb

Round Up: Hot Picks

in

BSJ editors spotlight businesses in the Northern Rockies that are outstanding in the field of fly fishing.
Outfitter of the year
Westbank Anglers
Jackson Hole, WY | westbank.com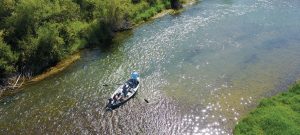 Dedicated to sharing their love of fly fishing, the owners and staff of Westbank Anglers have been providing guests with memorable experiences on the water for 36 years. Located in Wilson, Wyoming, just outside of Jackson Hole and along the route to Grand Teton National Park, they offer full- and half-day trips on nearby rivers in Wyoming, Idaho, and Yellowstone National Park, and overnight adventures at their rustic and comfortable river camp on the South Fork of the Snake River. Each trip is customized to meet the needs and desires of their clients — those new to the sport as well as seasoned anglers with thousands of casts under their belts. In their homebase shop on Teton Village Road, they offer a variety of specialized fly-fishing gear, including rods from companies like Sage, Scott, and Winston, reels from Bauer, Nautilus, Lamson, and Sage, and waders and outerwear from Simms. The guides and staff at Westbank are authentic and experienced anglers who know their home waters in and around Grand Teton and Yellowstone national parks.
Fly-fishing lodge of the year
Yellowstone Valley Lodge & Grill
Livingston, MT | yellowstonevalleylodge.com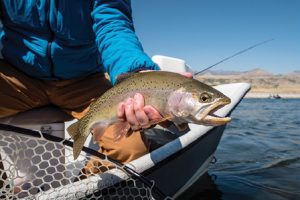 Just outside the eclectic town of Livingston, Montana, the Yellowstone Valley Lodge & Grill features cozy cabins, farm-to-table dining, and blue-ribbon fishing. Nestled in Paradise Valley, an ancient glacial river valley known for its spectacular views, the lodge is a stone's throw from the Yellowstone River, which flows north out of Yellowstone National Park, dividing the rugged Absaroka Mountains to the east from the Gallatin Range to the west. While some guests sojourn for the night, others spend days blending the luxury dining and accommodations with guided fly-fishing adventures through a partnership with Montana Fly Fishing Guides. Stays include a private cabin right on the banks of the Yellowstone, where contemporary style melds with the rustic spirit of rural Montana. Many visitors use the Yellowstone Valley Lodge as their adventure base camp, just 40 minutes from Yellowstone National Park, 40 minutes from the bustling city of Bozeman, and a short drive to other renowned Paradise Valley spring creeks and tributaries of the Yellowstone.
Fly-fishing educational tool of the year
STEM to STREAM Trout Mobile
Missoula, MT | troutandcompany.com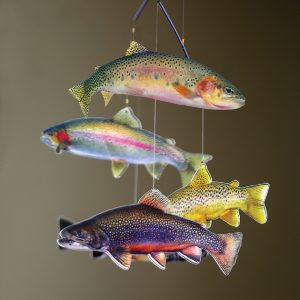 Artful function meets education with Trout and Company's Trout Mobiles. These kinetic sculptures showcase Montana's five main trout species through colorful, life-like renditions of the rainbow, cutthroat, brown, brook, and bull trout. Each fish is made of translucent material that sparkles as the fish swim through the air. Founder and professional photographer Laurie Lane grew up fly fishing in Minnesota. She developed the kits after moving to Missoula in 1993 and falling in love with Montana's trout species. Each mobile is the result of Lane's photo study of the fish and incorporates real-life colors. As a way of encouraging river conservation, the mobiles include engaging information that's designed to help children identify fish species and introduce them to the lifelong sport of fly fishing. Trout and Company's aim is to engage and educate; supporting catch-and-release fly fishing and conservation, they seek to teach the next generation of stewards. A mobile kit includes instructions and all of the parts needed to create a hanging piece of art, something families can build together while learning about trout.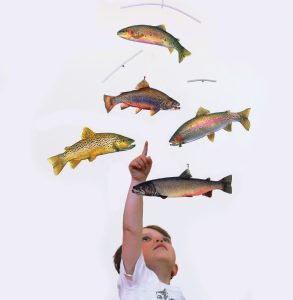 fly-fishing product of the year
Ro Drift Boats
Bozeman, MT | rodriftboats.com
Almost 30 years ago, Roy Eddins launched Ro Drift Boats in Eastern Idaho. The goal: To improve upon drift boat designs and develop watercrafts that are ideal for fishing Rocky Mountain rivers. In 2006, Roy's oldest son, Robert Eddins, purchased the business and moved it to Bozeman, Montana, where blue-ribbon trout streams are a defining characteristic of the landscape. Today, with an emphasis on durability and lightweight designs, the company produces five models, all of which carry lifetime warranties. Ro Drift Boats has a reputation among anglers for being versatile, spacious, and easy to row, thanks to decades of engineering. Handmade in Bozeman, the flexible hull improves maneuverability in the water. With rigid chines on the bottom edges and flexible floors, these drift boats are built to withstand the inevitable shallow water passings and occasional rock collisions. If superior strength is a top concern, each model can be manufactured from carbon fiber rather than polyester fiberglass, making them stronger than the traditional designs and 40 percent lighter. The company's newest line of 2021 drift boats includes creative storage spaces and trash cans to promote clean rivers and streams.