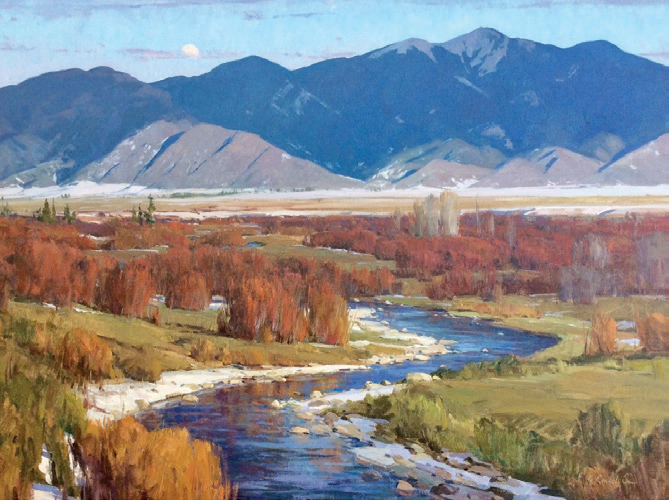 AUTUMN SALUTE Russell Case | Oil | 30 x 40 inches
09 Aug

Round Up: Art-centric Events of Note

in

We're fortunate to have a variety of museums, galleries, and curated happenings in the Northern Rockies that celebrate the arts and artists of the region. Some upcoming highlights include…

August 6 – October 2
Linda Tippetts Retrospective
Hockaday Museum, Kalispell, MT
hockadaymuseum.com

"Roads Well Traveled, Some Were Gravel" spans Linda Tippetts' 50-plus-year career as a celebrated Montana artist, and features early sketches and a variety of works. With a passion for plein air painting, Tippetts is one of the most renowned Glacier National Park artists in the country.

May 15 – September 6
T. Allen Lawson:
Recollections and Reflections
The Brinton Museum, Big Horn, WY
thebrintonmuseum.org

Featuring new works by nationally recognized Wyoming artist T. Allen Lawson, this exhibit highlights his ability to reveal exquisite beauty in the seemingly mundane, whether it's sunlight on the side of a barn or snow melting into puddles in an alley.

July 1 – October 10
North X Northwest
Yellowstone Art Museum, Billings, MT
artmuseum.org

This third annual juried exhibition, titled "Out of Isolation," showcases regional favorites and emerging artists, with their works displayed alongside that of their more established peers. This year's collection was inspired by experiences brought on by the COVID-19 pandemic.

July 29 – October 3
The Autio Collection
Yellowstone Art Museum, Billings, MT
artmuseum.org

Curated by the couple's daughter, Lisa Autio, this collection of ceramics, prints, drawings, paintings, and mixed-media works explores Lela and Rudy Autio's profound influence on Montana Modernism, as they advanced the region's arts scene and influenced each other's work.

September 17 – 18
Buffalo Bill Show & Sale
Buffalo Bill Center of the West, Cody, WY
buffalobillartshow.net

Celebrating its 40th year of featuring works related to the land, people, and wildlife of the American West in a broad range of stylistic interpretations and mediums, this event is a highlight of Rendezvous Royale — a week-long celebration of the arts in Cody. A lively dinner and auction on September 17 is followed by a quick draw, brunch, and sale the next day.