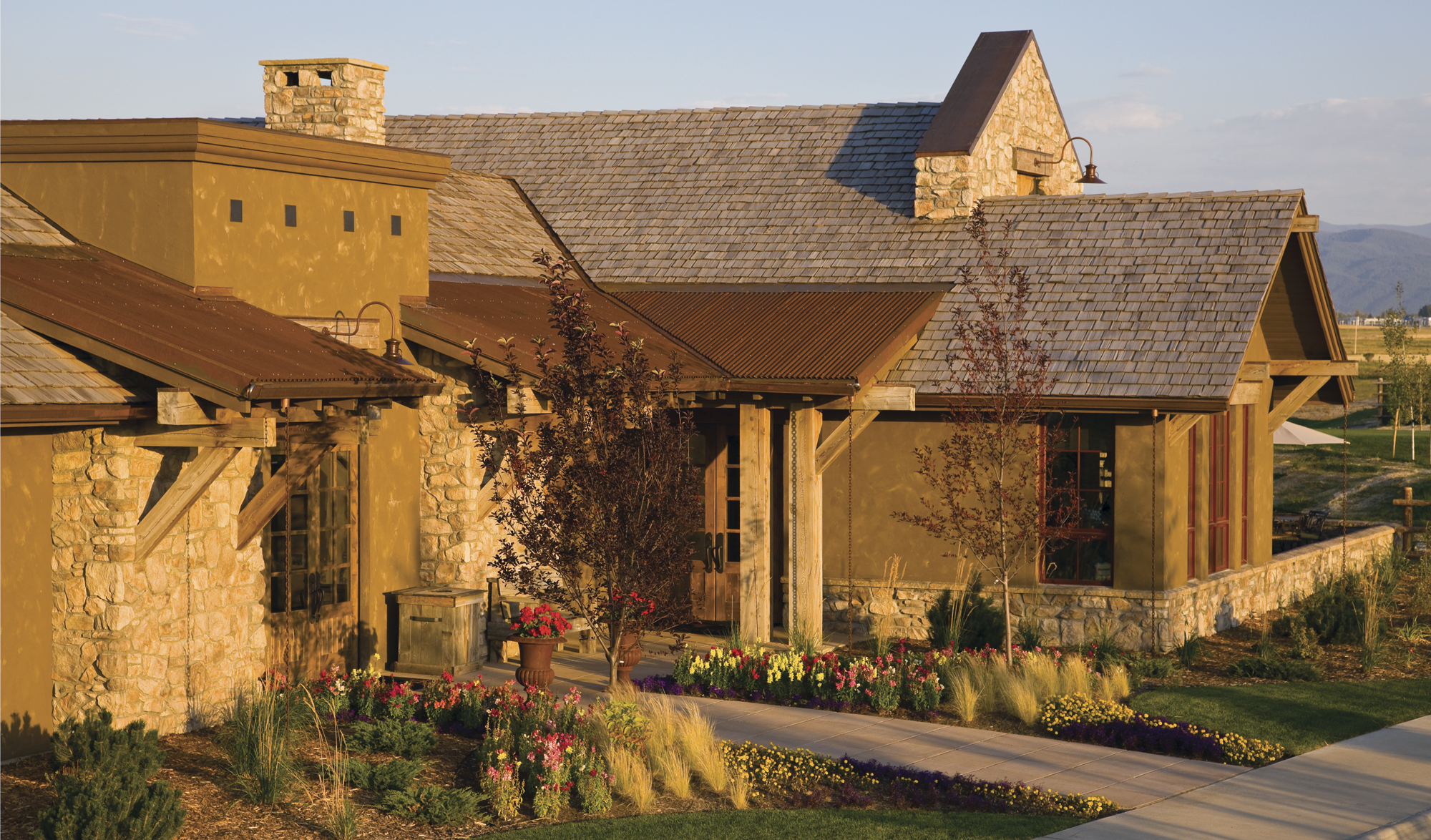 15 Jul

Western Design: Rocky Mountain Rustics, RMR Group

in
---
RMR Group, a full-service contracting firm specializing in mountain-style home construction in Big Sky, has developed a unique and successful approach to the business of building. Instead of being a labor-driven company, they choose to focus on client representation and management.
"Construction, contracting and building homes, for all intensive purposes, is very simple. And if a contractor is focused just on building a home, he certainly hasn't graduated or moved onto the finer points of business," said Chad Rothacher, founder and owner of RMR Group. "We feel like building the home is the easy part, managing the client's expectations, that they are getting exactly what their needs are, that's one of the challenging parts and something we really excel at."
Like most contractors, RMR Group handles the details, from acquiring permits, to post-construction services, but instead of employing a division of specialists, Rothacher, relies solely on private contractors for company building projects, which have included everything from custom residences to major commercial developments.
Over the course of their 15-year history, RMR Group has completed over $75 million in real estate value for family homes, commercial developments and speculative property development and sales. The company has netted major commercial developments such as a series of log cabins with ski-in-and-out access at Big Sky Resort; a 3,500 square-foot swim and tennis facility at Black Bull Development in Bozeman; a 3,500 square-foot mechanical shop facility for the Montana Department of Transportation and a 30-unit hotel, called The Three Bear Hotel, in West Yellowstone.
The company is on-pace to build between 10 and 15 homes this year, Rothacher said, and around 95 to 99 percent of their clients are out-of-state buyers. The company rarely bids on competitive projects.
As someone who has worked in the construction industry for 30 years, with 15 years as a general contractor and 15 with RMR Group, Rothacher brings a depth of experience and a strong professional background in management and residential and heavy-timber construction.
"When we used to self-perform almost everything with an excavation and carpentry and framing and roofing devisions, we had around 60 employees and were limited to the best employees that we could find, but what I've learned over the years is that some of the best employees are running their own businesses. And we were having better success using private contractors as tradesmen, rather than using the conventional employment route," he said. "If we are running less labor and overhead on a project, it allows us to keep costs down below the market norm and transfer those savings to the homeowner."
Along with projects like building maintenance shops, finishing the interior of Andiamo Restaurant, and tearing down gondolas at Big Sky Ski Resort, RMR was also the driving force behind Powder Ridge Cabins, a series of 80 log cabins accessible from the slope that encompassed 750,000 square-feet of high-end residential construction.
"It's a condominium development, with free-standing log homes, but at the same time they have become very personal. Every one has its own thumbprint from the owner," said Brian Wheeler, the director of real estate and development for Big Sky Resort.
Wheeler said that for him, the key to success was that Rothacher was both accessible and a superior craftsman. "He knows the log and timber business, and is the best we've ever had, and we've been around since the '70s," said Wheeler, who also hired RMR to build a lake home for him in Traverse City, Michigan.
Steve Barrett, an attorney representing Big Sky Resort for more than 30 years, said he was impressed with Rothacher's "approach, skill set and artistic sense" after he hired RMR Group to build a private log cabin for him at Big Sky.
"We wanted it to look like it was there in 1910, but not have to live in it like it was 1910," Barrett said. It was "modern when it needed to be modern, and old fashioned where it needed to be old fashioned."
"There is a great art in building a log cabin, to get the feel right. You don't want it to look like Lincoln Logs. It should be appropriately rustic with a natural, good design. There is a lot of hand-work involved in making it look right and he was able to deliver on all those things," he said. "Chad created an appropriate approach for that atmosphere and it just worked out delightfully. I couldn't have been happier. It was done right on schedule and within the budget."
As a result of the positive experience that Barrett had, RMR Group was retained to build three, $1 million homes and a $4 million fitness and swimming complex at Black Bull Development, a golf course community with 400 lots located in Bozeman, that Barrett consulted on. Each project was carried out with the same exacting detail and with great communication, said Barrett.
Rob Schumacher, owner of Schumacher Interests, Inc., a real estate and development firm with holdings in eight states, purchased Black Bull in April 2011.
"We're really cautions about construction and things can get out of control pretty easily before you realize there is a problem. … All of the projects he's done for us have come in on time or earlier and are honorable to the budget," Schumacher said.
"He is more than just a contractor. He was ready to pour concert on the foundation of one project and he said something doesn't feel or look right and he bumped it out three feet and made it perfect. On the fly, he can look at something and make a design decision," he said. "Chad has a unique eye. He can get a sense for a space and feel the space when it's not even framed. It's really rare, it's almost like he thinks three dimensionally."