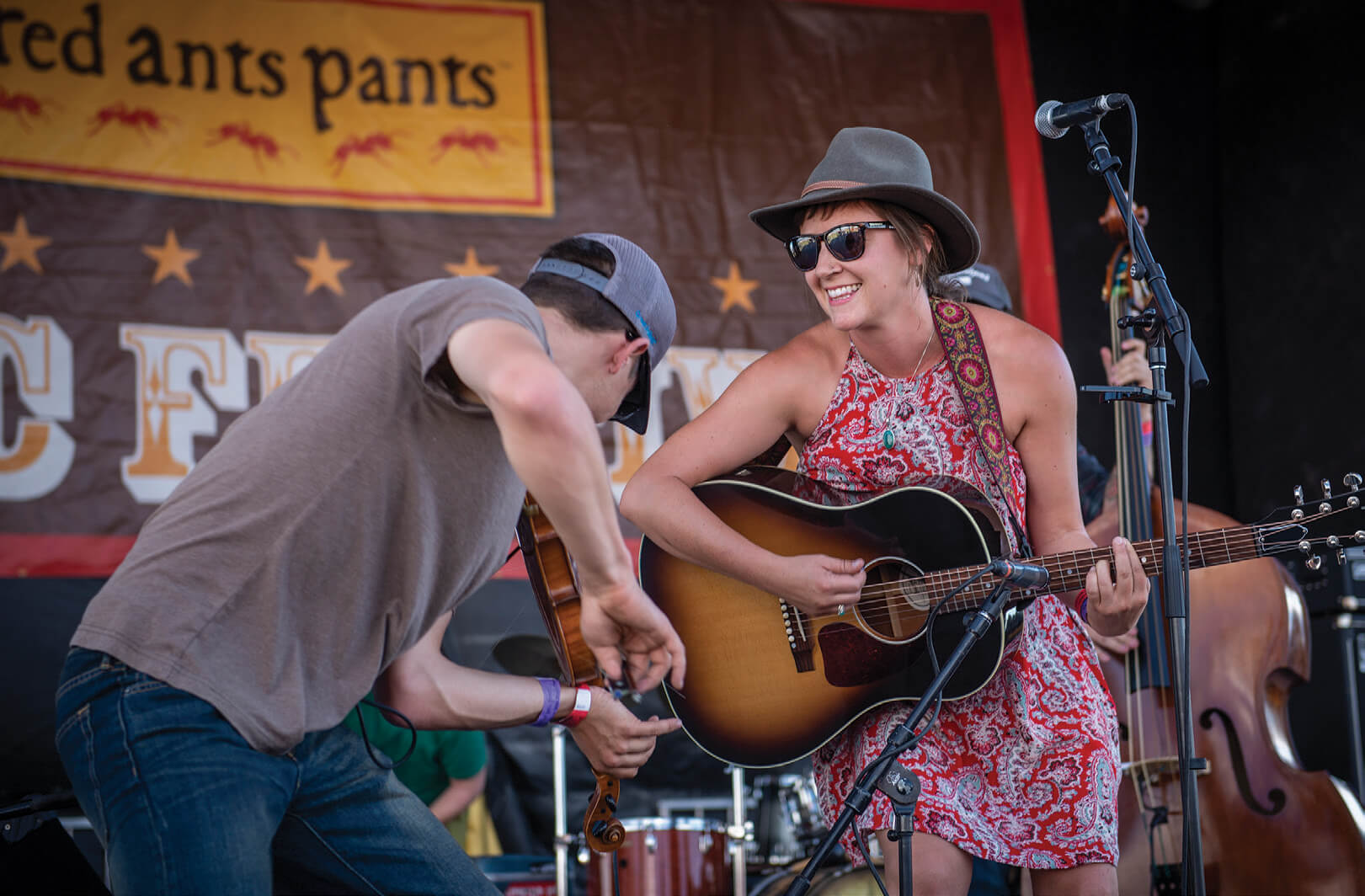 The Bozeman, Montana-based bluegrass band Laney Lou and the Bird Dogs performs on the Red Ants Pants Music Festival's main stage.
03 Jun

Rockin' Red Ants

in

Lena Marie Schiffer gets teary-eyed when she thinks about her mainstage debut at the Red Ants Pants Music Festival in 2016. "It was truly a life-changing moment for me," says the frontwoman for Laney Lou and the Bird Dogs, a Bozeman, Montana-based bluegrass band. "I got off that stage and realized it's what I wanted to do for my life." Schiffer's bandmates also felt the calling. "The band defines things before Red Ants Pants and after Red Ants Pants," she adds. "It was that big of a deal for us."

A decade of music has flowed from two stages situated in pasturelands just outside of White Sulphur Springs, Montana, population 900. Over one weekend in late July, this small town explodes by the thousands, as visitors from all over the country turn up for an annual homegrown music festival started in 2011 by local resident and business owner Sarah Calhoun, founder of Red Ants Pants, a workwear company that specializes in clothing for women.

Reminiscing about the past 10 years, Calhoun admits her idea to start a music festival in a rural community was a bit … nuts. "When you look at it in real terms, holding a yearly festival is a horrible model for a nonprofit," she says. "There are so many risks involved. Amazingly, we've made it work."

Calhoun was 30 years old when she started the festival as a fundraising event for the Red Ants Pants Foundation, a nonprofit she created to benefit the community. The festival has since grown from 6,000 attendees that first year to a record 18,000 guests across the three-day weekend. Over the years, a dedicated team of staff and volunteers have built the event deliberately, curating an experience that is both rural and other-worldly.

The festival has attracted household names and unknowns alike. It's a place where Brandi Carlile, Jason Isbel, Dwight Yoakam, Patty Griffin, Shakey Graves, the Turnpike Troubadours, and many more have come to share an experience with thousands of audience members on a dusty Montana cattle pasture in the heat of July.

If it sounds sticky and uncomfortable, at times it is. But the magic is in those communal experiences against a backdrop of immense skies, which often reward sun-scorched viewers with devastatingly beautiful sunsets, the occasional cooling breeze, a thunderstorm here and there, and evenings that are capped off by stars that blanket the on-site campground, where musicians and audience members come together to share beverages and a few more tunes long after the final encore. "The RAP community is so inclusive and happy," says Schiffer. "Even when you're in these extreme temps and caked in dirt, at the end, everyone is still smiling."

Schiffer describes the after-hours scene as a jamboree of sorts that brings people together. "As a musician camping with everyone else, a wall is taken down," she says. "We jammed all night long in the campground until my fingers were sore, my voice was wrecked, and my mouth hurt from smiling so much."

When Laney Lou and the Bird Dogs first played at the festival in 2015, they rocked the side stage so hard that they were selected as the Emerging Artists of the Year and invited to play the main stage the following summer. That year, they would meet The Last Revel, a Minneapolis-based folk trio that was also selected to perform on the main stage after a spirited side stage performance in 2015.

Ryan Acker, of The Last Revel, explains that the group applied for the competition on a whim, and the festival launched the band's first tour outside of the Midwest. "We showed up Saturday morning, and we all were caught off guard by how rural the experience was going to be," he says. "It kind of set us aback. This is literally a cow pasture. That was the first time we had ever experienced anything like that."

Acker laughs now thinking about how unprepared the band was for the experience. But musically, they gave it everything they had. "Halfway through the first song, people were starting to gravitate toward our stage," he says, "and by two or three songs in, the place was just going wild. As a young band, that was the first time we had experienced anything like that."

Each year, festival attendees are invited to vote for their favorite side stage act, and the group with the most votes is invited back the following year to open on the main stage. "Winning the competition really did open up doors for my band at the time to start touring," says Acker, who has returned to Montana with The Last Revel about three times a year ever  since. "It gave us the springboard to take it more seriously."

The festival not only launched The Last Revel into years of touring and performing across the West, it also led Acker to move to Montana and propose to Schiffer in October 2020. "He came out and visited me, and the rest is history," Schiffer says. "We've been dating since then. It's been amazing and super supportive. Everything has felt very right, and it really blows my mind that the connection started at Red Ants Pants."

Calhoun says the festival vibe is a bit of a mystery, even to her. "All the diversity on-site is a beautiful thing. … People are coming to see a show, hear good music, and have fun with their buddies. That percolates through the crowds and the beer lines and the volunteers. It's a community, and a lot of different, diverse communities," she says.

In 2018, the festival was named the Event of the Year by the Montana Office of Tourism for its ability to inject funds into a rural part of the state and spur tourism in the region, while also doing good by giving back to the community. Since its first year, the Red Ants Pants Foundation has gifted more than $110,000 from festival proceeds to rural communities via scholarships, support for working family farms and ranches, and for women-focused leadership programs and projects.

Chris and Barry Hedrich, owners of 2 Basset Brewery in White Sulphur Springs, have been involved with the event since its inception. "When Sarah first started bringing up the festival, it was way before we had a glimmer in our eye of a brewery," says Chris, who now equates festival traffic to an additional week of revenue for their Main Street business. "Sarah is providing an opportunity."

That first year, and every year since, the Hedrichs have helped erect snow fencing for the festival and fill in gopher holes across the pasture, providing a service not just for attendees, but also for the family who runs cattle on the grounds. "It's a boost for everybody," says Scott Jackson, who owns the land. "The restaurants, the bars … it keeps this small town alive."

In 1915, Jackson's grandfather homesteaded on land about 8 miles west of the festival grounds. The Jacksons have been ranching and farming in the area ever since, and each year, they donate the use of about 100 acres to Red Ants Pants.

When Calhoun initially approached Jackson with the idea of starting a music festival on his family's land, he was curious. "I just looked at her like she was nuts, but I said, 'Go ahead, give it a shot,'" he recalls. "It's just grown from there. Everybody struggles in these small towns. That's a big boost."

Jackson pastures cattle on the festival grounds in the spring and moves them to higher ground in mid-June. And he claims that the impacts of 10,000-plus people are hardly noticeable by the time the crested wheat returns in the spring. "A party in a cow pasture is pretty much what it is," Jackson says.

For Calhoun, it's been a steep learning curve over the years. "We didn't know it was going to get so big," she says. "We're fortunate that it did, but learning a whole new industry of producing and music booking … I would not say I have direct regrets, but we've been trying to keep our heads above water every year, and the past few years we have [gotten] this somewhat dialed in."

The next part of the story has become a familiar one. The 10th-anniversary event, which was slated for July 2020, was postponed due to the COVID-19 pandemic. Calhoun and her crew led the charge to cancel at a time when people throughout the country were still in wait-and-see mode. They were the first of the large Montana festivals to postpone, and they were followed closely by the cancellation of many more. The economics of such a decision was devastating to the community, which had come to rely on the infusion of tourism dollars each year. But for Calhoun and her crew, the risks that the event posed to their community, staff, volunteers, and those who travel to attend were not worth it.

"It's a big responsibility, but I appreciate that not only our fans, but our community trusted our decision-making process, as did other festival producers I talked to," Calhoun says. "We're all in this together, and I think we're going to see the full spectrum of some going wide open as usual, and some have already canceled. We're going to be in that cautious middle range."

The decision has been made to proceed with the 2021 festival, scheduled for July 22 through 25. With community input, a task force, and even a call from the governor's office, the Red Ants Pants team considered four main risk areas while making the decision: public health, the financial health of the organization, the financial impacts on the community, and the unique ability of this event to bring people together. "Making this decision is deciding if millions [of dollars] are going to come into White Sulphur or not, and that's a big one for my community," Calhoun says.

More than money, however, Calhoun views the festival as an opportunity to begin a healing process for attendees and for her community, which has been struck like many towns in the rural West by political divisiveness, bickering over best practices for minimizing the pandemic's effects, and further isolation from one another throughout the past year.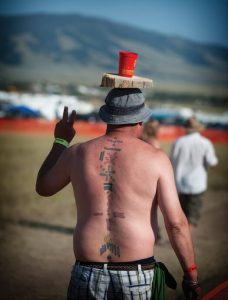 "Everybody sure missed it last year," says Jackson. "I really think that this state needs to open up and get back to some kind of normal, as far as it can. People are getting grumpy. They need some music."
"As a festival that attracts lots of different types of people, we can encourage good neighborliness and being nice and respectful on site," Calhoun adds, "and hope that we can start putting things back together."