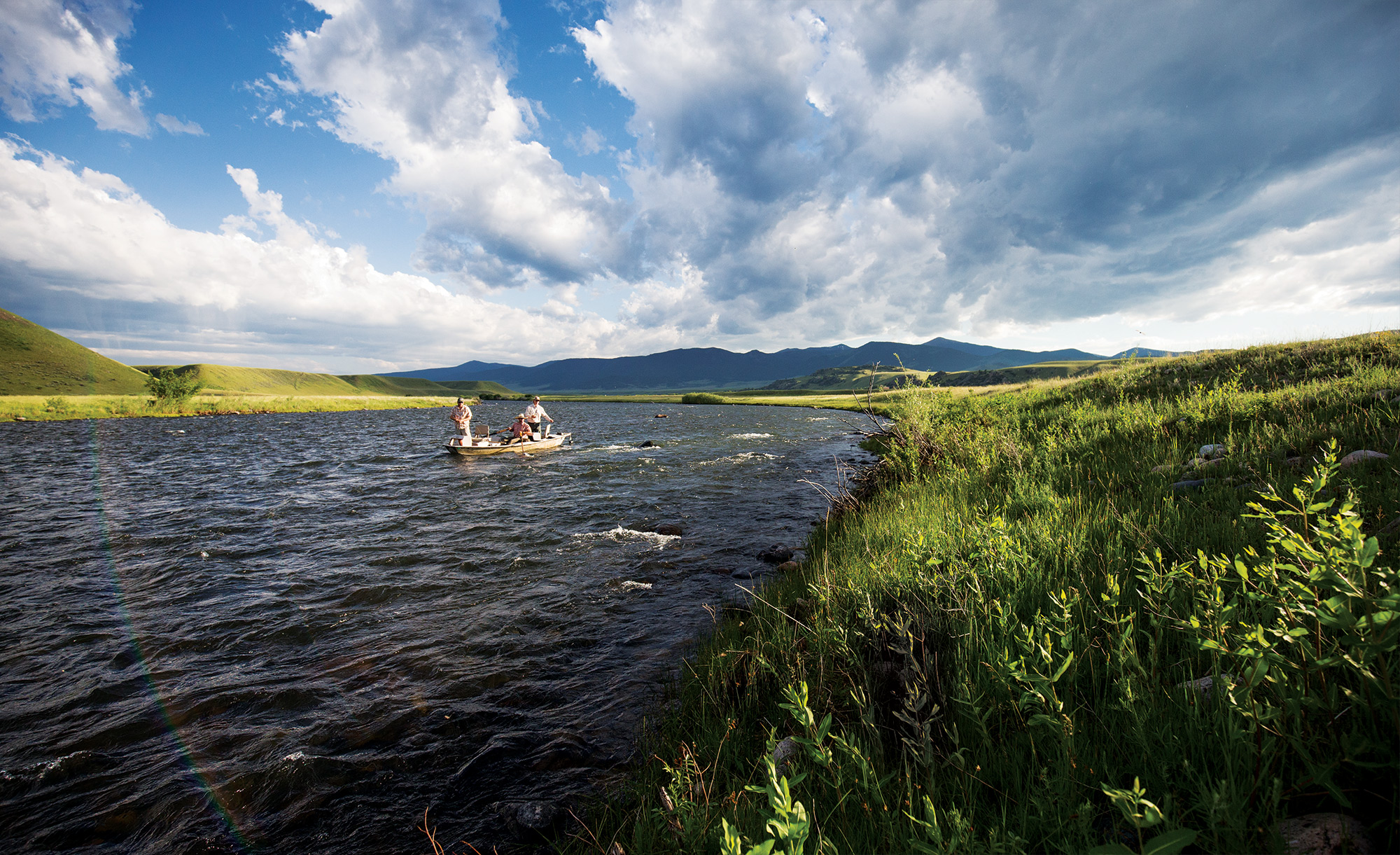 16 Feb

Risky Business

in

ON A HOT SUMMER DAY LAST JULY, the Missouri River, my home water, was strewn with color. Kayaks, stand-up paddleboards, and huge floating sofas with beer coolers in tow festooned the water. I sat on a bank with my rod, taking a break from fishing to consider the hubbub. From this spot, I could watch the fishing guides' boats drift past, river right, into the big current beyond the redosier dogwoods.

There were bugs on the water, birds swooping about, and an olive nose rising in a dark seam. And then another. A drop cast could avoid the far bank's snowberry brush. I gave it a few tries, then sat back down again, giving the fish a break. Up and down. That's how it went. I stood up to try a few more casts, then stopped to watch a red-winged blackbird hop branch to branch.

I didn't see the paddler until she was three-quarters of the way down the channel in a yellow kayak with handsome black gear hatches. She was draped in what could pass for white jockey silks. "Oh, I shoo-shoo todos sus peces," she said in a lovely patois, dipping her paddle into the stream in the gentlest way possible, albeit directly overtop my rising fish.

"Slow today," I said.

"Bamboo?"

"No, too pricey for me."

"Muy bien."

That's a bit of what we call "Montana friendly." There's room for a lot of fun seekers on these waters. Among longtime Montana trout anglers, however, there's a tinge of anxiety about more boats arriving on our shores and the potential for some to inadvertently carry aquatic hitchhikers: aquatic invasive species, or simply AIS, in the general bureaucratic parlance.

In terms of fisheries health and the arrival of AIS, things are changing; the question is how fast and what, if anything, can be done to apply the brakes. The stakes are high in Montana because the trout rivers here are considered natural systems where fish live, breed, and prosper on their own. The waters haven't been supplemented with hatchery fish for more than 40 years. That Montana's most prized sport salmonids, rainbow, and brown trout are 19th century introductions gone feral further confounds the modern invasive species conundrum.

Whether they came attached to trailers or boat hulls, or from bait-bucket water, several invasive plants and animals have found their way to Montana. Among them are prolific New Zealand mud snails, circa 1995; the carpet-like waterweed, Eurasian watermilfoil, here in 2007; and invasive zebra and quagga mussel larvae in 2016.

Take the virtually matching Dreissenids, the invasive zebra and quagga mussels. Ample recent evidence from Lake Powell in Glen Canyon, on the Utah and Arizona border, and from Midwestern river basins and lakes, shows they can wreak havoc on local ecosystems — and on industry and tourism.

The Dreissenid twins likely arrived in the U.S. in the late 1980s, carried in the ballast water of oceangoing ships. They hunkered in to infest the Great Lakes and have since spread to 30 states and counting. They attach to any hard surface, clogging hydroelectric, drinking water, and irrigation systems. They'll even attach to turtle shells. They've fouled beaches, damaged boat ramps and docks, and destroyed boat engines. Because it happened so fast, you'd be hard pressed to name a state that hasn't adopted a strategy to prevent or contain the little buggers.

Consider Arizona's "Don't Move a Mussel," which also shows up in California, Nebraska, and Nevada; or Utah's "Don't Spread the STD of the Sea" (that's "skiff transmitted disease"). None in the Republic has shown the chutzpah to appropriate that zinger from the Beehive State.

A Montana boat-check regimen that began in 2004 demands that if you're hauling a boat of any kind — be it on a trailer, strapped to your roof top, or deflated and stuffed in the trunk of your Prius — you must stop when you approach any one of 17 highway watercraft check stations. Inspection and prevention programs that focus on cleaning, draining, and drying one's boat are thought to be effective in keeping AIS out of all manner of waters.

Last year, between Memorial Day and Labor Day, roughly 37,500 boats were checked in Montana. Ten were found to be carrying some form of mussels — dead or alive. More than 200 others were hauling standing water, vegetation, illegal fish, or other waterborne critters.

Tom Boos runs the AIS inspection program for Montana Fish, Wildlife & Parks. He said his program focuses on capturing a portion of the ultra high risk motor boats from out of state that travel through Montana.
"No program is going to be 100 percent," Boos said. "You'd like to get every boat, but we have to try to be as efficient as resources will allow. In a perfect world, each state would build a port of entry where every boat gets inspected. But that's very, very expensive."

The risk in Montana is significant, and if you're an angler, you can get worked up about it. Fishing is complicated enough without thinking about how to put a stop to all the awful things that could end it. Still, maybe one should pay closer attention.

In 1994, whirling disease, a European interloper, was fingered for a heartbreaking drop in the Madison River's trout population to 140 adult rainbow trout per mile in a favorite section of the upper river. The parasite, with its baffling two-host life cycle, had likely been chomping away at young trout's cartilage and killing them off since the mid-1980s, the beginning of Montana's troubling drought and wildfire years that brought high water temperatures and low river flows to the seemingly pristine Madison River.

Today's trout counts are more in line with the upper Madison's halcyon years, coming in at about 800 adult rainbows per mile in 2014, and 660 last year. The whirling disease parasite, Myxobolus cerebralis, now known to inhabit nearly every trout stream in the western half of the state, is thought to be less deadly when conditions are more favorable to trout survival — ample and cold stream flows capable of dissipating parasite eruptions.

Last August, a whirling disease myxozoan cousin, proliferative kidney disease or PKD, was the culprit in a brutal whitefish and trout die off in the Yellowstone River. In response, state fish and wildlife officials closed a nearly 200-mile stretch of the Yellowstone to angling and boating for five weeks.

At the time, Yellowstone flows were a tick above historic lows. Side channels dried up and skeletal gravel bars were exposed. Water temperature teased the 70-degree mark for a month, which is at least 15 degrees warmer than ideal for whitefish and trout. In fact, water that warm for that long is a serious stressor for coldwater fish.

Thousands of mountain whitefish and some trout perished in an event the magnitude of which Montana fish health experts had never witnessed before — including the toxic oil pipeline breaks in 2011 and 2015 that spilled about 100,000 gallons of crude oil into the river. The PKD fish kill covered nearly 100 miles, from the border of Yellowstone National Park to Big Timber.

PKD is caused by a microscopic parasite, Tetracapsuloides bryosalmonae, known to occur in the U.S., Canada, and Europe. It results in kidney failure in fish. Like whirling disease in the Madison River, PKD probably reared up in the Yellowstone due to environmental conditions favored by the parasite: tropical water temperatures, anemic stream flows, and "recreational stressors" on fish on the brink of illness, i.e., fishing.
The PKD-causing two-host parasite is now known to exist in the Bighorn, Boulder, East Gallatin, Jefferson, Madison, Shields, Stillwater, and Yellowstone rivers. It's likely the parasite lurked in Montana waters for years before rallying en masse for the first time in the Yellowstone's deteriorating low- and warm-water conditions. The whitefish population is expected to recover, but with recurring drought cycles, PKD could emerge again. Although PKD packs a deadly punch, some researchers suggest some fish may develop a kind of PKD immunity from casual exposure to the bug.

As if the PKD crisis wasn't worrisome enough, within six weeks of reopening the entire Yellowstone River, Montana Fish, Wildlife & Parks announced in early November that researchers found the larvae of invasive aquatic mussels in Tiber Reservoir on the Hi-Line and suspect larvae in Canyon Ferry Reservoir south of Helena, in the Milk River downstream of Nelson Reservoir near Malta, and in the Missouri River upstream from Townsend.

Montana's governor, Steve Bullock, immediately declared a natural resource emergency for all Montana waters to safeguard fishing and related tourist activities that result in anglers spending more than $900 million annually.

Two state agencies and the Montana Invasive Species Advisory Council formed a rapid response team, which applied emergency restrictions on the launch or removal of all boats, docks, and other structures for Tiber and Canyon Ferry reservoirs. Mussel sniffing dogs from Canada went to work, and the Blackfeet tribe even closed its treasured reservation trout ponds to fishing and boating.

One researcher suggests that wild, coldwater fish — like Montana's trout and whitefish, which apparently are now vulnerable to additional stressors like whirling disease, PKD, low stream flows, and high water temperatures — could be hammered by the arrival of filter-feeding Dreissenids.

And that's the kicker for trout anglers. It's the coldwater fish that are most at risk. And it's the gestalt of it that poses the problem.

"These events aren't created on their own," said Eileen Ryce, the chief of fisheries for Montana Fish, Wildlife & Parks. "We help them. We're in on it. All of us. We're not at a point where we will be able to keep them out. That's our struggle."

What Ryce is implying is that agricultural irrigation projects, lawn watering, new residential developments, and the urge to build and fill backyard ponds and oases with stream water are part of the problem.

When trouble emerges, be it PKD, criminal bucket biologists dumping walleye willy-nilly, or the arrival of the Dreissenid twins, it's never just that one thing. It's the accumulation of one-more-things heaped on the pile that creates the teetering.

And, admittedly, guys like me pursuing stressed fish in low, warm water on hot summer days aren't doing the system any favors.

"It will be a combination of all these factors," Ryce lamented. "We need to do a better job of explaining that and helping folks understand what's at stake and that they have a role to play."

Ryce's former boss, Chris Hunter, ran Montana's state fisheries between 2001 and 2009. He's of a hopeful mind. "These systems are resilient," he said. "If you maintain their complexity and diversity they can respond to many different insults. But we need to recognize they might not endure further insults in the presence of climate change. We'll continue to have fish, they just won't be the same fish."
Oh, I Shoo-Shoo todos sus peces!
Oh, I'm scaring away all your fish!
Dimpled water. Olive nose. Rainbow trout ghost shadow. Yellow boat on green water against amber reed canarygrass. Bent-neck heron on wing. Snowberry white silks. Bamboo? This must be what paradise is like.
I stood up from the bank and clipped off my fly. Reeled up the line and stood for a moment, considering the water. The final line in the Argentine writer Jorge Luis Borges' poem, "Posesión de Ayer," reads, "No hay otros paraísos que los paraísos perdidos."
There are no other paradises than the lost paradises.
Time to buy a kayak.