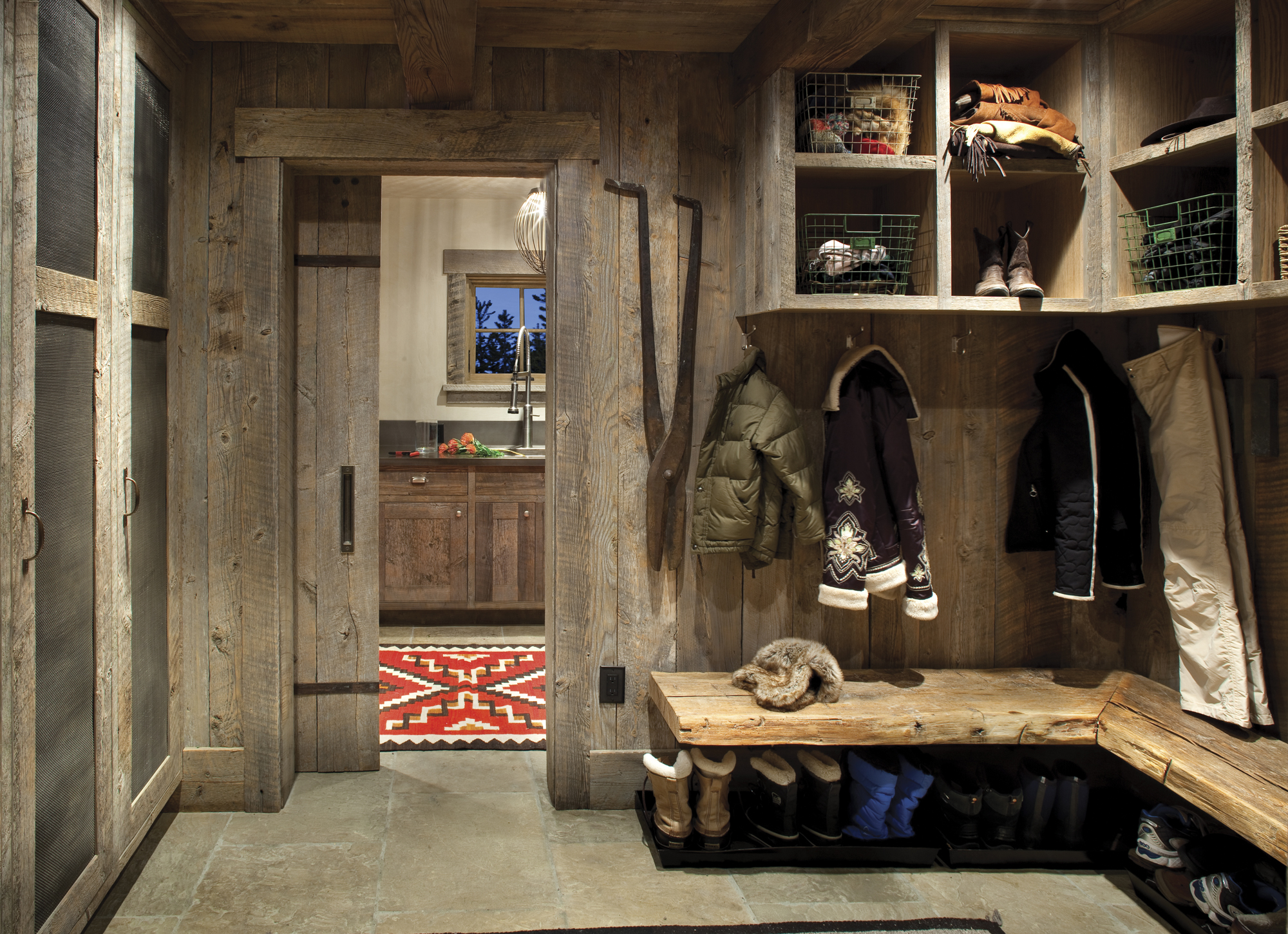 15 Jul

Reclaiming the Past

in

A few miles south of the historic Gallatin Gateway Inn along Highway 191 a single log structure stands surrounded by hundreds of neatly stacked reclaimed wood piles. Much of the wood is as old or older than those timbers used to construct the nearby inn more than 80 years ago. Almost all of it was harvested by hand and some of it still bears the inscription of the original craftsman who painstakingly fashioned its size and shape through the time-honored and traditional method of hand hewing beams.

Mike Halverson lovingly calls this unique lumberyard home to Montana Reclaimed Lumber, his "antique yard." Over the past 15 years Halverson has amassed more than 1 million board feet of reclaimed wood and grown MRL into the premier provider of aged materials for the building industry.

Halverson inauspiciously started his business in 1997. "I was working as a carpenter in Bozeman and the foreman asked if we'd help him tear down an old granary in exchange for its wood. We sold it a year later and I started driving around Montana knocking on doors to collect more," said Halverson. Halverson subsequently retired barns in Paradise Valley, tore down 19th century log buildings in Frenchtown and harvested corral and barn board along Montana's dusty trails. Today, MRL sources antique lumber from all over the United States and Canada.

Halverson learned a lot those first couple of years. He learned how to deconstruct a barn without it falling on him, he learned to appreciate the history and beauty of antique wood and he also learned that salvaging buildings slated for the trash pile was one heck of a way to start a business.

"I learned as I went," laughed Halverson. The turning point came after a year or so of collecting materials. "I had this tiny little yard and a guy came in, looked around for awhile, and asked us to work up a price for everything." Halverson sold his entire inventory that day for a house built in Sypes Canyon. "I had a feeling this was a pathway for success even though there weren't a lot of people building with this stuff, but I was doing something I felt good about," said a smiling Halverson. MRL's entire product source is recycled, they don't cut down new trees and they save material from local landfills.

Much like the early settlers who built the structures MRL is now taking down, Halverson is an industry pioneer. He started just as the Big Sky building industry was turning to antique lumber to build homes in the style and tradition of the great lodges of Yellowstone and the old ranch homes of Gallatin Valley.

"People are drawn to things that have age to them," said Dennis Derham, a building industry consultant, co-founder of Yellowstone Traditions and an early adopter of constructing with reclaimed lumber. "MRL buys raw goods, mostly 100 years-old, and we build them into a house that will potentially be there for another 100. It really gives them the ultimate in sustainability." Derham sees the desire to build structures that belong to the environment as a desire to "build with a little more soul".

MRL's inventory is nothing if not soulful, each piece has a story. "There's a sense of discovery about everything we do," said Halverson.

"It's the history of the wood," said Renick Ferguson, a veteran MRL employee and their resident wood specialist. "You look at it and on the surface you see the character and patina of its previous life, but you cut away the outer portion and underneath you see the tight grain, ray fleck, and figuring." Character, Ferguson notes, that was created over generations, character that simply doesn't exist in tree farms today.

Beyond its historic sense of place, it's these unique textures, the enduring structural quality and simple beauty of the wood along with MRL's attention to quality, service and detail that captures the attention of architects, builders and designers. "I'm all about texture in my design and reclaimed lumber is a great way to achieve contrasting characteristics of material," said designer Lisa Kanning of the New York-based design firm, Laura Kirar. Kanning and Big Sky-based Highline Partners recently designed and built a Yellowstone Club home sourcing old-growth timber beams — one made from extinct chestnut — for use as a structural accent, recycled tin from an old lumber drying shed in Washington for an outdoor shower, and Douglass Fir reclaimed from a 1904 grain elevator for decking material from MRL.

"Aged material is a broad definition and a lot of the time we're looking for real specifics on coloration and size. It's a hard to hit target," said Ron Adams, principal of Yellowstone Traditions. "Mike is great at finding and having the one thing you're looking for."

Part of Halverson's niche and learning curve was identifying which areas of North America supplied specific types of wood. In Quebec he found the early French constructed homes with specific sized wood not found anywhere else, he learned the largest timbers came from barns back east, he also learned that using antique lumber led to an interesting inventory conundrum.

"There are no standards in this business," said Halverson. "You can't replicate what you did the last time. Even if you get Douglass Fir from the West Coast there's a lot of variability in the grade of the material." As a result MRL expanded its inventory to the million-plus board feet of antique wood, added a new mill shop and a 12,000 board foot dehumidification kiln.

"Mike has taken it to a level right on top of the industry," marveled Derham. "I call Mike the Costco of aged materials."

Halverson built his business and staked his reputation on providing the building industry with unique products that fit harmoniously within their rustic landscapes, both aesthetically and environmentally. For Halverson, it's not just his business, it's his passion.