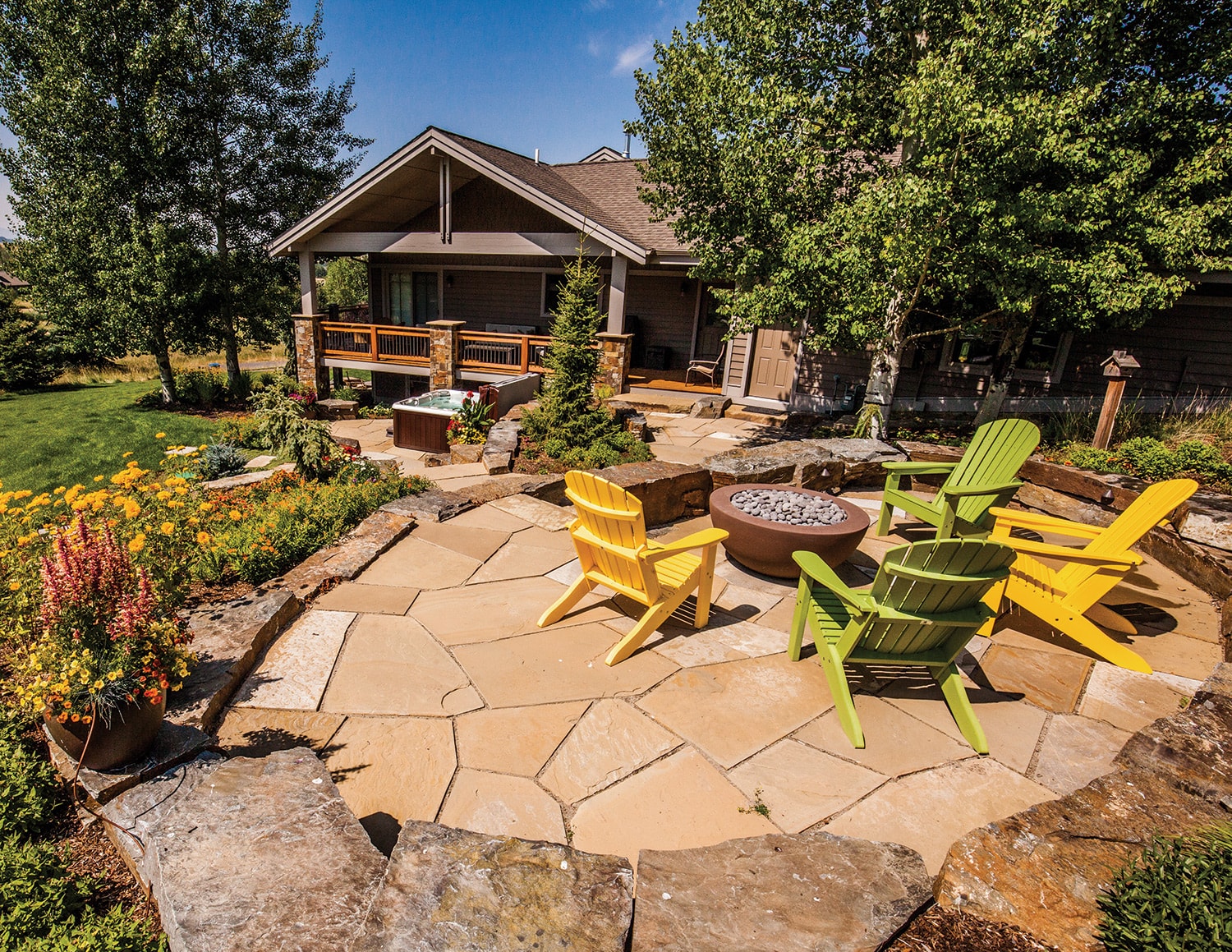 Central gathering spaces are crucial, especially for those who frequently entertain. Courtesy Blanchford Landscape Group
12 Apr

Outdoor Living Spaces

in

For anyone who's moved to the Northern Rockies from another state, and for those who've decided to stick around, there's no denying that parts of the draw are the big skies, the mountain views, the sprawling vistas, the connection to nature. Though the summers may be short, they are well loved, and spending as much time outside as possible tends to be a priority. So it's no surprise that during the home building process, a lot of time and effort goes into creating outdoor living spaces that suit the homeowners' lifestyles.

"Most people, when they think about how they want to live outside, want a nice, relaxing spot to sit, especially if they have a lovely view," said Jason Snider, co-owner of the Jackson Hole, Wyoming-based landscape architecture company Agrostis, Inc. "And many are interested in bigger spaces or flexible places where people could congregate."

Of course, lifestyle is a big part of the picture, but the architectural style of the house and the surrounding landscape are also considerations. "We will equally respond to the lifestyle needs of clients, as well as the architecture of the home and landscape around them," said Mason Shaffer with the Bozeman, Montana-based Blanchford Landscape Group. "Our main goal is getting people outside, to deliver a great experience in the outdoor lens. We fill in the gap, so the landscape is connected inside and out."
Outdoor features
When it comes to features for outdoor living, the most common request is for an outdoor dining and grilling area, usually off the kitchen. "People like to be around those cooking and eating nearby," Snider said. But oftentimes, the dining zones are dictated by the home site. "The aspect the space is on makes a difference," Heath Kuszak, co-owner of Agrostis added. "The east side is nice for breakfast dining, but it's not usable in the evening when it's colder."
For those who entertain frequently, these spaces will often conform to a variety of needs. Some may be zoned in with a pergola that acts as a room and blocks the sun, while others may expand to other levels. "There's a lot more flexibility in outdoor work," said Shaffer. "Our rooms flow into the landscape and can have multiple purposes, from dining and socializing and lounging."
Typically a fire pit is incorporated as a place to congregate when the evening chill comes on, and, of course, the hot tub area is factored in. Other outdoor spaces, such as walkways that lead to the entrance and around the home, are also considered and designed with materials and plants.
And then there are more obscure requests. Agrostis recently designed the landscape for a family that wanted a wedding pavilion that would eventually be used for other things. "It's going to end up being a yoga platform, and the boulder walls used to sit and view the ceremony will become decorative," Kuszak said.
Steve Mayville, owner of Mayville Landscaping in Bozeman, recalled a project in which a house in the middle of a wheat field required a patio. What would seem simple involved a great deal of work. "If you just poured a slab it would be overwhelmed by the field," he said. "In situations like that, we would build a small wall, raise the grade behind it, and taper it away. If you have a vast landscape, the wall gives a sense of security and provides structure."
Shaffer noted the use of smaller outdoor areas. "Pockets and nodes are important to any design," he said. "Creating little niches, private spaces that can expand into a larger space. There is some spirit to the space, it has a feeling of being alive, and everyone can have a unique experience there."
Material use
When it comes to designing outdoor spaces, one of the most significant trends is the use of natural materials. "We use a lot of stone, which is timeless," Shaffer said. "Other manufactured materials might have a time stamp on it — in 10 years the technology has changed. The garden and feel of outdoor spaces needs to feel authentic to the home, clients, and site."
Contemporary trends in construction materials are merging into the outdoor spaces. "It's the trend of Mountain Modern, using traditional materials with clean lines and big statements that emphasize the materials in themselves, like the use of monolithic pieces of stone," Kuszak said.
"So much use of reclaimed gray barnwood has led to demand for more gray stone" Snider added. "We're also using more dimension pieces, more modern patterns of stone instead of natural patterned flagstone. And steel has become so versatile, we're using it in a lot of custom designs."
As more contemporary architecture calls for larger windows, even walls of windows, the material use often flows from the interior to exterior spaces for a holistic appeal. "There's a purposeful way of using concrete floors inside and outside," Snider said. "It makes it seamless, so sometimes the outside spaces span the same materials."
Mayville also sees a change in the landscape designs that correlates to the architecture. "We've gone through a renaissance; we were rustic for a while, and now with a post-modern vibe, we need to react differently," he said. "Maybe the bed lines are more angular, the edging material might change, and maybe it's a concrete patio now. Our goal is to blend in with the architecture, not upstage it."
Vegetation
Of course, a large part of the planning process for outdoor living spaces involves the use of plants, flowers, trees, and shrubs. "In the initial design, we're thinking about how we can use plant material. We have the hard material, and the plant material complements it," Kuszak said. "We look for form, texture, bloom seasons, how they look in the winter."
Shaffer chooses vegetation that's based on creating color throughout the seasons, and uses texture, along with plants that create nostalgia. He notes that many clients are asking for low-maintenance vegetation. "That might mean sparse planting or low water use," he said, "which ties into using native plants, which is definitely a trend."
Mayville's wife, Karen, designs the vegetation for all of their projects. "Elevation, location, environment, wildlife, the color of the house, what side of the house it's on. She's thinking about all of that," Steve Mayville said. "She'll plant evergreen, red-stemmed dogwood and erect grasses for winter interest. She wants something happening each time of the year. It's about knowing your environment."
For the clients, it's all about experiencing the environment, with outdoor living spaces that are as useful as they are aesthetically pleasing.