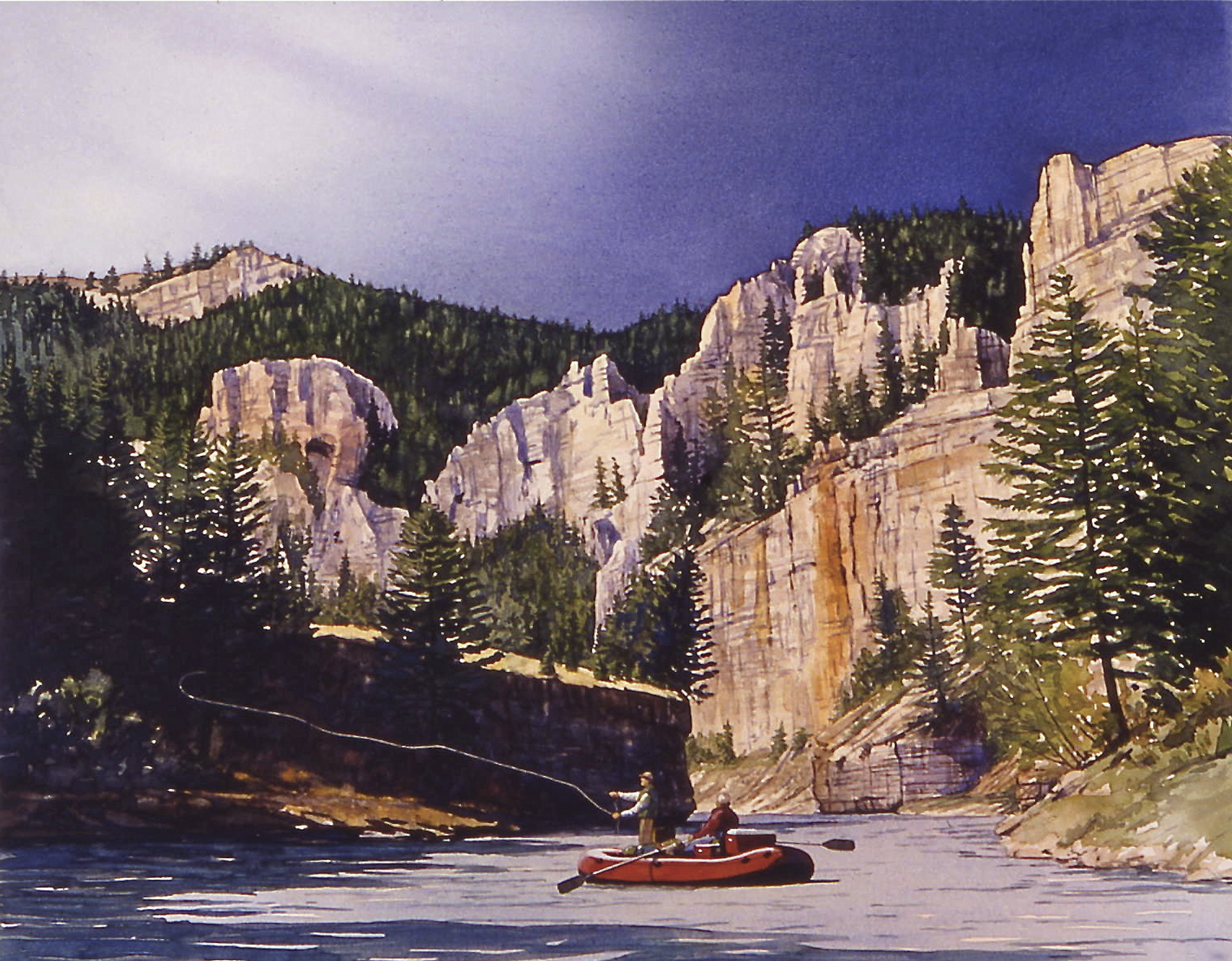 20 Aug

Outside: Onto the Smith and Out of the Grind

in
---
For many people the most anticipated day of the year is Christmas, when most of us find out what's beneath all that wrapping paper and ribbon.
For those who like to float and fish, however, the biggest day of the year may be February 15. On that date, Montana Department of Fish, Wildlife & Parks conducts its annual drawing and allotment of Smith River permits and to draw one offers a sensation like a kid feels when finding a new bicycle, BB gun or, these days, an iPad under the tree. That's because many people consider central Montana's Smith River to be the West's most desirable float-fishing experience and those permits are hard to come by, with odds of drawing a little less than one out of six. Earlier this year, for example, more than 6,600 people applied for the allotted 1,062 permits.
The Smith begins just south of the Castle Mountains, southeast of White Sulphur Springs. The best water twists between slopes covered with thick stands of pine trees and around bends in the river formed by sheer limestone cliffs that, in sunlight, exhibit sublime color combinations of slate gray, pastel yellow and orange. The most productive trout water spins a serpentine path between Camp Baker and Eden Bridge, a 61-mile stretch that offers prime riffles and runs throughout.
Once you launch a boat at Camp Baker you're committed — there are no public takeouts until Eden Bridge. I've heard of people floating that reach in three days, but only because the water was high and roily or the weather had deteriorated to dangerous conditions. Typically, floaters take five days to cover that distance and by doing so they can break morning camps at a leisurely pace and float at a comfortable rate from one camp to the next, taking out here or there for a shore lunch or to wade fish prime sections, or to photograph geese and grouse, deer and bear, or any other variety of creatures you might see along the way, including otters, beaver, elk, an occasional moose, eagles, hawks, coyotes and, rarer yet, mountain lions.
That's the way I've floated the Smith, as if the world didn't matter, as if I were traveling back in time. There's really no other way to run the Smith — cell phones are useless along its route, packing a computer along would be a waste of precious space, and once you launch and round that first turn below Camp Baker you don't need to consider anything other than weather, water and where you might collect dry wood for an evening campfire. Oh, and there's one more consideration for those who fish: which flies might those browns and rainbows — which average about 15 inches with some that stretch past the 20-inch mark — might be taking that day.
Prime fishing on the Smith is found as early as April with conditions improving in May, depending on runoff. In April and May anglers match skwala stoneflies and Baetis mayflies. In late-May and June salmonflies are present — but you know salmonflies and Montana; everyone wants a piece of that action and drawing a permit through that timeframe is difficult at best. Equally good fishing can be had during the golden stonefly hatch, which occurs in June and July. Another prime hatch to match is brown drakes, a bug that emerges in late-June through mid-July and is matched by size-10 mayfly imitations. By mid-July the Smith's flows are often depleted by irrigation and running the river means dragging a boat over riffles much of the time. In September flows rise and the fish get on blue-wing olives and grasshoppers. Fall also is a great time to fish streamers. Many Smith River fanatics consider this to be the best time to fish because the hopper action can be fantastic and the floating and angling pressure, not to mention the competition for the best campsites, is much lower than it would be in May, June and July.
I first floated the Smith one April with my father, an uncle and his friend, plus my two Labrador retrievers, Moose and Shadow (note: dogs are no longer allowed on these trips).
Fishing, for me, was the biggest draw and on that first day it was fine. But, when we crawled out of our tents for a second day, we found the river tainted brown with visibility limited to a couple inches. I don't remember any of us touching a fish for the rest of the float even though we employed high water tactics, casting big stoneflies and 4-inch long black streamers to the banks. It was as bad as the catching could be on that river, which is known for kicking out lots of willing trout.
The thing is, I remember that as being one of the best trips of my life, a time when we didn't consider the challenges and frustrations most of us find in daily life. We laughed and joked and while sitting around the campfire one night the oversized cherry on the end of my father's cigar fell off and before he noticed, it had sizzled an inch in diameter hole in his brand new fleece jacket, given to him as a present from my mother. As he extinguished the blaze and said, "Uh oh, Rita isn't going to like this," the rest of us fell out of our fold-up chairs.
That wasn't the only humorous moment, at least in the eyes of my father, uncle and me. Our other partner had packed way too much gear, including a sleeping cot instead of a more manageable air mattress and that's an issue on the Smith. We told him he could use an extra air mattress but he insisted on bringing that oversized and bulky cot. One evening I couldn't locate my black lab, Shadow, and feared the worst. Had she wandered away and been taken by a pack of coyotes or a mountain lion? Eventually the pack rat headed for bed and that's when we heard all sorts of expletives coming from his tent — he'd left his tent opening unzipped and Shadow had wiggled her way onto the cot and into his sleeping bag … after taking a dip in the river. The next night we ate a big dinner of Alaska halibut steaks slathered in cheddar cheese, with stuffing and baked potatoes. I'd never seen two dogs get rewarded with more table scraps. And I'd never seen my uncle, an admitted dog-hater at that time, take to my Labradors like that — "You two are the best dogs in the world," he kept saying.
We spent the rest of the trip taking breaks in the float to hike the hills and look for deer antlers and anything else we might find. In one place we saw Indian paintings on exposed rocks and my father found an ancient buffalo skull, discovered when he saw one of the horns protruding from the riverbed. Near the end of the trip my father, uncle and I talked about the possibility of running the river again. If we'd had the time and another permit, we would have run the shuttle from Eden Bridge to Camp Baker and done the same drift, no matter the conditions, fish on the hunt for flies or not.
I floated the Smith again, 10 years later, when Robert Eddins, owner of Ro Drift Boats in Bozeman, Montana, called and said, "Thomas, we're leaving for the Smith tomorrow and have an opening. Do you want to go?"
Preparing for Smith River trip in 24 hours is a daunting task, but I got my gear in order and Eddins said he had all the food and drink taken care of and we launched from Camp Baker the following day, this time as part of a larger group that included five boats and 10 people.
This trip occurred in July, under the most ideal conditions possible, rain only appearing one day and only for an hour or so. We never had to dry tents or try to start campfires with soaked wood, and the days drifted by at the most leisurely of paces — I didn't have to cook; Eddins barely allowed me to row the boat, and I just cast and caught trout at a steady clip, water conditions being near ideal with salmonflies falling out of the sky.
Big, adult stoneflies drew rises, as did many smaller mayfly imitations, as unsophisticated as the venerable Parachute Adams. I don't think I caught a fish larger than 19 inches, but they were fat, healthy and they placed a great bend in a five-weight rod. We sang around the campfire in evenings, awoke late in the mornings and leapfrogged our way down the river, pointing at eagle nests on the cliffs, signets on the banks and even a sow black bear with three playful cubs passing by just yards away from our boats.
One morning I hiked along a bluff above the Smith, the July sun having just peaked over the surrounding mountains. Everyone else was asleep in their tents. Lazy bones. I walked upstream, peering into the Smith's slightly brown-tinted flow, searching for trout rising to an early morning mayfly hatch. The opposite bank was lined by brilliant, bright green grass that followed a gentle slope to the base of towering limestone cliffs. Pine trees poked from those protrusions, wherever their roots grabbed hold. With no fish in sight I sat down next to a patch of wildflowers growing out of cracks in the limestone. Yellow arrowleaf balsamroot mixed with blue bells and purple Venus' looking glass, plus brilliant orange lichen growing on the rock. It was a sublime scene interrupted by nothing, not a tweet, a ping, a chime, an instant alert or a whistle, not a sound out of place, just the river sifting past, birds sounding their morning alerts and a light breeze pushing through the pines.
This life we all live these days — constantly in touch with each other and wasting our time with meaningless messages and texts — may seem normal in our accustomed surroundings. But the truth is, we are whittling down into narrow virtual existences that transpire only through thought and thin air. We exchange ideas and images, written emotion and sensory experiences. But, mostly, we don't share time together, face to face, singing around a campfire. Nor sitting side by side on a bluff watching the miracle of a warm sun peeking over the mountains to announce a new day. Nor the shared exercise of cooking meals on a two-burner stove, or washing dishes in a river, or gathering dry wood for those campfires. Most of us don't realize this loss of shared responsibility and reward. It takes a place like the Smith River, where nature is the draw and we don't have the option to be in front of a screen, to really appreciate how much we're missing. Five days is all it takes to tell you how much that matters.