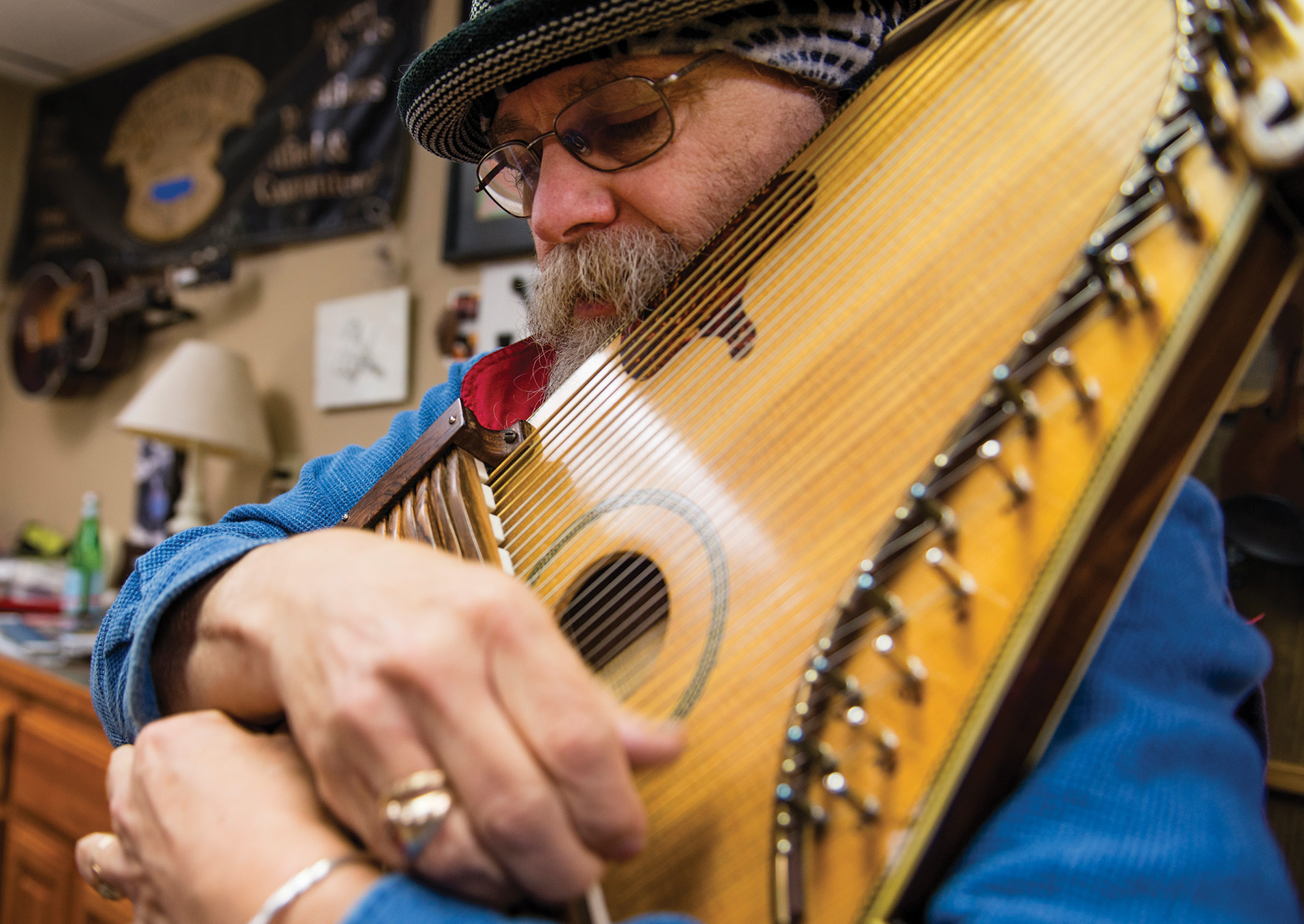 08 Jun

Local Knowledge: The People's Luthier

in
---
He could have been a garden gnome in a previous life. Or maybe a hobbit. I don't know if saying such things in print will upset him, but there is a wonderful, impish quality (and I mean this in the most flattering way) to Peter Barberio, one of Montana's finest luthiers. He has the laid-back coolness of a blues musician as well, which he is, but it's the hint of playful mischievousness and cheerfulness in his voice and eyes that you notice first.
It is well past midnight on Missoula's northside, and a crack of light escapes beneath a garage door. Inside, Peter (as I must call him — Barberio just sounds too journalistically formal) has lost all track of time. He is lost inside the fretwork of a snakewood violin, or maybe it's a Gibson Style O guitar, or one of his handcrafted autoharps. Does it matter? All around him are the tools of his trade: sanders and saws and chisels and awls; jigs for this and jigs for that, nearly all of them homemade. The component parts of a bass are spread out on a table like an exploded diagram of a motor. The idea that they can go back together is almost inconceivable. Make no mistake about it, I've made my share of sawdust, but standing here, linseed oil and lacquer incensing the air, I can't tell if I've stumbled into my grandfather's basement or a musician's dream/possible nightmare.
Peter has been making and maintaining all manner of stringed instruments in Missoula for more than 40 years. From building his signature autoharps from scratch to reviving stove-in cellos, if it has strings and makes music, he's built it or fixed it or both. His clients come from just down the street and from all over the country. They include luminaries such as Doc Watson, Los Lobos, Country Music Hall-of-Famer Greg Garing … the list goes on and on.
Despite such patronage, Peter calls himself the People's Luthier, priding himself on charging fairly and keeping anyone who wants to play music playing music. "I'll fix the cheap stuff and help the person who can't afford a $6,000 violin," he says. "I'll fix your kid's $50 violin and keep them playing."
Peter grew up in Cornwall, New York. One of his first jobs out of high school was clearing land for a little concert just up the road in the town of Woodstock. It earned him a free pass. In a coffee table book that goes by the name of that town and concert, there's a picture of Peter, curly-haired and baby-faced, holding the first autoharp he made. That he's maintained the mellow vibe and peace-loving attitude that defined his generation speaks more to who Peter is today than just about anything else.
If there's one refrain I hear over and over, it's that Peter doesn't make and repair instruments with capitalistic motivations in mind (another ideal carried over from the Summer of Love). "Money isn't my object," Peter says. "Yeah, I like to get my bills paid, sure, have a little extra, but I'm not lookin' to buy a yacht. I'm after a lifestyle."
To the degree that money is an object, Peter maintains a retail store in downtown Missoula called the Stringed Instrument Division. Part showroom, part museum, it's a convenient place for customers to pick up and drop off their instruments. On the day I visit, there's a bouzouki from Greece, a shamisen from Japan, two dozen or more violins, guitars, mandolins, banjos — you name it — each one something Peter has built, repaired, or restored. Peter has his personal guitars in the shop too. A 1961 Telecaster sits in a glass case and a 1955 Les Paul rests quietly beside it. He plays them whenever the mood strikes. On the back wall is a 1927 L-1 flattop like the one Robert Johnson played, and at my request Peter takes it down. The sound is so distinctive a visitor could be forgiven for thinking a recording has been put on.
The repair side of the business is Peter's bread and butter, but his real joy and his finest work goes into building instruments from scratch, and the autoharp is his specialty. Peter fell in love with autoharps as a teenager listening to the likes of Lovin' Spoonful and John Sebastian. "So I said, 'I want to get one of those things.'" Peter made his personal autoharp in 1970. It has a spruce top with Brazilian rosewood staves, buttons, and bridge: "the holy grail of instrument wood," he says. When I ask him what got him into making autoharps, the answer is straightforward. "No one else was," he says, "and the ones you can find are so shitty."
Mike Marino of Gig Harbor, Washington, has known Peter for years, and bought his first autoharp from him more than a decade ago. Then, a few years ago Marino's wife commissioned Peter to build a zebrawood autoharp as a surprise, an instrument Marino calls "the most beautiful thing you've seen in your life."
When it needed a minor repair, "I took it to this luthier down in Des Moines," Marino tells me over the phone, "and he said, 'I'm not touching that.' He said anyone that is that anal about their work, you don't want to screw with it."
John Joyner would agree. Joyner is another luthier in Missoula and he and Peter go back a long way. Maybe more than anyone else, he knows Peter's reputation for meticulousness firsthand. Joyner worked in Peter's shop for the better part of a decade and has nothing but good things to say about his fellow craftsman. "I've learned a lot of really incredible techniques from Peter over the years," Joyner says.
Back in the workshop, Peter is tuning an autoharp under construction. He holds the blank piece of wood up to his ear and taps at it, then shaves a tiny bit of wood from the bridge, and taps again. Looking around, I can see there's no shortage of work. "I've got 28 guitars that are half made," Peter says. "I'm sitting on 10 autoharps all in different stages and I've got wood for another 100. I'm making a bunch of banjos. That's all stuff I do on the side as a hobby, you know. I have a couple of autoharps as orders. I'm making one for a lady in Wyoming. I just went over to Seattle and got some Clara walnut for her." The average price of one of Peter's autoharps is $2,500, which, given the attention to detail and craftsmanship, seems like a steal.
Peter is still tapping at the wood and holding it up to his ear. He's rattling on about sustain and thudding, the mass of this wood and that wood. He's losing me, but that's all right. Peter is in his element, gently focused, a little twinkle in his eye and that bit of gnome-like glee shining through.