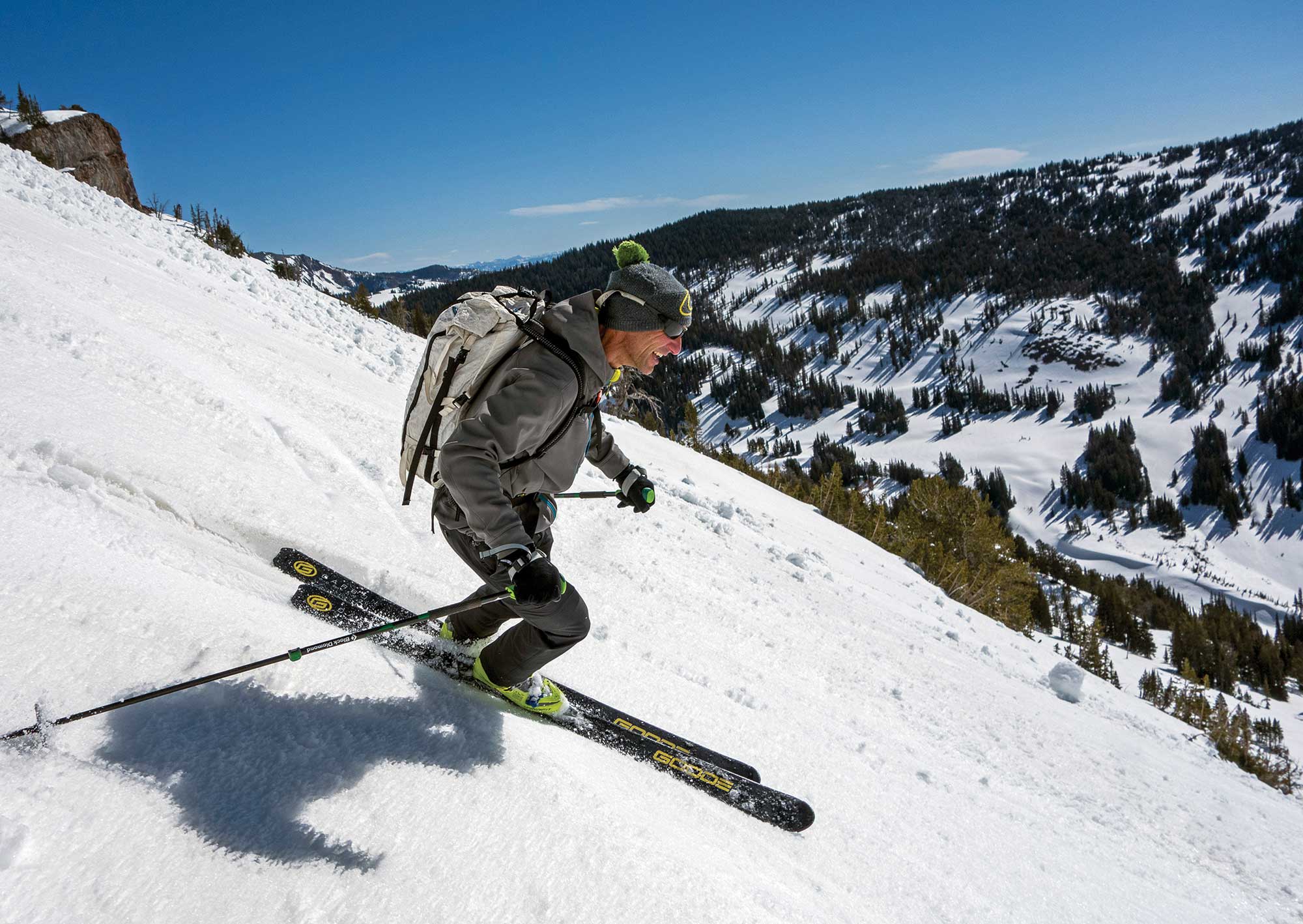 01 Dec

Local Knowledge: Chronicles of the Mountain

in

Tom Turiano had no ambition to become one of Greater Yellowstone's most highly acclaimed mountaineering authorities, but after 26 years of exploring the region, that's how it turned out. Jackson Hole mountain guide Mark Newcomb writes that Turiano has "racked up more backcountry miles in the Yellowstone Ecosystem than anyone alive."

Turiano has multiple ascents of more than 500 unique peaks; he has ski-toured literally thousands of miles in the Teton area alone, and spent countless hours conducting interviews and researching the region's history. Thus fueled, he has written three encyclopedic guidebooks that masterfully interweave the subjects of mountains, geology, pioneer history, skiing, mountaineering and backcountry stewardship. His books are unique in the annals of mountaineering guidebooks, and he was the recipient of the 2005 Mountains and Plains Booksellers Regional Reference Award.

In 1985, pure happenstance started the 18-year-old, wide-eyed Jackson Hole newcomer on the trail to becoming a mountaineering author. Turiano rented a bedroom in the home of the legendary Bill Briggs — none other than the first man to ski down the Grand Teton in 1971. Briggs is widely known as the "father of extreme skiing" and director of Jackson's Great American Ski School. Briggs took Turiano under his wing and directed the young man's wildly enthusiastic energies, inspiring him to ski, to climb and to approach all of his ventures with passion and skill.

"Ski mountaineering in the Tetons is such a wonderful activity — so much fun and so rewarding — and in the '80s there just weren't a lot of people doing it," Turiano says. "There were so many classic ski descents to do: east face of Buck Mountain, east face of Teewinot, Middle Teton Glacier, Skillet Glacier on Mount Moran and, you know, the Briggs route on the Grand Teton. I realized that these routes, these mountains, and these people were worthy of literature."

Turiano's first book, Teton Skiing: A History and Guide (Homestead Publishing, 1995) includes comprehensive accounts of ski mountaineering on 169 peaks and summits, 109 high-mountain ski routes, and 105 approaches on land and water. Yet Teton Skiing is far removed from the "go here, go there" class of guidebooks. The first 37 pages are devoted to the historical perspectives of early skiers and the progress of Teton skiing, and include useful information on geology, mountain safety, wildlife and ethics. In each chapter, Turiano graces each of the mountains and plateaus of the Teton Range with beautifully written histories. He weaves in intricate details of early skiing pioneers' experiences, their success and failures. Maps and images illustrate where climbers and skiers will find the most commonly used ascents and descents, variations and alternative routes, all the while leaving final decisions and judgment calls up to the reader.

After publication of Teton Skiing, Turiano found himself standing atop Granite Peak — Montana's highest point at 12,807 feet — in the summer of 1997. It was the first time Turiano really understood the connectivity of the Greater Yellowstone landscape. From Granite Peak, Turiano could see the Absaroka Mountains to the south, and then even farther to the 140 mile-distant Teton Range. But it was the western panorama of the rugged Gallatin and Madison ranges that shaped the next eight years of his life. "It was the spark that set me on fire," writes Turiano in the introduction of the resulting book, Select Peaks of the Greater Yellowstone: A Mountaineering History and Guide. "All across the western skyline there was nothing but mountains as far as the eye could see; and dotted throughout were several wonderfully dominant peaks, which I immediately wanted to climb."

Troubled by criticism that his first book encouraged people to roam, and perhaps spoil, otherwise mostly unpeopled places, Turiano had to take a careful look at his own values. Did the information he provided strip the free spirit and adventure from true discovery? "Mountaineering is not a game of numbers, or shallow bragging rights of extremes, adrenaline rushes and technical prowess," Turiano says. "Mountains are their own entities, and I wrote about each as if a biography. I felt strongly that I would not sell these places out or reveal their secrets without paying due respect to where in the world we are and the people who came before." True to form, Turiano plunged into research: "For better or worse, I became a recorder of mountain details." And indeed, his second book became not only a great mountaineering resource, but a reflection of Turiano's passion.

In writing Select Peaks, a six-year effort, Turiano did more than describe the mountaineering considerations of 107 notable summits in 15 Yellowstone-area mountain ranges. In no less than 78 introductory pages, the narrative delves into the stories of Native American inhabitants and Anglo settlers. The very beginnings of the planet start the geological section, even describing the mineral effects on soils, flora and fauna. Such intricacy gives readers a better understanding of the creation of each mountain and massif. With this, those who use Turiano's books gain a deep appreciation for the ground they stand on, further enhancing their experience of the Greater Yellowstone. Select Peaks is purposefully light on specific route information and heavy on advice that encourages responsibility to the environment and respect for others (past, present and future). Turiano plans to publish an updated version of Select Peaks in 2016.

Never schooled in writing (or mountaineering, for that matter), Turiano's fine prosaic story telling is one of the hallmarks that gives Select Peaks its classic status. It's earned a place on the shelves of many a mountaineer, and high praise from its fans: "Select Peaks lives in a place of reverence next to my Bible and Homer's Iliad," writes one reviewer. The book's charm lies in its unembellished tales of Yellowstone's pioneers and early mountaineers, adding depth and diversity to an otherwise technical and hardy book on climbing serious mountains. Another reviewer tells of how his children love to hear the stories at their family dinnertime readings. And for armchair adventurers, it's perfect.

In 2014, Turiano published yet another astounding tome — the 407-page Jackson Hole Backcountry Skier's Guide: South. With 500 full-color images in a coffee-table hardcover format, this marvel covers an astounding 1,000 ski routes in 13 distinct mountain regions, including the Caribou, Gros Ventre and Wyoming mountains, the Snake, Salt and Wind River ranges. Turiano intends that such diversity will spread skiers out and away from the heavily impacted, favored areas like Teton Pass. The apex of 17 years of work, this latest volume is the culmination of Turiano's passions: all the miles, all the vertical feet and all the written words.
---
What's Next for Tom Turiano?
While mountaineering remains his first love, Tom Turiano isn't finished writing. After 26 years in the backcountry, he has chronicled a wealth of field notes in the notepad of his mind; every chance he gets he taps those tidbits into the computer. The result is a flurry of insight on the pages of his next book: Teton Pass Backcountry Guide, due to be published in December 2015.
"No one has written a comprehensive guidebook for Teton Pass," he says. "It's always an internal battle about how much information to divulge and whether you want those areas discovered, I feel a responsibility to share what I've learned for backcountry users and guide services to increase the chances that people will get out there safely and responsibly."