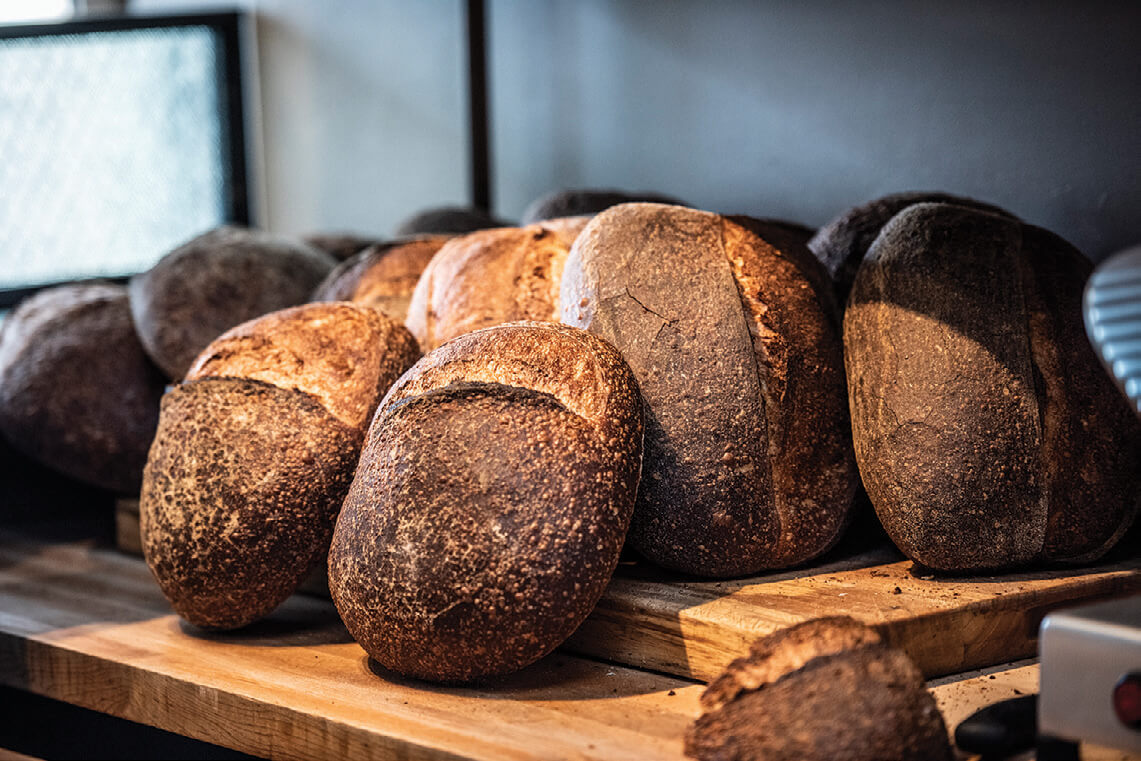 With a wood-fired oven roaring and a six-burner Vulcan gas range sizzling, Blackbird's open kitchen is always action-packed. All of the rotating pasta offerings are made fresh daily, such as this pumpkin squash ravioli that sous chef Jeff Lynch is preparing.
02 Jun

Dining Out: Blackbird Kitchen

in

Blackbird Kitchen has been a staple and locals' favorite in downtown Bozeman, Montana since opening its doors in 2009. Their secret? Simply good food. Head chef Kenan Anderson stays within their formula for success by creating vegetable-forward menus that change with the seasons and feature a variety of locally sourced products, resulting in dishes that are prepared with care and imagination.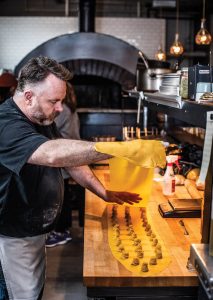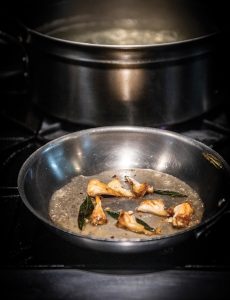 At the back of the restaurant, the open kitchen attracts attention like a magnet, and watching the action makes it clear that it's the engine that keeps the place running. The brick wood-fired oven is roaring and ready for anything. Long, smooth countertops showcase bright-yellow rectangular dough that's rolled out for a squash-filled ravioli. Round boules of thick crusty bread, piled high like cairns, claim their spot on the shelves.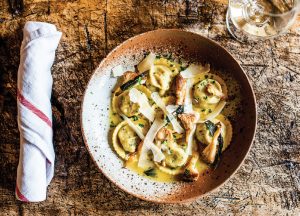 Anderson pulls cherry belle and purple radishes onto the counter. He chooses a medium-sized watermelon radish for the mandolin's sharp edge, slicing paper-thin wafers, which he sets aside. Taking the radishes, he folds them into a dish towel and uses the side of his hand to smash them, one after the other. Then, he places them on a serving dish, tucking in some microgreens and a few pea shoots. After a drizzle of mint-honey vinaigrette and a long pour of buttermilk dressing, the plate looks like summer and smells like a garden party.
Over the last 13 years, Blackbird Kitchen's menu has remained consistent, presenting a selection of antipasti, vegetables, pasta, meat, and wood-fired pizza offerings. But within that framework, the variations have been innovative and endless. Printed out every day, depending on what's in season or particularly fantastic, the menu's flexibility allows Anderson to make the best use of the finest fresh ingredients. "It's simple and elemental," Anderson says. "It's all scratch cooking and that necessarily strips out a lot of things." He notes that items change all the time, "depending on what lights us up at the moment." For him, that can be anything from products with natural beauty, to smells and sights, to the riot of things growing.
Blackbird found its roots when owner Josh Gibson and his wife Shannon Douglass installed a wood-fired oven so she could bake bread. "That led to pizza, then roasting vegetables, and chicken, and finally pasta," Gibson says. "We kept that idea, but now we've also formed great relationships with local farmers and ranchers."
Anderson says they've learned a few lessons from the pandemic, the topmost being to keep the supply chain varied. "The more diversified we are, the more resilient we can stay," he says. "We learned just how fragile our food system is depending on where items are shipped from and the dynamics of the world in general."
In the kitchen, Anderson places an iron skillet on the six-burner Vulcan gas range. On a back burner, a pot of water is kept at a steady boil for the moment when round-edged ravioli are ready to be dropped in. Before they are, Anderson spirals olive oil around a hot skillet, and, once the heated bottom shimmers, he places several pieces of lion's mane mushroom around the pan. As the shaggy white 'shrooms brown, he picks up long tweezers and gently lays down a few sage leaves. The aroma sings as the lion's mane caramelizes. Anderson throws a bit of garlic in, then turns off the fire beneath.
At his workspace, the chef ladles out some broth (made from hard cheese rinds), adds a squeeze of lemon juice, and slides two knobs of butter into the mix, which immediately pool in the skillet. From the boiling water, he raises the freshly made pumpkin-squash ravioli rounds and lowers them into the pan, allowing them to marry with the sauce. The earthiness of the mushrooms surrounding the smooth, rich texture of the ravioli combine to make for a perfect bite (or two, or three).
Because Blackbird is so popular, getting a reservation became a major coup. Sometimes, patrons from out of town who knew they were going to be in Bozeman would reserve tables for 10 people months in advance. That often made it difficult for locals to score a table. Gibson watched this happen and vowed to keep Blackbird a local eatery. "No longer can people make reservations more than two weeks out," he says. In 2020, they also broke down the wall between their dining room and the former business next door, doubling their space and adding a wine bar. The new side of the restaurant is primarily kept open for walk-ins, and the wine bar allows Blackbird a casual hangout feel.
The entree arrives: lamb chops cooked in the wood-fired oven to add a hint of smoke, served alongside yellow lentil daal with a dollop of preserved-lemon yogurt. The chops — sourced from Montana Highland Lamb in Whitehall — are thick and lean with a lovely white fat cap that imbues the dish with a deep umami flavor. The daal, with a ginger and spice base and zesty bright yogurt sauce, balances out the richness of the dish. A few flakes of salt, like a blessing, finish the plate.
Wiping his hands on a towel, Anderson nods at the dishes with approval. The images in his head, like kitchen magic, materialized on the plate. "I've always loved cooking," he says.
And it shows.
Freelance art writer and author Michele Corriel earned her master's degree in art history and her Ph.D. in American art. She has received a number of awards for her nonfiction and poetry, and her latest book, The Montana Modernists: Shifting Perceptions of Western Art, will be out this fall from Washington State University Press.
Photographer Lynn Donaldson shoots regularly for National Geographic, National Geographic Traveler, Travel & Leisure, Sunset, and The New York Times. The founder and editor of the Montana food and travel blog The Last Best Plates, Donaldson lives outside of Livingston, Montana, with her husband and three children.