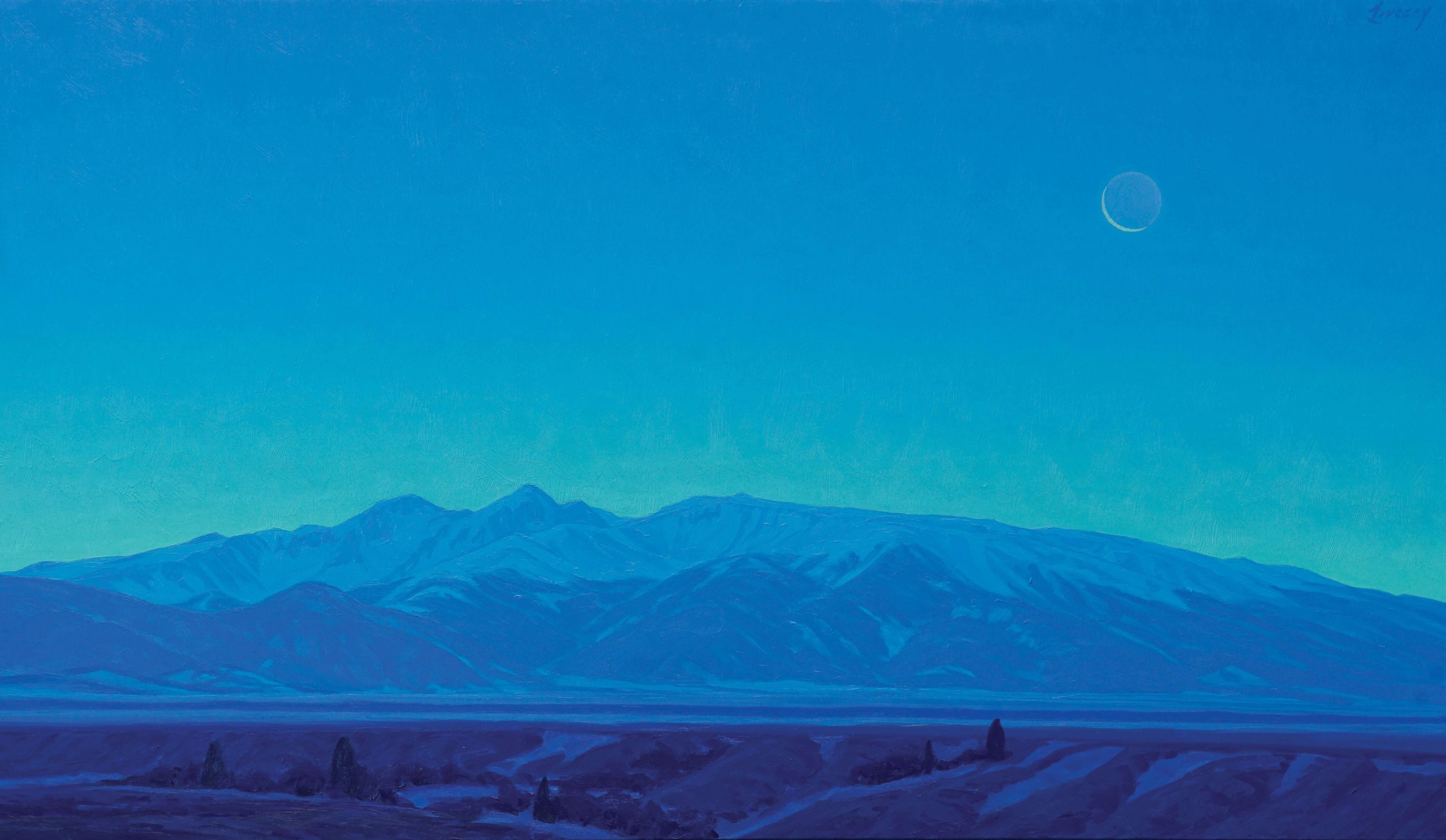 MOON OVER BEARTOOTH PLATEAU | OIL | 16 X 28 INCHES
03 Aug

Dale Livezey

in

Refining the art of being present, artist Dale Livezey's palette speaks of Montana through gradient skies and the sentinels of landscape. His paintings offer a mediation on the intangible values of place, a breath of sanctuary, and that transient balance when the world teeters between night and day. 

"Several years ago, I saw a Mark Rothko show, and it really influenced me," Livezey says. "I love that space, and that's why I paint skies without clouds. It represents Montana for me, that freedom in a spiritual sense. It's a freedom of the imagination — to go into the landscape and interact with it as we choose."

The mind is certainly unleashed when viewing a Livezey landscape. His color-field skies enable the wandering appreciation that often accompanies abstract work. But he also anchors the eye with mountains, trees, gullies, and fields. "Abstract art does not really have a narrative, and that's how I think about my work," Livezey says. "I'm not trying to tell a story. I'm trying to show glimpses."

Livezey's Helena, Montana studio is itself a study in liminal spaces, an intermediary place where dusk and dawn visit and revisit while Livezey catches them on canvas and releases them to the world. Confined swirls flattened across his glass palette, squeezed and flattened tubes, and an exploration in blue populate the space between two easels. A spackled, stained, small roller accompanies various brushes; dangled rags poke out between niches. At the moment, he's working on two paintings. He'll often go back and forth between two pieces, stopping when the paintings reach a place that requires a pause.

He presents a contemporary perspective on historical subjects. The land itself, a large part of Montana's identity, carries its own biography. For Livezey, it's about seeing, not recording. It's the kind of perception that comes from understanding the land and deeply portraying the truth about it. "I want to pull people into the work and rejoice as to where we are," Livezey says. "I'm looking for the essence of a place."

In Sunlit Ridge, daylight plays a prominent role, hovering just above the ridgeline and opening up into the teal remnants of night. The warm tones spill onto the hills, not quite reaching the line of trees purpling a small waterway. "I like to keep the details of the foreground to a minimum," he says. "Trees have great shapes, and I don't want to get caught up in the details. Ever since I began painting in my mid-20s, I started seeing things simply: light, color, form." In this piece, Livezey's voice — barely louder than a whisper — hums a throughline. It is a standard flag on the day, a staking out of claims, and a promise to move forward.

Upon entering his studio (which is separated from his wife's studio by a sliding barn door), a long table covered with small paintings greets visitors. The works range from field studies to fleeting ideas that Livezey doesn't want to forget. His table of ideas includes color concepts and brushwork. One is an obviously quick study done outdoors, brushstrokes flying across the tiny square canvas, marking hillsides, trees, and maybe even wind. 

Along the back wall sits his "cheering section": shelves of flowering African violets, Sinningia, Kohleria, and Streptocarpus among other Gesneriads lined up under grow lights and wicking up water from their containers. It is a passion for Livezey, as is gardening, landscaping, and beekeeping. "I try to approach my art and life in a holistic way," he says. "The flowers in the studio, too, are all a part of my creative life and connection to nature. The paintings are born out of that feeling of connection."

Lisa Simon, owner of Radius Gallery in Missoula, Montana, represents Livezey. "He's been a painter for a long time, over 40 years in this area, and was already well known when Radius came along," Simon says. "We're a good fit for each other. Radius represents artists who want to build their careers. We've been pairing him with [ceramicist] Josh DeWeese because they've known each other for a long time, and they're a steady gaze on Montana."

Simon notices that when people first see Livezey's paintings, they often say, "The sky can't be that color." But upon closer inspection, they understand that his work is as much about perception as it is about place. "His paintings are set in the West, mostly Montana," she says. "There's a lot of people painting here, but he captures something personal, thoughtful, and perceptive. That stillness and calmness, and a deep emotional serenity — it's a feeling that is shared with people who really love this area."

In Near Judith Landing, Livezey combines a river view with a backdrop of outcropped hills and low mountains. The painting, while not entirely factually accurate, portrays the essence of the area. It captures the sublime moment when the heat of the sun's fading troth of warmth rescinds and a cool wash of evening pads along the lowlands, rolling in shadow. One-third of the painting is landscape; two-thirds present a meditative sky barely clinging to the peach-yellow band of a thin horizon. 

"He's a self-taught painter," Simon says. "You can see his development over the span of his career. Looking at his paintings from 2007, they don't have the layering. His layering of paint has evolved and become more intentional. He used to be more detail focused, more realistic; he is now more painterly, going more toward abstract shadows."

For his most recent show at Radius Gallery, Livezey brought in 12 paintings. "That is the most he's done at one time," says Simon. "We have a show for him every other year. He'll paint all year for it, mostly in the winters. He works slowly, with meticulous layering of light; if you look closely, you can see the brushwork patterns. We had 40 buyers for those 12 paintings. We maintain a list of 50 to 60 people who want his work. His work is very personal to this place."

Simon often applies the "light trick" in the gallery, where she turns off the lights, "and his paintings actually glow in the dim light, as if they were backlit. That's [a] trick of the eye," she explains. "Some colors come toward the viewer, translucent paint over opaques, so it appears to be glowing. He's taking this old technique and moving it into something else, through the lens of Rothko, where color has an emotion, and color fields have a feeling. He's combining old Dutch master techniques with a Modernist color theory — and bringing those together in Montana. He's really devoted to it." 

Livezey used to paint en plein air much more than he does now. These days, he likes to photograph places so that he can consider them later on when he returns to his studio. "Coming back to the studio with the photographs allows me to find my own voice in the piece," he says. "I'm really looking to find the essence of a place, and sometimes that means playing with the composition to get it 'right.'" 

Standing in front of a large Livezey painting brings us back to the brisk, just-before-morning chill, the crack of light barely rising, the smell of overnight dew gathered in the grass. These spaces are all places we've been, and these landscapes have the power to transport us back to them.