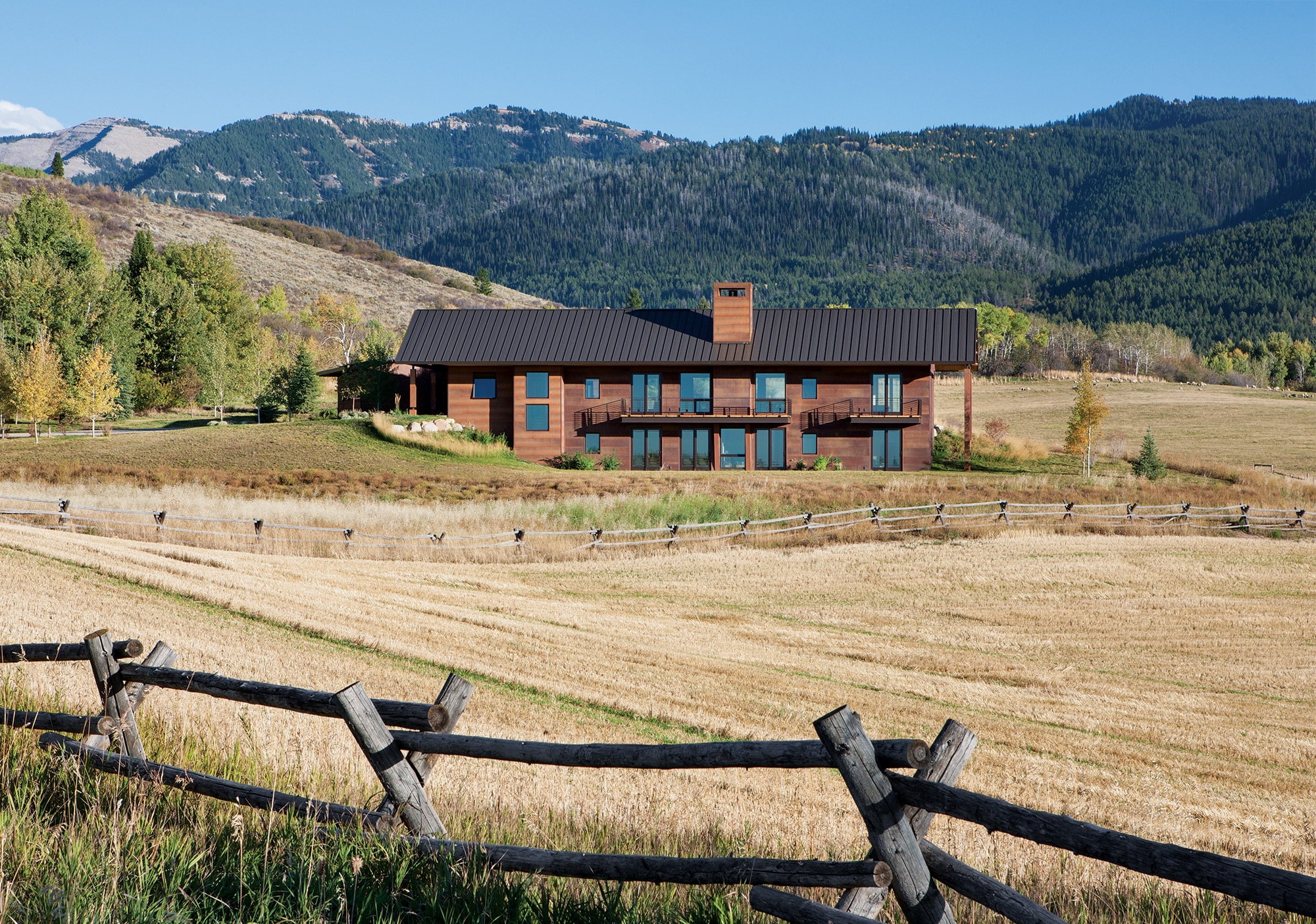 13 Apr

Carte Blanche

in

TO GET THE NEW HOUSE HE WANTED near Alta, Wyoming, Paul Brakke, of Boston, gave Mitch Blake the gift every architect wants from a client: free rein to design it.

"We were very hands-off," Brakke said of the approach he and his wife, Lalitha, took. "We came out twice, so Mitch and the builder were on their own for the most part. We did online meetings where they'd show us pictures."

It may have seemed like a leap of faith, but it was no different from the way Brakke earlier had acquired their 3-acre parcel, a half-mile from the Idaho border. A friend had called to say that there was good value there — and the two of them bought neighboring lots without a visit.

Then they went online to track down Blake, a principal in Ward + Blake Architects in Jackson Hole. "We really liked his style — I'm into very clean lines and form over function," Brakke said. "And he lives a couple of miles away, so I figured that if he had to look at my house every day, he'd have to do a good job."

Besides, he reasoned, not knowing the lay of the local land could be problematic — and Blake had been practicing architecture in Jackson Hole since 1996. About 60 percent of his work is residential, though his six-person firm is experienced in resorts, local schools, and hospitality as well. "We were going with someone who really knew the area, and who would take into account things I might not be aware of — someone with local sensibilities," Brakke said.
After an initial, in-person meeting, Blake walked the site carefully. He wanted to identify the views, the prevailing winds, and the positions of the sun. He took note of the rising farmland and hills that led up to Green Mountain, to Teton Canyon, and to Idaho beyond. "I stood at the edge of that rolling hill at the knoll in the wheat field," the architect said. "It felt like a nice spot to capture the views, and to give daylight to the basement."

He inserted a two-story home into the hill, opening up the lower level for plenty of light and views of the Palisades to the west, the Grand Tetons to the east, and long vistas of Yellowstone to the north. The big idea was to capture it all in an energy-efficient, economical package. "We wanted to strip this house down to very simple components, and architecturally bring the outside in," he said. "So there's a lot of floor-to-ceiling glass."

Its form is low, lean, and akin to the local Wyoming vernacular — a contemporary version of early settlers' cabins and hay sheds once common to the area. "It was a farming community that's become a resort destination area now," Blake said. "Grand Targhee Resort is just 7 or 8 miles away."

Some of the home's materials are decidedly different — especially the exterior's COR-TEN steel cladding known commercially as "rust wall." Maintenance-free, it's designed to weather over time, achieving a look that's similar to the cedar that's prevalent on nearby homes. "It comes in horizontal panels in 20-foot lengths, 18 inches tall — the size of a big log," Blake said. "The cost of the panels is $1.60 per square foot, which is less expensive than putting on cedar siding."
It was an economical solution that complemented existing building materials nearby, to be sure. But it's still steel, not the wood so common in the area. "I was a little nervous because everything in the neighborhood is cedar siding and stone," Blake said. "I had to meet with the HOA, but they approved it because the tone fits right in."

From a distance, the COR-TEN looks just like stained wood planks — not patchwork, but consistently patinaed panes. "The installer said he'd never had more comments than he did with ours," Brakke said. "People come in the driveway just to see what it looks like."

Blake delivered a one-room-wide house that's 90 feet long, so all rooms are open to sweeping vistas. It's an L-shaped floor plan with an exterior courtyard that's protected from prevailing southwestern winds — with a view toward Green Mountain and Teton Canyon. The architect even found a way to work a little of the landscape into his design. "We do a lot of sod roofs and they wanted that incorporated," he said. "So we brought it in as a link between the guest room and the main house, to tie back into the natural setting and soften the impact on the environment."

He added 8-foot eaves for a number of reasons. First, in winter the snow slides off easily, away from the house. During summer, they provide plenty of shade and minimize heat gain — while light from a low winter sun pours inside to heat up the floors. "Honestly, even during the coldest days, the heat doesn't come on during the day," Brakke said.
The home's envelope is super-insulated to keep it toasty even when temperatures plunge to 30 degrees below zero outside. Its walls have a thermal break, with continuous R-10 insulation all the way around, and R-22 fiberglass blown in. "The walls are an R-32, and the roof is an R-60," Blake said. "It's heated by a ground-sourced heat pump, and there's a gas fireplace in the living room."

He called for radiant floor heating — hydraulic tubing throughout the house — so that if the Brakkes choose, they can run around barefoot in winter. And a heat-recovery ventilation system keeps the air fresh and moving. "The radiant floor can get air-stagnant when it's buttoned up so tight," the architect said.

From the beginning, Blake's assignment was broad in scope: a home no larger than 5,000 square feet, with four bedrooms, an office, and a sewing room. "They wanted an exercise room downstairs, and that's become more of a family room now," he said. "And they wanted a garage and a place to keep their ski gear and bicycles."

Brakke and his wife didn't immediately make the home their permanent abode, choosing instead to live in it awhile before making the leap. "He loves it here, but she wasn't sure she wanted to be in the area," the architect said. "She was apprehensive about how much snow and cold there was, but she loves it now."

Three years ago, they sold their home in the Boston suburbs and moved into the contemporary house they'd given their architect carte blanche to create. And they're happy with it, too. "It's not your typical post-and-beam with an antelope above the fireplace," Brakke said. "It's just a very clean and efficient design."

It's also a building that responds successfully to all of their needs — and every condition onsite.