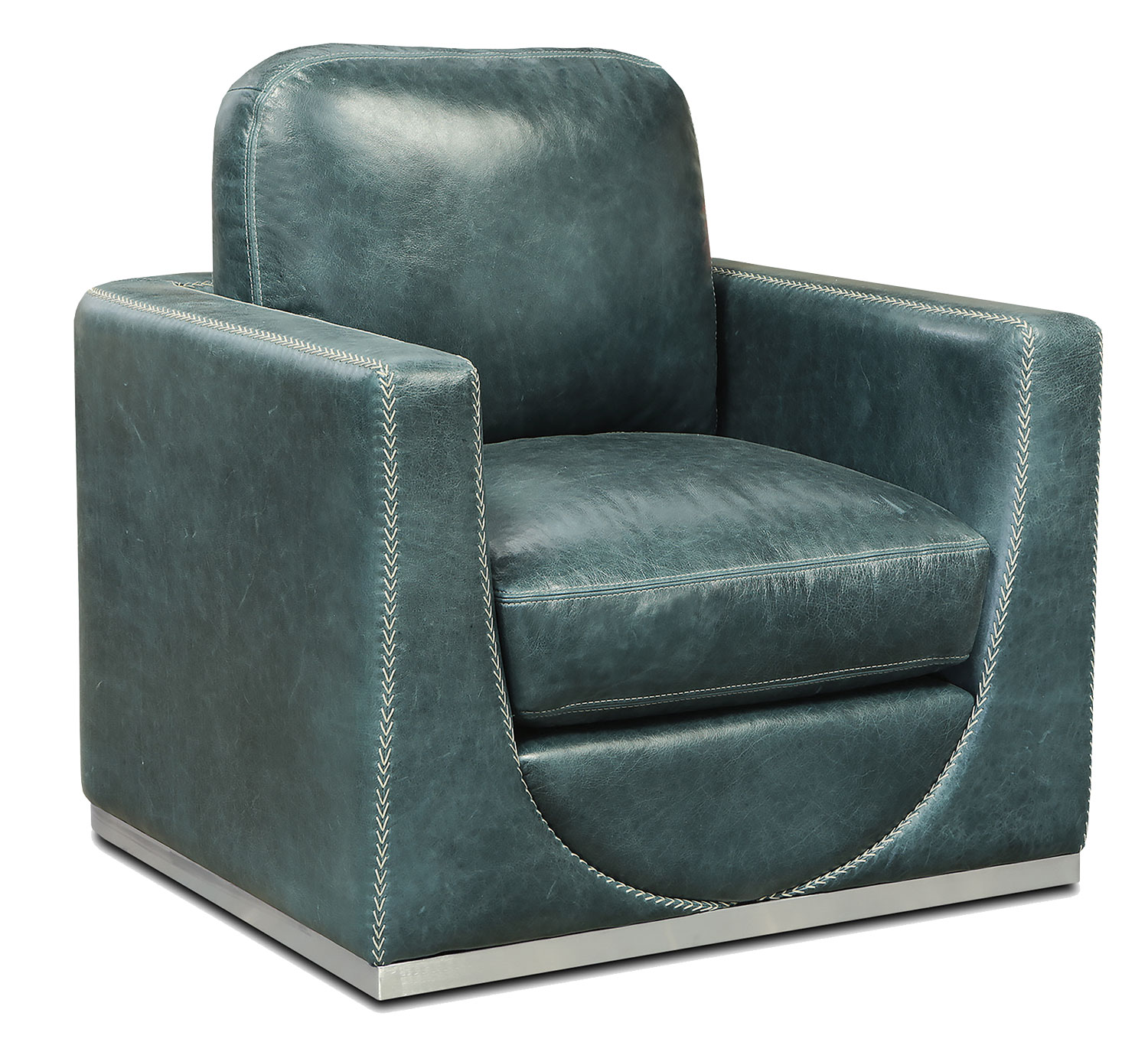 Hudson Bay Swivel Chair by Eleanor Rigby Home | $3,999 | 36 x 36 x 35 inches | eleanorrigbyhome.com
16 Apr

Best of the West

in

From rustic furniture to lighting and planters, here are some of our top picks for the Rocky Mountain home.
Hudson Bay Swivel Chair by Eleanor Rigby Home
Luxurious, full-grained leather, made cuddly soft with embedded oils and waxes, graces this swivel chair by Eleanor Rigby Home in a color creatively called "Amazon." The leather presents a beautifully distressed and natural patina and shows off the meticulously hand-stitched arms. In particular, we love that the circular design on the chair's front softens its angular features, changing it from ordinary to extraordinary and calling one to sit, relax, enjoy — and breathe. Built to last, the Hudson Bay Swivel Chair is braced with tempered steel and 8-gauge, zig-zag springs. Another great feature is its feather-soft filling, designed to prevent bunching. Eleanor Rigby has thought of everything.
$3,999 | 36 x 36 x 35 inches | eleanorrigbyhome.com
Wooden Bowls By Ena Dubnoff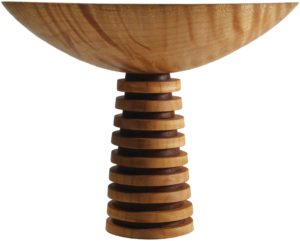 Architect Ena Dubnoff has received many awards, including two from the American Institute of Architects and the Los Angeles Conservancy. Now, she is channeling her design skills into a new form of creativity: turning bowls on a lathe. Sometimes she combines these expertly turned bowls with architectural bases made from cast-and-colored concrete or engineered wood. We love the simple elegance in her work. "Each piece is one-of-a-kind. No two pieces are alike," she emphasizes. "The material's hues, texture, and grain combine in different ways depending on the characteristics revealed as the wood is turned and as layers are cut away." The wooden bowls and vases are small and delicate, perfect for that niche that is begging for something organic and eye catching.
Prices available upon request  |  enadubnoff.com
Sharing bowls & Top Planters by Barter Design co.
A connection to nature is the driving force behind Barter, a manufacturer of products for the home and garden. Located in a small facility in Western British Columbia, they offer a variety of natural products. The Sharing Bowls series features five high-fired, stoneware bowls in a variety of colors. Extremely durable, each bowl is dishwasher and oven-safe, and is the perfect size for a variety of foods. We also love the hand-cast concrete planters on revolving natural bases, which are turned on a large-scale lathe, hand-sanded, and hand-finished. Beautifully purposed with a selection of herbs cascading over and down the side of a tall Western cedar base, these are a lovely addition to any garden. Together, these pieces are designed to add scale to any space, connecting one with the beauty of the materials. Available in finishes of natural, blackened, or white cedar, each base is made to order.
Sharing Bowls  |  5 x 1.75 inches  |  $22
Revolving Planter 17 to 53 inches tall
Top: $240; Base: $496
Perched Sconce By Moooi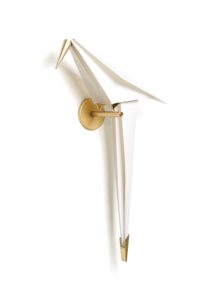 London-born architect and designer Umut Yamac declares, "Joy is in the detail." We agree, especially when it comes to his unique sconce from the Perch line of lighting from Moooi. Mother Nature inspired Yamac to create a series of bird-themed light fixtures, including table lamps, standing lamps, and a chandelier with "branches." A bird perched on a tree, blissfully singing its heart out, is the imagery behind this wall sconce design. A gentle push will set the Moooi bird in motion, "filling both hearts and homes with endless delight." With the wiring and cables completely hidden, this whimsical wall sconce is a playful statement piece.
$1,294  |  13 inches tall | moooi.com
Lewis & Clark Console Table By Ghost River Furniture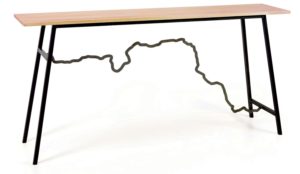 Ghost River Furniture invites you to find inspiration in your home with this table depicting the famed 1804 to 1806 journey of Meriwether Lewis and William Clark that started on the Missouri River and ended up at the Pacific Ocean. Their assignment was to map the territory they traveled through, collect animal and plant specimens, and develop relationships with the diverse tribes of Native Americans along the way. While one table — with its hand-welded steel base, and top available in beetle-killed pine or emerald ash — can't relay the whole story, it can spark the beginning of the tale. Each piece is one-of-a-kind with unique color variations in the wood, but the laser-cut stringer, displaying Lewis and Clark's precise route in intricate detail, is the same every time.
$1,099  |  73 x 16 x 34.5 inches  |  ghostriverfurniture.com
Molesworth-style Club Chair by How Kola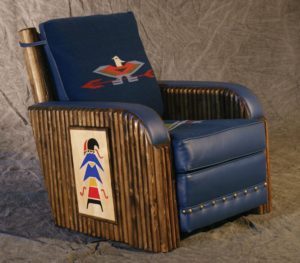 If you love the Western aesthetic, you likely are familiar with Thomas C. Molesworth, the designer who created a distinctly Western style of furniture and accessories using horns, hides, and natural woods. As a resident of Cody, Wyoming, Molesworth designed and built furniture there from 1931 to 1961. This Club Chair was built in the spirit of the pioneering designer by Tim Lozier of How Kola, also from Cody. For 20 years, Lozier has been building custom furnishings and showcasing them at the prestigious Western Design Conference and the Cody High Style Show. This beauty is crafted of Douglas fir, leather, and hand-woven Chimayo wool — a perfect tribute to a Western master.
$4,250  |  36 x 39 x 35 inches  |  howkolafurniture.com
Outdoor Dining Set by Sifas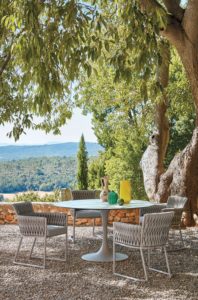 We've never seen basket weaving so beautifully melded with furniture as with this Sifas dining set. French designer Éric Carrère, known for his cutting-edge modern designs, has taken weaving to new heights. These chairs are crafted with a frame of solid lacquered aluminum in a matte-gray color, then clad in a refined woven and braided polyester for style and comfort. Sunbrella cushions finish the chairs, making them ready for fog, rain, snow, or sleet. Combine them with Sifas' Koro dining table — round, subdued, and elegant — for an inviting outdoor setting. The table, too, is made of lacquered cast-aluminum in white, mocha, or gray with a mock-marble top. One might be tempted to match the dining set with Sifas' lounge chairs and two-seater sofa, creating the ultimate outdoor entertainment space for family and friends.
Table: $2,930  |  55-inch top
Dining Chair: $1,265  |  22 x 24 inches  |  sifas.com
Snake river Table By ron benoit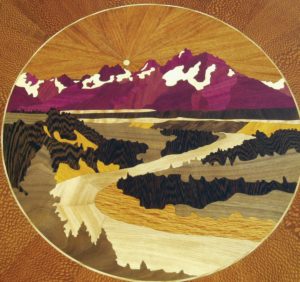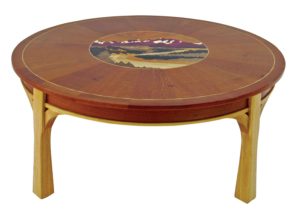 For more than 30 years, Ron Benoit has created custom heirloom furniture from his studio in the Cache Valley of Idaho. All the trademarks of fine furnishings can be found in Benoit's work, including mortise-and-tenon joinery and dovetail drawers. He's careful when selecting hardwoods, choosing them for soundness and color. Drawing inspiration from contemporary masters, he uses veneer panels, combined with inlays and marquetry, to create his designs. We particularly love this Snake River Sunset Table made of leopardwood and ash with marquetry inlay. At 52 inches across, it will fit into a variety of spaces. Combined with your favorite set of chairs, it can become a pièce de résistance, receiving admiration from all who see it.
$8,500 | Circumference: 52 inches | woodensound.com
Rosewood Salad Set by Susan Kendrick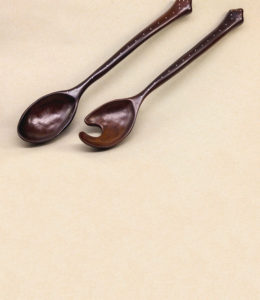 "I love wood! What other substance grows from a tiny seed into a structure that touches the clouds?" says Susan Kendrick. Raised on a cattle ranch around barns and wood piles, and coming from a family of woodworkers, it's no surprise that Kendrick is now crafting kitchen utensils. This Rosewood Salad Set with silver touches would add artistry to any dinner table. From her studio in the Bridger Mountains of Montana, Kendrick designs, carves, and polishes her utensils, which she creates from a variety of woods. And she donates the net proceeds of her work to causes in her community. Who doesn't love that?
$200  |  11.5 inches | barleyseedwoodcraft.com
Beaded Tissue Box By Covert workshops
It wasn't unusual to find Lynda Covert, as a little girl, visiting the Haley Park Sioux Indian Museum not far from her home in South Dakota. She became fascinated with the brilliant colors and intricate designs of early Native American beadwork. While rodeoing in her teen years, she admired the sun glinting off the beadwork on the Sioux' clothing. It's no wonder that today Covert considers herself "a beading fool!" With hundreds of thousands of beads in her collection, Covert creates one-of-a-kind designs using antique Czechoslovakian, Venetian, and African beads. She is revered for unusual tissue holders and pillows, and has even beaded leather drapes. Collected the world over, Covert's work represents her dream designs in full color.
$250 – $4,500  |  Sizes vary  |  lyndabcovert@gmail.com
Barn Door Wall Cabinet by Ballard Designs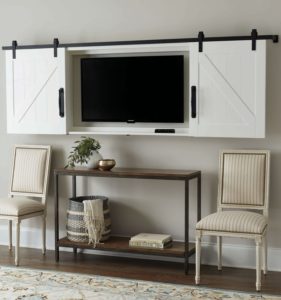 If you're an art lover, chances are you are unimpressed with the blank stare of a giant television screen in a room filled with your collection. Somehow, it just doesn't work with the rest of the home. We suggest you consider hiding your television in a decorative way, perhaps with this wall-hung cabinet by Ballard Designs, which says this cabinet is "a fun way to corral your big flat screen." Made with hardwood doors, it will easily contain up to a 55-inch TV. Just like a pair of vintage barn doors, its cross-planked sides slide easily on black, wrought-iron rails. Designed to go in any room, its rubbed white finish agrees with most color schemes.
$729  |  32 x 99.25 x 7.25 inches  |  ballarddesigns.com
Column of Drawers by Christoph Neander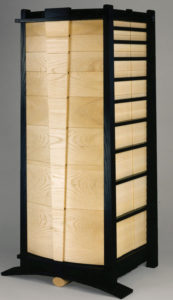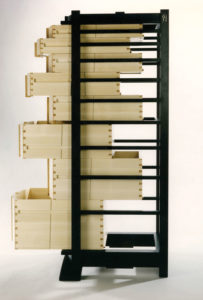 We love this different take on a functional piece of furniture that has, in essence, become a work of art. In fact, its creator Christoph Neander says, "Art in the living room does not have to just hang on the wall." Neander began his study of woodworking more than 20 years ago in the town of Garmisch in the Bavarian Alps. Today, his contemporary aesthetic often reflects the elegant simplicity of Japanese forms and lines, as in this eight-drawer column, crafted from stained white ash. Neander creates only one piece at a time on commission, so that each can be meticulously detailed.
Price available upon request  |  58 x 23 x 23 inches | christophdesign.com
Antler chandeliers & Furniture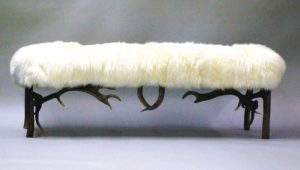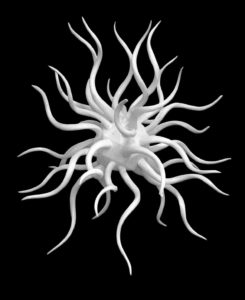 The historic Crystal Farm property, established in Redstone, Colorado, in 1900, has served as the home of Crystal Farm Antler Chandeliers and Furniture since 1980. Joan Benson and Stephen Kent are the expert artisans who design quality custom pieces with naturally shed elk and deer antlers that are sure to make a statement in any home. The Hand-Polished Kudu Horn Chandelier is no exception, featuring African Kudu horn centers, polished to glimmering perfection and fitted with fiber optic and LED lights, it provides a starlit effect to any space. On the furniture side, the artists at Crystal Farms have created a stunning Long Hair Mongolian Sheep Covered Bench. With a brilliant white top and elegant dark antler legs, it's a modern take on a Western aesthetic.   
Mongolian Sheep | Covered Bench: $5,500
Kudu Horn Chandelier: $38,500| crystalfarm.com
Walnut Shelving Unit by Article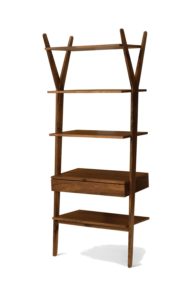 On an adventure north into the Arctic Circle, four software engineers became "inspired by the beauty and challenged by the unfamiliarity of the environment." This led them to begin manufacturing a line of furnishings based on simplicity and efficiency. This Lignum walnut shelving unit, influenced by growing tree branches, is an example of both. We love that it combines natural beauty with functionality, and yet it is also a space-saving design. It could be the perfect place to display a collection of books, artifacts, or favorite sculptures.
$549  |  73 x 29 x 16.5 inches  |  article.com