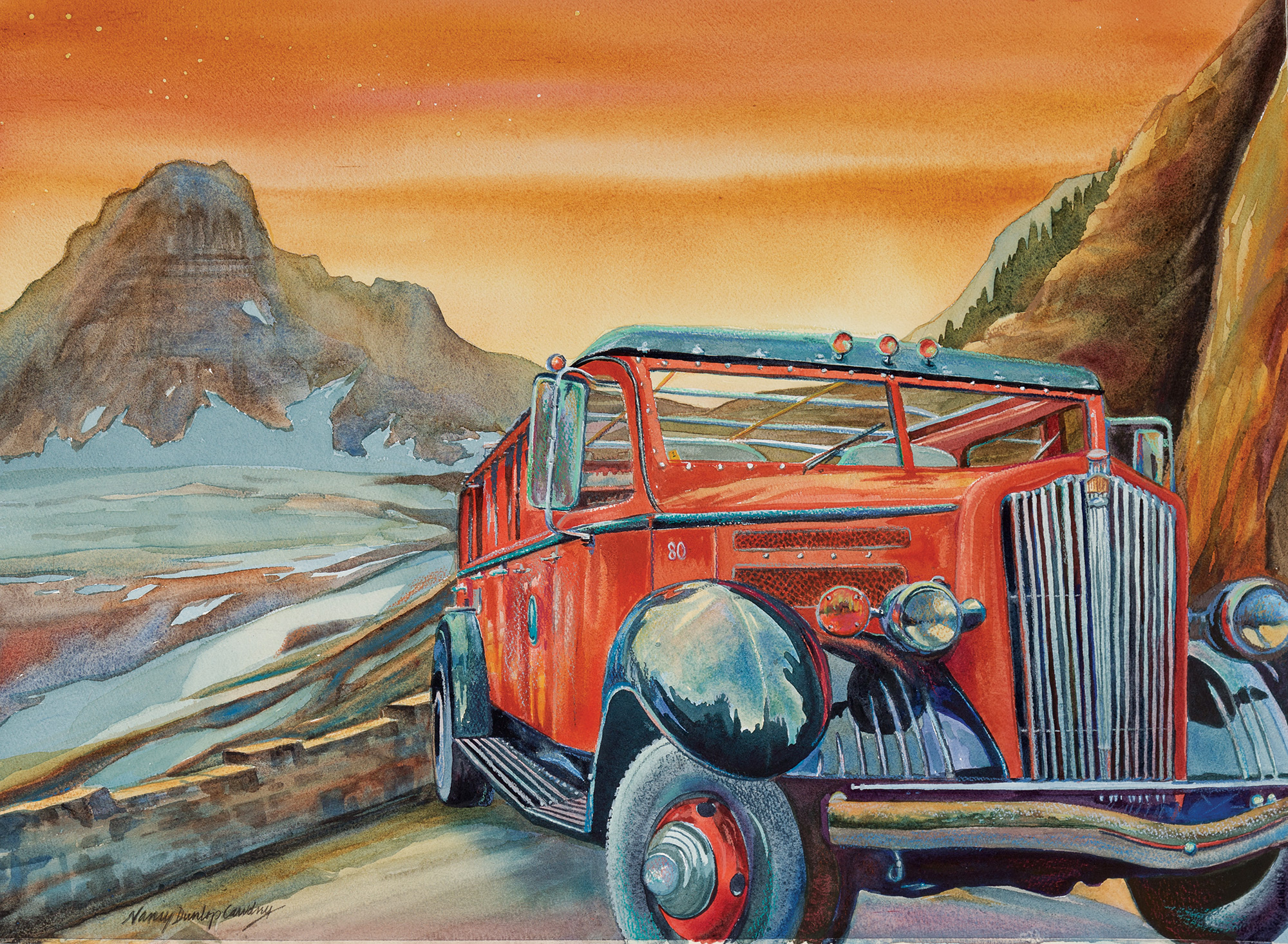 08 Jun

Artist of the West: Western Versatility

in
---
Nancy Cawdrey dips her brush into a plate of deep-ocher dye. Holding it near the tapered end, not wanting her stroke to be too precious, she touches the tip to the silk. Color blooms as she quickly leads it across her image of a moose. While the ink is still wet, she scatters a dozen or so salt crystals onto it. Like a living organism, the salt interacts with the dye. As she flicks the crystals off, a dappled texture is left behind.
This is the hallmark of Cawdrey's work, taking an ancient painting method and turning it into Western art. Dating back to the Chinese Warring States period, between 476 and 221 B.C., dye-on-silk painting began to show up in Western Europe during the 12th century Crusades. "The method I use was brought to France by the czars after they escaped the revolution," Cawdrey says of the serti technique. "I use a 'resist' that stops the ink from bleeding too far, giving me more control over the image."
There is no mistaking a Nancy Cawdrey painting. Her style is unique, reflecting both the full expression of her vibrant palette and a contained yet free flow of form. A recurring theme in Cawdrey's work is an innate connection to her surroundings.
"She's the best at what she does," says Terry Ray, owner of The West Lives On Gallery in Jackson, Wyoming. Ray represents Cawdrey's work and has been doing so for more than 12 years. "Nobody can do it like Nancy. She pioneered silk painting in the West. She's very talented. It's our job to sell for the artist, so we want to put things out there that collectors want, and collectors want Nancy."
Ray says that Cawdrey's collectors often buy 10 or more of her paintings. "People just love her work," he says. "Besides her spectacular colors, she covers all the bases: wildlife, landscapes, and some Western pieces. We've had traditional Western art collectors buy her work. People who never think they'll be attracted to work like hers end up buying them. Some artists have it, and Nancy has it."
Years ago, Cawdrey was in Hawaii on a camping trip when she came across a few small, jewel-like paintings. When she looked closer she could see they were painted on fabric. "I found the woman who painted them and discovered it was dye on silk," she says, stepping back from her work. "I asked for a lesson, right then and there. It was a very easy transition from watercolor painting, and it was a little friendlier. By that I mean it allowed me to paint from my heart and not my head."
Aside from her dye-on-silk paintings, Cawdrey still works in watercolors as well as with oils.
"I started painting with watercolors," she says. She learned while living in England, where watercolors are a part of England's heritage, particularly the Golden Age of watercolor in the 18th century. "The person who taught me had me work only in gray for a year. It impressed upon me the importance of composition and value. After that, what else do you need?"
Her studio, located above the garage in the Cawdreys' Big Fork, Montana home, shows the depth of her range. On a flat surface is the silk painting — tacked on a wood frame, the rough-edged silk de chine material lays horizontal. For this part of her work she needs it flat. Later, when she finishes this piece at the Charlie Russell Quick Draw in Great Falls, she'll have it up on the easel.
"I love the sculptural quality of alla prima oil painting, the meditative aspect of transparent watercolor, and the spontaneity and brilliant color of silk painting," Cawdrey says. "All are challenging in their own way, and the different media keep me in the learning, responsive mode of creativity. I carry what I learn in one medium to the other two regularly. The diversity is what engages me as an artist."
At this moment her easel is occupied by a large watercolor painting of an iconic Glacier National Park red bus. The piece — dynamic, as the fender seems to drive off the painting — is nearly done. With Cawdrey's signature array of colors, she allows the watercolors full expression while still commanding the design and composition of the overall painting. Cawdrey likes to go back to her roots in watercolors, although last year she sold as many oil paintings as she did silk paintings. This year she wants to remedy that by selling more watercolors.
"Working with watercolors, the cotton rag surface absorbs the color and you have to work fast," she says. "Working with dyes, the silk can hold a lot of pigment. But it's similar in that you have to paint from light to dark, as with watercolors. In oils, you work from dark to light."
The medium she decides to work in depends not only on her commission commitments, which are a lot these days, but also on her participation in annual shows and auctions. Cawdrey and her husband are advisors to the Heart of the West Contemporary Western Art Show and Auction, which will be held in two locations this year: Bozeman, Montana, and Coeur d'Alene, Idaho. She also takes part in the Buffalo Bill Art Show and Sale in Cody, Wyoming, the Gilcrease Museum in Tulsa, Oklahoma, the Phippen Museum Art Show and Sale in Prescott, Arizona, and a few others as well. At the C.M. Russell Art Show in Great Falls, Montana, Cawdrey was honored to be inducted as a "Skull Society Artist," which puts her in with the top 22 artists who show their work at the Great Falls Civic Center.
Once she's taken care of those commitments, what she paints on a particular day depends on how she feels. "I'll wake up in the morning with an idea — I want to do a snow piece — that will be oil. That's the way to go. With oil I can put a lot of paint on the canvas and work toward the light."
The essence of her versatility is evident in her studio, where every surface is covered: dishes with ink, small canvases of field studies in oils, vases of brushes, and miniature pails of watercolor pencils. Boxes of different types of salt sit next to her tray of dyes, and a pileup of plastic palettes leans against the back wall. One or two portable easels stand ready to go at a moment's notice.
"I love to paint plein air," she says. For that, she takes her oils. "Even though the bugs fly into the wet paint. You learn so many things by painting outside. Like the time a moose came up next me — I learned to stand still as a statue!"
Art collector and retired CEO Al Stinson owns several Cawdrey pieces. "It's her colors. I love those colors, they just pop at you. The one I'm most proud of is Forever Jackson that was auctioned at the Jackson Hole Arts Festival. They auctioned it on the square and I bought it." The 68-by-52-inch dye on silk painting shows a moose standing in a river with the mountains as a backdrop. "Everybody that sees that painting thinks it's fantastic. I think it's the colors as much as anything that attracts me. A painting of a moose just wouldn't do much for me, it's something about her colors."
Three years ago, Stinson bought one of Cawdrey's oil paintings. "She can work in so many mediums and do them all so well," he says. "Most of the things I collect are more classic, traditional Western art pieces. I've got a lot of more those. But I think it's the color and style for me."
For Stinson, like a lot of Cawdrey's collectors, he's aware of the colors and the way the gem-like tones invite the viewer into the piece. Her work is at once accessible and intimate.
"She uses the color to make you study the subject matter," he says. "I look at it three or four times a day and never get tired of it."