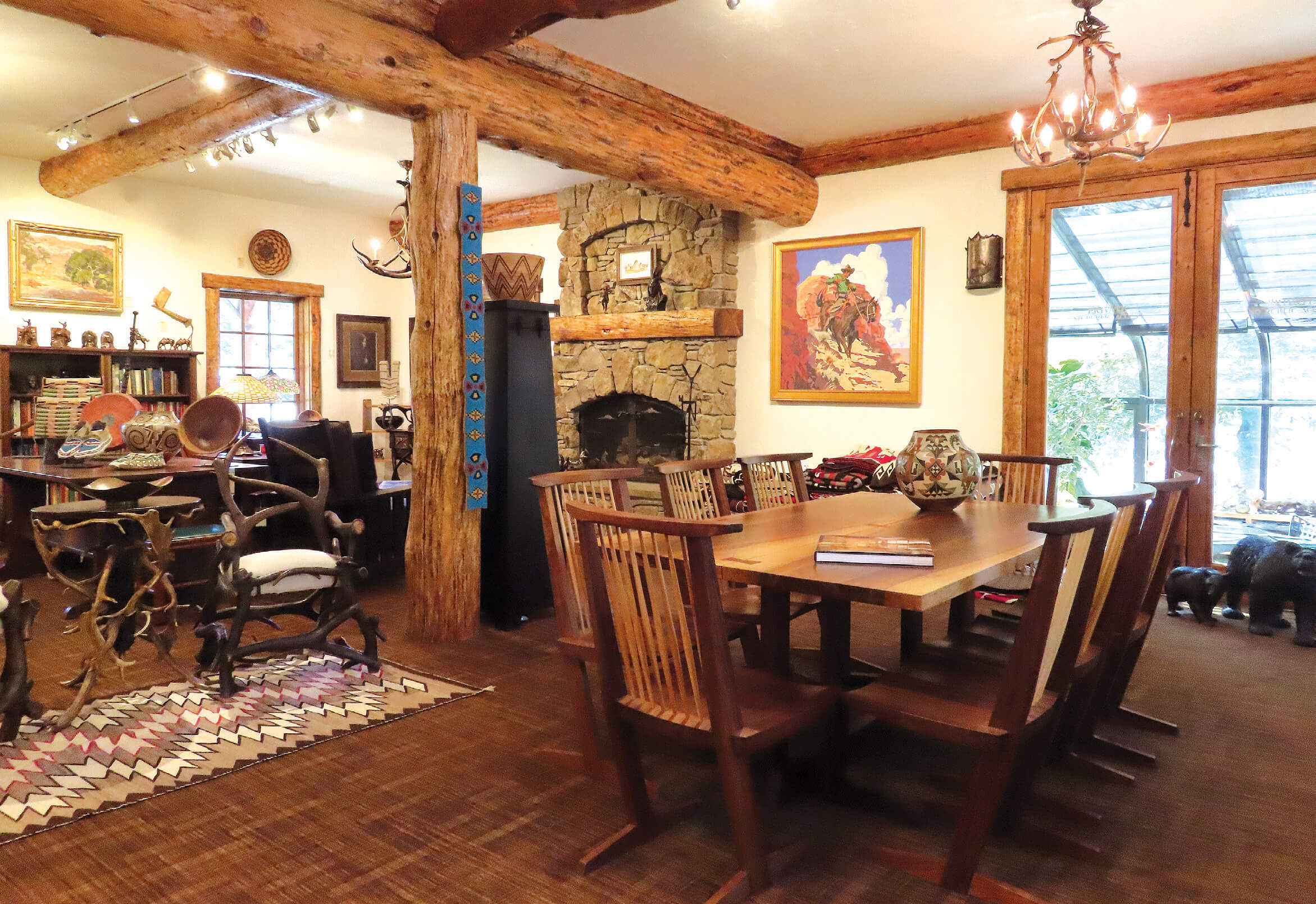 A Frenchman's Cove II Table by George Nakashima is surrounded by Conoid Dining Chairs designed by Mira Nakashima. The ceramic vessel is from the Acoma Pueblo in New Mexico, and the painting is by Western artist Billy Schenck.
08 Apr

Fighting Bear Antiques: An Enduring Aesthetic

in

Terry Winchell was a child prodigy antique dealer. Growing up along the border of Wyoming and Nebraska, he was fascinated by Western history from a young age. He was only 14 when he bought — and swiftly resold — his first piece of antique furniture. "I was at a farm sale, and I bought an oak table for $30," Winchell recalls. "Then I thought, 'Oh no, my dad is going to kill me, because obviously, I don't have a way to get it anywhere," he says. "Graciously, someone came up to me and bought it for $50, so that was the beginning; there was no stopping it after that."

Winchell continued to find and sell antiques all through college before moving to Jackson Hole, Wyoming, where he opened an antique shop in a little log cabin in 1981. "It was about the time that a lot of our dude ranches were starting to break up and get sold," he says. "I would buy rough-condition furniture and restore it." He named the business Fighting Bear Antiques after Fighting Bear Creek, the original name of Jackson Hole's Fish Creek.

Winchell purchased rustic furniture and Native American art, gradually acquiring a specialized inventory aimed at a national client base. "I loved everything about the way that we decorated here in Wyoming in the '30s and the '40s," he explains. "Fortunately, I was exposed to some of those old lodges and collections, and that's something I wanted to re-create."

Along the way, Winchell developed a passion for the work of Thomas Molesworth, the Cody, Wyoming-based founder of the Shoshone Furniture Company. Starting in the 1930s, Molesworth produced Western ranch and lodge furniture that often incorporated bold colors and Native American patterns. In fact, Winchell has become an authority on the furniture designer, authoring the book Molesworth: The Pioneer of Western Design, which was published by Gibbs Smith in 2005.

Today, Fighting Bear Antiques is recognized nationally for Molesworth furniture, Navajo rugs, Native American beadwork, cowboy collectibles, and Western art. And Winchell continues to find treasures all over the country. "If something turns up, I get in my truck and go," he says. He's joined in the business by his wife Claudia, who has an extensive background in art and publishing, and Kate Hlavin, the gallery's director. In addition to the showroom, Fighting Bear has a large warehouse, workshop, and welding shop.

Hlavin brings the insights and experiences of a younger generation to the business. "I grew up in New Jersey, and my parents have always collected American furniture and artwork," she says. "I started going to auctions with my parents, and that really piqued my interest in art." As the gallery looks toward a younger client base, the inventory is also gently expanding, while retaining a cohesive vision based on solid craftsmanship and timeless designs. "This summer, we brought in some great craft furniture by designers such as George Nakashima, Mira Nakashima, Sam Maloof, and Willy Rizzo," Hlavin says.

Fighting Bear's mix of historic and contemporary Western and American paintings and sculptures is ever-changing. The gallery often offers artwork by the likes of Billy Schenck, John Nieto, Fritz Scholder, Hanson Puthuff, Edward Borein, Carl Rungius, Joseph Henry Sharp, James Everett Stuart, Olaf Wieghorst, and Carl Kauba, among others.

Winchell and his team frequently collaborate with local and national interior designers, as well. They've worked with clients to furnish entire homes, helping to select rugs, artifacts, furniture, lighting, and custom pieces. "Our business mission has always been based on integrity and honesty," Winchell says. "It's something that I grew up with, and I think it's the code of the West."

Many former clients have also become good friends. "We've grown our business over a long time, and that has all really paid off," Winchell notes. "Some customers I've had for 40 years." When a client buys a piece, Winchell often gives them a book to help them learn more about their purchase. "The number one thing we like to do is educate people," he says. "One of our real focuses is trying to nourish a new group of collectors."

After all these years, Winchell hasn't lost any of the childhood joy he found in antiques. "You know, collecting is fun," he says. "It's fun for all of us, whatever level it is."
Q&A with Fighting Bear Antiques founder Terry Winchell and gallery director Kate Hlavin
BSJ: Is there a piece of furniture in the gallery that you like best?
TW: We have a Charles Rohlfs barrel-back armchair made in 1903 — one of a set of four. They got split up years ago, and the last one sold at Sotheby's. As a woodworker, I really respect the innovative way that Rohlfs built furniture.
KH: Mine is probably the George Nakashima dining set from around 1976. I love the clean lines and modern design of it, but it also encompasses a kind of modern-rustic look.
BSJ: What's your favorite piece of furniture in your own home?
TW: A pair of Thomas Molesworth gunfighter armchairs that I've bought and sold four times. I bought them for about $4,000, and now they're worth $80,000. The last time I bought them, I said I'm never selling them again. They were made for Molesworth's dentist, and they're the only pair like that.
KH: I have a Thomas Molesworth club chair that's this great bright blue leather with an ottoman upholstered in Chimayo. That's probably one of my favorite pieces, because I like the traditional elements mixed with the bright blue.
BSJ: What do you like the most about living and working in
Jackson Hole?
TW: The people, the mountains, the art scene, the vibrancy, and the fact that we have a lot of young people living in the valley. It's really important to me to have young people around. In most of Wyoming, young kids leave. In Jackson, they come here, which is great.
KH: The people, in particular, are what makes the valley so special. Obviously, the landscape and the lifestyle are very desirable. It just attracts a very interesting group of people from all across the country.
BSJ: Do you have any tips for people who are buying antiques and mixing them with modern pieces?
TW: Buy what you like, and learn to love it.
KH: It's really important to buy pieces that you like and to really educate yourself. There are so many great period pieces out there, and if you're willing to be patient and learn about design, you can find some really exceptional ones.
BSJ: Finally, do you have any advice for a 14-year-old furniture collector starting out today?
TW: Hit the thrift shops.
Laura Beausire is a Colorado-based travel and design writer. Her work has appeared in such publications as Mountain Living, 5280 Home, Luxe Interiors + Design, Business Insider, and Wine Enthusiast.