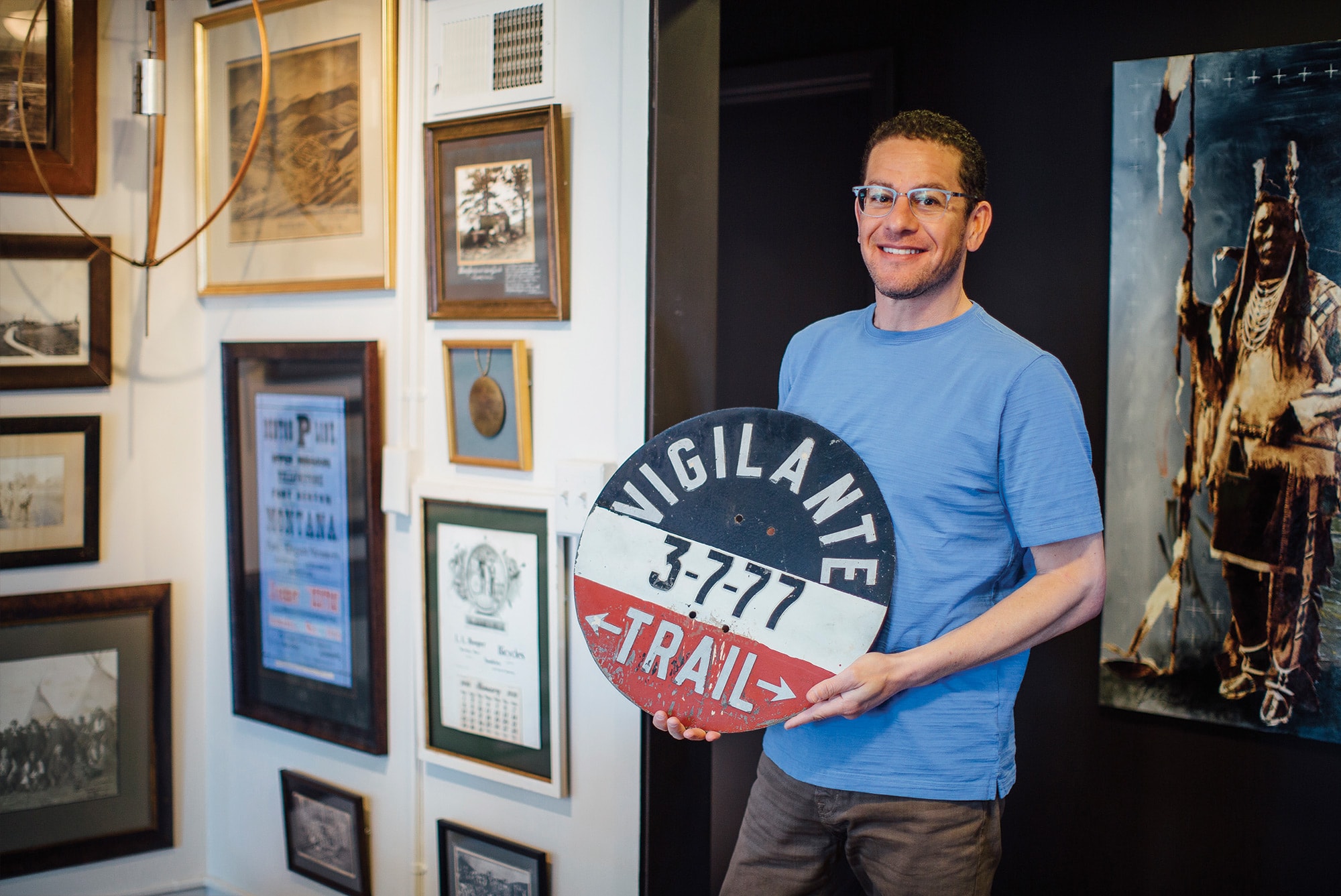 David Perlstein, otherwise known as the Montana Picker, is an avid collector of Montana-related artifacts that embody the Treasure State's colorful history.
21 Jun

A Steward of Stories

in

In 1907 an Irish boy traveled alone from Europe to Canada by sea, then from Canada to Montana by train. Exactly why he made the journey is a mystery. But he wore a big brass immigration I.D. badge suspended from a chain around his neck and engraved with script that told a sliver of his story. Thomas Holmes, age 9, Passenger to Butte City, Montana, per Empress of Ireland and Canadian Pacific Railway.

In 1979, another 9-year-old boy named David Perlstein — a future Montanan growing up in Chicago — sat in his bedroom and sorted through the first major collection of his life. It consisted of baseball cards, and was a harbinger of the vocation that would shape his adulthood: a passion for procuring particular objects, preserving them, and passing them on to others.

Today the stories of these two boys, who never crossed paths in person, intersect at a point on the wall of Perlstein's small house, where the immigration badge now hangs behind the glass in which he has had it carefully framed. Perlstein, otherwise known as the Montana Picker, has grown up to become a professional collector of Montana history. The medal is one of the artifacts in his collection he knows he'll never part with. "That's a piece that gave me chills when I saw it," he says. "That, to me, is America. It's one of my favorite things to show people."

Perlstein has intense responses to and relationships with the treasures he finds, such as the assemblage of documents depicting black history in Montana that made his hands grow hot the first time he held it. This enthusiasm for his work makes all the objects in his care seem to hum with life, even the trio of pre-Prohibition-era glass flasks nobody has sipped from in a century. His impressively uncluttered home in Bozeman, where he settled after a confluence of family and fate brought him there in 2002, is an appealing synthesis of dwelling space, museum, and art gallery. "I want to make it so anyone can come in here, find something to be interested in, and feel good about what they're seeing," he explains, "regardless of their understanding of Montana history."

Among the array of photographs, paintings, primitive furniture, ledgers, advertising tins, maps, manuscripts, diaries, clothing, sculptures, and signs in which he deals (especially signs; they're a favorite of Perlstein's, particularly the singular, hand-painted ones), are some items that stay with him only for a while before landing in the hands of others: fellow collectors and private clients with highly specific obsessions, such as brewery, gasoline, and automobile histories; the staff at the Gallatin History Museum, Montana Historical Society, and Butte Archives; the librarians at Yale and Brigham Young University who preserve and digitize the old books and maps he finds; or regular folks for whom the objects hold even more significance than they do for Perlstein.

Recently he obtained what he deems "the rarest of all old Montana beer jugs" — a fragile vessel more than a hundred years old, and one of only two of its kind known to exist — from a man who works at the Stillwater mine near Nye. The miner didn't want money in exchange for the treasure. "He wanted," Perlstein understood, "an heirloom that would be meaningful to him." So Perlstein bartered for the bottle, trading a metal sign that had hung in a Butte mine back when that city was a diverse microcosm of the nation itself. The sign reads Danger: No smoking, matches or open lights — in 18 different languages.

He traded the sign with a slight pang, but the ache didn't last long. "I can't collect everything," Perlstein shrugs. "After I've enjoyed it, I'm able to pass it on to somebody who's going to love it, and in cases like this, I get something nobody's seen before, a new part of my story."

All objects contain stories, and the integration of those stories into his own life is a poignant side effect of Perlstein's collecting career, which is not unlike more traditional professions in that it requires plenty of research, travel, and networking. His rare finds inspire him to read about even the most obscure aspects of Montana's past, sometimes until 3 a.m. He takes road trips all over the state with his elderly rescue dog, an inky spaniel-retriever mix named Phaedra, perched in the passenger seat, stopping to see what's hiding in the attics, garages, and living rooms of strangers who have noticed his newspaper ads and given him a call. And he makes countless phone calls himself, seeking advice from the old-time Montana collectors — "legends," he calls them — whom he considers his mentors, or following up with buyers and sellers, and trying to stay in touch with people in unyielding possession of artifacts he hopes to foster someday. He sometimes spends "years and years earning a person's trust. It's all about relationships. You don't get into this to get rich. You have to like people. I deal with everybody, from a janitor to a scrounger to a junk dealer to a scrapper to a multimillionaire." A strong sense of ethics characterizes Perlstein's work — "This is a small world," he says. "You can't go around taking advantage" — and he's committed to keeping Montana-related items in the state.

"That," Perlstein points to a hand-painted wooden sign advertising Curios and Souvenirs at an Indian trading post in Roundup, "I got from guy in Chicago, weirdly. It's from the '40s, and I flipped out when I saw it. The colors! I was glad to bring it back to Montana. It has to stay here."

Equally impossible to imagine anywhere but here is a handcrafted belt fashioned with squares of tooled leather linked by string. "I look at it all the time," Perlstein says. Created by a cowboy for his daughters at the turn of the century, the belt is decorated with the brand of each ranch he saw. It's accompanied by a booklet of crinkled, yellowing pages filled with descriptions of all the ranches, written by the cowboy in fading, ghostly pencil — an object of such achingly obvious fragility merely holding it feels like a privilege. A Little History of Early Day Brands of Eastern Montana As I Remember is the booklet's humble, if lengthy, title.

An hour with Perlstein imperceptibly expands into three or four as he explains the facets of his collection with contagious excitement. He looks so appreciatively at the tall glass thermometer leaning against his wall one might think he'd only just laid eyes on it. Prior to 1900 the thermometer hung at the National Hotel in Yellowstone, where it measured not only degrees of heat but expressed heat's various qualities in pleasingly poetic terms: Summer Heat, Blood Heat, Fever Heat. He never met the deaf-mute Blackfeet artist named John Clarke, born in 1881, who drew the bear on the rare Grizzly Gasoline sign hanging above his kitchen sink, but he has a connection to Clarke and his talent thanks to the presence of this particular relic.

"And I smile every time I walk past this," Perlstein says of a 100-year-old paper advertisement for McCormick's Stable in Townsend, which features a rare illustration of an African-American family. "I focused on black history in college, so for me it's full circle." A silver, star-shaped Walkerville City marshall's badge from 1891 winks from the wall where it's displayed in a frame, while rosy-cheeked ladies with Gibson Girl hairdos smile suggestively from turn-of-the-century bar tokens — Good for 12 1/2¢ in trade  — that double as pocket mirrors. "They're gorgeous," Perlstein declares. A folder holds court papers covered in florid prose about prostitutes caught committing "carnal" acts. Another binder bursts with circa-1890 documents from the life of an immigrant from China to Helena named Lee Sam Fong. It includes a newspaper clipping about Fong's daughters, Jennie and Lillian, who grew up to become the first Chinese women to vote in Montana. A small book from the 1920s titled Montana Federation of Negro Women's Clubs is emblazoned with art nouveau motifs and contains profiles of dozens of black women bedecked in pretty hats and dresses, along with the minutes from their various meetings.

Perlstein holds out a handful of doll-sized license plates issued in 1894, not to cars but to wagons. Smokey Bear smiles from a huge, wooden, mid-century highway sign painted by a Forest Service employee. "It's not a Rembrandt," Perlstein concedes, "but it's art." Another folksy hand-painted sign bearing the word Bowling hangs above the passageway leading to the kitchen, where a collage of colorful metal signs, mostly relating to gasoline and automobile history, covers nearly every inch of wall space. From the living room, a nude female — cast in chalk and overlaid with bronze paint — serenely surveys the entire kaleidoscopic collection. Her coating is peeling away in patches, so she's a mix of dark and light.

Showing all this to a visitor, Perlstein has the aura of an impassioned artist — someone endearingly obsessed with what he does. In addition to collecting, he spends every day practicing what he calls "the art of enjoying this stuff." But he's also a historian, forever fascinated with the nooks and crannies of Montana's past. "When I got here, I fell in love with this place, and then I began to see the layers of history: American Indians, Lewis and Clark, gold mining, road history, national parks, breweries, subcultures — there are so many facets — the businesses, immigrants, Jewish history, Black history, Irish history, the Western culture, and when you think of what people had to do to live here … For me, it was all interesting. I started reading quite a bit, looking into it all, and then I would see dumpsters full of stuff being thrown out, and I knew there was still life in these things. It wasn't junk."

These days he sees many of his finds integrated into innovative architectural developments and interior design schemes in and around Bozeman. His contributions have helped to lend a retro sensibility to the otherwise modern Lark Hotel, and a dose of historic charm to the Red Ants Pants store in White Sulfur Springs. The soon-to-be-reopened Rialto Theater will include two original Rialto signs Perlstein fortuitously had in his possession. "It connects me differently to the town, to find things and see them repurposed or incorporated into new projects. The stuff is living, maybe better than ever. It has come back to life."

Of course, the "stuff" to which he refers is much more than that. "To me," he says, "it's stories. It's stuff, and it's stories."

Each item in Perlstein's collection comes with a story about who used, created, or wore it, where it came from, and how he found it. In picking through the refuse of those who came before us, he resurrects more than the objects themselves. All these tangibles, when held or seen, are gateways to one of the most valuable of all intangibles. They inspire thoughts not only of the past, but of the future, and how our own stories will intersect with people like the Montana Picker, collectors who will serve as stewards of the stuff we leave behind.