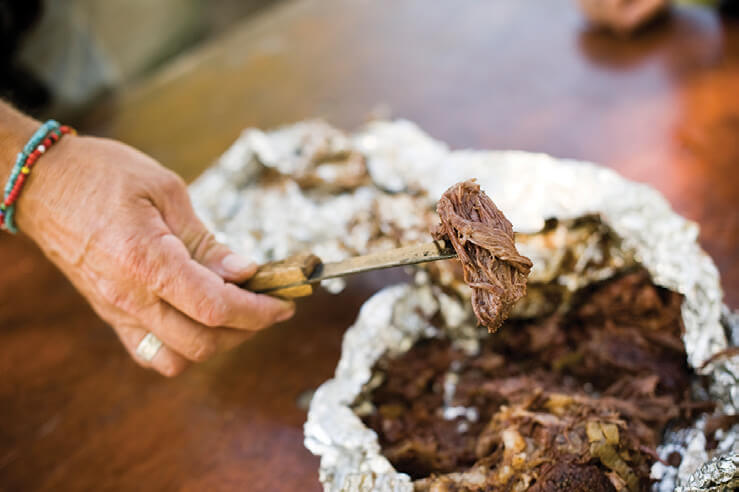 Bison meat roasted in the ground falls off the bone at the free buffalo feast during Chief Plenty Coups Day of Honor, held annually at Chief Plenty Coups State Park in Pryor, Montana.
29 Sep

A Bite of Montana

in

As we leave Crow Agency in his Tribal Fish & Game pickup, Benito Morrison hands me a foil-wrapped globe the size and heft of a pool cue ball. "The original trail mix," Morrison, a Crow game warden, says with a laugh. We're going to view the Tribe's buffalo herd, and Morrison has packed a traditional snack. Inside the foil is pemmican, a dense mixture of ground bison meat, chokecherries, and suet. "Our people have always eaten well," Morrison says.

That was years ago, but his comment has stuck with me, just as that orb of earthy goodness stuck with me for the rest of the day. And his perspective of gastronomic abundance is one I've mulled over as I've wondered about a wider and more abstract question: What's the flavor of Montana?

Is it the ubiquitous huckleberry — the star ingredient in roadside ice cream, meat-topping compote in fancy restaurants, and syrups branded with Made-in-Montana labels at every Town Pump gas station in the state? Is it a thick Angus rib eye? Trout, maybe? Is it an elk loin stabbed on sticks and blackened over an open fire? Or the umami-bursting chicken-fried steak you can order in dust-country cafes from Plentywood to Virginia City?

It's probably an unanswerable question. After all, Montana is so regionally and ethnically diverse that a single taste or food can't possibly define the entire state. The Lutheran lutefisk-and-lefse dinners in northeastern Montana find their counterpoint in the tapestry of flavors in Butte, which retains (and celebrates) the culinary traditions of miners from around the globe. In reservation communities, Montana's original locavores feast on foods whose origins predate any notion of Big Sky Country as a political jurisdiction or marketing term.

Still, I can't help but dwell on the question, especially when I dine outside Montana. The Pacific Northwest has successfully branded a flavor that includes seafood and the mossy tang of mushrooms. The Great Lakes states taste to me of fried fish and the snap of vinegar and husked corn. Alabama is smoky bacon, creamy grits, and peaches. Texas, of course, is barbecue.

I renew my inquiry every time I visit a new signature restaurant in Montana, where chefs spend a good deal of time curating their take on our state's flavor, which leans toward bison, elk, locally sourced microgreens, and asparagus.

Because I spend much more of my life eating food than thinking about it, I put my gastronomic question to people who know more about food traditions and trends than I do. Folks like Stella Fong, a wine and food educator and host of the popular Flavors Under the Big Sky program on Yellowstone Public Radio.

Fong stresses that Montana's flavor has changed with time and influence. She draws a bright line between the state's food traditions prior to the construction of railroads in the 1880s and everything after, when immigrants brought their recipes, palates, and cooking utensils. 

When she moved to Montana more than two decades ago, Fong discovered the state's reliance on beef. "There's always beef in Montana, but Montana never took the steps to showcase this product in ways it could have," she says. "Why did we never really get beyond steaks and hamburgers, two items I think of when I think of Montana? Maybe because we built expectations around big portions and cheap prices."

That accessible abundance goes beyond ingredients to a way of approaching food, says Fong. "I have always looked at Montana as a place that ate modestly," she says. "It is home to many people who are just growing or raising what they can. Weather plays a big part in what is available to cook as our growing season is so short."

With railroads, but also — more recently — refrigeration and a supply chain that delivers air-lifted ingredients, Montana's flavor has broadened to include exotic tastes and textures. But Bill Baskin, a culinary instructor at Montana State University, says the defining feature of Montana's food is its rich abundance and communal consumption.
Montana's Food Story
Instead of trying to pinpoint a distinctive dish or flavor, Baskin prefers to think of Montana food as a story, a long arc of consumption that echoes Morrison's perspective. 
"For as long as there's been recorded history, and undoubtedly prior to that, the people of Montana have eaten well and together," says Baskin. "I've come to realize that Native Americans were cooking great food long before there was any immigration or trappers or European presence here."
Baskin cites the Lewis and Clark journals as evidence of Montana's bounty. The Corps of Discovery barely touched the prepared foods they had packed for their cross-country trip when they entered what later became Montana. "They ate great when traveling through here," he says. "They learned from Indigenous folks how to eat well, how to trap and hunt the game here."
Indeed, it was when the expedition left Montana, suffering over the dietary desolation of the Bitterroot Mountains and enduring a winter of despair on the Oregon coast, when they had to boil their leather clothes for broth, that they appreciated the easy foraging of Montana's plains and foothills. Baskin sees that bounty in modern powwow feasts, heavy on stews, fry breads, and native tubers like yarrow and camas root. "Montana's food story goes back to Indigenous cultures, to early Euro-American settlers, to ranching traditions, and it has to include the heyday of Butte, an urban mecca with all the ethnic foods of most large Eastern cities of that time."
Our latitude — with short growing seasons and long winters — prompted a tradition of "putting up" foods, either by canning or fermentation. That's an important part of Montana's food story, says Baskin. "Our geography rewards cooks who are not lazy. In times of plenty, you find the appropriate preservation technique, and you save that seasonal abundance for a rainy day. Whether that's dairy fermentation like cheese-making, culturing, or canning and brining, Montana has always been really good at food preservation. That's a practice that really transcends cultures and food traditions." He points to German pickles and sauerkraut, hunters' jerky and cured sausages, and fruit jellies and jams.
Baskin thinks Montana's food story hit a low point in the 1970s and '80s, when the convenience of packaged, commodified meals eclipsed the fresh, seasonal, local ingredients that had defined Montana, both previously and since. But he says the recent interest in Montana as a tourist destination has made my question about the state's culinary distinctiveness increasingly relevant. 
"There's a huge demand for foods that represent Montana to people who look at our state as something unique," says Baskin. "Produce from small family farms, organic grains, foraged ingredients, Indigenous food traditions — along with our identity around game meat — those are all combining to produce a new culinary tradition here. But I think the idea of eating together, whether at powwows or barbecues, and cooking over open flame, helps create Montana's flavor."
Indeed, you'll see references to all those trends in the menus of culinarily ambitious restaurants like the Green O's Social Haus at Paws Up Resort north of Missoula and The Backporch in Roundup. But Baskin, whose culinary education program is producing the next generation of executive chefs, says we are at a high-water mark for Montana-centric cuisine. 
"As someone who has been focused on training young culinarians for the past eight years or so, the opportunity here in Montana surpasses what my chef buddies in San Francisco and New York are seeing in terms of both innovation and job opportunities," says Baskin. "I think that's because Montana is at the center of a new food movement that really is trying to be distinctive." 
Outside of the private-estate food experiences of places like the Yellowstone Club in Big Sky and other members-only enclaves, Baskin says the rise of Native food traditions expressed by Blackfeet food curator Mariah Gladstone and her Indigikitchen are helping shape the next chapter of Montana's food story.
Making Do
It's relatively easy to tease out trends and examples of distinctive Montana foods in menus and commercial kitchens, which necessarily face outward to diners. But what about the state's food story inside our private kitchens?
That's a story of innovation and adaptation, says Sara Wittmayer, an artist and rancher in northeastern Montana. "Especially in eastern Montana, I think our food story is [about] making do," she says. Given the long distances to supermarkets and relative paucity of specialized ingredients in prairie grocery stores, Wittmayer says rural residents have built durable traditions of substituting ingredients, revising recipes, and creating dishes based on seasonal abundance.
That might mean a zucchini salad at a branding, or an elk roast at a potluck. "In Terry, [Montana], where I grew up, a Japanese woman married a Terry man," she says. "Back in the '70s, she couldn't get traditional Japanese ingredients, so to preserve her tradition she created her own unique dish that wasn't quite American, but definitely wasn't Japanese. A mix of hamburger, noodles, whatever vegetables were available, dried spices, and soy sauce, 'Japanese Noodles' is now a staple of that community, served at the Terry, Glendive, and Miles City fairs, and for school lunch in Terry."
Even fry bread — the trademark food at Native American powwows, basketball tournaments, and other gatherings — was born of necessity. Its main ingredients, flour and oil, were provided to Indigenous communities by government commodity programs when traditional foods were either unavailable or discouraged.
A native of Clancy, south of Helena on Interstate 15, Bret Lien participates in Montana's food traditions as an enthusiastic consumer. If he gravitates toward Montana's comfort foods — the burgers, breakfast scrambles, and griddled steaks that are ubiquitous under the Big Sky — Lien says it's a function of our culinary infrastructure. For every stylish cuisine-forward restaurant that pops up, there's a Montana bar and grill that has endured across generations by providing the basics. 
"Montana is neck and neck with North Dakota for the most bars per capita," says Lien. Based on that density of hot-griddle opportunity, Montana's flavor may be relatively lowbrow. "I bet I can get a Caesar and chicken-fried steak in every county seat in the state."
Whether there's something distinctive about the rib eye at Miles City's 600 Café versus the Hanging Five's in Butte is relatively unimportant to Lien, who says a more meaningful distinction is in the context. "Fried burbot on the shore of Canyon Ferry or Hauser reservoirs, caught 10 minutes ago at 2 a.m. on a January night, that belongs to Montana and is a flawless meal," he says. "The owner of the Mountain Good in Boulder bringing me a chicken-fried steak after an elk hunt that came up empty, discussing the gulches we both know that are full of elk I can't find. … It's tough for me to imagine getting that elsewhere."
Lien had just returned from a deep-summer huckleberry-picking expedition near Lincoln. "To eat a greasy burger at Trixi's [in Ovando], with your hands still stained from a few hours of huckleberry picking, while around you the locals and tourists mix in the bar like oil and water, that's perfection," he says. "Magnificence in Montana table fare is a power derived from communities of people, as much as it is salt, fat, acid, and heat."