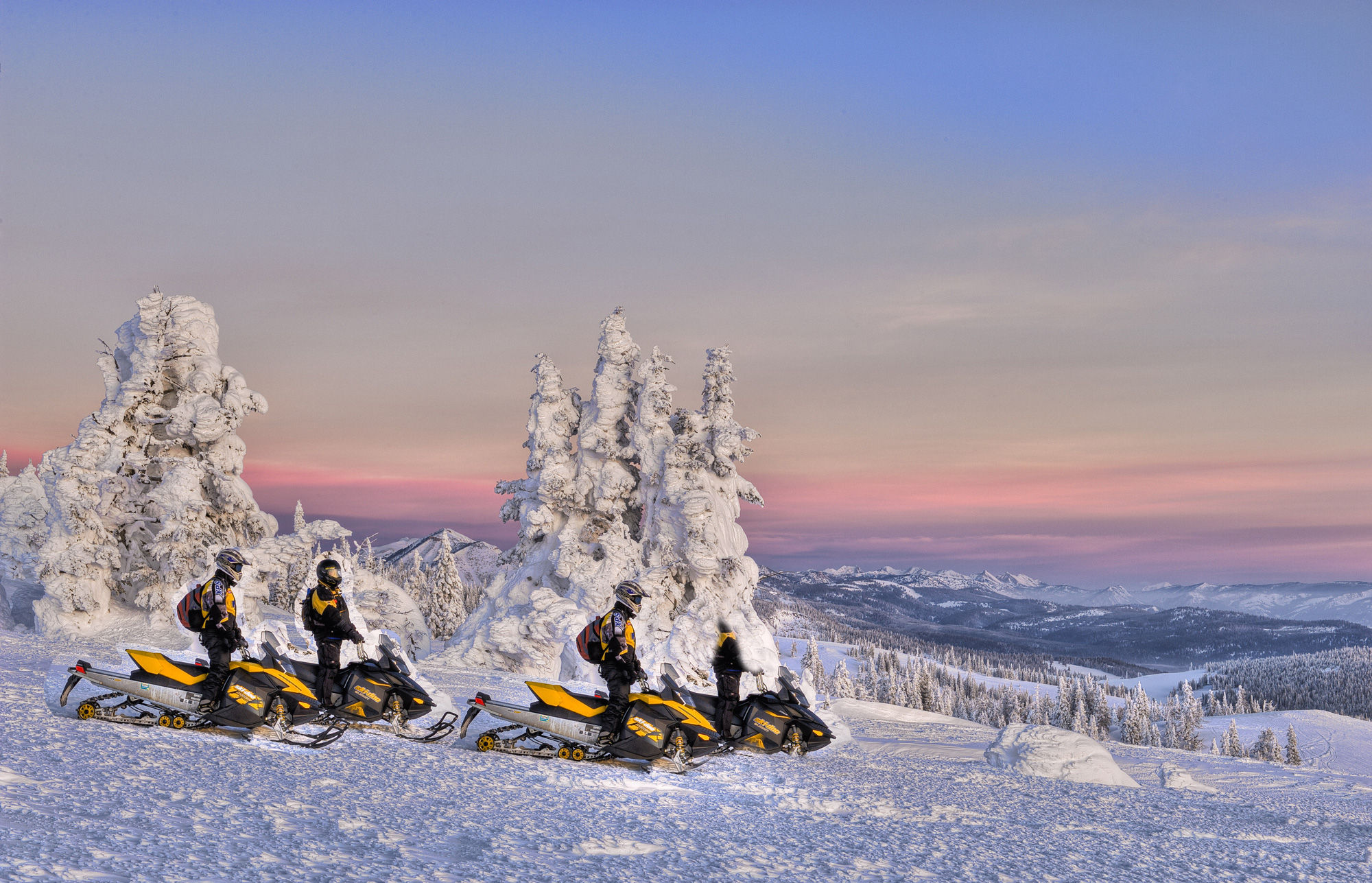 11 Jul

2012 Big Sky Journal List

in
1. SNOWMOBILE THROUGH YELLOWSTONE COUNTRY
West Yellowstone — Snowmobile Capital of the World — offers miles of groomed trails starting right from town. To see the wonders of Yellowstone National Park in winter, bundle up and jump aboard. Snowmobiles are built to be quieter, with cleaner-burning, four-stroke engines to take you to remote places at a faster pace. Park roads are open for snowmobiling from Dec. 15 to March 15. West Yellowstone guide companies offer tours to Old Faithful and the Grand Canyon of Yellowstone, along with gear rentals and lodging packages.
• Backcountry Adventures: 800.624.5291; www.backcountry-adventures.com
• Two Top Snowmobile Rental: 800.522.7802; www.twotopsnowmobile.com
• Rendezvouz Snowmonile Rentals: 406.646.9564; www.yellowstonevacations.com
• All Yellowstone Sports: 800.548.9551; www.allyellowstone.com
2. SNOWSHOE BY FULL MOON
Get out in the beautiful Wyoming wilderness … blue-glow of moonlight … crunchy powder … rent or look for a guided experience.
• Lone Mountain Ranch at Big Sky offers rentals and guided full moon snowshoe tours. 800.514.4644; www.lonemountainranch.com
• Schweitzer Mountain in Sandpoint, Idaho, offers a 3-mile round trip snowshoe by starlight. 208.255.3081; www.schweitzer.com
3. FIND A HOT SPRINGS HAVEN
• Chico Hot Springs Resort & Day Spa: Pray, Mont.; 406.333.4933; www.chicohotsprings.com
• Fairmont Hot Springs Resort: Anaconda, Mont.; 406.797.3241; www.fairmontMontana.com
• Lolo Hot Springs: Lolo, Mont.; 406.273. 2290; www.lolohotsprings.com
• Burgdorf Hot Springs: Burgdorf, Idaho; 208.636.3036; www.burgdorfhotsprings.com
• Lava Hot Springs: Lava Hot Springs, Idaho; 208.776.5221; www.lavahotsprings.com
• Silver Creek Plunge: Garden Valley, Idaho; 208.739.3400; www.silvercreekplunge.com
• Star Plunge: Thermopolis, Wyo.; 307.864.3771; www.starplunge.com
• Saratoga Resort and Spa: Saratoga, Wyo.; 800.594.0178; www.saratogaresortandspa.com
4. SKINNY SKI
Whether classic or skating, cross-country skiing is the hiker's winter alternative. In West Yellowstone they take it one step further with the 2013 Equinox Snow Challenge (www.EquinoxSkiChallenge.com) inviting nordic skiers, snowbikers and runners to a weekend of camaraderie, charity and challenge. Or for a simple celebration of the sport, try the Yellowstone Ski Festival, Nov. 20-24 2012; www.yellowstoneskifestival.com
5. MASTER THE MOUNTAIN
Earn your turns and improve your alpine skills. Big Sky Resort's Snowsports School offers advanced lessons, such as the Master of the Mountain course, a five-week program for conquering ungroomed terrain, to lessons for beginners needing the "pizza, french fry" basics. 406.995.5743; www.bigskyresort.com
6. STAY ON TARGET
Slinging arrows at the archery range is ideal to prepare for hunting season or as a new hobby; bow lessons and leagues will keep you on target.
•  Big Sky Archery: Bozeman, Mont.; 406.388.0503; www.bigskyarchery.com
•  Superior Archery: Billings, Mont.; 406.245.0087; www.superiorarcherymt.com
•  Idaho Archery Company: Boise, Idaho; 208.376.7057; www.idahoarchery.net
•  Robert L. Adams Memorial Archery Range Park: 20 minutes from Casper, Wyo.; www.natrona.net
7. BIRDS OF A FEATHER…
• Be a part of the early-winter bird census by participating in the Audubon Society's Christmas Bird Count, the longest running citizen-science survey in the world. Volunteers count every bird they see or hear during one day in a designated 15-mile circle. Running from Dec. 14 to Jan. 5, 2013. 406.443.3949; www.mtaudubon.org
• Meet local birders and get outdoors to the "birding hotspots" during the Montana Audubon's Annual Bird Festival in Lewistown, Mont., June 7-9, 2013. The Audubon Society is hosting a Southwest Montana Sage-Grouse Tour in May 2013.
8. BUY IT LOCAL
Throughout the Northern Rockies, there are artisans ranging from woodworkers to beekeepers who are proud to share their creations. There are more than 80 farmers' markets in Montana alone and plenty of other regional events that allow you to buy direct from the artist. Share in someone's passion and support the local economy.
•   Missoula Saturday Market offers art and crafts vendors each Saturday, starting in May and ending the third week of October.
•  Celebrate the arts during the Sweet Pea Festival in Bozeman, Mont., when 100 juried arts-and-crafts vendors set up shop in Lindley Park from Aug. 2-4, 2013.
• Cody High Style, part of Rendezvous Royale in Cody, Wyo., is a celebration of Western Decorative arts that includes an exhibition of current works from today's best contemporary artists and high-energy runway fashion show that attract collectors and fashionistas from around the country. September 20-22, 2013.
•  The Western Design Conference in Jackson Hole, Wyo., is a showcase for museum-quality functional art with a Western influence. Exhibit and sale runs Sept. 6-8, 2013.
9. GO SKIJORING
The ultimate Western sport — a combination of horsemanship and alpine skiing. Pulled by a galloping horse, skiers compete by launching off jumps and racing the clock for the fastest time.
•World Skijoring Championships: Whitefish, Mont.; Jan. 25-27, 2013; www.whitefishskijoring.com
• Great Snow Fest: Victor, Idaho; early January (official dates TBD); www.tetonvalleyfoundation.org
• Jackson Hole Shrine Club Skijoring races: Feb. 23-24, 2013
• Big Hole Valley Winterfest and Skijoring: Wisdom, Mont.; March 2-3, 2013
• National Finals Ski-Joring Races: Red Lodge, Mont.; March 8-10, 2013; www.redlodge.com
10. HOME ON THE RANGE
Visit a real ranch rodeo and shake off some of the money-fueled glitz. The working-ranch rodeo is where the sport began and these events still offer authentic entertainment for the whole family. Watch cowpokes demonstrate skills they use every day, like calf branding and team sorting along with rowdier events like wild cow milking.
• Wilsall Ranch Rodeo: Wilsall, Mont.; August 2013; 406.578.2285
• Northern International Livestock Exposition Ranch Rodeo: Billings, Mont.; October 16, 2013; 406.256.2495
• The Bozeman Roundup: Bozeman, Mont.; July 20, 2013; 406.582.3270
• Rexburg Ranch Rodeo: Rexburg, Idaho: August 2013; 208.206.3505
• Eastern Wyoming Ranch Rodeo: Lusk, Wyo.; June 2013; 307.334.3417
11. TAKE A PHOTOGRAPHY EXPEDITION
Learn more about your equipment and capture that perfect picture.
• From SLR to point-and-shoot, F-11 in Bozeman, Mont., offers classes for all levels. 406.586.3281; www.f11photo.com
• Photographer Andy Cook offers workshops at both Glacier (July 28 – Aug. 2, 2013) and the Grand Teton National Parks (June 15 – June 21, 2013). Geared for the intermediate to advanced photographer. 866.630.0136; www.rockymtnrefl.com
12. MOUNTAIN BIKE THE VERTICAL
•   Big Sky Resort's Swift Current lift in the Mountain Village operates from 10 a.m. to 3:30 p.m. every day in the summer. Terrain is mostly advanced and expert downhill. Spokes Bike Shop offers rentals; 406.995.5849
•  Sun Valley Resort offers trips to Bald Mountain all summer and there are more than 30 miles of paved bike paths along with hundreds of miles of singletrack in the Sun Valley Area. Pete Lane's Mountain Sports will assist with gear; 208.622.2279
•   Grand Targhee Resort opened a mountain biking skills park last summer, and lifts runs year-round for miles of technical downhill. Teton Mountain Outfitters offers rentals seven days a week; 307.353.2300
•  Jackson Hole Mountain Resort offers trails for every level from novice to advanced. Bike lessons and camps are also available. The Teewinot chair opens June 16 and runs daily until Sept. 3, and on weekends until Sept. 30.
13. GO ALPINE SWIMMING
Snowmelt is chilly, so it's best to warm up with a long hike in. The Lava Lake trail is a moderate 6-mile, out and back that climbs 1,400 feet to a beautiful lake surrounded by the Spanish Peaks. Located 30 minutes south of Bozeman, Mont., the trail is easily accessible from May until October. Visit www.alltrails.com for a map and more info.
14. GO BUFFALO TIPPING
Just kidding.
15. FIND A HOT SPOT
In Yellowstone National Park Old Faithful gets due attention, but an easy day of driving can connect you to the world's hottest and ever-changing geothermal site: Norris Geyser Basin. A close second for beauty and diversity is Yellowstone Lake's West Thumb Geyser Tour. Both have boardwalks and are handicap accessible. Take a deeper look at www.nps.gov.
16. PICK FLATHEAD CHERRIES
In Montana, cherry season lasts for one fleeting month (mid-July to mid-August) along the shores of Flathead Lake. If your timing is just right, you can catch the brief, but glorious harvest from roadside stands, at farmers markets and in grocery stores statewide.  Look for "pick your own" farm stands on the eastern and western shores.
• The Orchard on Flathead Lake: www.theorchard.com
• Bowman Orchards: www.bowmancherries.com
17. TRAVEL BY TRAIN
• Amtrak's "Empire Builder" runs from Seattle to Chicago, stopping in 12 Montana towns. During the spring and summer months, guides from the National Park Service ride along with you, discussing points of significance in the region's natural and cultural history. Amtrak offers ski packages to Whitefish, Mont., that include round-trip tickets, four-nights lodging and a three-day lift ticket. 800.841.9800; www.amtrak.com/ski-rail-tours-colorado-montana
• Ride Charlie Russell's Chew Choo, Montana's version of the Polar Express. The scenic, round-trip 56-mile journey begins northwest of Lewistown and takes you through the mountains and prairies of central Montana. Tickets include a prime rib dinner and dessert, no-host cash bar and music by area entertainers. For tickets and information, contact the local Chamber of Commerce at 406.535.5436.
18. BE A STARGAZER
Around the campfire or at a planetarium, trace stars into characters that were legends to the Ancient Greeks and Romans.
•  The Taylor Planetarium, at Bozeman's Museum of the Rockies, will reopen on March 2, 2013, with upgrades to digital equipment and building renovation. 406.994.2251; www.museumoftherockies.org
•  The Casper Planetarium in Casper, Wyo., offers summer astronomy camps and programs. 307.577.0310; www.casperplanetarium.com
19. FOLLOW THE LEWIS AND CLARK TRAIL
Retrace the Corps of Discovery's expedition through the Northern Rockies — much of Montana's and Idaho's landscape inspires the same awe as it did for the famous explorers in 1805. Start in Great Falls, Mont., at the Lewis and Clark National Historic Trail Interpretive Center, where the Corps of Discovery made its famous overland portage to the headwaters of the Missouri near Three Forks and eventually on to the Continental Divide via Lemhi Pass westward toward the source of the Columbia River. www.visitmt.com/experiences/history/lewis_and_clark/ or www.nps.gov/nr/travel/lewisandclark/trailtoday.htm
20. VISIT A TRAILHEAD OR TOWN NAMED AFTER A FAMILY MEMEBER
There's Pablo, Libby, Florence, Joseph, Emmet, Jerome and Billings in Montana.
21. HIT THE ROAD
Plan a road trip around regional events or landmarks — opening day of Glacier National Park's Going to the Sun Road or the scenic Beartooth Pass anyone? Take to the road and visit country fairs in three counties, or attend two music festivals over two weekends, or visit the C.M. Russell Museum in Great Falls, Mont., and the Miracle of America Museum, near Polson, Mont., or visit the highest mountain peaks in Montana (Granite Peak at 12,799 feet), Idaho (Borah Peak at 12,662 feet), and Wyoming (Gannett Peak at 13,804 feet.)
22. GO PARAGLIDING
• Bozeman Paragliding is the only paragliding school in Montana offering tandem flights, introductory lessons and speed flying lessons, where you strap on skis, use smaller "wings" for more control and launch over cliffed-out terrain. Not for the faint of heart! 406.581.2955; www.bozemanparagliding.com
• Fly Sun Valley: Ketchum, Idaho; 208.726.3332; www.flysunvalley.com
• Jackson Hole Paragliding: Jackson, Wyo.; 307.690.8726; www.jhparagliding.com
23. TAKE THE BREW TOUR
Micro brew festivals take you to all reaches of the Northern Rockies.
• Bitterroot Microbrew Fest: July 27, 2013; Hamilton, Mont.;  406.363.2400; www.bitterrootvalleychamber.com
• Mountain Brewer Beer Fest: June 1, 2013; Idaho Falls, Idaho; www.northamericanbrewers.org
• Steinley Cup Microbrew Festival & Competition: Aug. 17, 2013; Saratoga, Wyo.; 307.326.8855; www.saratogachamber.info
24. SNORKEL A RIVER TO FIND THE HONEY HOLES
Get a trout's-eye view for fishing or clean up the river in wake of all those lost lures and overboard beer cans. Gear rental:
• Adventure Scuba: Billings, Mont.; 877.823.5122; www.divemontana.com
• Helena Scuba: Helena, Mont.; 406.442.4334; www.helenascuba.net
• Dive Magic: Boise, Idaho; 208.319.3483; www.divemagic.com
• Teton Aquatic Supply: Jackson Hole, Wyo.; 307.733.3127; www.tetonaquatic.com
• Western Divers, LTD: Casper,Wyo.; 307.472.0230; www.westerndiversltd.com
25. GO GEOCACHING
Participate in an outdoor treasure hunt using GPS devices to navigate to a set of coordinates. Then attempt to find the geocache (container) hidden at that location. www.geocaching.com