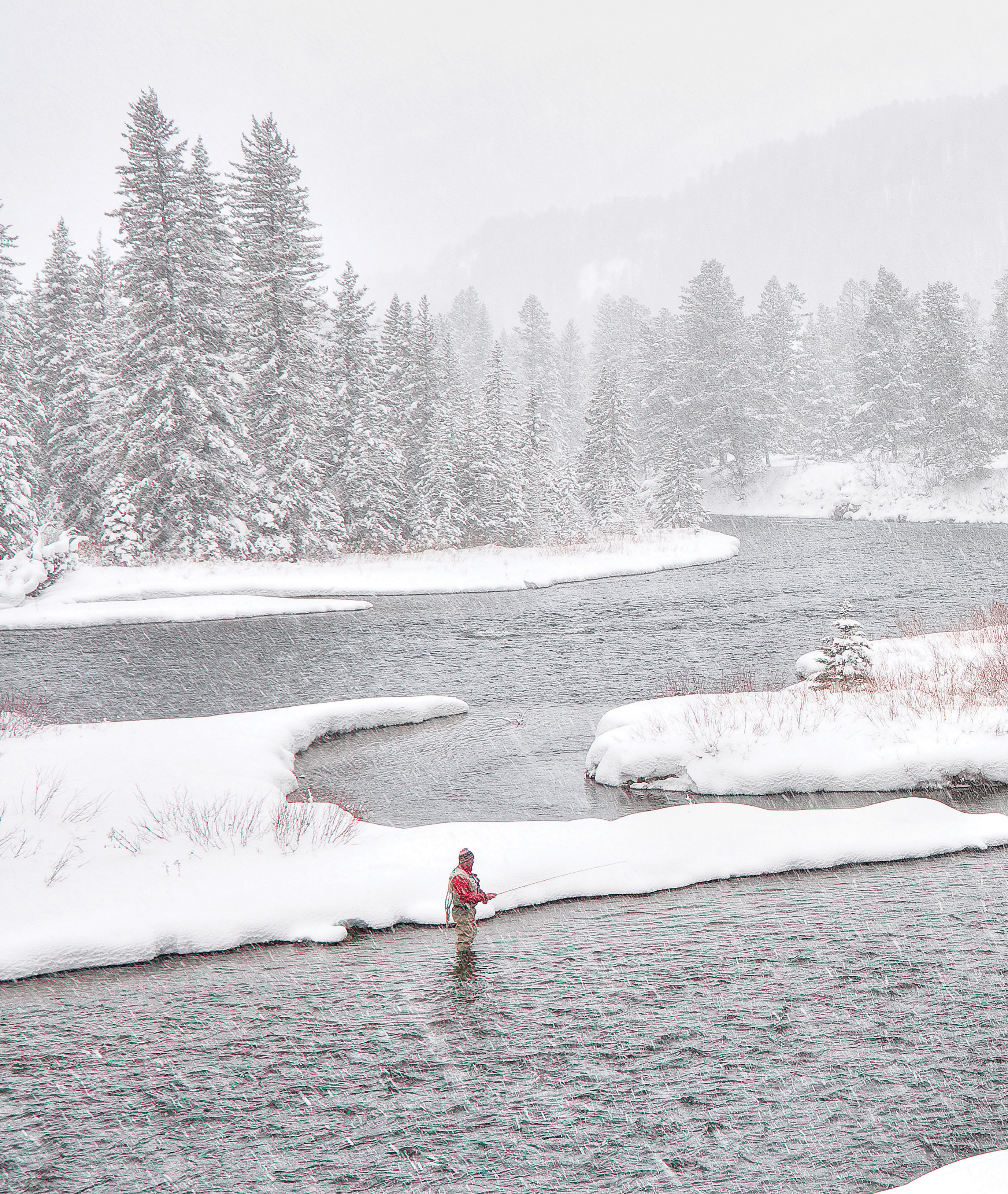 Braving the elements for the big catch
11 Dec

Winter Fly Fishing

in

THERE ARE CERTAINLY A SOLID NUMBER of fair-weathered fly anglers out there. Once the low temperatures hit, ice starts to form on the riverbanks, snow flies, and the thermal layers and gloves are no longer optional, many hang up their rods and waders and wait for next spring's hatch, perhaps waxing up the skis and heading towards the slopes instead of the rivers. But there are those stalwart die hard anglers who brave the elements in search of the almighty trout. Here, a handful of photographers share their winter angling images, along with tips for photography and making the most of a cold day on the water.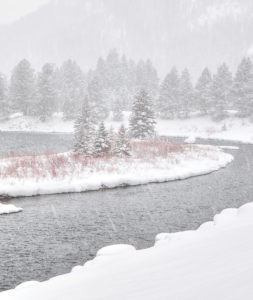 John Juracek shot this photo on the Madison River in Southwest Montana, below Hebgen dam. "Ken Takata uses midges during a midge emergence, which happens year-round on the Madison, but are most significant during the winter when no other aquatic insects are emerging," Juracek says. "The best midge fishing is usually on days when temps range from 25 to 45 degrees, with calm winds, an overcast sky, or snow falling. Late morning into the early afternoon is the best time of day."
Photography tip: "Be careful of your exposures — snow affects your light meter, so check your histogram," John Juracek says. "Keep the front of your lens dry. Always carry a spare battery and keep it warm; I carry mine against my body."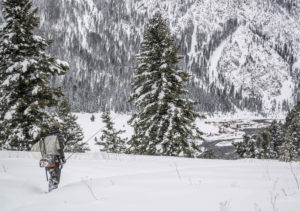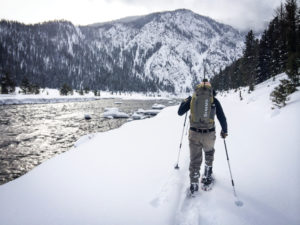 John Frazier photographed his friend snowshoeing along the upper Madison River between Hebgen and Quake lakes. "In the warmer months, this stretch of river gets pounded by anglers," Frazier says. "It's beautiful, easily accessible, and the fishing can be quite good. In the winter, if you want to fish this spot, you've got to be willing to work to get in. Typically in the winter, fish will group up, meaning if you find one, the odds are good that you can catch a few in the same zone. On this day, we were dead drifting small weighted streams with nymphs off the back."
Photography tip: "If I have a composition I really like, I'll underexpose a full stop and then open the aperture back to what the meter is reading," Frazier says. "I'd also say to definitely wear gloves."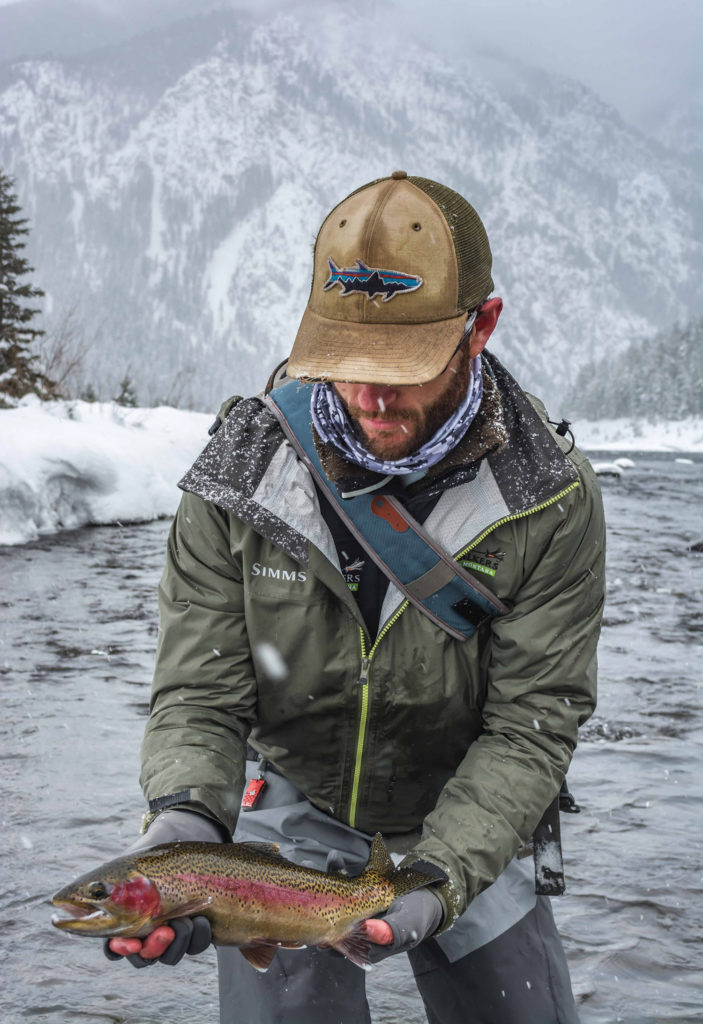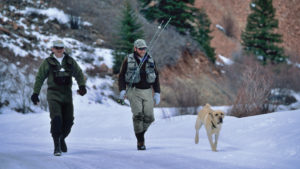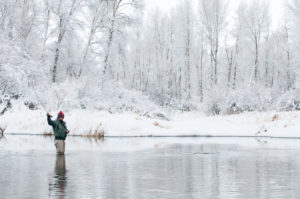 James Nelson photographed Steve Warmann on a calm section of the South Fork of the Snake River in Idaho. Here, he plays a brown trout during a windless morning after a snowstorm the previous night coated the cottonwoods in white. "To me, it's always amazing that some very nice fish are caught during the winter using small nymphs," Nelson says. "In fact, it's amazing to me that you can catch a fish at all during the winter. It's cold and cloudy, and it seems like everything is pretty much in a state of sterile hibernation. But then you give it a try, you start catching fish, they tear line off the reel, sometimes they jump, and you realize that life in the river goes on and remains vibrant beneath that cold, watery surface."
Photography tip: "Get weather-sealed cameras, take out some insurance in case you drop one in the water, and then go freeze your fingers. It's an incredibly good time," Nelson says.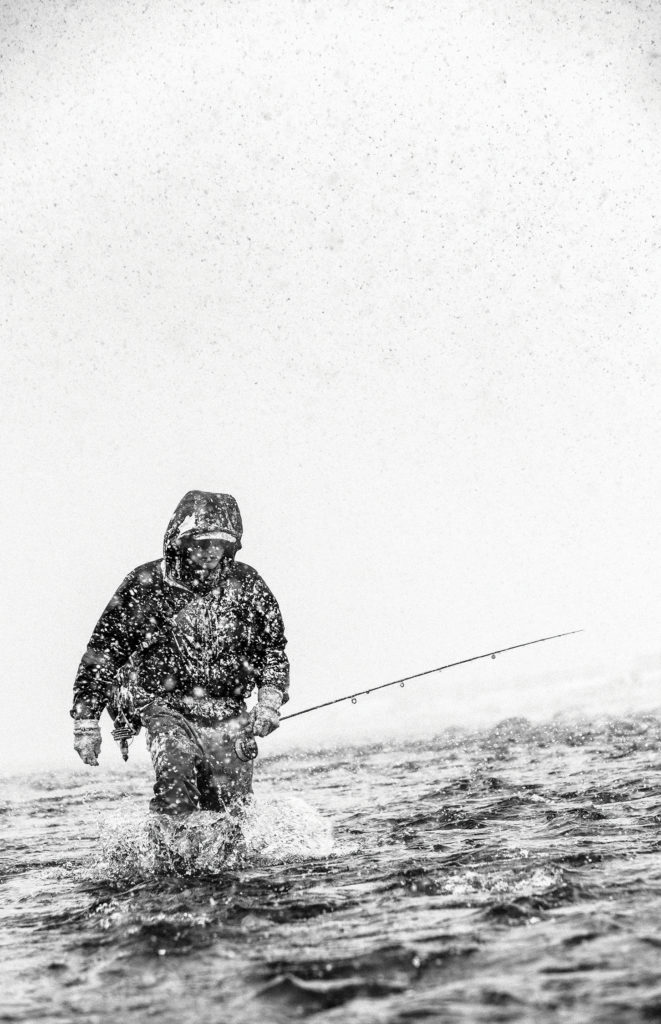 Ray Gadd shot this photograph on the Salmon River in Idaho. "You never know what sort of weather you're going to get into when you're winter fishing in the mountains," Gadd says. "One minute it can be 45 degrees and sunny, and the next you can be caught in a blinding snowstorm. When the snow flies, a soothing blanket of quietness comes with it. It's as if the senses are heightened, and you have an opportunity to be fully in the moment."
Photography tip: "Avoid bringing gear into a steamy warm vehicle or cabin after shooting out in the cold to avoid fogging," Gadd says. "Extra batteries are key as well; the cold has a knack for zapping power quicker than you'd think."