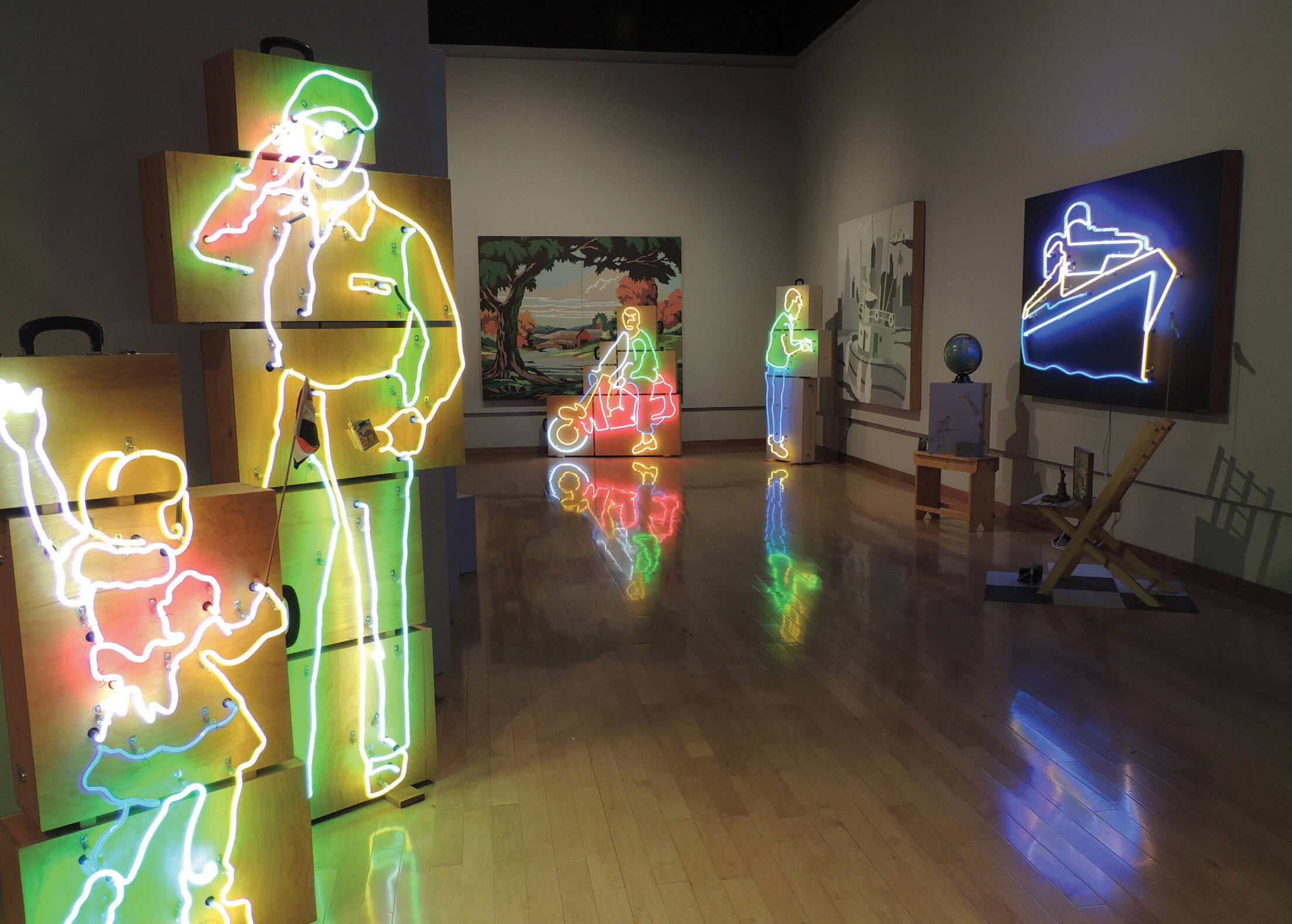 The View from Here | Retrospective installed at the South | Dakota Art Museum (2021).
01 Aug

Willem Volkersz: An Outsider Artist at Home

in

Willem Volkersz was among the earliest contemporary artists to experiment with neon lighting. Waterfall, his first neon piece (created in Kansas City in 1969), is composed of a few long, wavy tubes mounted directly to the wall. Now in the permanent collection of the Museum of Neon Art in Glendale, California, the piece is a cartoon-like visual pun: electrical current illuminates argon gas, which glows blue like flowing water.

Fifty-three years later, the Montana-based artist revisits this theme in his latest work, Homage (Upper Falls). Completed in May, it consists of a large painted panel, with six neon tubes lighting a Works Projects Administration (WPA) national park poster style depiction of the Upper Falls of the Yellowstone River. Volkersz says Homage "refers to both [early 20th-century Yellowstone National Park photographer] F. Jay Haynes… who made the image that my homage is based on, as well as the first neon piece I ever did, Waterfall, in 1969." Lit like a vintage commercial sign, the superficially nostalgic piece stimulates complicated associations and feelings in our time of mass tourism, migration, and climate change.

Yellowstone National Park is a favorite theme of Volkersz, and Old Faithful Geyser is featured in several pieces, including My Trip to Yellowstone (2017), a major work acquired by the Whitney Western Art Museum at the Buffalo Bill Center of the West in 2020. Depicted in the style of the old Haynes Guidebooks and outlined in white and blue neon, the geyser image is surrounded by little shelves supporting vintage, slip-cast ceramic souvenirs and other decorative items. The whole painted panel sits on a narrow shelf, like a miniature road where a toy car faces a herd of model bison (a common encounter in Yellowstone). Recalling that a gift shop is just steps away from the famous thermal feature, these incongruous souvenirs lend wry domesticity and social commentary to the assemblage.

Volkersz moved to the Yellowstone region in 1986, when he was hired to be the director of the School of Art at Montana State University in Bozeman. Retired from teaching for two decades now, he and his wife Diane continue to live in the cabin they purchased then on a secluded, creekside property 12 miles outside of town and about 90 miles from the park. Their home in the Rockies represents an American dream-come-true for this naturalized citizen originally from the Netherlands.

Born in 1939, Volkersz experienced the Nazi occupation in Amsterdam as a young boy with his five siblings and parents, who courageously sheltered Jews in their crowded apartment. The family left Europe after the war, immigrating to Seattle in 1953. Everything about the bustling American scene impressed him, including the neon signs, giant billboards, and tourist attractions. In the 1950s — Jack Kerouac's America — he ranged widely by scooter, car, and hitchhiking, crossing the continent when he was still a teenager, and documenting in photographs the ephemeral, constantly changing roadside scenes. On an early trip to Los Angeles, he discovered Simon Rodia's monumental Watts Towers, and this led to a lifelong fascination, as a collector and scholar, with outsider artists. He was profoundly inspired by the way an artist like Reverend Howard Finster, one of his most famous acquaintances, created environments using found objects and paint to express a singular and complex vision.

Volkersz sees himself, too, as something of an outsider. Cross-fertilizing ideas from Pop Art, consumer culture, kitsch, and Americana folk art with his European modernist heritage and sensibility, he brings fresh perspectives to familiar sights and symbols of the U.S. In his work, he weaves together autobiographical stories and explorations of history and nature, with commentaries on the American scene. The materials he uses are varied and multi-dimensional; the design and organization of each piece are marked by modernist clarity and economy of expression.

In the works he has completed since he came to Montana, the neon components are self-contained, with the transformers housed inside boxes, wooden suitcases, or wall-hung panels. In many pieces, the multi-colored neon outlines of life-sized human figures are ingeniously affixed to artist-made wooden suitcases of varying sizes. As an immigrant, a traveler, and someone who is aware of the Holocaust and contemporary refugee crises, these are potent symbols.

In Memoriam, for example, is an installation composed of a neon figure of a child affixed to a stack of suitcases amidst 173 other artist-made suitcases bearing the names, dates, and places of birth and death of his Montessori school classmates, each of whom perished in a Nazi death camp. This monumental work toured to several Montana museums and galleries and is now in the collection of the National Holocaust Museum in Amsterdam.

Volkersz has undertaken several major pieces reflecting on the war, but more typical of his work are autobiographical vignettes such as Follow Your Bliss (1994/2015), with a neon figure of the artist, seen from behind, as if contemplating a stream-side scene. Although it is modeled on a paint-by-number image from a 1950s kit, the idealized landscape is surprisingly similar to the property where he lives. Rather than dwelling on the low art or kitsch aspects of paint-by-number, Volkersz sees embodied ideals of place, modernity, and abstraction in clean divisions of color. The "do-it-yourself" mentality, too, is one he certainly shares. He attached a shelf supporting a number of domestic objects to the painting — highlighting the artifice and turning the ensemble into an interior — and a folding chair stands nearby, with an artist's palette and brush resting on the seat.

An accomplished painter, Volkersz has also examined the legacy and influence of his countryman Vincent van Gogh in a series of works. In one piece, his enlarged version of the master's The Bridge at Arles (2018), he affixed a group of four neon hats modeled after those worn in van Gogh's self-portraits. Not a paint-by-number at all, Volkersz's Bridge at Arles is a freely expressive interpretation of the original. With saturated colors (rivaling the intensity of neon) and bold brushwork, it is very contemporary in style, closer perhaps to David Hockney than van Gogh.

In one of his most recent pieces, Migrant Haystacks (2022), two van Gogh-style haystacks actively occupy a point overlooking a placid, paint-by-number New England bay and lighthouse. The brightly-hued haystacks are schematized a bit like the paint-by-number, with more spontaneous and energetic brushstrokes animating the surface in a manner similar to van Gogh's expressionism. They are vivid and incongruous, lighting up the piece and demonstrating that Volkersz is a master who can make a painting "pop" on its own, without relying on neon and other devices. "I love applying the looser, expressive paint and then juxtaposing it with the cleanly outlined shapes suggested by the paint-by-number method," says Volkersz. "The looser paint also reminds me of what we did in painting classes at the University of Washington during the abstract expressionist days. One of my painting profs kept telling me that I cleaned up my paintings too much. No one ever suggested that I develop an aesthetic that would require a neater, cleaner look."

Following his own path, Volkersz has created some of the most original and compelling works of this era. Well into his sixth decade as an artist, he continues to expand on his themes, break new ground, and produce ambitious works at a prolific pace. For his achievements as an artist and contributions as an educator and arts advocate, Volkersz was honored with the 2020 Montana Governor's Arts Award. Upcoming solo exhibitions in Montana include one at Aunt Dofe's Gallery in Willow Creek and another at Radius Gallery, in Missoula. The View from Here, the artist's 25-year retrospective, debuted at the South Dakota Art Museum last fall and may be viewed in the future at the Boise Art Museum (October 8, 2022–January 8, 2023), Missoula Art Museum (March 3–June 24, 2023), and the Hallie Ford Museum of Art at Willamette University in Salem, Oregon (January 20–March 30, 2024).