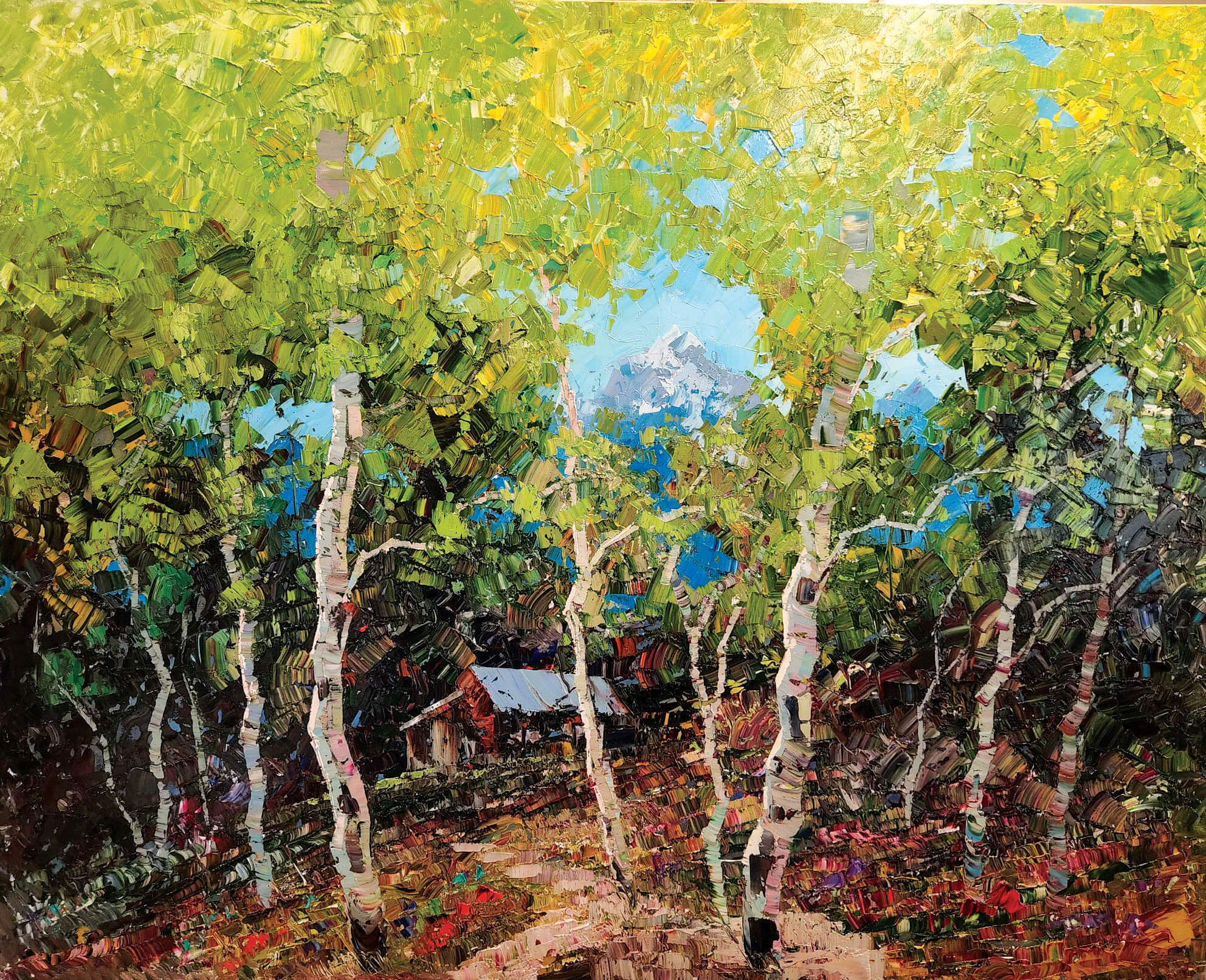 WHERE BLESSINGS FLOW | OIL ON CANVAS | 48 X 60 INCHES
01 Aug

The Gifting: Artist Troy Collins shares his vision

in

Last October, Troy Collins received an unexpected, daunting honor that, almost a year later, "still gives me goosebumps," the artist admits. The Jackson Hole Fall Arts Festival informed Collins that he'd been selected as the Featured Artist for 2022. "That meant," he says, his voice still hushed with awe at the inherent challenge, "that I had to prepare the best painting of my life," a work destined to grace official posters and, ultimately, be auctioned off to the highest bidder.

While the news may have shocked him, Collins' selection comes as no surprise to art collectors. His vivid scenes of aspen trees, crystalline lakes, and snow-covered mountains — painted with a palette knife, in richly textured impasto strokes that convey dynamic depth, energy, and movement — capture the inherent joy and wonderment of Big Sky Country and the Rocky Mountain West. "People gravitate to his work," says Colt Idol, owner of the Dick Idol Signature Gallery in Whitefish, Montana, who has represented Collins for a decade. "His art has so much life, and when a collector installs a big Troy Collins painting, it transforms a room."

With the Fall Arts Festival's magnitude in mind, Collins went particularly big for this painting, which he describes both figuratively and literally as "the greatest that I've ever done." It depicts a shade-dappled pathway slanting downward through autumnal aspens to Jenny Lake, its waters as blue as the sky visible above the snow-clad Grand Teton. Collins let those iconic Jackson-area landmarks "roll around in my head for a few months before I started to actually visualize the painting," seeing it vividly in his mind and, in the process, deciding on a grandly scaled 60-by-60-inch format for his appropriately titled The Greatest Journey.

He placed his giant canvas flat on a worktable in his 1,200-square-foot studio, 50 yards downhill from the Hamilton, Montana home where he and his wife Gina live on 20 acres, with views of the Bitterroot River and Mountain Range. Using paper towels dipped into three different primary base colors thinned down with turpentine, he roughly blocked in his composition on the canvas with "amateurish smudges."

That was when the real fun began, evident in the enthusiasm with which Collins relates his process. "I literally squirt my oil paint onto the canvas right out of 10-ounce caulking guns," he says, estimating that this particular painting required up to 50 ounces. He applied those big blobs in different colors all over the surface. Then, using a range of tools in different sizes, including a standard palette knife, a spatula, a sheetrock trowel, and even the tip of a hair comb for fine textural effects, he spread and shaped the paint almost like a sculptor might with clay, working very quickly "because I only have about a three-day window before the oil paint starts to dry."

That spontaneous approach conveys a vibrancy that can make Collins' works feel even more present than their real-world subjects. "The crispness and flow of his paintings are remarkable," says Adam Warner, owner of Mountain Trails Gallery in Jackson Hole and Park City, Utah, who has developed a close friendship with the artist since beginning to represent him 12 years ago. Adds Maria Abad, director of Montana Trails Gallery in Bozeman, where Collins began showing 13 years ago, "We hear constantly from our clients that his paintings fill you with energy."

Such praise for the artist's mastery may lead to the impression that Collins has been painting for most of his 53 years. In fact, he only began seriously considering himself an artist about a dozen years ago. All his life, however, he has possessed what he considers a divine "gifting," the ability to visualize how an aesthetic creation might look upon completion. "I didn't know that wasn't normal," he laughs. "As a boy, I could look at a dirt field and a house under construction and literally see the finished home and the planting beds of its garden, right down to the flowers' color scheme."

That talent first served him well in other ways. Growing up in Belgrade, Montana, Collins won a football scholarship to the University of Montana Western in Dillon, where he studied to be an elementary school teacher. While substitute teaching in Declo, Idaho and finishing his degree, he says, "I realized that teaching was not going to be my end game." Instead, tapping into his visualization powers, he launched a landscaping business at the age of 27.

But his life took a different path the day successful professional landscape painter Robert Moore hired Collins to construct a dry-stack retaining wall on his property. The two men clicked, and when winter's snow and freezing temperatures curtailed landscaping, Moore hired Collins as his studio assistant. "My job was to clean brushes, sweep, frame, photograph — everything I possibly could to keep him standing in front of the easel."

As their friendship grew, Collins showed a growing interest in Moore's process. "He said to me: 'If you want to learn how to paint, I can teach you.'" Over the next six years, the artist mentored him in such skills as design, color theory, and technique. Then one day, he invited Collins along to a paint-out organized by the Morningstar Gallery in Bend, Oregon. "I helped him set up, and then I painted my own little eight to 10 landscapes over four or five days," Collins says. The gallery owner saw them and invited Collins to show his finished works in their plein air show. "Over the next month," he says, his astonishment still evident, "all of my pieces sold."

With a move back to Bozeman, Collins became a full-time artist. "I knew in my heart that this was my passion and direction," he says, and that conviction sustained him even as he "ground out paintings in a tiny garage and the power got shut off a couple of times." Eventually, though, sales grew, galleries signed him on, and event invitations began arriving. A decade later, Montana Governor Greg Gianforte now has a Collins painting of an American flag hanging in his Helena office and recently invited him to serve as one of 15 citizens on the state's arts council, which aims to help "develop the creative potential of all Montanans."

While Collins has come far from those earlier days, he remains a humble man, whom gallerist and friend Adam Warner describes as "the most genuine, down-to-earth guy you could ever meet." The artist himself remains grateful for his success and, he says, for "the awesome responsibility that I have to share my gifting with other people."

Collins is represented by Dick Idol Signature Gallery in Whitefish, Montana; Montana Trails Gallery in Bozeman, Montana; Mountain Trails Gallery in Jackson Hole, Wyoming, Park City, Utah, and Santa Fe, New Mexico; A. Banks Gallery in Missoula, Montana; Horton Fine Art in Beaver Creek, Colorado; Anticus Fine Art in Scottsdale, Arizona; and Mockingbird Gallery in Bend, Oregon. See his work this August in the C.M. Russell Museum Skull Society of Artists show; this September in a solo show at Montana Trails Gallery in Bozeman and at Jackson Hole's Fall Arts Festival; and in October, in a two-artist show at Mockingbird Gallery in Bend, Oregon.