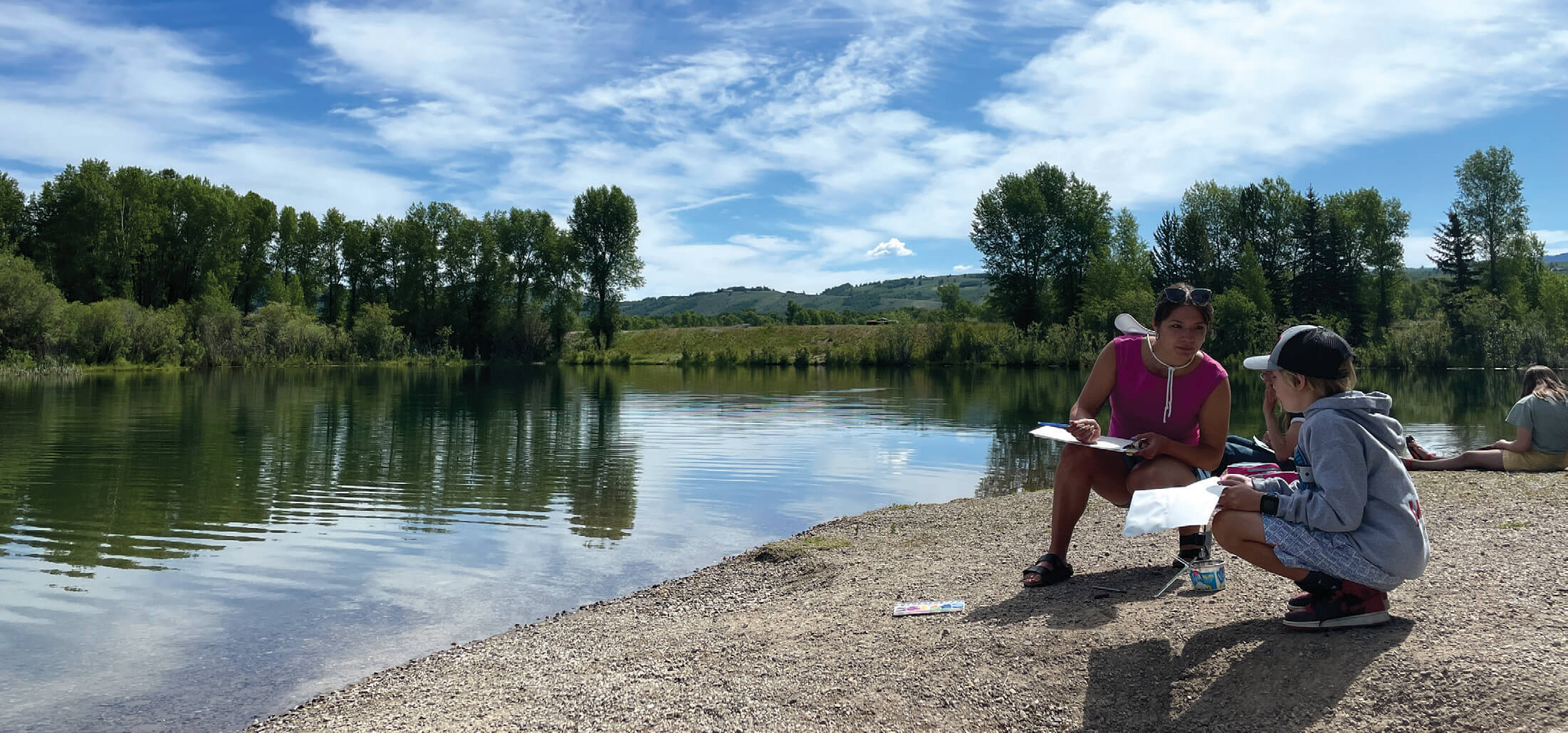 Courtesy of The Art Association of Jackson Hole
01 Aug

Round Up: Nonprofit Spotlight: The Art Association of Jackson Hole

in

For the past 57 years, the Art Association of Jackson Hole has cultivated artistic expression and creativity within the Jackson Hole, Wyoming community by providing instruction, offering studio access, and curating exhibitions, among other things. The nonprofit's 10,000-square-foot facility includes five studios, an art supply store, and a contemporary gallery that welcomes around 1,200 visitors each year. The committed staff, board members, instructors, and volunteers are also the force behind many popular events, including Art Fair Jackson Hole, Arts on the Green, Teton Mudpots Studio sales, Whodunnit? Anonymous Art Sale & Show, and The Holiday Bazaar. Here, the association's director of development and marketing, Amy Goicoechea, explains their underlying ethos.

BSJ: Tell me about the association's mission.

Goicoechea: The Art Association of Jackson Hole is dedicated to encouraging a vital, creative community by providing everyone with exposure to, education in, and enjoyment of a wide variety of art experiences. The association exists to ensure a vibrant, creative arts community. We serve artists, those with an existing curiosity about art, those looking to develop a new curiosity about art, and those who value creativity, learning, and making. And we execute our mission by providing art education, outreach, studio space, and equipment, as well as visual art events and exhibits.

BSJ: What sort of programming do you offer?

Goicoechea: After-school programming is a vital need in Jackson, and our classes serve students in grades K through 12. This allows over 100 local parents the ability to work and provide for their families, knowing that their children are enrolled in excellent programming. We [also] offer over 40 classes throughout the school year, during which students explore printmaking, painting, drawing, ceramics, and graphic design, and, during an average summer, we offer 26 camps with over 900 hours of youth instruction.

The association also hosts guest artists and provides access to open studio spaces. … We offer adult classes in a variety of mediums, from ceramics to photography, jewelry-making, and woodworking. Our staff and instructors provide over 400 hours of adult instruction. And, in addition to unparalleled art education, we present a range of exhibitions in our gallery — offering our members exposure to a wide variety of art experiences — and host art fairs for local and national artists.

BSJ: How did your programming change with the pandemic?

Goicoechea: Our staff has been flexible and creative throughout the past two-plus years. We continued to be able to fulfill our mission safely during the pandemic. We worked in small, safe groups for artist workshops, after-school programs, summer camps, and virtual sessions for outreach to community partners. We presented small pop-up art fairs and continued to present exhibits in our gallery.

BSJ: How do you provide outreach to disadvantaged communities and at-risk populations?

Goicoechea: Our goal for outreach is to make art accessible to our local community. The program Creating Hand-in-Hand has been providing opportunities for art enthusiasts of all ages for over 20 years. We recognize the value of incorporating art into everyday life; in addition to its many therapeutic benefits, art encourages self-exploration and creative problem-solving. We work with nearly 40 local service organizations and reach almost 2,000 children and adults in underserved populations through approximately 400 hours of art education and art therapy.

BSJ: In your opinion, why is art important?

Goicoechea: Art improves individual well-being and helps people thrive. There's a positive relationship between arts learning and academic achievement. People involved in the arts have better health. It also unifies communities and helps them flourish: In Jackson, the arts help to diversify the economy by attracting visitors and investment, while improving the quality of life for our residents. Art is fundamental to our humanity; it ennobles and inspires us, fostering creativity. Art brings us joy and helps us express our values. The Art Association of Jackson Hole is a profound component of a healthy Jackson Hole community, strengthening it socially, educationally, and economically.