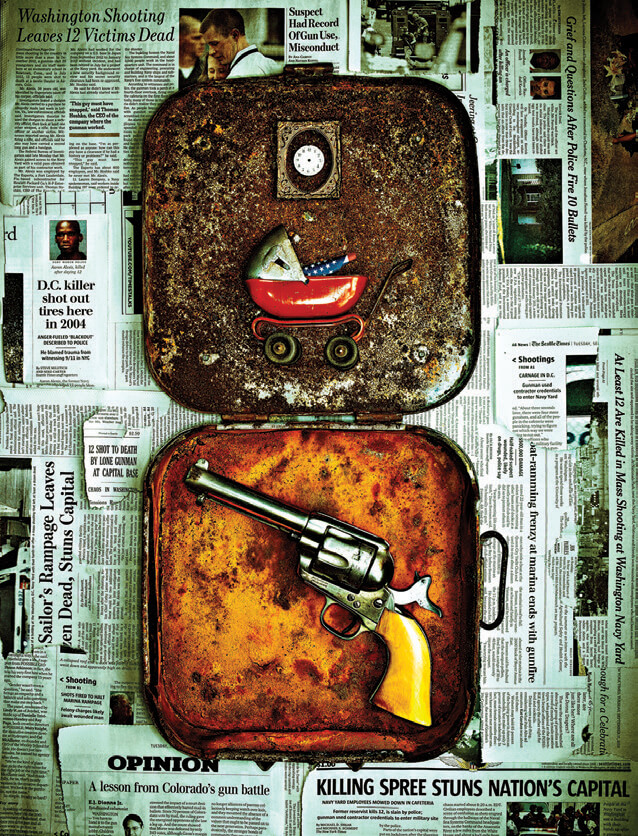 01 Aug

Round Up: Jeff Corwin's Guns in America at the Holter Museum of Art

in

World-renowned fine art photographer Jeff Corwin's traveling exhibition Guns in America will find its way to Helena, Montana's Holter Museum of Art, June 24 through September 11. Timely and germane to chronic gun-related violence in contemporary American culture, the exhibition features Corwin's late father's vintage guns in a poignant series of images that "brings awareness to the absence of comprehensive statutes and sound strategies in the USA regarding guns."

Corwin spent hours in antique stores and junkyards obtaining props to build the mini sets for Guns in America. The lighting — "harsh illumination with loud, tweaked, and saturated colors" — was also a critical component of the stark photographs. "My intention in creating these images is not to dissuade anyone about the validity of the Second Amendment," Corwin remarks. "I've had people tell me these photographs are a 'problem,' that I'm pitching for the government to 'take our guns away.' What I'm trying to do is bring awareness to the lives that are being taken every single day in this country based on guidance that was provided 228 years ago. Things have changed. The images are not subtle. Nor is the subject matter and the violence that we face every single day."

Best known for his dramatic commercial images, Corwin has spent the past 40 years shooting for clients in 41 countries, across five continents, in settings ranging from jungles to oil rigs. He has also provided portraiture for the likes of Bill Gates, Cesar Chavez, and Ray Bradbury, before turning his lens and intentions toward fine art photography full-time. For details about the exhibition, visit holtermuseum.org.