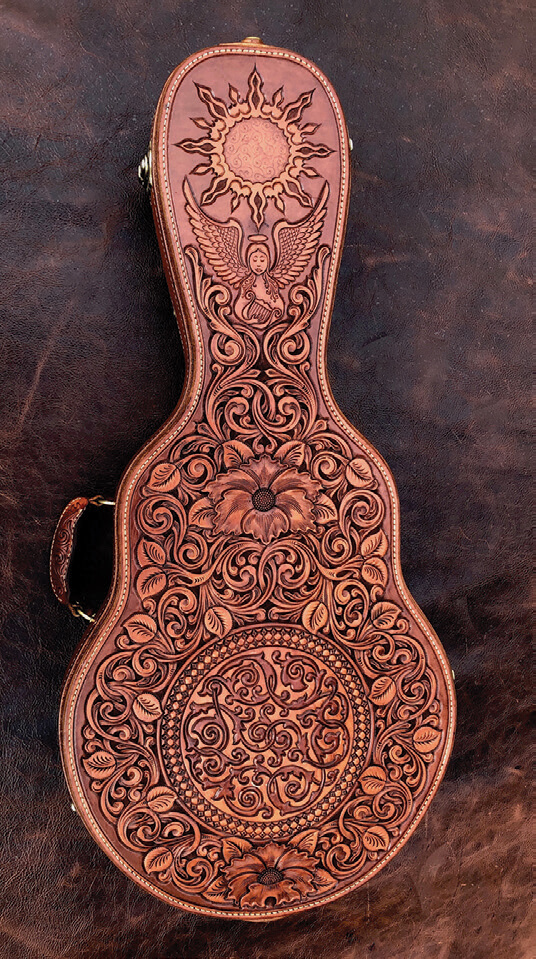 MASTER LEATHER CARVING | The Brinton Museum | Wayne Hape | Mandolin Case | cowhide
01 Aug

Round Up: Art Events of Note

in

The museums, galleries, and curated events that celebrate the arts and artists of the Northern Rockies offer an intimate glimpse at the life and livelihood of the American West. Upcoming calendar highlights include:

May 12 – September 5
Master Leather Carving from North America & Japan
The Brinton Museum
Big Horn, WY
thebrintonmuseum.org

Featuring representative leather panels and a curated selection of related work from 25 master leather artisans from Japan and North America, this exhibition celebrates the unique applications, creative process, and history of the craft.

June 30 – October 2
Michael Haykin: Painting a Pandemic
Yellowstone Art Museum
Billings, MT
artmuseum.org

In his remarkable new collection, Painting a Pandemic, Montana-based artist Michael Haykin — who is primarily known for his large multi-panel paintings inspired by nature — explores the undeniable impacts of the pandemic through the lenses of cultural, national, international, and personal experiences.

September 8 – 11
Western Design Conference Exhibit + Sale
Snow King Events Center
Jackson Hole, WY
westerndesignconference.com

Celebrating 30 years, this premier exhibition and sale brings artisans, artists, collectors, interior designers, and architects together to display their works in an open showroom. The event features a fashion show, daily happy hour, and rooms curated by some of the best regional interior designers.

September 9 — December 23
J.P. Kelley: Cowboy Artist
Hockaday Museum
Kalispell, MT
hockadaymuseum.com

Organized in partnership with Connie Ganz, who published the book J. P. Kelley: Cowboy Artist in early 2020, the exhibit showcases the cartoons, paintings, and bronze sculpture work of renowned Flathead Valley artist J.P. Kelley [1927 – 2005].

September 23 – 24
Buffalo Bill Show & Sale
Buffalo Bill Center of the West
Cody, WY
buffalobillartshow.net

In its 41st year showcasing works honoring the land and inhabitants of the American West, this event is the highlight of Rendezvous Royale — a week-long celebration of the arts in Cody. The dinner, auction, and live music on Friday evening is followed by a quick draw, brunch, and sale the next day.