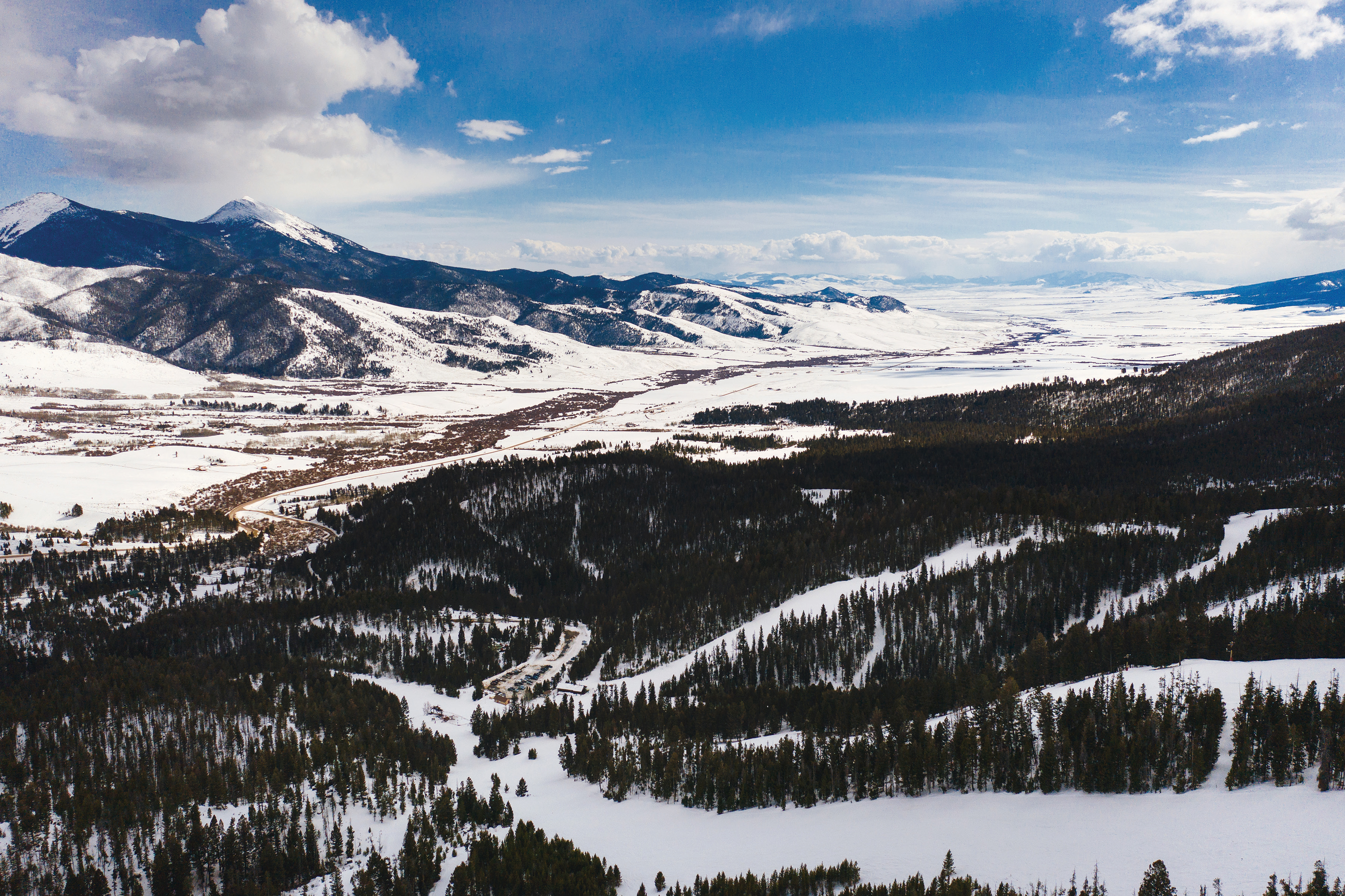 A one-lift community ski area enters a new era
10 Dec

Owning Maverick Mountain

in

WITH ONE WEEK LEFT OF SKI SEASON, Erik Borge has very little to do. It's 10 a.m. on a Friday in late March, and the 33-year-old owner of Maverick Mountain is sitting on a stool at the ski area's bar in the base lodge, pint glass of water in hand.

A couple of cooks are doing prep work in the adjoining cafeteria, and a ski patroller is eating breakfast below an old Western saddle that hangs on the wall. Erik chats with Jake Cleverly, who runs the mountain's snowboard instruction program but is covering for the bartender this morning. Otherwise, the lodge is empty. The temperature dropped into the 20s the night before, so locals know the spring snow won't soften up until 11 a.m. or noon. "Midwinter, I'd be helping make kid lunches on Saturday or bumping out lift ops, but come this time of year, my life is calming — well, maybe calming down," says Erik, who, with his wife, Kristi, bought the operation in December 2015.

Maverick is a one-lift, mom-and-pop ski hill in Polaris, Montana, a ranching town with a year-round population that hovers around 100. It's a place where jean-clad ranchers from the surrounding Grasshopper Valley often come up for a few runs after feeding the cows. The mountain is closed Monday through Wednesday, so the die-hard locals, known as Mav Rats, plan their work schedules around "powder Thursdays." On weekends, local kids sled on cafeteria trays after skiing, and the University of Montana in Dillon subsidizes the cost of skiing for its students. There's no cell service, and in winter it's an hour drive to the nearest grocery store or gas station. The whole place feels frozen in time. With $39 lift tickets, 2,000 feet of consistent vertical, and astounding views into the rocky, 10,000-foot Pioneer Mountains, it's a hidden treasure for skiers.

Although the Borges are lifelong skiers and former racers, neither had experience operating a ski mountain. So far, the last few years have been a wild, challenging ride colored by the warmth of small town connections. One example is what happened when the chairlift broke down midmorning on the couple's first day on the job.

"I'm sitting there going, 'Oh no, I gotta go tell everyone the lift's broken,'" Erik says. "[But] instead of having pissed-off customers, everybody was like, 'Oh man, I'm sorry Erik, it'll be alright.' It was pretty apparent then that Mav has an amazing community." That day, Erik's mom, Debbie, flipped burgers in the kitchen while his dad, John, drove to Jackson, Montana, 40 minutes away, where Shepherd's Garage built a new hydraulic hose for the lift. Two hours later, when they announced the lift was running again, the lodge went up in cheers.

"My first couple years, I was working all the time, sleeping like four hours a night," Erik says. One night he stayed up until 2 a.m. fixing the snow cat, at which point it was time to start grooming.

Erik grew up in a small town near Mount Hood, Oregon, and Kristi, whose maiden name is Knaub, was raised in Big Sky, where in the early 1970s her grandfather worked as an excavator building the ski resort, and her father was one of the first ski instructors. The couple met while attending Montana State University (MSU) in Bozeman, when she was his boss at Big Sky's youth ski racing program. By 2015, Kristi was teaching at a busy middle school in Bozeman, Erik was working as a real estate agent, and they'd bought and fixed up a house on the northeast side of town. They talked often about escaping the rat race, and took long weekend drives to imagine where they might move.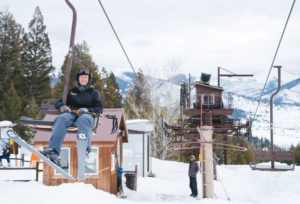 When they heard Maverick was listed for $600,000, down from $1 million, Erik had to see it. Kristi had raced there as a kid and was game to check it out, so they drove over with a friend to meet Randy Shilling, Maverick's owner since 1988. The mountain was closed for the season, so Erik hiked to the top in spring slush. "He was trying to figure out what he really wanted to do with his life," Kristi says. "He was good at being a realtor, but it didn't really suit him. … I think this was him doing some soul searching."
Shilling had fielded potential buyers from Sun Valley, Idaho, and the Yellowstone Club in Big Sky, and he could tell the Borges were different. "I [had] a lot of years of work put into the place, and I didn't want to see it fail," says Shilling, who was 76 at the time and selling the mountain after a bout with cancer. "I knew what it was going to take to be successful. A lot of the previous buyers came in, and they wanted to change it. They wanted to make it more glamorous. It was their ego talking, not their business sense. … Erik and Kristi will make the mountain grow, but they'll do it at a rate that the community can support."
Erik figured that if they sold their house and his truck, they'd have enough for a down payment. He applied for loans, and Kristi accepted a teaching job at the local one-room schoolhouse. After getting engaged, they bought a 1991 Bounder RV near Spokane, Washington, limped it to the Maverick parking lot, and moved in. While they were waiting for the sale to go through, they were eager to learn the ropes, so Erik worked all summer and fall for Shilling for free. "You can tell what somebody's like when you spend some time with them and tackle some problems," Shilling says. "Erik is the most positive person I've ever met."
But with no income or collateral, Erik couldn't find a bank that would give him a loan, and he worried the deal would fall through. Finally, a few of their friends agreed to co-sign, and three days before opening, they closed the deal.
Erik knew almost nothing about mechanics, but he picked the skills up quickly at what he calls the "Maverick School." He and Cleverly, the snowboard school director, spent the first two summers realigning the haul rope on the chairlift. But it wasn't just about fixing old machinery. With Kristi focused on her teaching, Erik also had to figure out how to manage the entire place. That meant navigating established relationships with employees and locals, corralling the all-volunteer ski patrol, and learning how to move snow from the parking lot to the base when the cover was thin. It also meant ordering supplies, plowing the access road, and cleaning the bathrooms.
Once it warms up a bit, Erik and I head outside for a couple of runs. On the lift, he tells me that Kristi is at school preparing lesson plans, even though the kids have Fridays off in the spring for calving season. "Kristi just loves her little schoolhouse, and she's so good with kids," he says. "She puts her heart and soul into it."
Kristi also helps manage the rural schools program at Maverick, which brings in around 150 kids from 10 small schools across the region on Thursdays and Fridays. Without the program, which Shilling set up years ago, many of the kids wouldn't have access to skiing. It's also the main reason the mountain can stay open midweek.
After the 11-minute lift ride, we head left toward a trail called "Ridge." I follow as Erik carves still-icy corduroy. He stops where the trail widens, grinning. The sun shines off the Pioneer Mountains across the valley behind him. "I feel lucky to be here," he says. "It's paradise. … I couldn't go back to the real world. I tried the real world. I got chewed up and spit out."
The next morning, I show up in the lodge to meet Kristi and find her helping a young kid boot up to ski. He's a participant in the nonprofit race team, which Kristi started with another local couple. The kids, who range in age from 7 to 14, traveled to Great Divide and Big Sky to race this past ski season. A high-level racer herself, Kristi made the Junior National Development Team in high school and the MSU team, but you'd never know any of that from her kind, humble demeanor — until you see her ski. She's fast, effortless, and smooth as silk.
Kristi considers herself and Erik the caretakers of Maverick. And while they've certainly made changes — renovating the rental shop, buying new groomers, and updating the logo, for example — much has stayed the same. The mountain's motto is still "Ride the White Thunder" (a Shilling-era spoof on Bridger Bowl's "Ski the Cold Smoke"). The raucous Bartender's Cup race, in which bar-sponsored teams compete in a drinking slalom and bikini contest, is still one of the wildest ski area parties in the state. And 80-year-old Robert Marcicheau, an old-time Grasshopper Valley rancher, still gets the gentleman's deal he set up many years ago to ski for $2 a run.
In 2017, the Borges and two of the investors who bought into Maverick purchased nearby Elkhorn Hot Springs. Built in the 1920s, the resort has a historic lodge and pool house, as well as 13 rental cabins. It books up three weeks in advance during the winter and is busy all summer, which gives Erik and Kristi some security and allows them to offer year-round employment. Plus, they've finally moved out of the RV, which they ended up living in for two years, and into a 500-square-foot cabin with running water.
Perhaps the biggest change the couple has made has been bringing in more skiers. They've had record visitation each season, due in part to consistently good snow most years. They also started posting on social media and landed stories in magazines like Powder and Ski. Word got out around Bozeman and Big Sky, and Idaho plates began appearing in the parking lot every weekend.
Erik is working on a plan to expand the parking lot and the lodge, which were maxed out when last February's big snowstorms drew crowds. He dreams of adding more terrain to serve both beginners and the more advanced skiers, but he's also wary of too much change. "It'd be a shame to ruin the culture of what it is," Erik says. "Although I dream of making it bigger, I'm scared to, because at some point you take away its charm and appeal."