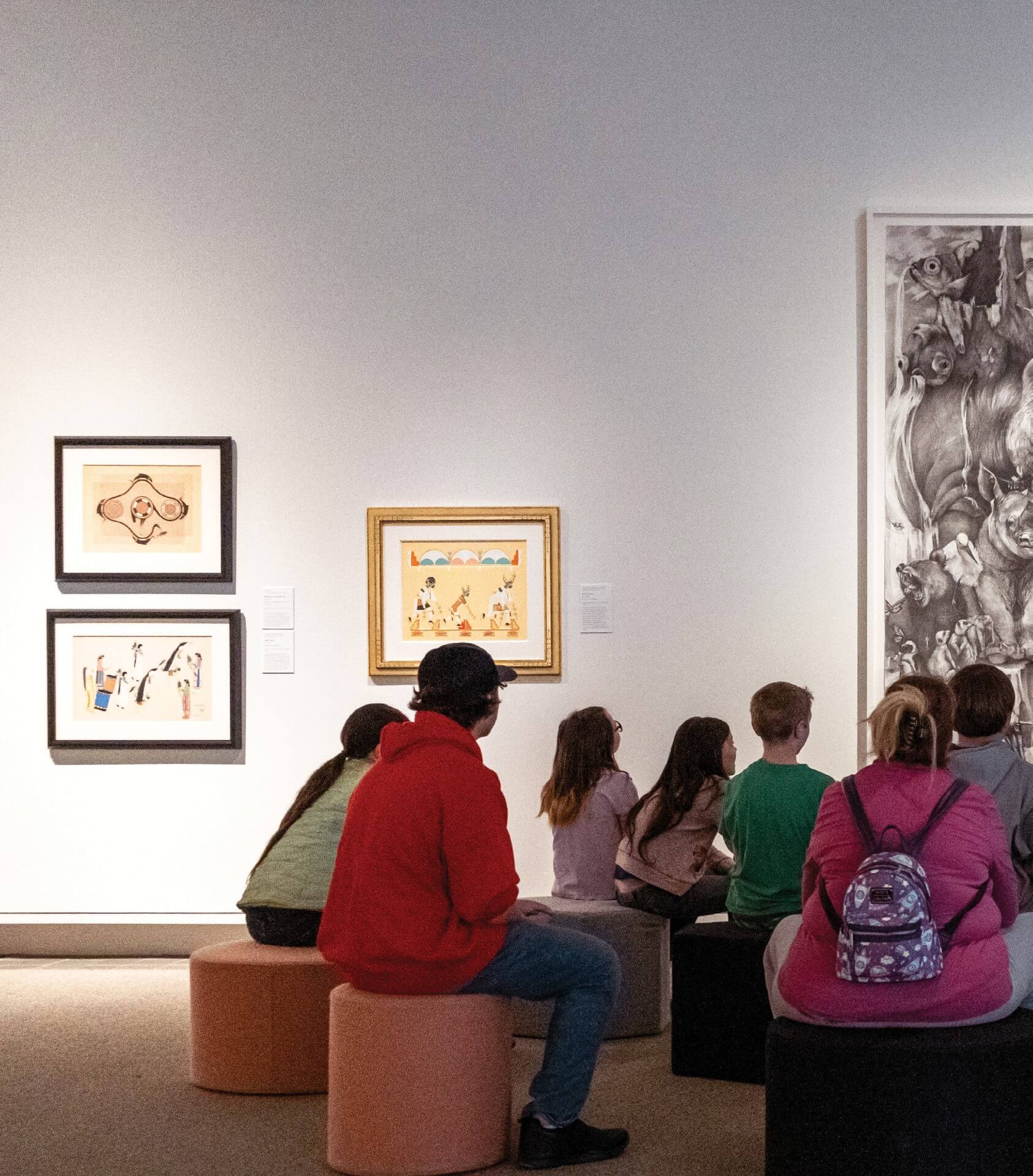 Photography by Nick Olson
01 Aug

Local Knowledge: The Joy of Culture

in

Jessica Kay Ruhle, the new executive director of the Yellowstone Art Museum (YAM) in Billings, Montana, cherishes memories of childhood visits to the Polk Museum of Art, a Smithsonian affiliate in her central Florida hometown of Lakeland. Her regular companion on those meanders was her grandmother, Gerrye West, a longtime volunteer docent there, who also encouraged young Jessica to attend its summer camp. "I loved visiting the Polk with her," says Ruhle. "I also spent the majority of my summers in their really robust series of camp programs, and I felt so at home there. I found museums to be really joyful places. So going to the Polk with my grandmother played a huge part in my professional trajectory."

That trajectory hit its mark this past January 26, when Ruhle (pronounced "ROO-lee") began her tenure at YAM. She's brought to the position a wealth of academic experience, practical know-how, innovative thinking — and joy — perfectly aligned with the institution's stated vision to "Be an extraordinary cultural destination for creative exchange."

Ruhle discovered her true calling while working as a Capitol Hill intern during the summer after her freshman year at North Carolina's Davidson College. "I knew immediately it was a terrible fit," she laughs. So, to make the most of her eight weeks in Washington, D.C., "I bought a Frommer's guide and spent every weekend doing everything in it." One day, as a docent explained a Jackson Pollock painting in the National Gallery, Ruhle realized that she "only understood about 40 percent of the vocabulary she used. Still, I loved hearing her talk about the artwork." Back at Davidson, she enrolled in an art history class sophomore year, and by winter break, she'd switched majors.

Almost immediately, Ruhle was faced with the question: What does one do with an art history degree? The answer came during her next summer internship in the education department at the Reynolda House Museum of American Art in Winston-Salem, North Carolina. "They really tossed you in," says Ruhle. "You did some intense learning about the collection, and then gave guided tours, worked with summer camps, and even participated in an end-of-summer lecture series. It felt like magic to be in conversation about art with people of all experience levels, from all walks of life."

Energized and back at Davidson, Ruhle concentrated "on the intersection between visitors and museums through education." That became the focus of her 2004 master's degree from George Washington University in D.C., which led to a progression of jobs in educational programs at a variety of respected institutions, including the Smithsonian's Art and National Postal museums.

Eventually, Ruhle served from 2014 until last December as director of education at the Nasher Museum of Art at Duke University in Durham, North Carolina. There, her wealth of experience came into full flower with innovative programs and initiatives focused on "reimagining how museums engage visitors and surrounding communities, providing access points for people of all backgrounds, and finding universal connections that can really draw people into the museum experience." That flexible, inclusive approach involved reaching out to local minority communities, bringing in students, and, in a revolutionary program she showcased in a TED Talk, inviting people with dementia and their loved ones to experience and talk about artwork together.

Such successes led Ruhle to start thinking about the next steps in her career. In 2019, she attended the Getty Leadership Institute, an intensive summer gathering in Southern California aimed at developing dynamic cultural leaders. "It was an exceptional program that led me to recognize how important museums and art experiences are in people's lives, and how to expand that access." Her desire for a new challenge grew stronger in the spring of 2021, during a five-week road trip out West spent hiking through national parks in southern Utah with her rescue dog Wilkes Marie. "And pretty soon, I saw the job posting for YAM," says Ruhle. She was excited by the museum's focus on contemporary art and on working with living local artists. "It felt like a fit," she adds.

Multiple people interviewed Ruhle for the job last October, first online and then over two days in Billings. During that visit, she talked to local artists and met other area cultural leaders. "It was a nice way to get to know the community," Ruhle remarks. "Then I drove through Paradise Valley and out to Yellowstone, which was spectacular. I was so excited, not only about the museum itself, but also the setting." Sharing her excitement, the YAM board offered Ruhle the job.

Since taking the reins, Ruhle has simultaneously been acquainting herself with the museum, its staff, and the community, while also exploring and launching a broad range of strategic initiatives aimed at strengthening the museum's ties to the people of Billings and beyond. Seeking synergy, she has joined Billings Cultural Partners, a consortium of leaders from 32 local arts organizations that fosters collaborative community projects. She's also begun talks with both Montana State University Billings (MSUB) and Rocky Mountain College. "We're working with faculty to gain a good sense of what's accessible to them in our permanent collection and how temporary exhibitions might be worked into their curriculum," she says, adding that such partnerships could range from holding student readings or performances in gallery spaces to working with behavioral science departments "to measure student engagement in gallery teaching." (YAM also supported a new mural completed in mid-July by local teens on a wall in downtown Billings.) And Ruhle is seeking new ways to "not only have dementia programs available here in our galleries, but also [through video communications technology] make them accessible to people anywhere across our state or region."

Meanwhile, as pandemic restrictions continue lifting, she eagerly anticipates continuing YAM's robust Artist-in-Residence program, in which a chosen recipient maintains a regular studio schedule in the innovative Visible Vault, an on-view storage space for the museum's collection, slated to reopen early next year. The current resident — multimedia artist and MSUB professor Keeara Rhoades — displays the outcome of her creative efforts with an exhibition from August 15 through November 13 entitled The Shape of a Corner, which will include an original feature-length screenplay, stop-motion animation, a soundscape, painted and sculpted forms, photographs, and AI-generated backdrops. "An accomplished educator," says Ruhle, "Keeara is really pushing the boundaries for what viewers expect to see in galleries."

Herself a proven boundary-pusher, Ruhle also revels in the opportunities to explore offered by her new life in Big Sky Country. She recently moved into "a sweet little house just north of Pioneer Park, only about seven minutes from the museum. So I can come home after work, toss the dog in the car, and, within five minutes, we're on a beautiful hike."

On such rambles, just as when she strolls through YAM, Ruhle's thoughts often turn to another walking companion, her grandmother Gerrye. "There's not a day that I don't think of her and how pleased she would be — not by the fact that I have this job, but by the fact that I love it."

From his base in Los Angeles, Norman Kolpas writes about art, architecture, and other lifestyle topics for magazines including Western Art & Architecture, Southwest Art, and Art Times Journal. He's a graduate of Yale University and the author of more than 40 books, the latest of which being  Foie Gras: A Global History. Kolpas also teaches nonfiction writing in The Writers' Program at UCLA Extension.