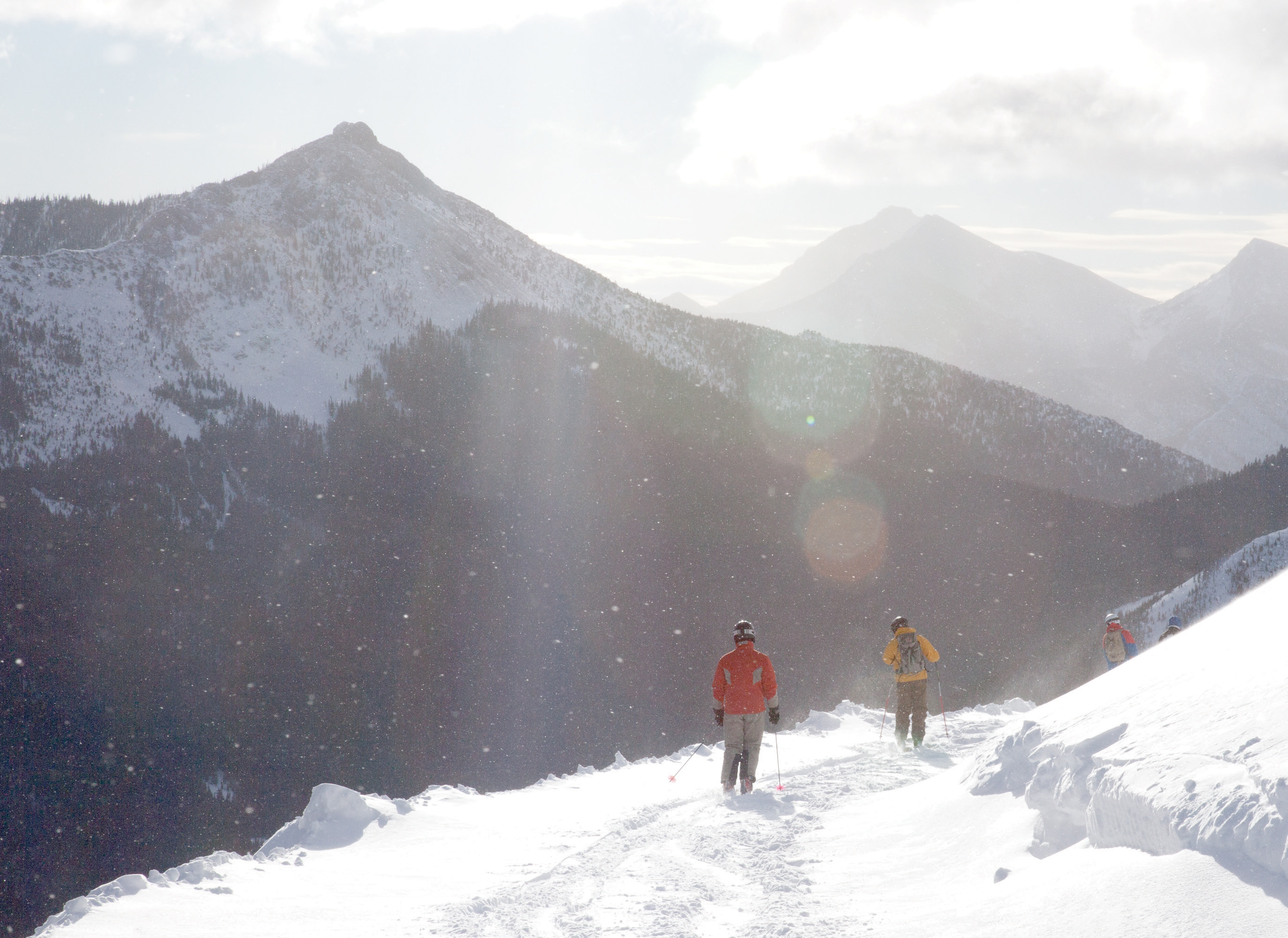 Exploring Montana's small Ski areas
11 Dec

Hidden Treasures

in

DIE-HARD MONTANA SKIERS KNOW THE DRILL: Every Monday, check the weather around the state to find out where it might snow the most. Read the snow reports and see which ski area has the best chance of a powder day. Start calling or texting friends: "Dude, it's gonna dump on Tuesday and Wednesday, are you with me?" Depending on the forecast, this may mean planning to arrive in time for a powder day on a Thursday or Friday at one of the state's smaller ski areas. For those of us who must work, this may necessitate using one of several sick-day excuses: My kid is sick. My car broke down. My grandmother died. Well, OK, don't use that last one.

Although Montana is known internationally for its three largest ski areas — Big Sky Resort, Bridger Bowl, and Whitefish Mountain Resort — the state's other 10 mountains tend to represent the pioneer and community spirit of skiing. Most are located near smaller, more remote towns, are inexpensive and family friendly, and are rarely crowded, making for perfect winter getaways.

These smaller, mom-and-pop ski areas are a big reason why the sport remains popular in the state. While skier visits have remained flat nationally after numbers peaked in the 2010-2011 season, Montana has seen an uptick in the last decade. According to the University of Montana's Institute for Tourism and Recreation Research, the state has added about 440,000 skier visits since 2008-2009. Although the three larger resorts made up the bulk of that, in 2018-2019, the other 10 ski areas combined managed a respectable 29 percent of the nearly 1.8 million total skier visits — which means that more than half a million skiers are still sliding on the state's smaller slopes each winter.

Many of the state's skiers make it a point to visit at least one smaller area each winter, and some vow to ski all of them. Big Sky resident Rich Jorgensen has tried to check a few off every year — often with his brothers who come from afar to join the fun — and he's made it to nine so far.

For skiers like Jorgenson, mountains such as Blacktail, Showdown, and Maverick embody what winter sports in Montana should be. "When you arrive at the parking lot and you see Carhartt coveralls, 30-year-old straight skis, and knit hats, you know these folks are truly passionate to slide downhill and care exponentially more about the moment rather than about impressing anyone," Jorgensen says. "You can feel the realness, pride, and true passion that the local skiers have for their home area."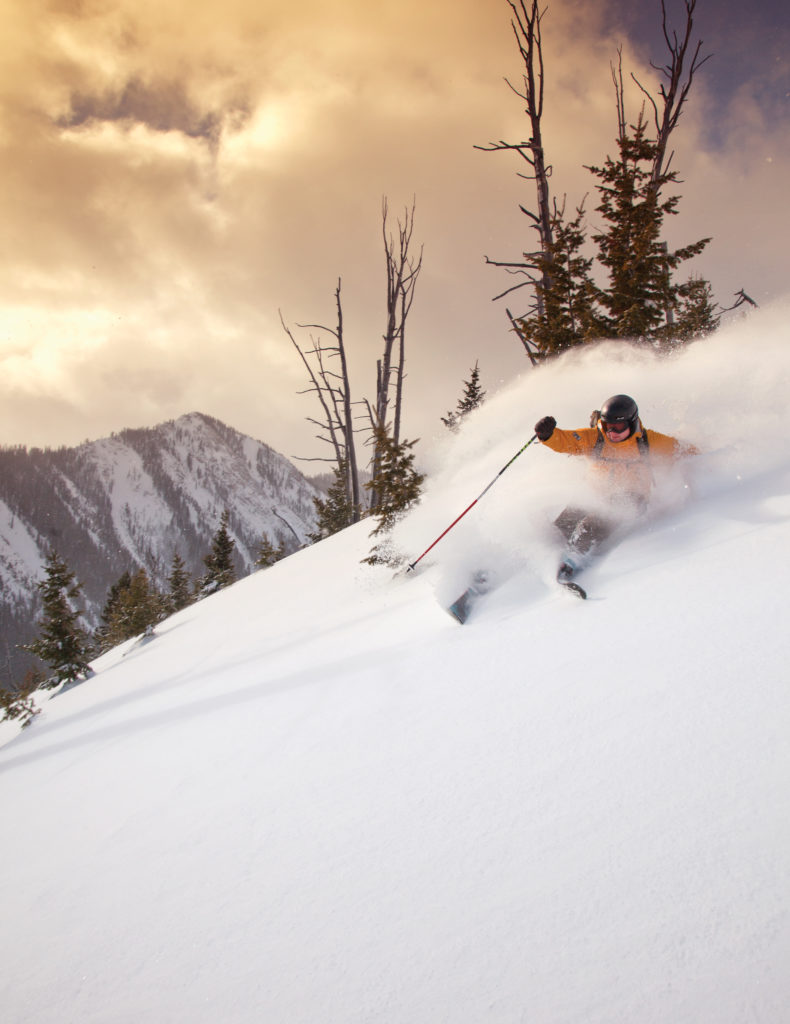 Montana's a big state, and unless you take the winter off, you most likely won't be able to hit every one of the smaller ski areas in one season. And while they're all worth a visit, you must choose wisely depending on your skill levels, family-friendly needs, and other winter-worthy factors.
STEEP, DEEP, AND CHEAP
Without question, the small ski area with the best expert terrain is Discovery basin near Philipsburg. The mountain's legendary back side — served by the Limelight double chair, with a vertical drop of 1,000 feet — is best suited for laps on a powder day. The two back bowls feature 20 double-black-diamond runs, with everything from wide-open slopes with rock drops — Mother Lode, Good Finger, Bad Finger — to tight, tree-lined chutes — Catch-A-Wave, Spooky Hollow, and Guns and Roses. Stay back here until your legs give out, and then explore the rest of the mountain's cruisers — Winning Ridge, Claim Jumper, and Berkeley are some of the best. Then head to the base lodge for some reasonably priced grub and a well-deserved beer at the Tap 'er Lite Bar.
Ironically, Discovery is one of the most family-friendly ski areas as well. The mountain's front side is perfect for beginners, and provides a good warmup for the groomed intermediate terrain served by the Anaconda and Granite chairs. It's a great place for families who want to divide and conquer — parents can take turns ripping up the back side and staying with the kiddos on the easier stuff. To top it all off, the base lodge has a throwback vibe that is pure vintage Montana. All in all, Discovery is a fun, affordable ski area that has plenty to offer; it should be at the top of your "small-Montana-areas-to-hit" list.
Pro Tip: The historic Philipsburg Theatre, just west of the ski area, recently reopened and offers a variety of cultural programming, including films and live music. Spending a night in one of the state's coolest little downtowns adds a vibrant touch to an already unique getaway.
SKI, STAY, AND SOAK
It's no surprise that Montanans love their hot springs, especially in the middle of winter when the temperatures really plummet. Luckily, many of the small-town ski areas can be combined with a soak to make for a great cold-weather getaway. Maverick Mountain, nestled in the scenic Grasshopper Valley just west of Dillon, is the ski area with the closest proximity to a hot plunge. Elkhorn Hot Springs is just 3 miles down the road and features a main lodge, two outdoor soaking pools, a restaurant, and several rustic cabins. Maverick is a one-lift operation with a respectable 2,000 vertical feet of skiing, a decent pitch, and an uncrowded feel. The classic A-frame base lodge — complete with a circular fireplace in the middle — is one of the coolest in the state.
A trip to Maverick is a good way to combine another ski-and-soak option by heading west 30 miles to Jackson Hot Springs, which offers soaking, lodging, and dining on the scenic east side of the Bitterroot Mountains. Just down the road is lost trail powder mountain, which boasts some of the state's finest and deepest cold smoke powder when conditions line up, and eight lifts that serve everything from family-friendly greens and blues to steep glades and cliff-lined bowls. Both Maverick and Lost Trail are only open Thursday through Sunday and on certain holidays.
Pro Tip: Check another soaking spot off your list with a visit to Lost Trail Hot Springs, just 6 miles from Lost Trail ski area. Cabins and rooms are available for rent, and the onsite restaurant is known for its wood-fired pizza.
WAY, WAY OFF THE BEATEN
Although Turner Mountain is technically in Montana, its remote northwest location is as close to Canada as you can get — less than 40 miles from the border. Is it worth the drive? Absolutely. Especially if you can wrangle up a bunch of your best friends to rent the entire mountain. That's right: On non-operational days during the open season (usually Monday through Thursday), you can have the entire ski area to yourself. It's less expensive than you'd think, and the area's abundant snowfall, 2,100-foot vertical drop, and consistent pitch can make for a fun, powder-filled day.
There are numerous lodging options in the nearby town of Libby, and if you come this far north you might as well combine the journey with a visit to Lookout Pass, Whitefish Mountain, or Blacktail Mountain — other ski areas that are all within a 3-hour drive.
Also remote, Bear Paw Ski Bowl is in the middle of nowhere, and that's just fine with the residents of Montana's north-central Hi-Line outpost of Havre. With a distinct hard-working vibe, Havre is an unlikely ski town but it works. The nonprofit-run Bear Paw is one of only two ski areas located on a Native American reservation, and it offers a respectable 900 vertical feet with 24 named runs and an authentic local feel. Oh, and a cheeseburger there is still less than five bucks.
Pro Tip: Explore the area's colorful history by visiting the Bear Paw Battlefield, part of the Nez Perce National Historical Park. The site — just southeast of Havre — is the location of the battle that ended the Nez Perce's flight in 1877. It was here, in October 1877, after following a 1,100-mile escape route that ended just short of the Canadian border, that the Nez Perce laid down arms. Following this five-day battle, Chief Joseph gave his well-known speech: "From where the sun now stands, I will fight no more forever." A self-guided, 1.25-mile interpretive trail winds through the battlefield.