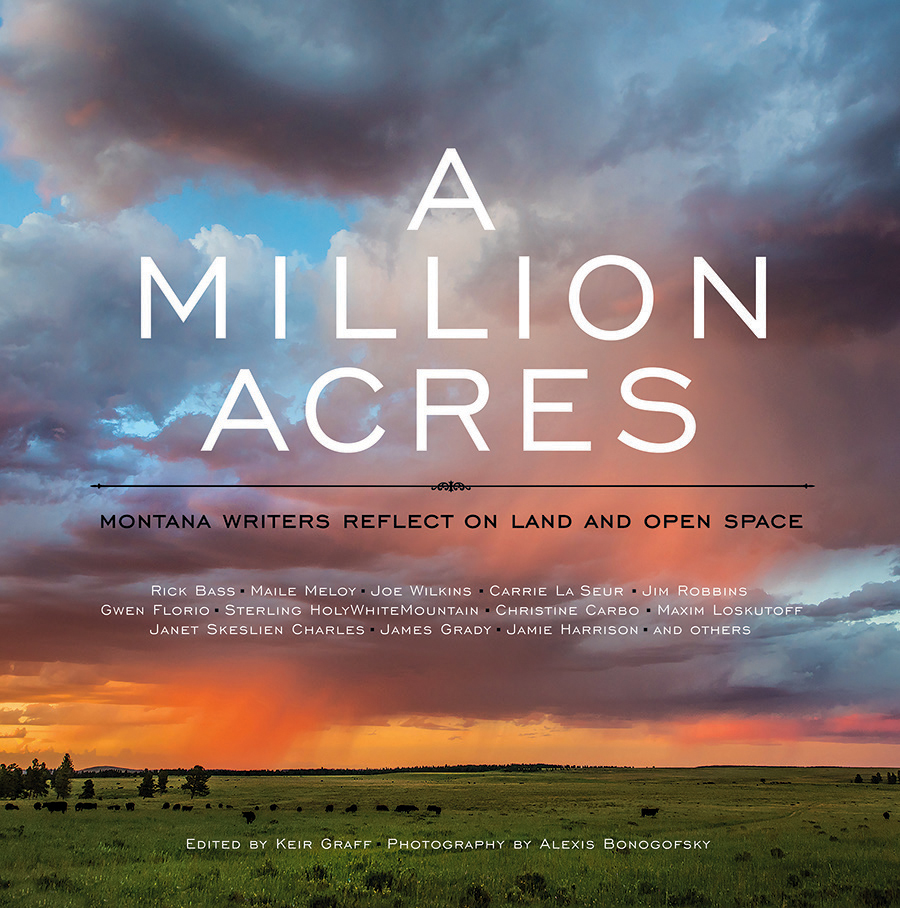 11 Dec

Books: Reading the West

in

A Million Acres: Montana Writers Reflect on Land and Open Space (Riverbend Press, $34.95), edited by Keir Graff and featuring stunning photos by Alexis Bonogofsky, includes essays, short stories, excerpts from fiction, and even a song that explore ideas around open lands and the writers' feelings about Montana as a whole. As Graff says in his introduction, "Think of the book you hold in your hands as a gorgeous, hardcover, coffee-table-sized literary journal."

The writers featured in A Million Acres include Carrie La Seur, Jim Robbins, Maile Meloy, Jamie Harrison, Rick Bass, and others who represent Montana's contemporary literary scene. Their stories range from experiences on rafting excursions and cross-country ski trips to that of a family deciding whether or not to sell the ranch. Each story offers perspectives on land use, loss, finding truth, and the underlying conservation and environmental issues at stake in Big Sky country. The proceeds from the sales of this book support the Montana Land Reliance, an organization that recently celebrated the preservation of its one-millionth acre.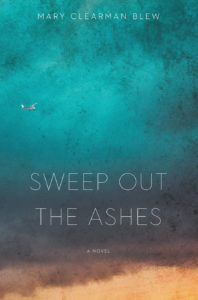 A small-town Montana college campus in the 1970s offers the setting for Mary Clearman Blew's new novel, Sweep Out the Ashes (Bison Books, $19.95), where both the protagonist's past and the daunting winter weather create a mysterious backdrop for the story. Diana Karnov has taken a job teaching history in a town in Northern Montana, believing that the opportunity will allow her to create her own life away from the great-aunts who raised her, while also giving her a chance to learn more about her parents. Karnov doesn't remember her father, and upon questioning her aunts, she has always been met with resistance. As she struggles to find her place in the male-dominated world of academia, she also discovers a world of history and culture when she befriends a female Métis student and her brother. Her journey to unravel her past becomes a fascinating exploration of how narrative is shaped — and how our expectations shape us all.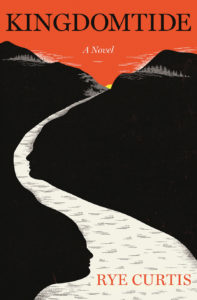 Rye Curtis's Kingdomtide: A Novel (Little, Brown and Company, $28) tells the story of two women through their alternating perspectives: One is the elderly, lone survivor of a small airplane crash in the Bitterroot Mountains, and the other is an embittered forest ranger determined to find the survivor against all logic and reason. Cloris Waldrip, a white-haired, modest, 72-year-old former librarian and rancher's wife from Texas, walks away from the plane crash and into an adventure that is at first full of horror and then made better through the kindness of a masked stranger who helps her along her way. Ranger Debra Lewis, who always has a thermos of merlot at her side as she stumbles through the wreckage of her life and relationships, is determined to solve the mystery of what happened to Waldrip. The suspense, the finely wrought characters, and the visceral description of the airplane's plunge from the sky and into the freezing rush of the river keep the pages turning, as the 1980s Montana setting is vividly brought to life.
In Wilderness of Hope: Fly Fishing and Public Lands in the American West (University of Nebraska Press, $26.95), author Quinn Grover explores the intersection of public land preservation and the avid pursuit of fly fishing. This thoughtful book investigates the relationships between recreationists, landowners, and the government, and how each entity relates to the overall outdoor experience. With Grover's years of experience as a fisherman used as a jumping-off point, this book is a meditation on how interactions with the wild stay with people as they go about their lives in the modern world.
See That My Grave is Kept Clean by Bart Paul (Arcade Crimewise, $24.99) is the third in the author's series, Tommy Smith High Country Noir. A twisty thriller populated with subplots of bank fraud, dirty cops, and complicated family relationships, this is a fine addition to the growing genre of mystery fiction. In the story, a villainous character from Reno, Nevada, infiltrates the wilderness where Tommy Smith has set up his business as an outfitter, and the all-too-real results are terrifying. The mystery and plot twists keep the reader guessing throughout.
Montana's geography is divided into six distinct regions by the state's tourism division, and writer Ednor Therriault explores them all in his new book, Seven Montanas (TwoDot, $26.95), which is illustrated with archival and contemporary black and white photography. Interviews, histories, and personal observations by a writer with deep roots in and a palpable love for his home state make this an excellent addition to Treasure State literature. The "seventh Montana" that Therriault envisions is that of the future, born of its legacy of distinct differences and varied landscapes, but joined with great hope for its prospects.
According to Kate: The Legendary Life of Big Nose Kate, Love of Doc Holliday (TwoDot, $24.95) is writer Chris Enss' latest exploration of the lives of women who shaped the West. Mary Kate Cummings, known as Big Nose Kate among many other aliases, claimed to witness the shoot-out at the OK Corral as well as other famous moments in history alongside her longtime paramour, the dentist-turned-gunfighter John Henry "Doc" Holliday. For years, Cummings collected letters, her own written musings on her life of adventure, and her accounts of the men she knew and the events she claimed to have witnessed. She always hoped that a publisher would pay her to tell the story of her life — but no book emerged while she was alive. In this biography, Enss delves into Cummings' archives, allowing her version of events to shine.