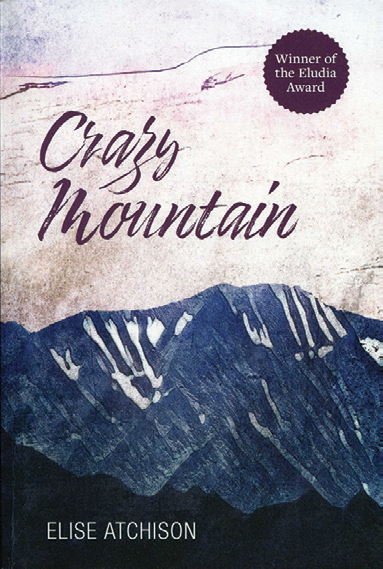 01 Aug

Books: Reading the West

in

Who owns the land? Is it the person who can afford to buy it and enjoy mountain vistas from the windows of their mansion, the person who devotes their life to working the land and pulling sustenance from its bounty, or the person who feels their love and spiritual connection to it transcends these other claims? This question is often debated in the Northern Rockies at bars, cafes, and, most aggressively, on social media sites. It's also the question posed with fervor and precision in Elise Atchison's debut novel Crazy Mountain (Sowilo Press, $21.99).

Atchison's story delves into a disparate community that sits in the shadow of Crazy Mountain, a jagged, snow-covered peak in Montana that, throughout the book, is increasingly filled in with development — from a trailer park to tract houses to "McMansions" to a sprawling all-inclusive resort. The result is viewed as either progress or desecration, depending on who's telling the story. And, who's telling the story is one of the most compelling aspects of this novel. With each chapter, the point of view shifts to another character, and the reader sees Crazy Mountain — and all that befalls it — from their eyes. The cast includes a ranch widow, a real estate developer, a struggling artist, a movie star, hunters, rock climbers, and archaeologists — a kaleidoscope of people, each with their own beliefs about what this land means, and who owns it.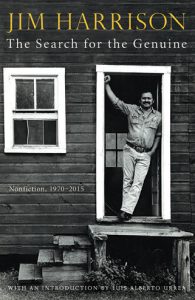 That question lingers throughout the pages: Who owns the land? The newcomer who has legally purchased it, the old-timer who grew up on it, the Native Americans who have lived with it for centuries, or the Paleo-Indians of the late Pleistocene whose bones are buried within it? Perhaps it is only the non-human inhabitants of Crazy Mountain — the snakes and eagles, bears and wolves, elk and martens — that can own the land. Though with each new subdivision, paved road, golf course, and heliport, their numbers dwindle.
Atchison poses the question again and again, while her characters live and die, love and hate, win and lose. Each of them speaks their truth, often at odds with another's, in a swirl of voices that builds to a symphony of soul-stirring humanity. Ultimately, the land itself is given a voice, and when it speaks, it does so quickly, violently, and with great authority. No one who calls Crazy Mountain home can ignore its message.
OF NOTE
Montana is the kind of place that panoramic photography was made for. This is wonderfully apparent in Craig W. Hergert and Shann Ray's Montana Panoramic: Transparent in the Backlight (Great Wide Open Publishing, $85). The richly textured and radiantly colorful images that fill this book show Big Sky Country at its most vibrant. Consummately paired with Hergert's photographs are excerpts of prose and poetry by American Book Award winner Ray. These brief passages, pulled from the context of their source books (American Masculine, Balefire, American Copper, and others) take on hauntingly beautiful new meanings when savored in this setting. The visual and the verbal join to create a lasting testament to the power of place.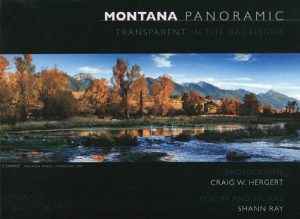 One might ask: Why another posthumous collection of Jim Harrison's writings? Is this an attempt by publishers to squeeze a few more bucks from his fans? But, after being drawn into essay after essay in The Search for the Genuine: Nonfiction, 1970 – 2015 (Grove Press, $28), it's impossible to remain cynical. The truth is that Harrison's poetic voice and storyteller's gift are strong in each of these pieces. With sections on writing and writer friends; hunting and hunting dogs; Michigan, Montana, and other favorite haunts; and, of course, fishing, the book makes the reader feel like they are sitting on the next barstool, listening to a master raconteur weave his tales. Harrison's voice is, as always, filled with such a passion for living that it's difficult to believe he's gone. This collection is a welcome addition to the disbelief.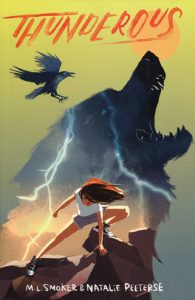 A Lakota girl learns the power of family and tradition in M.L. Smoker and Natalie Peeterse's young adult graphic novel Thunderous (Curiosity Books, $16.99). The authors are best known for their award-winning poetry — Smoker is a former Montana poet laureate, and Peeterse is a past recipient of an Artist Innovation Award from the Montana Arts Council — but they shine as well with this foray into children's literature. The lush and exhilarating artwork, created by Oriol Vidal and Dale Deforest, drives the story and makes the book both a page-turner and one to linger on.
Mining deeply into long-neglected primary sources, Mark T. Johnson lays bare the institutionalized racism and mob-led violence perpetrated against Chinese immigrants in Montana, while crafting a fully-realized depiction of the lives and struggles often hidden behind the stereotypes in The Middle Kingdom Under the Big Sky: A History of the Chinese Experience in Montana (University of Nebraska Press, $55). The well-documented book takes an unflinching look at the anti-Chinese laws, boycotts, newspaper editorials, and flagrant acts of brutality that shaped the chronicle of Chinese people in Montana, resulting in a decline in population from 10 to 15 percent of the state in 1890, to about .04 percent by 1943 (the first year Chinese people could become naturalized citizens). Johnson's clear and exhaustive research has yielded an important contribution to understanding this aspect of Montana history. One would hope that by shedding this light on the past, the darkness of current racist sentiments could be, in some measure, dispelled in the present.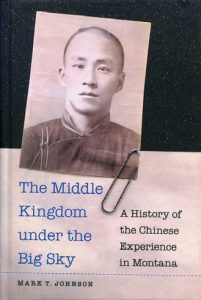 Marc Beaudin is a poet, theater artist, and bookseller based in Livingston, Montana. He has contributed to numerous publications, written two books — Life List: Poems and Vagabond Song: Neo-Haibun from the Peregrine Journals — and his work has been included in anthologies dedicated to environmental and social justice.