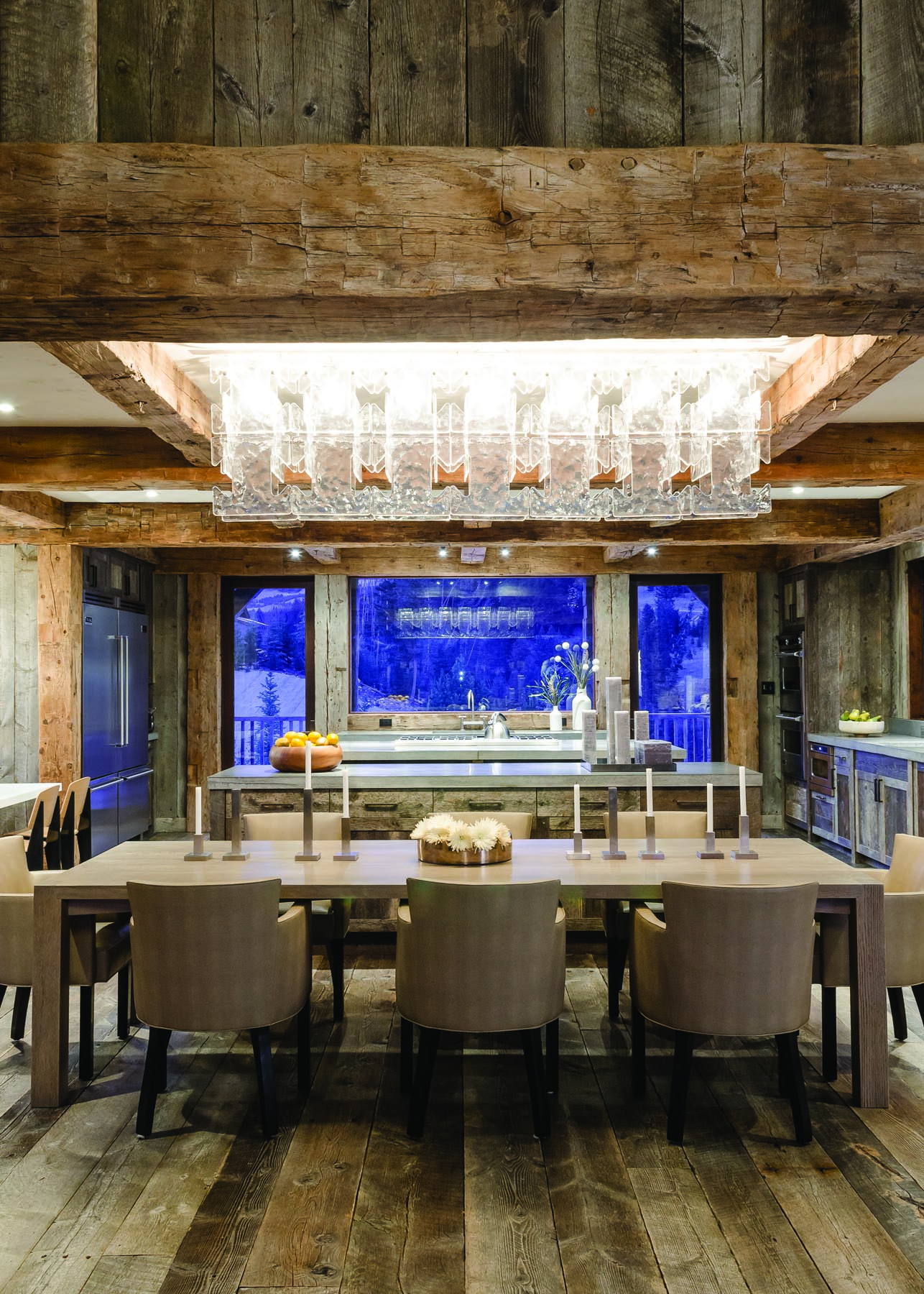 23 Aug

Yellowstone Club Post-Moderne

in

WITH THE WHITE PYRAMID OF LONE PEAK hovering skyward, Paul Bertelli drives along a mountain road in winter, winding through Montana's most exclusive gated community.

The design principal of JLF & Associates passes beneath a line of multimillion-dollar great lodge mansions. Copping big views of the panorama unfolding around Pioneer Mountain, they ply snow-covered ridgelines and belong to some of the most famous VIP surnames in America. Their owners include Fortune 500 executives, Hollywood actors, sports stars and retired politicians.

Perhaps the first hint that we are bound for a different kind of "ski-in, ski-out" residence comes when Bertelli offers this intriguing description: "The home we're visiting today is actually a duplex and the clients, who spend only part of the year here, have a special appreciation for middle-of-the-last-century antiques."

By "middle of the last century," Bertelli isn't referring to French or Adirondack furniture from the 1800s; it's an allusion instead to late-moderne, circa 1950s and 1960s. And one shouldn't be confused by "duplex." This, after all, is the Yellowstone Club, a high-end secluded enclave where every building project within its boundary falls under strict aesthetic guidelines. An unofficial motto: where luxury meets the intersection of wilderness.

JLF, headquartered in Bozeman, has been a leader in what has become known these last 30 years as "New West" rustic regionalism. The company's hallmark is creatively finding and recycling fine historic materials — one of a kind rough-hewn woods, "simple" or unassuming and common stone structures (regional or vernacular) and uniquely weathered fabricated metals — into ageless design.

As Bertelli pulls up beneath the port cochére, which serves as a sheltering canopy for two homes connected only by a common wall and drive, it quickly becomes apparent that this "duplex" is in a rare league. Saddled next to a private ski slope, the exterior, an elegant melding of moss-covered fieldstone, weathered barn planks and JLF's signature reverse board and batten siding, conveys the ambiance of a quaint Old World cottage appearing much smaller than its actual 5,500 square feet.

Once inside, there is a sensation of surprising expansiveness. There is no foyer, instead, the front door functions merely as a point of entry into a schematic that widens the deeper one moves into it. Spread across three stories are six bedrooms, sun-drenched gathering areas and commanding outward-looking views that absorb the grandeur of the landscape.

Regarding Bertelli's earlier mention of "antique" décor, the home is filled with vintage furnishings and artistic accents that echo Pop culture. "The decorative motif isn't intended to be a Victorian solution or a Molesworth solution," Bertelli says.  "It's a 21st century solution, blending the art of nature, the art of distinctive materials, and an era of art that speaks to youth and vitality."

Indeed, a benefit of JLF's preference for using elemental earth-toned materials is the conduciveness of palette — in this case gray — to any style of interior décor, be it traditional or contemporary. Waxing about his clients, Bertelli says the owners, Generation X husband and wife professionals with children, make pilgrimages to Montana a couple times a year, during summer and winter.

"The spirit of this home isn't about what's in here, it's about what's out there," Bertelli explains, adding that it's also about appealing to what's in the clients' heart.

Under his direction, JLF's senior staff architects Christa Gertiser and Travis Growney transformed conversations with the client about the home's intended practical function and the intangible aspects of what they desired into reality.

While the Yellowstone Club is noted for dwellings with massive upscale blueprints, this couple's desires were simpler — inspiring views, décor that fit their personalities and a place that feels comfortable to live in — a sanctuary their kids will always fondly remember.

Moving up from the entry level to the second floor, one passes steel and glass railings on the stairs. If there is an anchor that speaks to the magic of the JLF-client design process, it is the open air floor plan that unites a sun room, living room and kitchen along a sightline that avails, to the northwest, an iconic view of Lone Peak, and, in the other direction, just past massive picture windows, the ski slope and member lodge.

From the sun room's traditional cowhide rug remade into a modern patchwork, to the Warren Platner lounge chairs and mohair covered mid-century Edward Wormley for Dunbar sofas, it's guaranteed to fill any Baby Boomer's heart with nostalgia.

The dazzling star of the living room is a massive 1960 Murano globe chandelier in the middle of a vaulted ceiling.  The size of a disco dance floor ball, it resembles an intricately patterned snowball shaped by hand-blown glass flowers. Seeming to float above the cozy fireplace sitting area, it is a graceful, enigmatic touch. Bertelli praises interior designers Timothy Haynes and Kevin Roberts for assisting the clients in making decisions that deliver sweet rewards.

Adjacent to the living room is the dining area, adorned with vintage Jacques Adnet snakeskin armchairs, a linear 1960 Italian Mazzega chandelier and a custom-designed oak banquet table. Nearby, the kitchen, with a lower ceiling, offers a more intimate area and breakfast nook.  Reclaimed wood surfaces, a classic Viking oven, custom gray concrete countertops and a priceless view of Lone Mountain are complemented by an outdoor deck for après-ski festivities.

On the top floor, the master bedroom, replete with a 1960 Stilnovo chandelier, custom wool and silk carpet, master bath with a Gobi tub by Boffi and a walk-in closet. It, too, offers a feasting glimpse at Lone Peak.

To deliver the best quality and value, JLF, in partnership with its longtime construction collaborator On Site Management (OSM), has been praised for evolving the design/build concept. The purpose is to bring continuity and reliability to every step of the construction process, from site walk to turning the key, giving customers a transparent view of how and why decisions are made.

As Bertelli notes, it's how the firm keeps client costs better controlled by eliminating unnecessary surprises.

"Aesthetically, as this project suggests, we are evolving our roots. Building a home, no matter what the size, should be a joyful experience," Bertelli says. "Much of the fun and power resides in the choice-making. Our goal is to engage the client as much as they want to be and try to ensure they are extraordinarily, happily surprised when it's all done."

By all reports from the client, this job is mission accomplished.