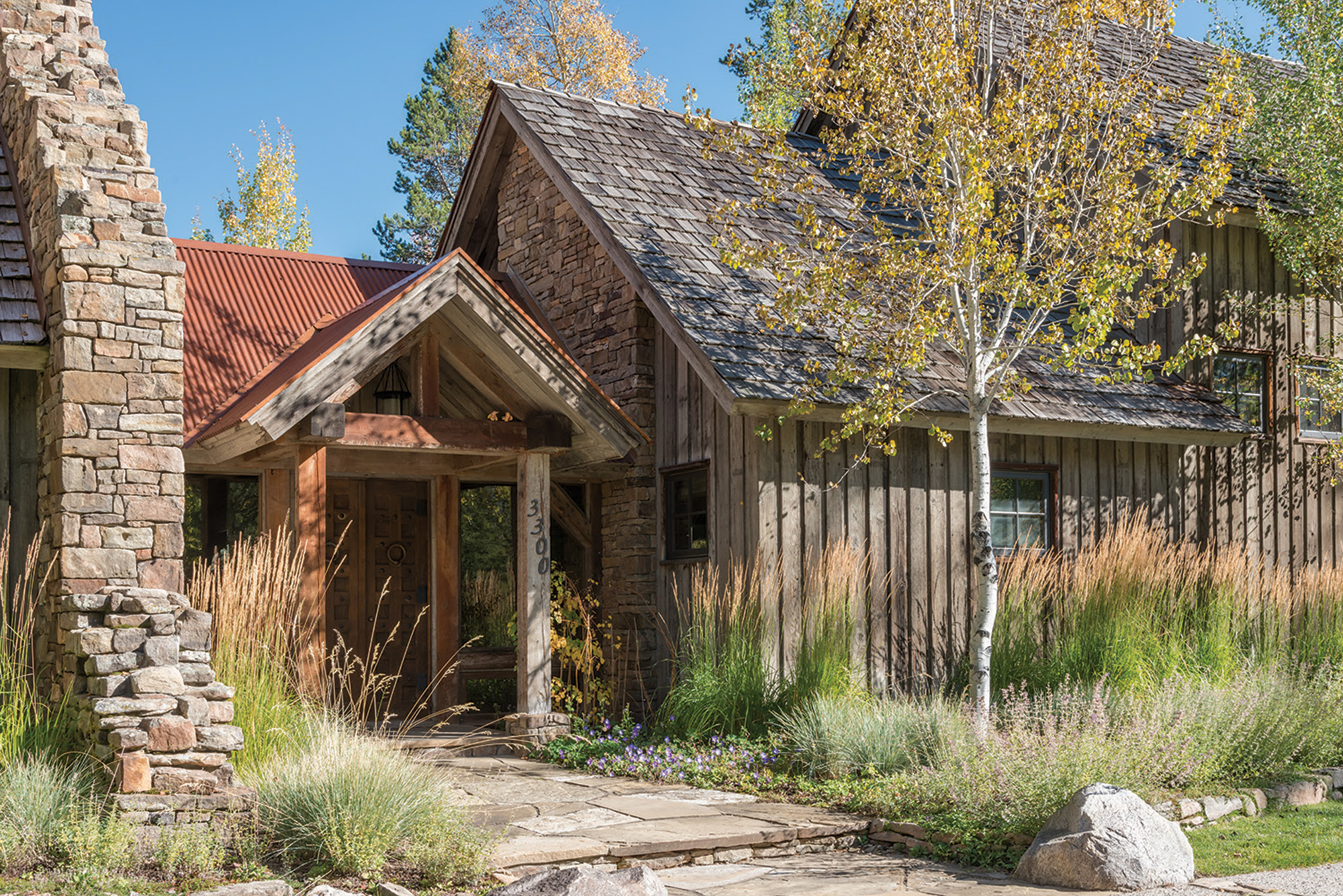 14 Apr

Wyoming Family Heritage

in

JIM AND MARY SPEYER'S HOME outside of Jackson, Wyoming, is a showcase of family heirlooms dating back to the 1780s, and of treasures collected during their world travels, serving as a fascinating and artful display of their personal interests.

The original 4,338-square-foot home was built in a Mountain West style with rough-sawn, reclaimed timber. A recent addition supplied about 700 more square feet. The original owners built the home in 2005, and the Speyers were drawn to it for its "good bones." Mary Speyer said, "What attracted us to this house was the stone and reclaimed barn wood. It had a sense of place."

A large, wood-burning fireplace in the living room provides a natural gathering space, and connecting hallways unite various sections of the home. "It has a laid-back, Jackson- lifestyle feel of inclusiveness," said Logan Leachman, a designer with JLF & Associates.

That inclusiveness works well for the Speyers, and is one key reason they decided to add an addition to the home. Mary, a retired professional fundraiser, and Jim, a retired energy consultant, found it important to create a home where extended family could gather. In order to have enough room for their growing family of three adult children and their families, they decided to construct a 700-square-foot addition with a bedroom, bathroom, and sitting room space with a fireplace and television.

The Speyers started talking to JLF & Associates about the project in July 2013, breaking ground in early 2014. Seamlessly incorporating additions can be challenging for a number of reasons, and it can be difficult to ensure they don't look like an afterthought. But the design team worked to make the addition look like part of the original house, matching the existing stone and other materials.

"We hadn't really planned to do an addition initially, but the way we were able to utilize one of the windows off the living room to create another connector makes it feel like it was always there," Leachman said. "It seamlessly flows." They also needed to plan the addition carefully in order to preserve the view of the Grand Teton from the living room.

When they decided to incorporate an addition, the clock was ticking. They had a deadline to meet: Jim's 70th birthday was coming up on January 5, 2015, and the family wanted to host a gathering of 30 family members and friends. The team completed the project in December with plenty of time to spare, and the festivities took place that January on schedule.

The Speyers typically spend about half the year in Jackson, and they both are active on nonprofit boards there. The rest of the year, they are in Washington, DC, Palm Beach, or traveling.

Travel is important to the couple, and for decades they've enjoyed exploring the world together, often collecting artwork abroad to display in their homes. "We've basically spent our entire married life of over 30 years traveling all over the world," Jim said.
In 1968, Jim traveled around the world on a two-month, Pan American round-the-world ticket before serving in the Peace Corps in Venezuela. Their travels as a couple include destinations like Cambodia, Myanmar, and Laos, and they've taken at least 10 trips to India where one of Jim's college friends of 50 years lives. Recently, they went gorilla trekking in Rwanda, and on safari in Kenya's Maasai Mara. Mary has hiked to Everest base camp and climbed Kilimanjaro. "Anyplace with a mountain, I like to climb and explore," she said.

An artifact from one of their recent trips — a 19th century tapestry from Myanmar —  hangs in the bedroom of the addition. Local pieces also add a distinctive touch to the addition, and local Wilson, Wyoming-based furniture maker Charlie Thomas crafted the woodwork for the bedroom, including a walnut slab headboard —  complete with a walnut embedded in the wood — and end tables. Near the foot of the bed sits a late 18th century bench that once resided in the Speyers' family farmhouse in Pennsylvania.

Personal heirlooms are found throughout the house, from 18th century footlockers to French mirrors and 19th century Chinese rugs from Jim's grandmother's house. The dining room chairs are also from Jim's family. "I wanted to honor his dad and memories of Thanksgiving with family," Mary said.

Jim's uncle Jimmy was curator at the Chicago Art Institute for 25 years. The family's artistic heritage is showcased throughout the home. "Jim's from a long line of artists and art appreciators," Mary said. When Jim's father died, he had around 25 original Audubon paintings in his home, and several of those now live in the Speyer residence, while others are with other family members.
A colorful oil painting entitled "Daisies" holds a prominent position over the fireplace in the master bedroom. Jim's aunt Nora Speyer painted it, and it remains one of Jim's favorite pieces. His grandmother was a sculptor, and one of her pieces, depicting an embryo, resides in the window. Paintings by another one of Jim's uncles, New York City artist Sideo Fromboluti, are also on display in the home.

"What's special about it is that, sadly, many family members are deceased, and our pieces remind us of our time and history with them," Mary said. "To incorporate these pieces in our home is very special."

Jim was once a trustee of the Textile Museum in Washington, DC, and rugs and textiles are another key part of the family's artistic expressions. Some have been in the family for over 100 years, and Jim has collected many others over the years, including Persian, Caucasian, and Turkoman rugs.

In addition to the treasures displayed inside the home, the family's outdoor space offers plenty of opportunities to relax and enjoy Teton living. They like to grill, dine al fresco, read, and relax. A small stream runs through the property providing an element of tranquility.

Verdone Landscape Architects worked on the outdoor space, providing new landscaping around the addition and revamping some of the existing features, as well as adding a fire pit.

"We used almost entirely native landscaping, and the Speyers were very receptive to that," Jim Verdone said. "It was a good fit and it turned out to be a beautiful project." Periwinkle, bleeding heart, lady fern, Siberian iris, blue cranesbill, Walker's Low catmint, silver mound sage, and native grasses adorn the property.

Whether they are appreciating the Tetons while relaxing outdoors, or reminiscing by enjoying treasured family heirlooms inside, the Speyers created a home that provides a great spot to bring the generations together in appreciation of their heritage, travels, and the bonds that exist.