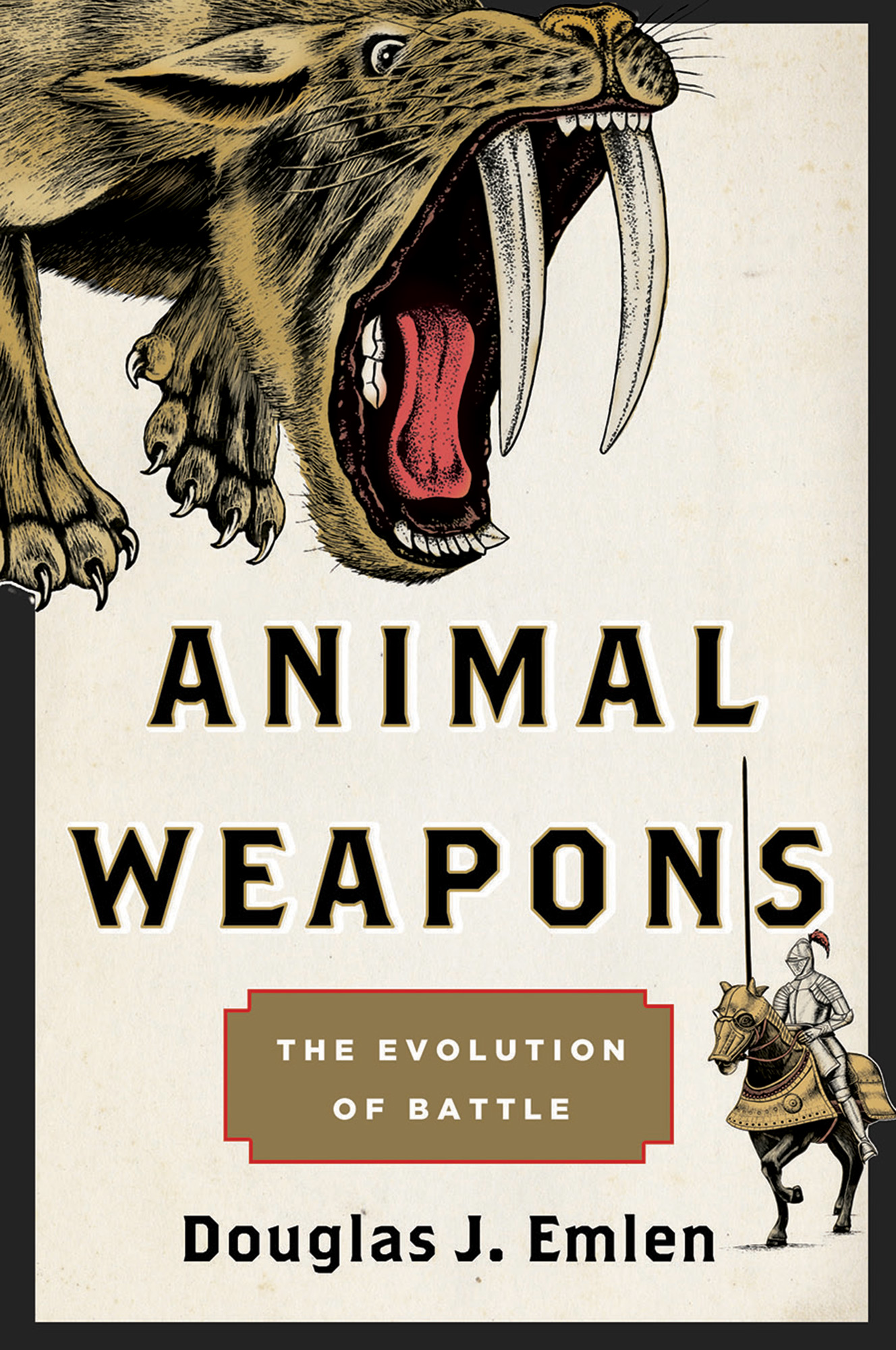 10 Feb

Books: Writing the West (Fly Fishing 2015)

in
---
Animal Weapons: The Evolution of Battle, by Douglas J. Emlen and illustrated by David J. Tuss (Henry Holt, $32.50), has a kind of gleeful exuberance about it, bringing the weapons that animals use for defense and hunting, from the smallest pincers and horns to the largest tusks and strangest appendages, under a microscope and into perspective. Emlen brings his precise scientific viewpoint and appreciation for detail to the table with a clear, lucid hand perfect for the lay reader and scientist alike. And he does it with the kind of enthusiasm that a fourth-grade boy brings to a really gruesome bug collection. Emlen, a professor of biology at the University of Montana, has traveled the world to study the mysteries of how animals protect themselves and how their bodies are designed for offensive use. His observations in Animal Weapons are both informative and entertaining.
From mountains to rainforests to oceans, there are thousands of interesting cases of animal weaponry worthy of study and discussion, and Emlen has investigated many of the most remarkable beasts on the planet. He watches the tiny horned Panamanian dung beetles (the image of empty shampoo bottles lined up in his laboratory and filled with their industry sticks with you long after you read it), with their relatively proportional horns, and considers their success as a species. And he also turns his attention to the oversized, examining the enormous antlers of the now-extinct Irish Elk, investigating what advantages size may or may not offer when it comes to defense or hunting. Emlen doesn't ignore defensive weapons, such as cloaking, either, pointing out some of the more interesting behaviors the animal kingdom has to offer, like the ability of the Australian cuttlefish to change color completely in order to camouflage itself — and then changes again into bright hues to attract a mate.
Naturally, Emlen's discussion turns to weaponry and arms races among humans; how extinctions might be related to weapons and how animal arms races parallel human history on an evolutionary scale. But it doesn't become preaching or pedantic. The parallels Emlen draws are thoughtful illustrations of what Nature teaches humans. This fascinating and well-written book both reveals mysteries and answers questions, and detailed black-and-white illustrations and color photography allow readers to study these fascinating animal attributes for themselves. The book ultimately results in a scholarly and thoughtful study of the animal world, and how weapons have shaped it, that is informative as well as fun.
---
Edward Hoagland has long been one of America's most distinguished nature writers, and with the new edition of his classic On Nature (Lyons Press, $35), his essays, drawn from more than 40 years of natural exploration and literary observation, will gain a new audience, further solidifying his presence on the list of essential reading on the issues and stories that weave together in the natural world. Hoagland's personal history is fascinating, and part of what is appealing about these essays is the glimpses he offers into his life of careful observation, but more than anything, the reflections he shares from a lifetime of steadily gazing at the minute details and his broad view of those details, turns this collection of essays into a sort-of pointillist painting, rendering a complete picture of a lifetime of work recorded in precisely placed and carefully considered colors and dots. These are thoughtful words that together make a magnum opus. His essays are thoughtful, erudite, witty and honest — and he is rightfully named one of America's most distinguished writers.
In his introduction to this new edition of On Nature, Hoagland sets up a scenario where the proliferation of animal idioms and shorthand in our language that have existed since Aesop cease to exist in a modern tablet-centered age. Do children still play leapfrog and will we continue to know what that means?
Perhaps it's simply old-fashioned for a publisher to release a hard-covered, dust-jacketed collection of essays stretching back to the 1960s, but there's poetry in it, too. And ironically you can buy these essays as an ebook for consumption on a tablet, if you choose, as well. Regardless, as you get into the meat of Hoagland's essays, you realize immediately how much richer life is for these observations of nature so closely tied to the old-fashioned.
Through these essays, a picture of Hoagland himself emerges that adds richness to the collection. As a young man in New York City, Hoagland's pronounced stammer led him to feel more comfortable in quiet interaction with animals and nature — and his affinity for wildlife led him into a brief employment with Ringling Brothers' Barnum and Bailey Circus, where he worked with the big cats before turning his observations into two novels, graduating from Harvard, traveling the world, and becoming a distinguished professor at some of our greatest colleges and universities.
One of the earliest essays in the book, "The Courage of Turtles," demonstrates this affinity with the subjects Hoagland chose to pursue. He doesn't anthropomorphize as much as he draws parallels between animal behavior and our own, pointing out that, "Turtles cough, burp, whistle, grunt and hiss, and produce social judgments. They put their heads together amicably enough, but then one drives the other back with the suddenness of two dogs who have been conversing in tones too low for an onlooker to hear." Turtles, wolves, mountain lions, bears and humans all benefit from his keen eye and sensitive hand in putting his observations to paper.
And benefiting nature, including humans, is — after all — the point of these essays. Hoagland describes the natural history of bear biologist Lynn Rogers, for example, with the same acuity and rueful recognition of a kindred spirit that he reserves for the bears themselves, pointing out that, "Bears, which stopped being primarily predatory some time ago, though they still have a predator's sharp wits and mouth, appeal to the side of us that is lumbering, churlish, and individual."
He writes in recollection of a trip to Texas to study the endangered red wolf in the 1970s, when official attention was just starting to be paid to issues of clear air and clean water:
Conservationists assume that a day will come when we will all want to pick up the pieces — that if only they can hold onto such living entities as the green turtle and the right whale for a little while longer, the consensus of civilized opinion will swing behind them. It is a questionable assumption, and so the gloomier, more visceral individuals go instead on the hunch that something may happen whereby finally the saved animals will inherit the earth. This isn't sensible, is misanthropic, and is a view they keep to themselves, but the most vivid observation to be made about animal enthusiasts — both the professionals who work in the field and, in particular, the amateurs — is that they are split between the rosiest, well-adjusted sort of souls and the wounded and lame.
In the mid-1990s, after he had been suffering from vision issues, he writes that he's had plastic implants inserted to save his eyesight and can now see nature as he used to:
I could see all these things because I had just paid fifteen thousand dollars to have my vision restored — a cheap price for new eyes that, with plastic implants, saw as I did fifty years ago. Plastic eyes — and more wildlife running around in New England than when Thoreau was alive?
Nature is complicated.
Reading these essays in order gives one the long view from a master observer, and above all, Hoagland recognizes in his essays the complexity of nature and human interaction with it. In spite of any tendency toward churlishness, though, Hoagland's experience as recounted in these essays is optimistic — and embracing of the intersection between technology and the natural world and what that can mean.
---
Tom Connor's Gift, by David Allan Cates (Bangtail Press, $19.95), brings to life a number of memorable characters, including a grieving doctor who has taken refuge in a cabin on the Montana front, her adult twin children, a mummy at a Halloween Party, the elusive Tom Connor and a bear. The catalyst for the startling action that the widowed doctor, Janine takes in leaving her life and heading west to lose herself in grief is the death of her sometimes philandering but always somehow sweet husband, Mark, but the meat of the book comes in the form of a series of relatively coherent recollections by Janine of an early wild road trip to Montana in the company of the oftentimes wild and incoherent Tommy Connor, her first love, and his even more incoherent letters to her, kept over a lifetime.
In the wake of Mark's death, Janine has completely disintegrated and is barely functioning, barely able to make a trip to the outhouse, barely able to feed herself. It's obvious to the reader and to everyone around her. But she doesn't see it. She can't see or smell the mold on the food collecting on the table. She can see the broken door frame, but she can't come up with a workable plan to deal with it. Instead, she loses herself in the past, laying out her collection of letters and reading them in order, sometimes seeming to try to come to terms with her relationships, sometimes unable to think beyond anything besides painting her nails. For the reader, a clear picture is forming of what happened to Tommy in Central America, what happened to Mark back on the home place in Wisconsin, and what is happening to Janine in this rustic cabin. But since she can't see it, she doesn't pick up on the clues that are leading to a bear-related disaster and the one thing that will finally shake her out of her grief and send her home, even though she may never actually find acceptance and closure.
Cates ably captures that illogical, nonsensical, frantic teenage brain in Tommy's earliest letters and Janine's recollection of her time with them and also keeps a piece of Janine's early rebellion and confusion her character develops as a grown up mother and physician. We see the evolution — or perhaps lack of it — of Tom Connor's life through Janine reflecting back on the tales told in his letters about his Central American life during the war years of the 1980s with seeming equal parts skepticism and credulity. Weaving together the two plots, the story of Tom Connor's "career" in Central America and later return to the U.S., and Janine's unraveling, Cates creates a string of images and stories that swing wildly between stretching the bounds of belief and the all-too-plausible, but in the end the author leaves us wondering if the bear Janine keeps seeing is real or a metaphor and what Tom Connor's gift actually is. It's thought provoking, well-written and entertaining — as well as a poignant look at grief and memory — grounded in the landscape and lifestyle of the American west.
---
To many Montanans, Grace Stone Coates' name is one that conjures up images of an earlier sepia-toned Montana, with teacherages dotting the landscape and the threat of grashoppers and drought. In recent years, there's been a resurgence in interest in her life, letters, poetry and her one published novel. Black Cherries, first published by Knopf in 1931, a novel that revealed the anguish of a child's experience of her parents' unhappiness, was re-released in 2003. Now available for the first time, her previously unpublished book, Clear Title (Drumlummon Institute, $16.95) was rejected by publishers when she submitted it, but she felt that it was the larger story behind Black Cherries' themes — a more nuanced and comprehensive portrait of familial love, obligation and strain.
From almost the first arrival of a mysterious package in the mail, addressed to schoolteacher Augusta Ventner from an unknown hand in New York City, Coates creates a mood that is tense and foreboding. Even the enthusiasm of Augusta's students at the arrival of a new dictionary feels tamped down by the menace and mystery associated with that package, which contains a heavily underlined volume of Elizabeth Barrett Browning. Augusta, however, who has recently lost her brother and is still grieving, assumes that the letter and poetry has come from an acquaintance to offer condolences at her loss, feeling comfort in the words of the poet. Evidently the writer of the letter and the underliner of the poetry has fallen in love with her portrait in a friends' home (due, as it turns out, to her resemblance to his deceased wife) and is proposing marriage.
Augusta's response to his attentions, especially after he goes against her wishes by giving her resignation to the school board so they can marry and lying about his reasons for doing so, is both puzzling for its passivity and interesting in how it demonstrates her strength of character and intellect. As she begins her new life, regret continually battles with choice as she comes to know her husband and is bullied and manipulated by him into taking questionable actions on his behalf. She is a woman trapped, yet she has no one to blame but herself and internalizes her anguish as she sees herself forced into actions and a life of subservience.
When, years later, Augusta's grown daughters decry their mother's passivity in the face of their father's cruelty and self-absorption, the couple's youngest daughter reaches for an answer as to why her mother won't take a stand on something as simple as a new coat, "Why does she ask father anything about it?  Why doesn't she go and get what she needs?" Veve asked, but in her heart she had no need of Teressa's answer spat at her: "She's let him screw her down all these years until she doesn't dare call her soul her own about anything…"
While it's difficult to grasp how Augusta could possibly have accepted a man who seemed to have ulterior and mysterious motives for his courtship, that conflict and tension sustains this remarkably modern and beautifully written portrait of marriage and family — and more particularly about power in relationships. A beautifully written book, transcribed from a handwritten manuscript and now seeing the light of day, Clear Title is very worthy of rediscovery by a contemporary audience.
---
OF NOTE: Books, Music, Movies & More
---
In the introduction to the new edition of Good Flies (Lyons Press, $25), legendary fly-fishing author John Gierach recounts a brief interaction with a young guide on the Henry's Fork in Idaho. The guide took a peek in Gierach's fly box and exclaimed, "Dude, that's really old-school!" With his competitive hackles raised, Gierach was delighted when he went on to use those "old-school" lures just as successfully as his young companion worked his newer versions all afternoon — perhaps proof that the tried and true is called tried and true for a reason. Gierach states that he wanted to write this book (which was first published in 2000) because he felt that after a lifetime of fishing, he'd identified the good flies for trout fishing in the Rocky Mountain west. And these "old-school" patterns still hold up — as do the reflective and thoughtful descriptions of why they work in this series of essays. Few fly fishers will be able to resist these insights from one of the masters of both fishing and writing about it.
Fishing Bamboo: An Angler's Passion for the Traditional Fly Rod (Lyons Press, $25) offers a second look at another John Gierach classic — giving bamboo rod enthusiasts, and even graphite die-hards, a thorough grounding in the art, artists and history of bamboo fishing. Gierach brings his usual quiet authority and humor to the topic, adding a tone of what sometimes reads like reverence, especially in the new introduction to the book, revisiting the ground he tread when it was first published in 1997. Gierach states that he writes this book, "… not as an expert on split bamboo fly rods but as an enthusiast with some opinions." And that may be, but it's hard to imagine many people more qualified. This book offers a thorough introduction to bamboo perfect for hobbyists shaping their own, is an homage to the greatest experts who build or fish with bamboo, and even if the reader never gives up graphite, still offers a glimpse into the magic and passion of these traditional rods. This reissue, with charming black and white illustrations by Glenn Wolff, is an important book for Gierach collectors and fly fishers regardless of what their rod is made of.
A Circle of Majesty: A Scenic Journey around Yellowstone, The Grand Tetons, Jackson Hole and Alta, Wyoming and Teton Valley, Idaho, by Eric J. Soyland (Latitude 56 South Publishing and Production, $24.95), offers more than ninety full color scenic and wildlife photos in a virtual tour of the Tetons and Yellowstone as seen by an awestruck traveler. Soyland tells his story from the point of view of a "Wagon Master" of the 1800s, visiting the region and marveling at its wonders. The awestruck and religious fervor of the tone of the narrator may strike a familiar chord with other first-time visitors and even long-time residents of the region.
There's something wonderfully old fashioned about National Graphic Complete Birds of North America, edited by Jonathan Alderfer, and now in its second, hefty hardcover edition (National Geographic Books, $40). More than a field guide, this volume collects more than 4,000 expertly rendered bird illustrations, color photography and detailed range and migration maps. The materials bring together the work of 25 birding authorities and cover more than a thousand species of North America's wild birds. The organization of the book into family, genus and species groupings makes it an ideal reference for novice birders, as do the detailed descriptions for identification and the thorough cross referencing in the text. Experts will also find much to appreciate in this beautiful and authoritative book, which follows the most recent naming conventions of the American Ornithologists' Union. A reference worth the investment.
Wait for Signs (Penguin, $22) brings together twelve short stories about the indomitable Sheriff Walt Longmire by his creator Craig Johnson, each featuring a tale that doesn't figure into Walt's life as portrayed in the full-length novels, further rounding out the portrait of Walt that has been building in readers' imaginations through the novels and the A&E series Longmire. Since first introducing Longmire's character ten years ago, Johnson has been in the habit of sending a short story about his hero to friends as a Christmas gift, and these are the stories featured here — along with a brand-new tale "Petunia, Bandit Queen of the Bighorns". These stories are funny, touching and include the varied and entertaining supporting cast that populates the fictional Absaroka County, Wyoming, making an appealing entertaining package for fans of Johnson's work and of the television series. Lou Diamond Phillips, who plays Henry Standing Bear on the show, provided an introduction to the collection, which will be a great addition to the shelves of Longmire and Johnson fans.