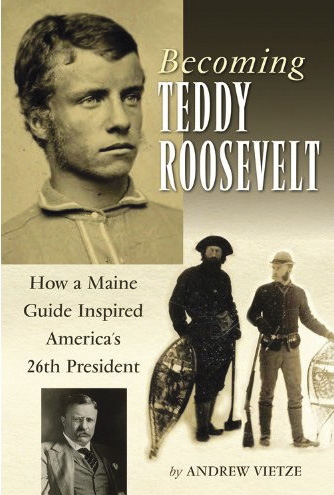 23 Jul

Books: Writing The West (Summer 2010)

in
---
Becoming Teddy Roosevelt
Andrew Vietze's Becoming Teddy Roosevelt (Down East Books, $22.95), as unlikely as it seems, is about a specific — and all-encompassing — aspect of the great man's life heretofore not fully explored. But the "great" man here may come as a surprise to readers.
When he first visited Island Falls, Maine, Theodore Roosevelt was still mourning the death of his father seven months before, a man who had been the strongest influence in his life. He found a stalwart wilderness guide named William "Bill" Wingate Sewall, a man 14 years his senior who, by being no more or less than he was, would help shape the young Roosevelt, help bolster in him the emotional stamina life required of him. Vietze describes Sewall, at that first meeting, as looking "… like King Olaf, the hero of Longfellow's Saga of King Olaf — TR's favorite poem. He was the kind of confident, no-nonsense man you'd follow into battle."
For his part, Sewall wrote that he saw in Roosevelt a "thin, pale youngster with bad eyes and a weak heart." But he also saw something of a fiery spirit in that weak young man that impressed and intrigued him. Through several visits in which the men undertook a series of increasingly arduous treks into the wilds of Maine's North Woods, days spent waist-deep in frigid water dragging a boat upstream, hiking 20, 30 miles in pursuit of elusive game, and nights spent at a snapping campfire talking of nature and of the future, the men formed a strong bond.
Years later, so important a presence in TR's life were Sewall and his nephew, Wilmot Dow, that when Roosevelt needed help at ranching in the Badlands, Dakota Territory, he sent for his Maine-based friends, who rose to the challenge, trekked West, and pitched in. Though as the years passed the men saw less of each other, they corresponded and, despite infrequent visits, remained powerful presences in each other's lives.
More than anything this is a book about a friendship and the powerful and lasting effects one man, seemingly fully formed and autonomous in his bearing and convictions, had on another — a younger man who would go on to become the poster child for such traits himself. It is a wonder that the all-important presence of Bill Sewall on Theodore Roosevelt was not fully documented before now. But other than a handful of pages in other biographies, Roosevelt's chroniclers somehow overlooked the crucial part the rough-hewn Mainer played in shaping the man who would go on to do such great and lasting things for the world.
If he only succeeded in bringing us up to speed on this fascinating friendship, Vietze would have served us well. But it's easy to see why the author has won awards for his historical writing, the narrative never feels strained or contrived as so many biographies often do, but it flows at times like a good novel. In addition to being a fine writer and a student of history, Vietze is also a registered Maine Guide and park ranger, and his writing carries the weight of confidence.
Becoming Teddy Roosevelt is crucial reading for anyone interested in TR, especially given the fact that the subject matter has never before been explored to such a degree. It's hardly a stretch to conclude that if it hadn't been for that quiet Maine woodsman, William Wingate Sewall, it is highly doubtful that TR would have become the man he did. For Sewall's influence over this mighty man, we should be grateful, and for author Andrew Vietze's exploration of the topic, doubly so.
In Trace of TR: A Montana Hunter's Journey
In his most recent book, In Trace of TR: A Montana Hunter's Journey (Bison Books, $29.95), author Dan Aadland, a student of American history, a hunter, horseman, retired teacher, and former marine, set out, on horseback and armed with a lever-action rifle, to get into the head of his subject matter, Theodore Roosevelt. He hoped to gain a broader, deeper understanding of the man and the Western environment that had such a profound influence on them both. The book is almost a spiritual biography of both men, of one man's emulation of a man who means much to him for various reasons. And it's a book of passions, of pursuits, of persistence in the face of nature itself, of the thrill and solid, honorable feeling of stalking quarry. And it's a book that could only be written by someone who has given much thought to these themes.
Raised on a farm, I appreciate passages such as the opening of Chapter Nine: The Western Star, written by someone who obviously knows the often-futile efforts of farmers: "The October bite in the air, too, did its job, cutting, when I raised my sweaty face to the breeze, the lingering heat of a summer so dry it had stolen the hay from our fields, the second crop of alfalfa I had recently baled a laughable excuse for a proper hay crop, not worth stacking."
Aadland threads this simple, weighty reminiscence with TR's brutal and unfortunate experiences as a young rancher in South Dakota in the winter of 1886-87, where "the little Missouri was choked in front of TR's Elkhorn cabin with bloated carcasses. Every rancher on the river lost at least half his herd, and Roosevelt lost more than that." Then Aadland quotes a letter Roosevelt wrote to a friend: "I am bluer than indigo about the cattle. It is even worse than I feared."
Both men relate loss of varying degrees simply and honestly. It is this rare and enviable ability to convey weighty themes in a conversational way that reveals the author's skills as a born storyteller. His words, like all good conversation, perhaps over a campfire deep in Roosevelt's beloved Dakota Territory of Western Montana, form profound, layered lessons that will stay with us long after we've turned in for the night. This is a powerful book that I think Teddy Roosevelt would have understood and enjoyed.
Theodore Roosevelt: Hunter–Conservationist
In R.L. Wilson's Theodore Roosevelt: Hunter–Conservationist (Boone & Crockett Club, $39.95 & $99.95), we are reminded of the impressive accomplishments and titles that still bubble and swirl in Theodore Roosevelt's wake. We've heard them before: hunter, rancher, explorer, soldier, statesman, author, conservationist, and let's not forget 26th President of the United States, but in truth, everything the man did bears repeated inspection. TR did nothing by half-measures, and was fully engaged in life. Were all this a myth it would not have endured to such an untainted degree. The man was truly a rarity, a human dynamo. And the information presented in this lavishly illustrated biography, never before gathered in such a way, is in general an unabashed dedication to the founder of the Boone and Crockett Club. Specifically it is an explanation and celebration of TR's life of influence and long legacy of stewardship, sportsmanship, and leadership as a dedicated conservationist.
As with its impressive 2008 release, Hunting the American West, the Boone and Crockett Club has again produced, in Theodore Roosevelt: Hunter–Conservationist, a rich document that is required reading for anyone interested in firearms, hunting, and conservation of our natural resources. Specifically, this book paints a portrait of a Teddy Roosevelt we feel we know, but only from myriad sources, among them TR's own works. The book gives readers insight into Roosevelt's entire life as an inveterate hunter, naturalist, and conservationist, from early boyhood explorations, out West during his ranching years, as a politician, and into his safari years. And though it contains ample mentions of specific firearms and safaris, one need not be a hunter or even a firearms enthusiast to enjoy the book. Anyone keen on history or generally curious about the man will find hours of pleasurable reading and insight within.
This impressive, illustrated volume — 200 color and black-and-white images from various archives in its 312 pages — is available in a deluxe, hardcover version, limited to 1,000 signed, numbered copies, and is also available in a paperback edition.
Theodore Roosevelt left a legacy a dozen men couldn't half accomplish. But then again, Roosevelt was hardly an ordinary man, and in this illustrated biography, Wilson goes far beyond the stereotypes to detail the Rough Rider's sporting life for modern enthusiasts, revealing a man of deep passions and profound concerns for his beloved natural world. And in doing so, Roosevelt's life becomes a lesson in how the art of hunting and the pursuit of environmental conservations can be — must be — combined passions.
The Westerners
Ife there was a book written for the classic Western film buff, it's C. Courtney Joyner's The Westerners (McFarland Publishing, $39.95). It's 266 pages (plus 70 photos) jam-packed with enlightening, entertaining interviews with actors, directors, writers, and producers of Western films and television shows from way back in the rack to today.
Joyner, a Hollywood veteran screenwriter with more than 20 produced scripts to his name, conducted these interviews over many years with giants behind and in front of the camera. In addition to spending time at the bar with immortals such as one-time Livingston, Mont., resident Sam Peckinpah and Warren Oates (The Wild Bunch), Joyner's book brims with engaging, revealing interviews with such notable as Jack Elam, Glenn Ford, Andrew McLaglen, Elmore Leonard, Harry Carey, Jr., Virginia Mayo, and more. If some of these names don't ring bells, their classic Western work most certainly will.
C. Courtney Joyner's The Westerners not only informs the casual Western fan, but with its extensive bibliography and solid index it provides ample details for scholarly pursuits. Plus, I found myself jotting titles that will keep my Netflix account humming for some time to come. Get the drop on a copy and you'll see classic Westerns in a new, enlightened light.
When I Came West
Laurie Wagner buyer's When I Came West (University of Oklahoma Press, $14.95) is a revealing account of how this naïve young college student traveled from a pampered life in Chicago to the West in 1974 to live remotely on the North Fork of the Flathead River, 86 miles from Kalispell, with no electricity, indoor plumbing, no telephone, no close neighbors — with a surly man she'd never met. She was as inexperienced with matters of the heart as she was with preparing food or setting a mousetrap. And that makes this detailed reminiscence fascinating, viewed as it is through the long lens of insight and age that nearly 40 intervening years allows.
For the most part, Ms. Wagner Buyer's memories are viewed with a distinct fondness and a forgiveness that few readers imagine they could offer. To her credit, the author presents this memoir fully, not shirking in revealing the pleasures and pains of her newfound life of a woodswoman. Various harrowing moments prompt the reader to ask the most obvious question (that love blinded the young woman to): Why put up with such abuse? The weeks of close winter living with no verbal communication, the grinding daily labor for someone who seemingly didn't care if she was there or not.
Her youthful though unrequited love for Bill, a Vietnam vet-cum-mountain man, grows, arcs, and eventually wanes, and is countered with a developing love for the physical landscape surrounding her: the rivers, woods, wildlife, ranches and people that collectively make up the West. As she matures, it is this West, and not the man, that she finds she cannot live without. And that love affair has proven to be far more abiding in subsequent years.
Laurie Wagner Buyer's When I Came West affords readers a privileged look into the fragile life of a young woman brimming with promise and naiveté, and on the cusp of personal change that feels so familiar at times. And it should, as the author is addressing the inevitable transformation we all undergo. It's called growing up, but some people do it in a much more fascinating way. Lucky for us that Laurie Wagner Buyer recognized she had something to say — and had the skills to share it with us all these years later.