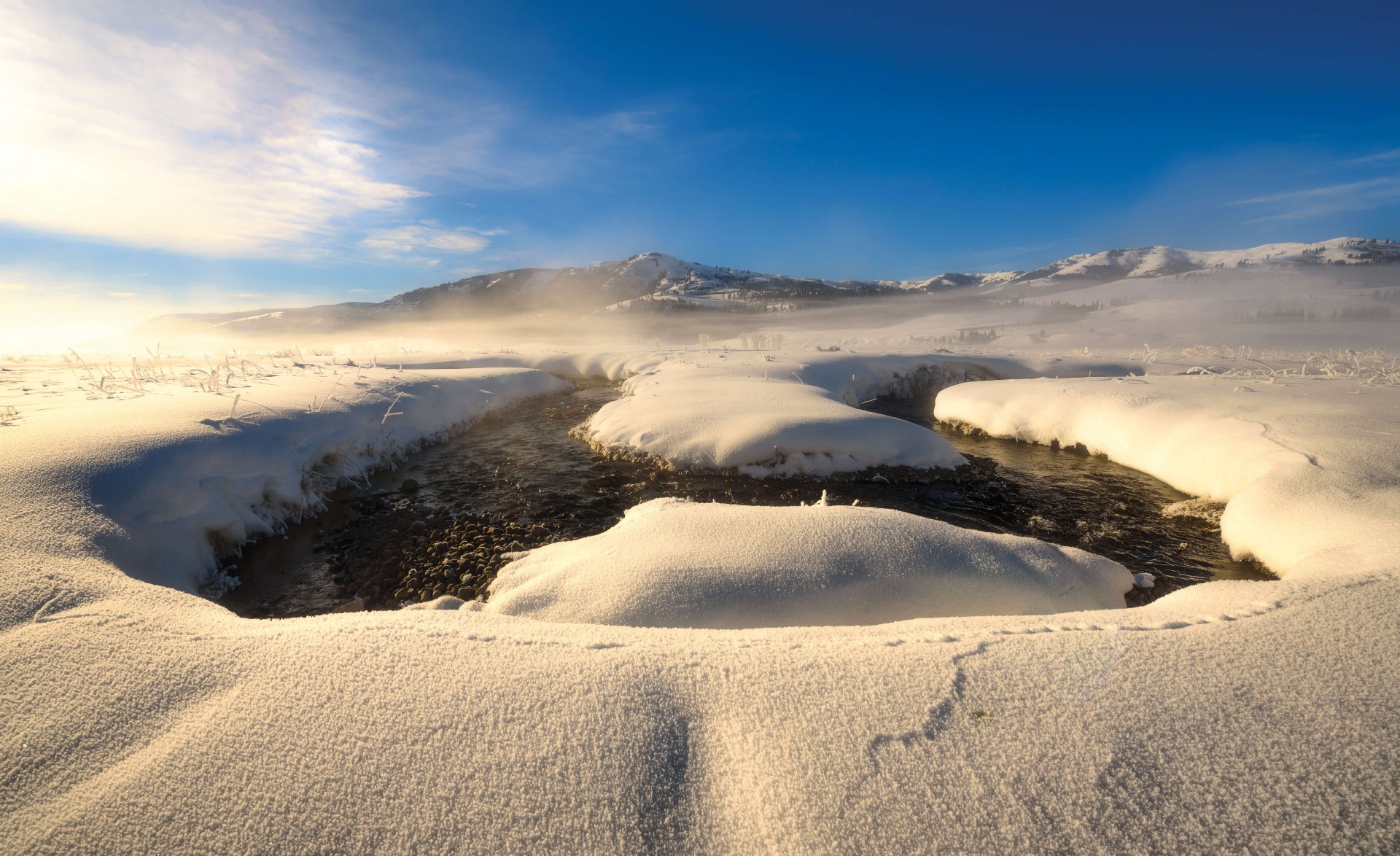 Rose Creek meanders through the picturesque Lamar Valley in Yellow-stone National Park. Photography by Zack Clothier
23 Nov

Winter in the Wilds

in

Like most people, I'd only visited Yellowstone National Park in the summer — when the viewing area and boardwalks that weave around Old Faithful are so crowded that it's nearly impossible to photograph the marvel of nature without also capturing the hordes of tourists. However, in March 2018, I experienced a dramatically different environment during a three-night stay with friends at the Old Faithful Snow Lodge. Though it was early spring, Yellowstone was still in the depths of winter. Old Faithful was as spectacular as ever, but there was never more than a handful of people watching it erupt. Walk, snowshoe, or ski a short distance away, and it was easy to find solitude and quiet. While it was a truly magical experience, one must be prepared for extreme cold and unpredictable weather, which is most likely what keeps many people away from Yellowstone this time of year.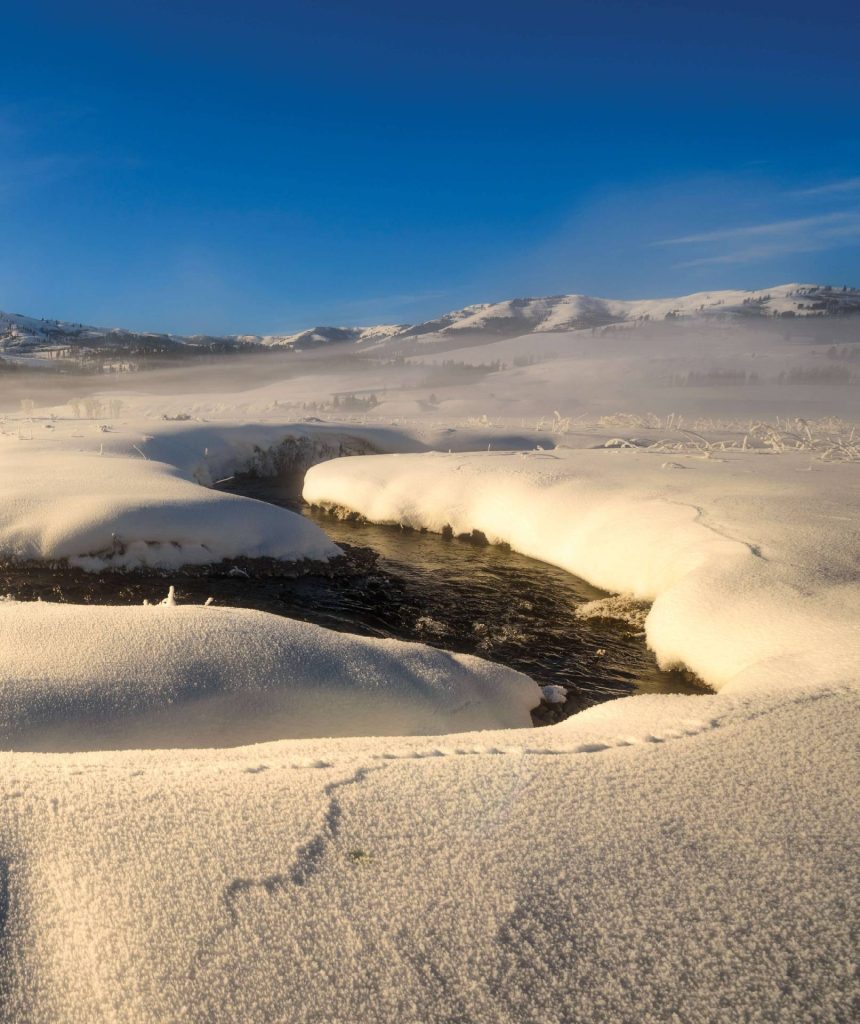 At 4:45 on a dark, frigid morning, our group of 13 met up in Jackson Hole, Wyoming for a 60-mile drive north to Flagg Ranch. We're all active retirees who hike together regularly and plan an adventure-based outing each winter: This year, it was a visit to Yellowstone and Grand Teton national parks.
At the ranch, we boarded a wide-wheeled snowcoach destined for the Old Faithful Snow Lodge. Navigating otherwise impassable roads, these unique vehicles provided a comfortable two-hour ride through a genuine winter wonderland: snow-laden trees, frozen crystalline lakes, and fields of white stretching as far as the eye could see. We crossed the Continental Divide three times.  On one side, the Yellowstone River flows north, eventually joining the Missouri. On the other, the Firehole River flows through the Upper, Middle, and Lower Geyser Basins.
Just south of Lewis Lake, we entered the Yellowstone Caldera, a 30- by 45-mile crater formed by the last volcanic eruption about 640,000 years ago, which left approximately 240 cubic miles of debris in its wake. The enormous basin is dotted with lakes and the skeletons of trees that were charred from numerous wildfires, including the infamous one in 1988 — the largest recorded in Yellowstone's history. Nevertheless, a dense forest of new lodgepole pines provided a reminder of how nature renews itself over time. As we approached the lodge — which looked like a small outpost compared to the expansive, wide-open landscape surrounding it — we felt increasingly alone in this vast wilderness.
The harsh winter environment seemed like a distant memory as we walked down the heated hallway of the lodge toward the large lobby and roaring fire. However, our rustic cabins were hundreds of yards from the main lodge, meaning an abrupt return to reality and the realization that in order to get to the dining room for each meal, we'd be bundled up, trudging through deep snow.
After unpacking, we strapped on snowshoes and headed to Old Faithful. Learning that we'd just missed the eruption, which occurs about every 90 minutes, we set out to explore the Upper Geyser Basin instead. The thermal features we passed produced masses of steam along the Firehole River — incongruous and eerie in a land covered by deep snow — like a train slowly making its way along the valley floor. Crystal-clear waters beckoned us to jump in for a scalding — and no doubt deadly — swim, as the hot springs displayed a kaleidoscope of bright colors around their edges.
It wasn't long before we observed the first of many bison, their hulking, brown bodies in stark relief to the wintery landscape. While bison can be dangerous, these seemed completely occupied with trying to find what little food remained buried under the icy mantle. Using their massive heads to brush aside the deep snow, bison are able to expose the frozen vegetation below, particularly in geyser basins where warm subsurface temperatures thin the snow depths.
A few of us decided to climb to Observation Point, a small mountain that offers an elevated view of Old Faithful. We hoped to catch the next eruption from up there, but the trailhead was closed when we arrived. (We later learned that wolves were feasting on a dead bison in that area — another reminder of the wilds that surrounded us.)
When rangers determined it was safe to reopen the trail on our last day, three of us set out again and, after experiencing nearly constant snow during our stay, we encountered deep drifts, marred only by the few lone tracks of resident wildlife. Near the top, the trail disappeared completely in the deep, wind-blown snow, so we made our own. Eventually, we found a makeshift observation point and were completely alone as we watched Old Faithful's spectacular eruption in awe.
Another day, I rented skis to join those headed into the backcountry. Our goal was Lone Star Geyser, a 9-mile, round-trip trek from the lodge. In summer, this area doesn't feel remote, but as we skied up the steep hills — following the tracks of two people who'd broken trail before us — the silence and beauty, gray skies and gently falling snow created a sense of immense solitude. We reached the geyser after several hours of climbing and gliding, and it erupted just as we arrived. Considering that it erupts only once every three hours, Lone Star's show was a remarkable treat, one that we enjoyed almost more than Old Faithful.
If anything characterizes Yellowstone in winter, it's the struggle for survival. We witnessed raw glimpses of nature and wildlife enduring the bitter cold and snow without human intervention. Of the 12 packs of wolves in the park, the Wapiti Pack was known to be in the Old Faithful area while we were there, perhaps feeding on that dead bison. When we spotted a large canine near Biscuit Basin, we were sure we had finally seen one, only to be informed by a ranger later on that it was actually "Old Limpy," a coyote with a limp that was known to inhabit the area.
After a snowcoach ride back to Flagg Ranch, we were ready for our next adventure: a three-day stay in Grand Teton National Park. I spent two college summers here in the 1970s, working at the Colter Bay Village resort, so for me this park holds special meaning and many memories. In my opinion, the Tetons are the most dramatically photogenic mountains in the United States, and in the winter they're simply breathtaking.
The same storm that followed us through Yellowstone had also dumped more than a foot of snow in this area, covering everything in a sheet of white. So we decided to snowshoe on the lower slopes of the Teton Range, but finding the trails proved challenging. Determined to reach a viewpoint above Phelps Lake that first day, we lost the route in the deep snow near the head of Death Canyon and, after continuing on for some time, it eventually became clear that we didn't have enough time to reach our goal. (Anyone who followed our tracks hoping to reach the lake would have been both confused and disappointed when they ended abruptly.) We were more successful on our snowshoe mission to Taggart Lake, where we were rewarded with our first up-close sighting of the Grand Teton.
One evening, not far from where we were staying at Dornan's Spur Ranch Cabins, we attended the Hootenanny, a weekly gathering of folk singers and acoustic musicians. This Jackson Hole tradition was established by Bill Briggs, who was the first person to ski the Grand Teton from the top — a feat thought to be impossible in the early 1970s. Now at 87 years old, Briggs was still giving extraordinary musical performances, even if his climbing days were behind him.
On our last day, several of us braved the sub-zero temperatures to watch the sun rise over the Grand Teton. There are few sights more impressive than light striking the tip of this storied peak. But, too cold to wait for the full splendor, we quickly snapped photos before our phone batteries succumbed to the cold and set about our way.
As we finished our trip, only a few more weeks of deep winter would remain in Yellowstone and Grand Teton national parks. By mid-April, the long melt would begin. Bears would emerge from hibernation. The thousands of elk grazing the flatlands of the National Elk Refuge, just south of Grand Teton National Park, would begin their migration to the high country. The first wildflowers would surface. Park staff would begin plowing hundreds of miles of roads, readying facilities for the influx of summer tourists.
By late June, the parks would come alive again; seasonal workers and tourists from around the globe would crowd the boardwalks and trails around Old Faithful and other popular sites. With the snowcoaches put to rest, the roads would become jam-packed with cars.
Before saying our goodbyes, we acknowledged our gratitude for being among the privileged few to experience these magnificent natural wonders in winter.