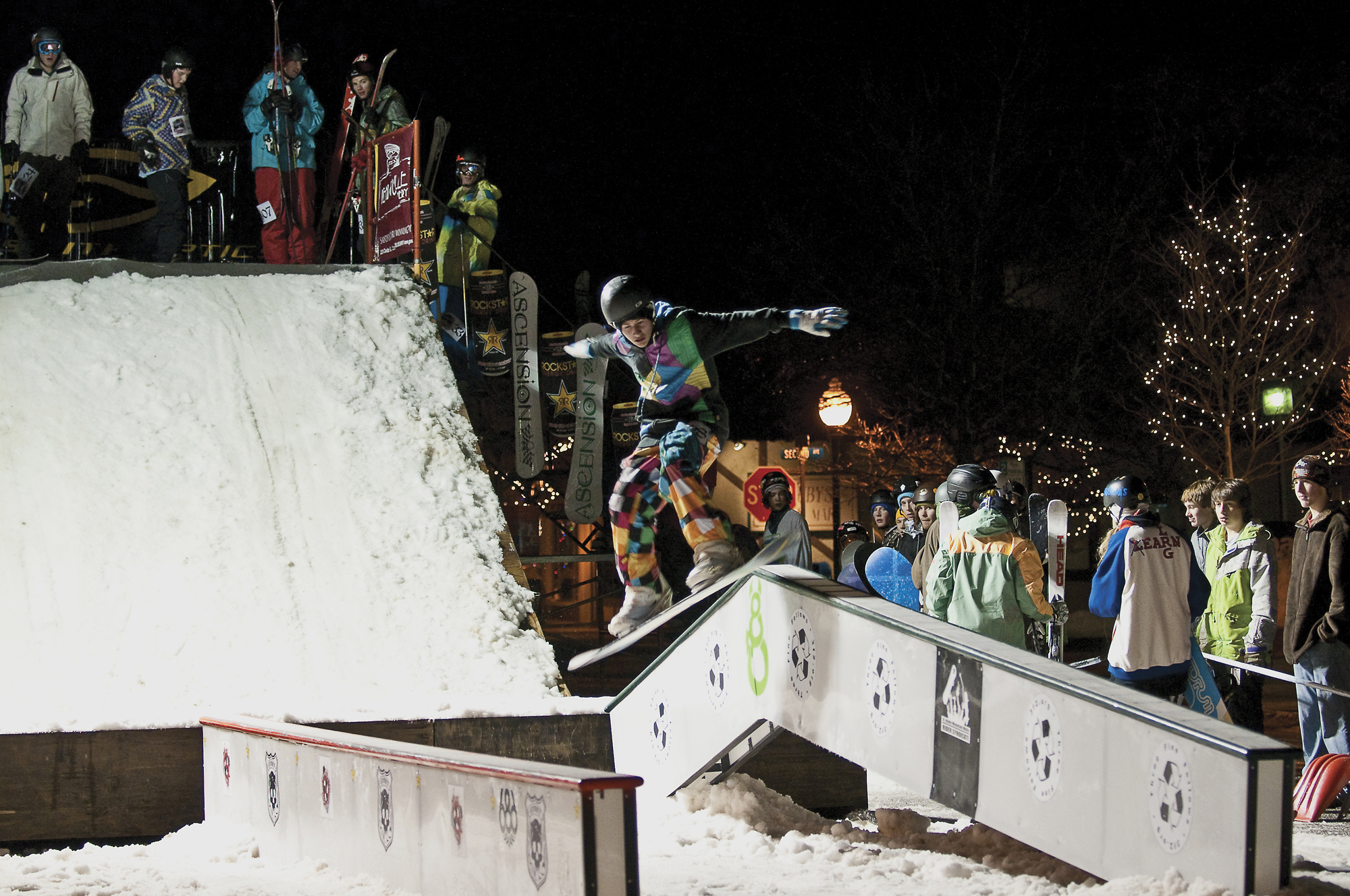 23 Jul

Winter Carnival

in

SANDPOINT, IDAHO, MAY NOT BE ON YOUR WINTER BUCKET LIST, but it should be.

"It's Winter Carnival, party with your gnome boy," says the poster in Zany Zebra's window. The Sandpoint boutique, like Idaho itself, is filled with nothing I need and everything I want. Red cowboy boots and a whiskey flask etched with a downhill skier, for instance.

I don't have a gnome boy (do you?), but I have come to Sandpoint with something better than an earthbound elf: a best friend, freshly tuned skis and a heightened sense of anticipation.

I'm a little out of sync, though, trying to mentally transition what I've known as a beach town to a winter destination. At the northwest edge of 43-mile-long Lake Pend Oreille, the sandy shores are a Mecca for preening teens and picnicking families and Sandpoint has always said summer to me. But winter? It is a superb town for a bite to eat on the way home from skiing at nearby Schweitzer Mountain, but it never registered as a spot to spend a winter weekend.

Yet tonight as my friend and I chat with people at the Coldwater Creek Wine Bar, I feel an attitude shift. The place is standing room only, as was the Pend d'Oreille Winery where we sampled locally crafted Bistro Rouge and coveted their sign: "Wine a bit and you'll feel better."

Winter Carnival kicked off last night with the Taste of Sandpoint and tonight ArtTrek is the focus. Downtown is sparkling with white lights and mellow energy, shops are open till 8 p.m. and galleries serve wine, cheese and a strong dose of "glad to see ya."

The carnival atmosphere zings at Jeff Jones Town Square where a 20-by-90 foot rail jam attracts freestyle snowboarders and skiers who perform like stuntmen, acrobats and clowns. But for me, tonight's highlight is Bio-Luminesce. Sexy, smoky fire dancers in leather and face glitter twirl batons, umbrella spines and hula hoops ablaze with fire. Pulsating music and the ebony backdrop of night turn the entire show into an otherworldly fantasy. Standing outside, I'm not cold anymore as I watch their antics, and happily drop a few dollars in the hat at the finale.

We end the night at the Lodge at Sandpoint where log furniture, Idaho hospitality and a fireplace big enough for a VW Bug create the quintessential Rocky Mountain experience. I wake up to cloudless skies, shooting another dose of anticipation into my system. We load skis into the car and head a dozen miles into the Selkirk Range where Schweitzer Mountain Resort's 2,900 acres, two bowls and 300 inches of annual snowfall keep us shushing all day.

It's winter carnival on the mountain, too, and after a wondrous ski day, we fuel up at Chimney Rock Grill, then jockey for an outside spot to watch the torchlight parade and fireworks. Maybe I've had too many manufactured Disneyland moments, but I am not all that excited about waiting for the show in freezing temps. It's a little like watching for a comet — I stare into the darkness, not sure what to expect and equally unsure this is worth the effort. Then, a red glow appears on the utterly black hill, and another, and another, and another. The people around us — parents who've been corralling their kids or teens flirting with each other — fall utterly quiet, then let out a collective ooohhhhh as the embers form a line and zig-zag down the mountain like wintry fireflies. I have just received my come-uppance.

Following the festivities, on Sunday we're back in Sandpoint for the Annual K-9 Keg Pull. Jeff Nizzoli, dog lover and owner of Eichardt's Pub on Cedar Street, has been spearheading this hilarious fundraiser for the past seven years, watching the number of canine contestants fluctuate from 30 or 40 dogs to more than 100 this year.

Each dog races solo against the clock surrounded by a cacophony of cheers and chaos along a 60-yard snow-packed course. The bigger dogs pull empty beer kegs and the little guys haul drained beer cans. Owners can coax their pups down the course any way they want — lead them, bribe them with food, wag a favorite toy in their faces, and in some cases, beg.

"This is all about fun," says Nizzoli. "No real rules and we don't have an official grand prize. The $5 entrance fee goes straight to the animal shelter."

Some of the dogs are taking this seriously though. Sitka a medium-sized Siberian husky with icy blue eyes prances about with a been-there-done-that attitude, even though owners Kristen Jacobson and Mac Hollan tell me she's just a pup and this is her first race.

When shouts of "Go Rocket" reach the first contestant, the brown mutt stops abruptly, his pony keg bumping him in the butt, and licks his fans' hands. Next up, Jonsie, a shy little dachshund manages a few yards then just sits down. Her human laughs and bends to her knees to urge Jonsie forward. Then there's Lolita, a near hairless Chihuahua wearing a pink sweater with a fur collar. Each step plunges her chest deep into the 2-inch snow. In the end, last year's winner, Emma, a lab mix, takes the time trials. Experience, a strong start and a jaunty red bandana provided the winning combination.

Whether it was the dogs, the skiing or the fireworks, I'm convinced: Sandpoint is no longer for the beach bum in me, it's a winter haven I won't soon forget.