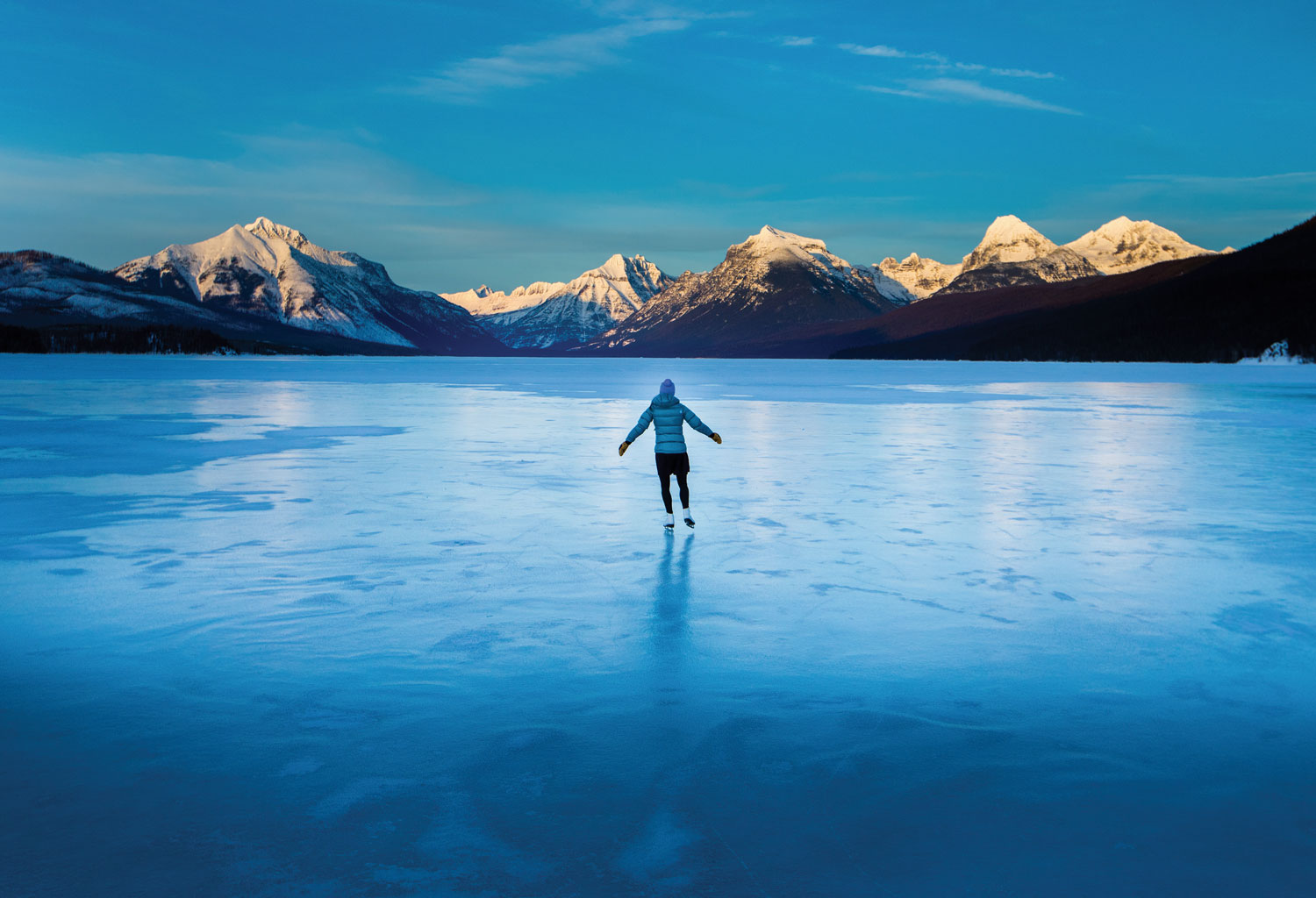 11 Dec

Wild Ice

in
Skating the backcountry
I've skated before, but this time it feels like flying. The ice is smooth and fast; it takes almost no energy for me to glide from one side of the lake to the other. I push with my left leg and flow along the ice with the other, then repeat on the right side. Snowy mountains rise up all around, forming a crystalline winter backdrop.
It is a little unnerving, being in the middle of a backcountry lake with only a couple of friends around. I stop in the middle, spin around, and breathe it all in, feeling alive. Looking down at the smooth surface, punctuated with a million tiny bubbles frozen in ice, I get a slight sense of vertigo. It's freeing and wild, and, I know it sounds cliché — but it's also transformative.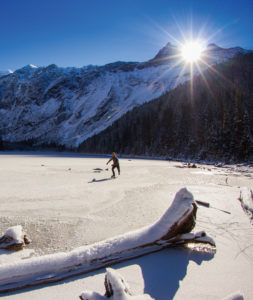 Backcountry ice skating is a winter highlight for a dedicated group of Western ice enthusiasts or "ice chasers." These folks follow groups on Facebook, have phone or text trees, and watch the weather to determine when lake and river ice is best for skating. Some have secret spots they return to year after year, making sure not to divulge the locations. Others make it a social event and gather friends, families, and anyone else who appreciates the experience of "wild ice."
"I love the sense of freedom in a wild place," says Steve Thompson, founder of the Wild Ice Montana Facebook page. "We feel like the luckiest people in the world. It's fun to be around other people who appreciate the raw beauty of wild ice."
Originally, Thompson and friends had an informal phone tree to notify each other when the ice was "on." The phone tree became unwieldy about the same time Facebook came along, and today, Wild Ice Montana allows people to post what they've found and check others' reports.
Heather Matthews of Jackson Hole, Wyoming, had her first wild ice experience on Fremont Lake near Pinedale after her father died. "My companions could not get over how perfect the ice conditions were," she recalls. "It was an overcast, dreary, cold day, but who cared? To do something so simple and so free, surrounded by the majestic Wind River Mountains and boulder-strewn moraine, with a vast body of water underneath my feet, was incredibly healing for me. It was one of the experiences that has taught me that doing something out of my comfort zone can build confidence. We figured we skated 22 miles that day. I was on a high after that."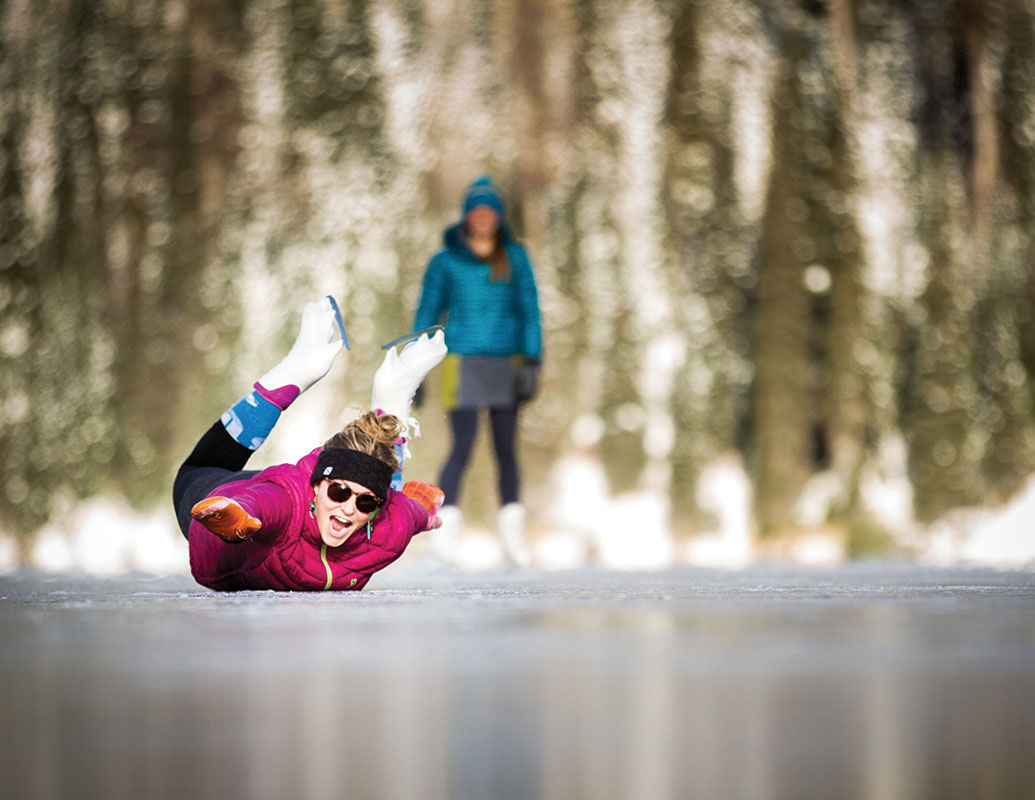 The conditions for wild ice skating need to be just right, both for maximum fun and safety. A smooth, glassy surface is a pleasure, making skaters feel like they can go on forever. Alternatively, bumps, fissures, and uneven surfaces can make it hard to get any glide at all.
Knowing when the ice is safe is another big consideration. "Always test ice safety before going out," Thompson says. "Take a hatchet or ice drill and chop several test holes. Depending on the quality of the ice, don't venture out unless it's 3 inches deep. We usually have a rope with us, but we've never been close to needing it. Don't assume that tips on the Wild Ice Montana Facebook page, or anywhere, are current or accurate."
It's not just perfect conditions that draw wild ice skaters into the mountains; companionship and good old-fashioned fun play a role. Holly Sienkiewicz from Livingston, Montana, frequents Cutler Lake in Paradise Valley.
"We skate as a family and make it a fun outing with hot cocoa and a bonfire," she says. "We play a game of pickup hockey, pull the kids on sleds around the ice, and plow paths to skate around if there is snow on the ice. Cutler Lake is pretty popular with ice skaters, so we almost always see people there, or we go with several families."
The feeling of wildness in the middle of winter wells up inside me, and the addition of friends, family, and beautiful scenery make it  a perfect wild ice day. I take another lap around the lake and grab a friend's hand. We execute a ridiculous, wild spin, knowing how lucky we are to be here, under the mountains, feeling utterly free.
Before you go: Check weather and ice conditions, understand winter backcountry safety, test the ice, and never skate alone. Check the Wild Ice Montana Facebook page for crowd-sourced updates on ice conditions at Facebook.com/WildIceMontana.
WHAT TO PACK
• Hatchet or drill to test the ice's depth
• Emergency rope
• First-aid kit
• Hand and feet warmers
• Warm drinks
• Snacks
• Comfortable ice skates
• Extra layers (you'll be warm while skating and cold when you stop)
• Matches and fire starter (if appropriate)
• Mats or chairs to sit on when putting on skates or relaxing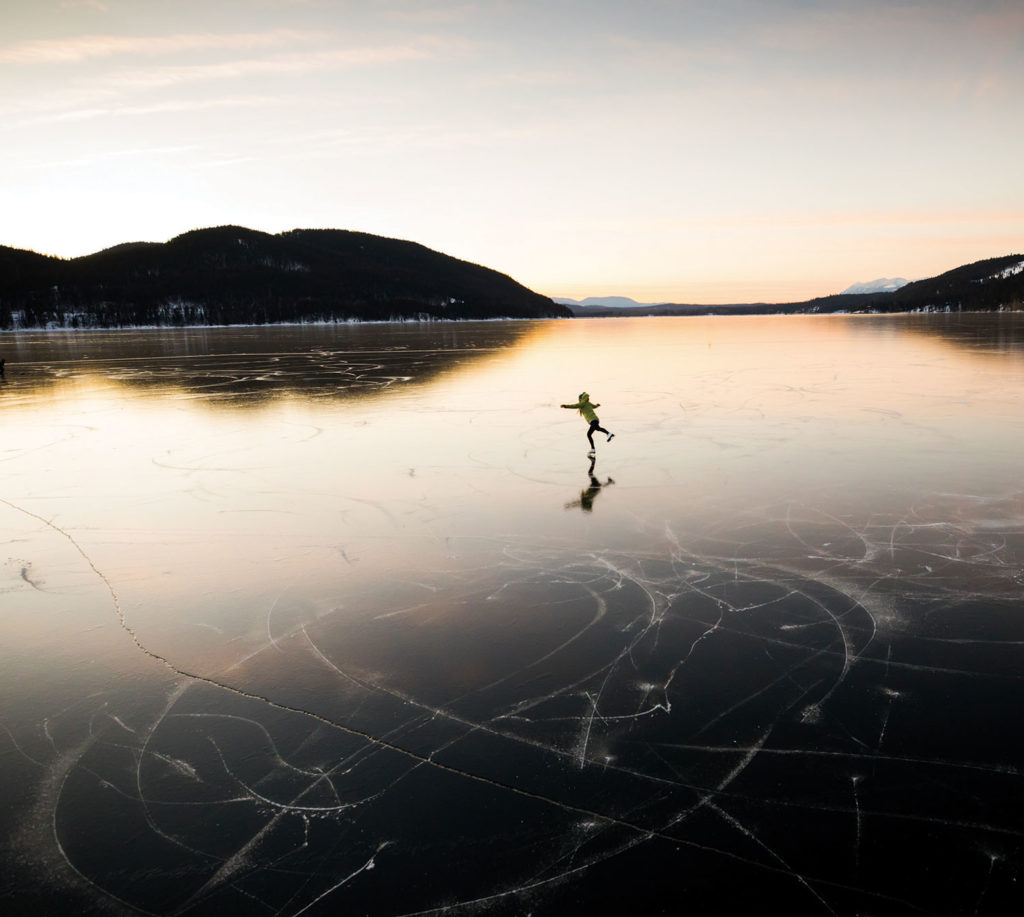 WHERE TO FIND WILD ICE
Montana 
Avalanche Lake  //  A steep, 2-mile hike from the trailhead along the Trail of the Cedars in Glacier National Park; bring snowshoes for the hike in.
Seeley Lake  //  Best early in the season before the wind chops it up; ice skating, hockey, and broomball games are common on the lake.
CUTLER LAKE  //  A popular spot for hockey and family skating north of Gardiner in Paradise Valley.
Idaho
PAYETTE Lake  //  A 5,330-acre glacial lake at about 5,000 feet in elevation near McCall. At 2.5 miles wide and 8 miles long, the deepest point is 392 feet, and half of the lake is protected as part of Ponderosa State Park.
ROUND LAKE STATE PARK  //  This forested state park sits at the edge of 58-acre Round Lake in Sandpoint. Park staff maintain both regular and speed skating rinks.
Lake PEND OREILLE  //  Located in Sandpoint, this is the largest lake in Idaho. City Beach and Sand Creek below the Cedar Street Bridge offer good skating options along the shore. 
WYOMING
Fremont and half moon Lakes  //  Pristine glacial lakes beneath the mountains near Pinedale. Access Fremont Lake from the lower boat dock parking lot. Access Half Moon Lake at the public boat ramp near Half Moon Lake Lodge.
Delta Lake  //  A 3.5-mile hike from the Lupine Meadow trailhead; snowshoes are advised. Part of the trail is unmaintained, but it's still a popular destination for wild ice enthusiasts.