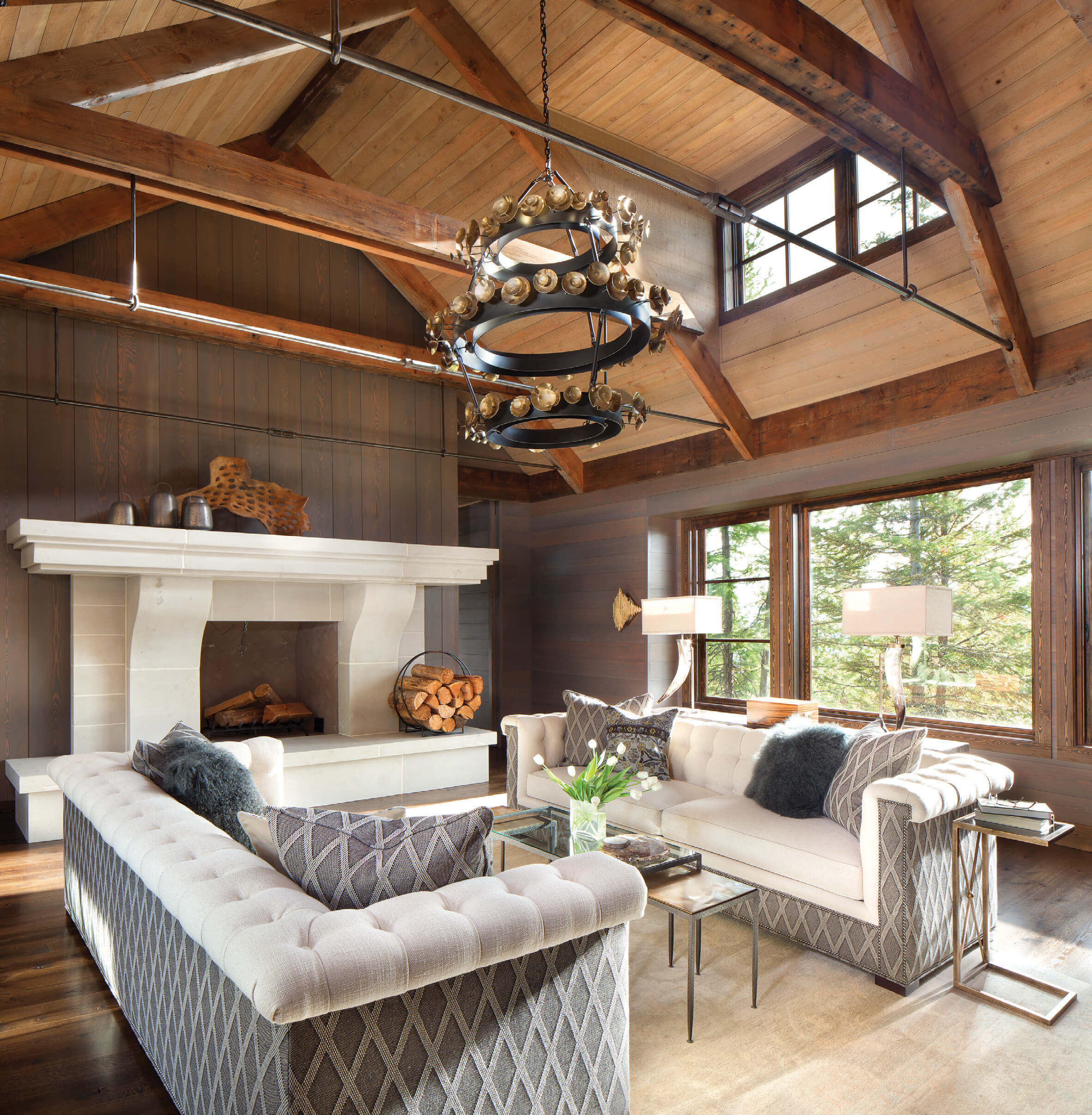 Bright white and neutral tones throughout the great room contrast Huckleberry House's rustic framing. The steel-and-gold chandelier, and matching sofas by Hickory Chair, are custom designed by Hunter & Company Interior Design.
12 Apr

Western Renderings

in

A well-designed home can be a space to escape the outside world. But in the Mountain West, a well-designed home invites the outside in, connecting you to the sprawling, wild landscape and its rich history, even connecting you to yourself. "People come here hoping to escape the hustle and bustle of everyday life," says Hunter Dominick, founder and owner of Hunter & Company Interior Design in Whitefish, Montana. "They're searching for a place to slow down and appreciate the world around them."

Dominick is well-versed in creating spaces that meld personal style with a sense of place. Since opening in 2000, the design firm and home goods store has earned a reputation for shaping custom interiors that realize each client's vision. "We don't go into a project looking to build a cookie-cutter Montana home — we build homes that tell the story of our clients," says Dominick. Her team is behind stunning, award-winning projects across the state, from contemporary-rustic lakeside retreats to ultra-modern mountain chalets.

Growing up in a creative environment informed Dominick's approach to design. Her father is an interior designer, her mother a painter. The couple met in Virginia Commonwealth University's interior design program, where Dominick later earned her degree. Both parents influenced Dominick in their own ways: She gained an appreciation for nature and natural style from her mother, and a passion for understanding clients from her father. "My dad's vision was to help everyone have a thoughtfully designed home, ​​regardless of their social or economic class," says Dominick. 

After graduation, Dominick made her way to Colorado and a dream job at Slifer Designs — an industry leader in high-end residential and resort interiors. Dominick contributed to projects at major ski resorts across the state — Aspen, Breckenridge, and Telluride, to name a few — designing inspired interiors that weave rustic ski ambiance with modern functionality and accessibility. 

While Dominick's experience gave her an intimate understanding of regional architecture and style, she doesn't let tradition define Hunter & Company's approach. "I don't have a particular relationship to Western design," explains Dominick. "My relationship is specific to each client — their story, their history, their experience." 

Montana still emerges in her designs but in less obvious ways. Huckleberry House, a mountain home built in Whitefish's Iron Horse community, showcases contemporary sophistication while remaining true to its setting. The Chicago-based homeowners asked Hunter & Company to create a refined interior to contrast the home's rustic timber-and-stone structure. Dominick chose to brighten the space with neutral fabrics, white stone and tile details, and sleek, modern fixtures imported from Italy. The airy palette infuses the home with light, beautifully offsetting the richly toned wood that runs along the floors, walls, and sweeping ceiling. 

Much of the furniture in Huckleberry is antique — or custom designed by Hunter & Company and built by local artisans. To Dominick, incorporating Western style means using natural fabrics and materials produced regionally. "We have so many carpenters and sawmills in northwest Montana — the timber industry is such a large part of the state's history. So when we can accomplish our client's vision while working with local artisans, it's a special thing," says Dominick. The defining custom feature of Huckleberry House is its grand wine room. Handcrafted by a Whitefish-based carpenter, the central wood-and-glass room highlights the client's love of vintage wine. "The clients are avid collectors — of art, wine, antiques. Finding the best ways to showcase their collections really set the tone of the design," says Dominick. The wine room doubles as a creative divider between the living and dining areas, making the home one of a kind. And the amber bottles serve as an enticing backdrop, imbuing Huckleberry with a sense of luxury, comfort, and relaxation.

In contrast, the Pendleton House — another Hunter & Company project in Whitefish — approaches Western modernity from a more playful angle. Outside, the home is classic Montana: timber frame, sturdy gray stone siding, and an artfully pitched roof. Inside, the rooms burst with color, pattern, and bespoke details. "The client was not afraid of color," says Kay Sherman of Hunter & Company, who worked as the project's principal designer. "We got to go a little crazy, which she loved." Floor-to-ceiling picture windows let sunlight spill into the main living area and offer a stunning view of the lake beyond. Sherman opted to paint the walls a warm white, resisting the current wallpaper trend. "We like to keep the walls neutral," she explains. "It lets you keep the floors and ceiling a darker, natural wood, and still fill the space with light." Instead, Sherman layered the space with colorful fabrics, decor, and art. The home sparks with jewel-toned blues and vibrant sunset hues. Leather details and subtle odes to Indigenous design keep the space feeling distinctly Western but dramatic angles and nuanced materials bestow an undercurrent of modernity. 

Similarly, the creative bar space adds a minimalist yet rustic element to the plush great room. Tucked into a previously unused corner, the bar features a custom metal wine shelf made by a Montana-based blacksmith. 

Another modern take comes from an antler fixture lighting the dining room table — while the materials are familiar, the rectangular design is unexpected. "We work with an artisan who likes to look at classic materials from a new perspective," says Sherman. The unique features are like a breath of fresh air in the home, making Pendleton vibrate with life. 

As the world continues to change, so do peoples' ideas of Western living. Coming out of the pandemic, Dominick notes more clients wanting homes with defined, intimate rooms and spaces — a shift away from the open floor plans that have dominated interior design for the past decade. But the trend is not likely to redefine Dominick's approach. No two Hunter & Company interiors are alike — and the last thing Dominick wants is a signature style. "I never want you to walk into a home and know it's a Hunter & Company project," says Dominick. "I want you to think: 'wow, this design tells the story of the people who call it home.'" 

Halina Loft is a writer and editor based in Bozeman, Montana. Before moving west, she worked as an arts editor for Sotheby's in New York City.