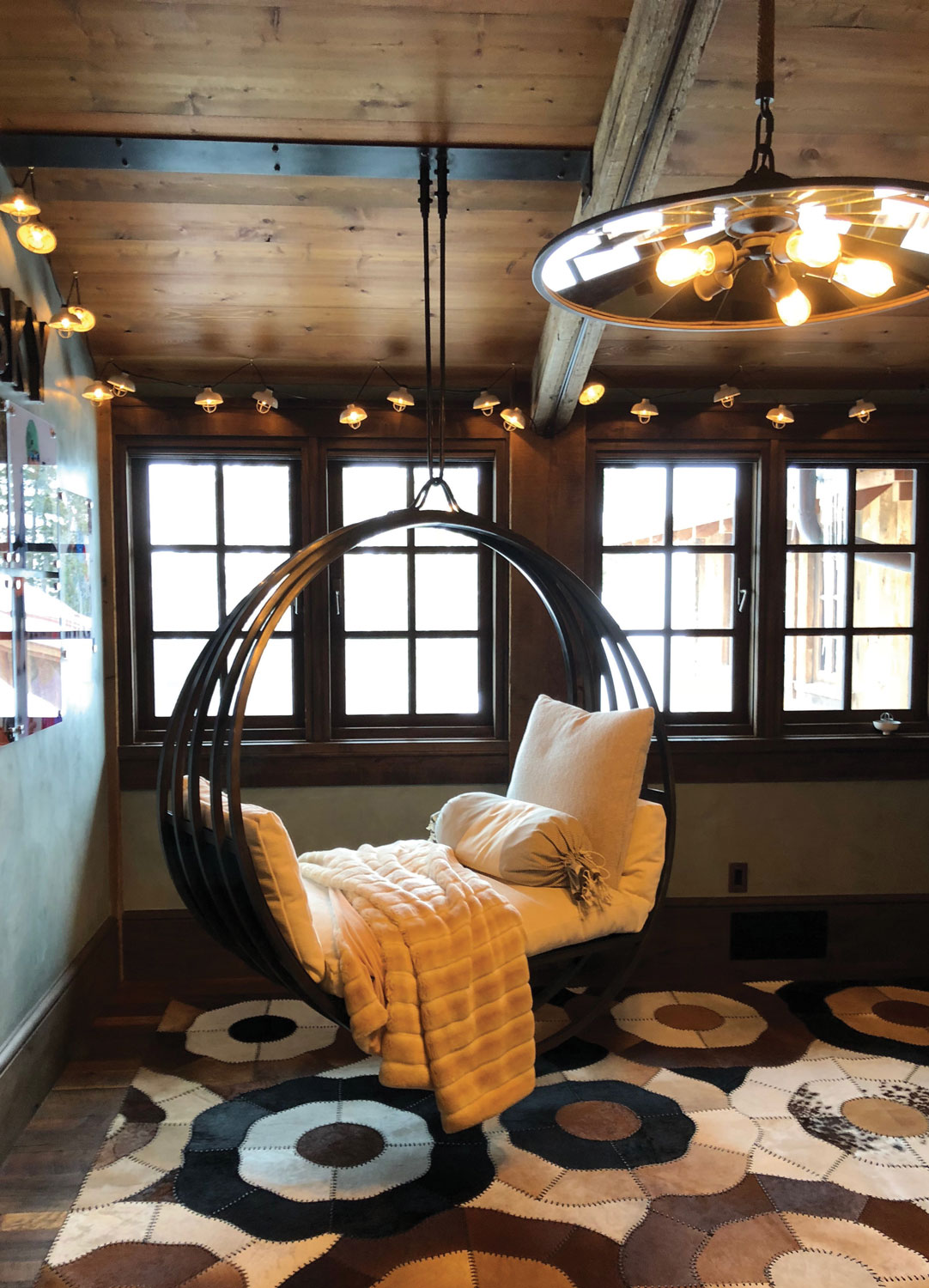 A custom swing made of artfully curved steel makes for a dreamy seat.
16 Apr

Western Focus: Wood, Steel, and Whimsy

in

Russ Fry's steel and wood creations embody a blend of playful innovation with down-to-earth materials and a satisfyingly handmade aesthetic. The founder of Fry Steel & Wood Works, he builds an array of furnishings and fixtures from a studio in Livingston, Montana, that's part workshop, part whimsical wonderland.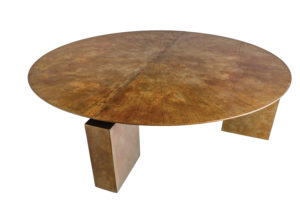 In his studio, a weathered, halved shell of a vintage World War II torpedo hangs from the ceiling. Repurposed by Fry, it encases bright red and golden light bulbs that illuminate the space. A circular swing he built from gracefully curved steel offers an inviting place for visitors to sit; resting on it feels a bit like leaning into a crescent moon, suspended high above the earth — and all your cares. Dottie, an aged, deaf bulldog, grunts with approval down below. For her, Fry, and Fry's girlfriend, the workshop-studio is also a home. "I want to get the rooftop of this place dialed in for fun," says Fry. "I'm thinking about putting in a fireman's pole."
This playful sensibility is part of what lends Fry's work such appeal, particularly to the owners of Montana vacation homes who want their hideaways to be a respite from all things staid and serious. "Mainly Big Sky is where I sell my work," he says. "Usually people hire me for the fun look."
His custom pieces include everything from desks, countertops, cabinets, and shelves to bed frames, bunks, stools, tables, and light fixtures. Fry uses both found materials and fresh ones. Sometimes he blurs the line between one material and another, giving a round, steel tabletop a warm, organic patina that makes it resemble a slice of tree trunk — one that's scored with rays of fine lines rather than concentric rings. "We made the lines by dipping a piece of string in blackening patina, stretching it from side to side and gently letting it touch down on the steel in various places," Fry explains.
Many of his creations seem suffused with this experimental spirit. A side table filled with walnut scraps of varying shapes and sizes has a delightfully kaleidoscopic look. "We made a shallow circular base that fit on the inside of the table. I poured a small pool of epoxy into it and put the wood scraps in piece by piece. In the end, gaps were filled in with smaller pieces individually shaved down to fit."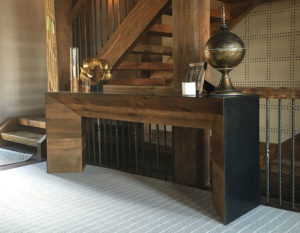 A textured strip of steel embellishes the surface of a substantial desk built with chestnut salvaged from an old barn. "This piece of steel goes all the way through the desk," explains Fry, "and connects to the base below to produce a floating effect."
Interactive and mobile qualities are also hallmarks of Fry's work. "My favorite part is when a piece can have gears," he says. "We just finished a 9-foot table with a 5-foot Lazy Susan built into it, so instead of passing dishes around, you just spin them."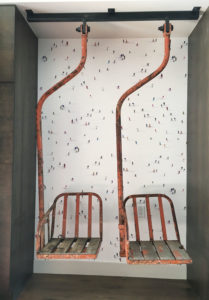 Another table is comprised of disks of varying heights that are connected by steel bars. "Every part is movable, so the table can extend out into a straight line, form into a circle, or move into irregular shapes. It's usually surrounded by chairs, and people can choose whichever disk they want to use. The disks all spin."
Like many of his most striking furnishings, Fry's artistic vocation has been the result of an inspired process. He journeyed from a starting place to a destination that wasn't necessarily planned, but that feels both natural and fulfilling. "I was a graphic designer before," says the Oklahoma native, who moved to Montana for college and earned a master's in graphic design from Montana State University. "It was just driving me crazy being on the computer all the time. This work seemed like a good carry-over. I still use my design knowledge and the computer skills, but this is more tactile." About 10 years ago, Fry learned to weld. "I started making stuff in my garage. I thought it was pretty shabby, but Abby Hetherington said she could sell it."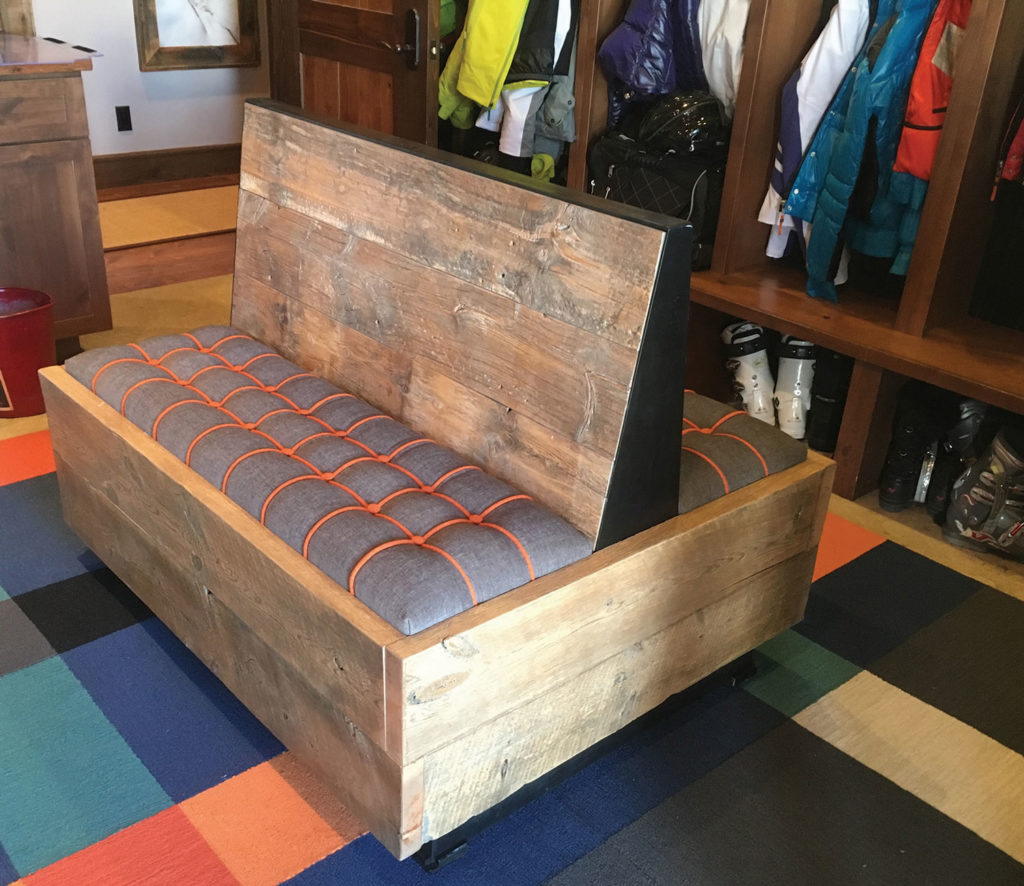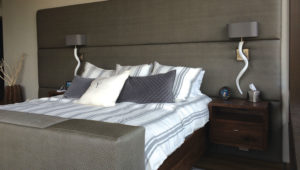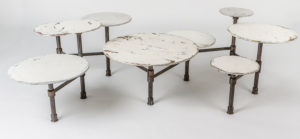 Hetherington is an interior designer and the owner of the Bozeman, Montana-based furniture, lighting, and décor store, The Architect's Wife. Since she began offering Fry's work to her clients and customers, he has been selling pieces as fast as he and his trio of part-time helpers can make them.
Fry is eager to add to this abundance of made-to-order commissions with even more creative pieces that arise entirely from his imagination. "I've been thinking of an Alice in Wonderland kind of theme, where everything is built to scale, but way oversized. Maybe a chair you have to climb a ladder up to sit in, something that makes you feel really small. I have all kinds of ideas for things I want to do."