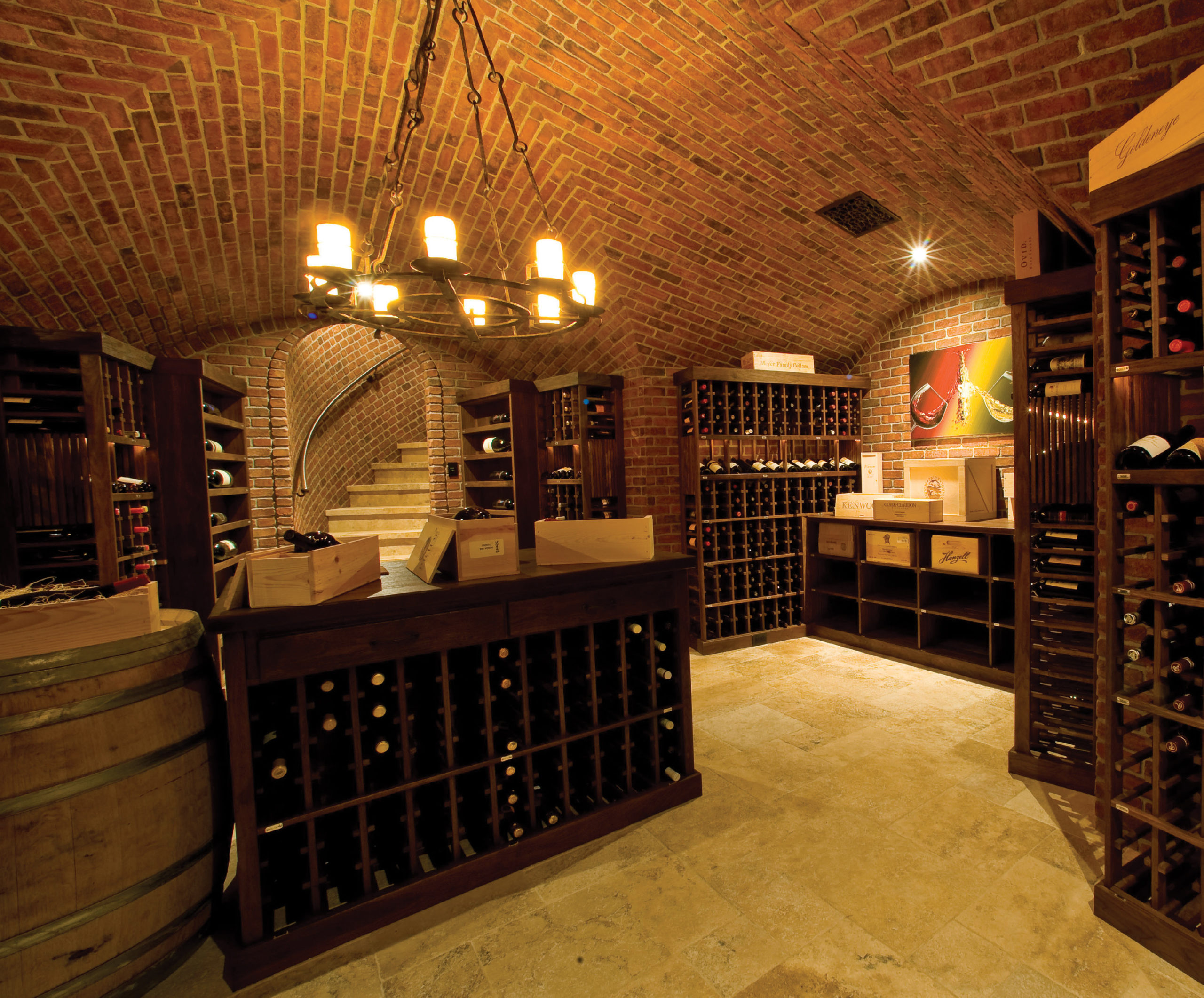 Thomas Warner Wine Cellars designed and built this cellar, including the hand-distressed walnut racks, which allow for a range of bottle sizes and displays. The room features a limestone floor and a brick ceiling that's reminiscent of a medieval castle. A circular staircase and wroughtiron chandelier amplify the Old-World secret wine cache theme.
07 Apr

Western Focus: Wine Cellar Designs

in

You don't have to live in California to know that America's love affair with wine has blossomed into a serious relationship. We collectively drank 805 million gallons of table wine in 2018, according to the Wine Institute of America. That's more than we've consumed in any year since the organization began keeping tabs in 1940.

But we are not like the French in our vino habits. Few of us buy cases in our children's birth years, for example, and allow it to age alongside them. We typically drink bottles of wine within a week or two of purchase, according to a Sonoma State University survey, and often within a day.

And yet, as we fall increasingly into the grip of the grape, designers who specialize in custom wine cellars are receiving more requests for their services. Those who collect wine and like to have a selection on hand for the right pairing opportunity, are giving their liquid poetry — as Galileo called it — a room of its own.

But how do you know if you're ready for a cellar? When does your stash turn into a collection that needs its own space?

"If it's a handful of bottles that one simply wants to keep reasonably well," says wine consultant Jon Maxwell of Bozeman, Montana, "a cool bottom cabinet, the floor of a closet, or a temperate corner in the basement will be an improvement over the kitchen counter and will very likely do the trick, as long as it won't be kept there for more than a few months." But if you want to keep wines for a longer period of time or house a collection in order to experience the evolution of age-worthy bottles over the years, he says that you need a contained space in which temperature, humidity, light, and vibration can be controlled.

However lavish or restrained your wine-cellar aspirations, getting it right is all about controlling those four physical properties, says Maxwell. This might mean a refrigerator-like cabinet that's moveable and can hold up to 200 bottles. It could be an alcove in the main part of a house, isolated by a glass door where your bottles can be displayed but are also insulated from fluctuations in temperature and humidity. You can design your own cellar with the aid of a company like Vigilant, which provides remote design assistance along with custom cabinetry, furnishings, and fixtures. Or you can call in a specialist, like Jeff Brandner, of the Bozeman-based Brandner Design, or Thomas Warner of the Novato, California-based Thomas Warner Wine Cellars, to create the cellar of your dreams.
Cellar styles
The most important elements of any cellar — at least as far as the wine is concerned — is behind the walls: the insulation and vapor barriers that maintain the temperature and humidity. However, when it comes to enjoying the wine, the important elements are in front of the walls: the choice of materials, such as wood, stone, metal, or some combination and the design and flow of the space.
Brandner, who's been designing houses for 35 years, says that wine cellars have become somewhat standard in luxury custom homes. Even if the clients don't drink wine, many think that a cellar is an important consideration for the resale value of the home.
He explains that cellar styles, just like those of homes these days, are veering toward the modern vernacular, and even a modern-industrial look, with "clean lines, a lot of integrated steel, and steel details."
Cellar Innovation
In some cases, clients have requirements that call on designers to be innovative, and sometimes getting what you want is just a matter of asking the right person. Like the clients who asked Warner to design a cellar for their home in Aspen, Colorado, where they spend three months a year, that could accommodate not only his large collection of red wine but also an assortment of Champagne, which his wife prefers, and which is consumed at a much lower temperature than red. The challenge for Warner was that his client didn't want to walk through a door to get from the Champagnes to the reds, and he wanted both to be ready to drink when they arrived at the home.
It's generally accepted that white wines, Champagnes, and red wines age nicely at 55 degrees Fahrenheit. So when the couple was not in residence, the whole cellar, which was roughly 650 square feet, could stay at 55 degrees. But how to cool the Champagnes and warm up the reds without a structural barrier? This was Warner's conundrum.
Warner realized that what he needed was an air curtain — a mechanical system that forces a continuous broad stream of air over the width and height of an opening, similar to the technology used in the meat section of grocery stores. "We put in a system that was able to cool the white wines down to 45 degrees and bring the red wines gradually up to about 62 degrees, so that they were both closer to drinking temperature," says Warner.
Another one of Warner's clients was sensitive to noise, and in particular, the sound of the fans in the two cellars that Warner had designed for him. Because it was audible in his dining room, the client asked him to come up with something with no sound.
Warner found a technology in which the back wall of each cellar was placed on a metal door-like panel and then adhered to the wall. The panel itself becomes cold and refrigerates the space, but the electronic equipment is outside the house, so there's no noise. "He was very happy," Warner says.
Ideal Wine Conditions
Although a range of between 50 and the low 60s is fine, the ideal temperature for long-term wine storage is anywhere between 55 and 57 degrees Fahrenheit, Maxwell says. And the most important factor is that the temperature remains stable and consistent. Most cellars in this country rely on artificial climate control systems, but passive cellars, which are usually below ground and stay cool organically, can also work.
Humidity should range between 60 and 70 percent. Below 50 percent could allow your corks to dry out and oxygen to seep in, damaging the wine, says Maxwell. Humidity over 70 percent can lead to moldy labels.
Wine also needs protection from the sun's ultraviolet rays, which will inflict damage over time. Darkness is the best choice when no one is there, but if you need your cellar to be lit all the time, use cooler LED bulbs.
Also, think also about the rumble of nearby appliances, which may inject vibration into your cellar. "There is some theorizing that even very small amounts of ongoing vibration can speed up the aging of wine," Maxwell says. "And any significant shaking can certainly disturb sediment that may naturally form in a wine as it ages."