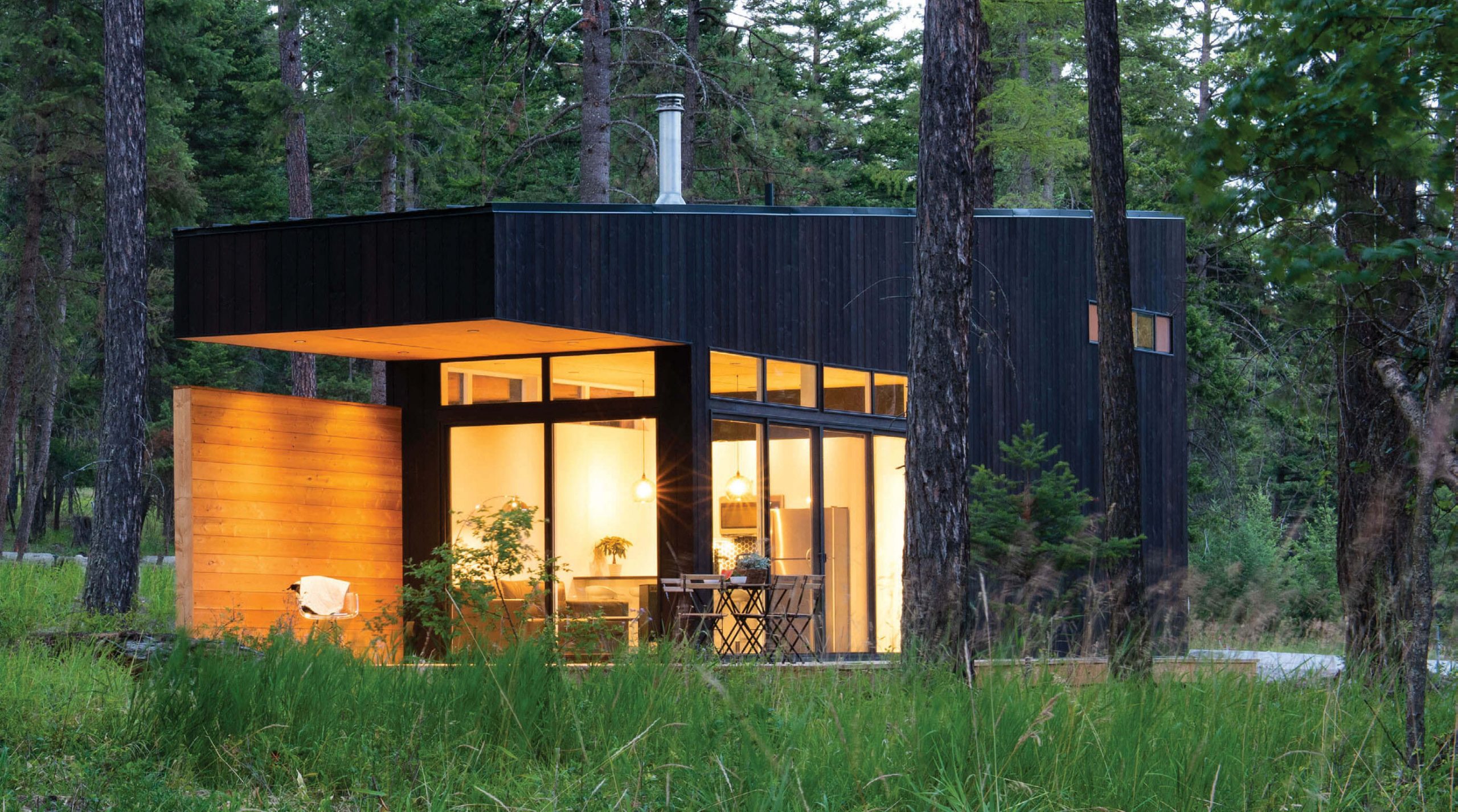 The dark charred-wood exterior siding on these two tiny homes allows them to blend beautifully into the surrounding landscape.
16 Apr

When Less is More

in

In Lakeside, Montana, two enchantingly modern and refreshingly small dwellings stand in a conifer forest beside Flathead Lake. Known as the Stoner Creek Cabins, the homes are identical, with each measuring just 500 square feet. The original owners of the property built one house first, then followed with its twin, placing the structures approximately 50 feet apart. Designed by David Koel, principal and design director at Cushing Terrell, they make a charming pair.

Fostering "an intimate connection to the outdoor environment" was Koel's primary consideration when conceiving the design. "The goal," he explains, "was to create a simple, quiet shelter [from which] to view, or even participate with, the surrounding forest and wildlife. And it's actually easier to accomplish this when you're dealing with such a small structure — the buildings are only about 10 feet wide. It's almost as if you're sitting on a soft leather couch in the woods."

Throughout the interior, an absence of ornate flourishes allows the natural beauty of the surroundings to shine. "We used exposed concrete floors," says Koel, "and white-painted gypsum board. Very clean detailing. We wanted the landscape to be the focus."

The similarly minimalist exteriors harmonize with the woodland setting. The cedar siding — hand-charred using the traditional Japanese method of waterproofing called shou sugi ban — takes on a rich, inky hue. "The idea," Koel explains, "was to essentially create a dark visual 'void' in the shadow of the forest viewscape, as opposed to a visual attraction." This unobtrusive quality is evidently felt by the many animals who share their habitat with the structures. "There are deer and other wildlife carousing about in these woods as if the homes are not even there," adds Koel.

Koel enjoyed the challenge of developing a design that "required absolute efficiency, yet demanded aesthetic beauty." The decidedly modern results seem far removed from a different type of tiny home that has peppered the Western landscape for centuries: the small, rustic log cabin. "Times have changed, of course," says Koel. "Today, it would seem dishonest to me to try and falsely re-create a rustic character just because that's what cabins used to look like. We have new materials and technologies at our fingertips, and the honest thing to do is to use them — but to do it in a respectful, meaningful, and sculptural way."

Still, he concedes, "Even if they don't look or feel like cabins of old, there does seem to be something elemental in the design of these little homes. It reminds me of sitting out in the open by a roaring campfire, scanning the landscape for wildlife, listening to the distant coyote cries, and staring at the stars."

In spite of their small size, the homes have everything their inhabitants might require for a sense of connection — not only with the outdoors, but also with each other. "It's interesting how folks seem to think that 'more is more,' but in reality, what many of us really want is simplicity and togetherness," observes Koel. "Think about family reunions and gatherings: The best memories are built when people are all crammed together, maybe in Grandma's little house, stepping over one another, getting along, eating, laughing. That doesn't happen very well when you have 8,400 square feet with eight bedrooms, six TVs, and everyone has their own bathroom. There's something to be said for closeness — the friendly and loving expression of the sharing of space, versus the cold demarcation of one's own territory."

Koel's sentiments resonate with many: These days the homes are used as vacation rentals by families of various sizes who crave a break from the sense of separation — from nature and each other — that can characterize everyday life.

Each home features a sleek kitchen and bathroom, an expansive patio, an inviting bedroom, a living room with a sleeper sofa, and a small loft. In the daytime, forest-filtered sunshine bathes the interiors in natural light, and at night the stars are visible through the floor-to-ceiling windows. There's little need for a TV — much less six of them — when the dynamic, intricate life of the woods unfolds moment by moment to be seen and savored by those lucky enough to stay here.